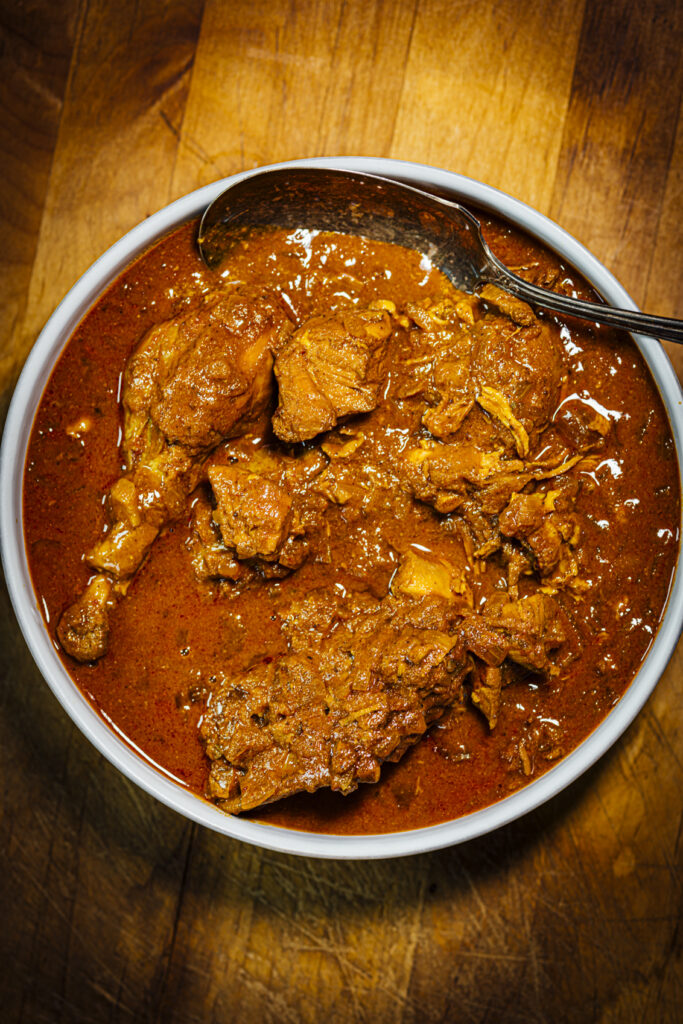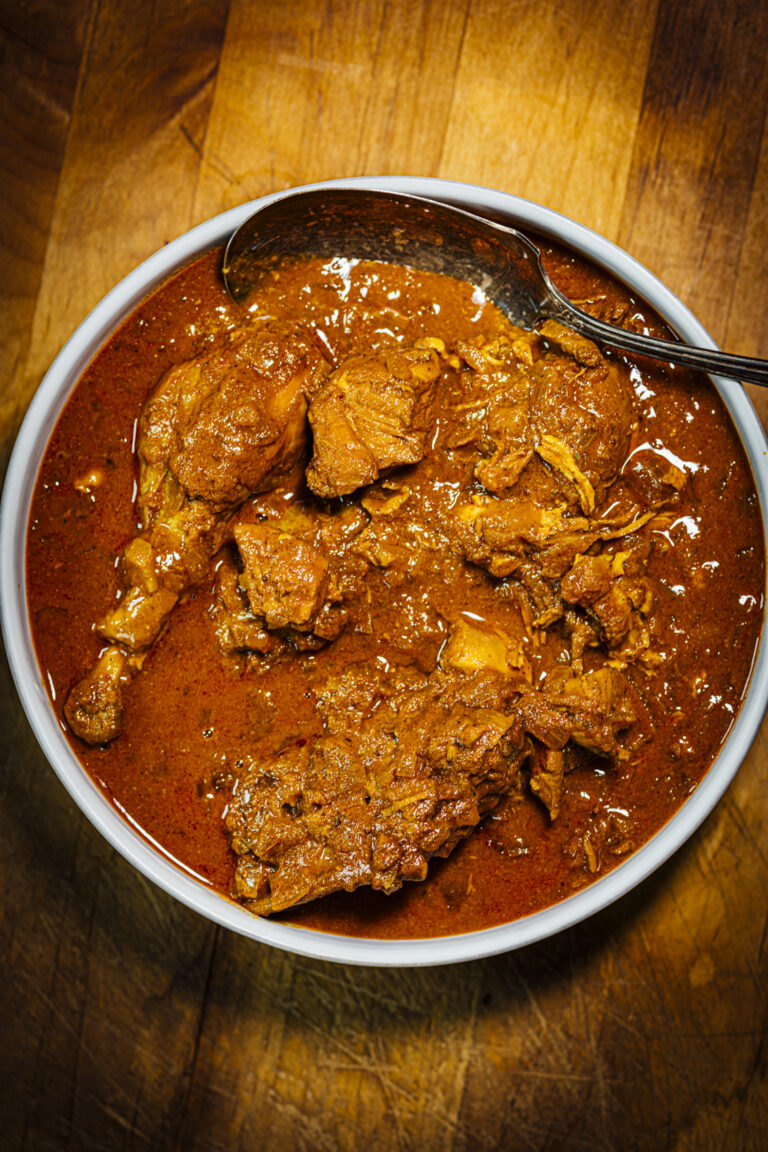 One of the most popular Goan dishes is vindaloo. Vindaloo is made with pork,
and to be perfectly honest, the first time I heard of it made with chicken was
after I moved to America and visited an Indian restaurant. My family makes pork
vindaloo at Christmas, Easter, and any other big celebration, and chicken
vindaloo is a rarity. However, chicken vindaloo is a fantastic option for those
who don't eat pork. I've seen some restaurants in America add potatoes to
chicken vindaloo. Potatoes aren't meant to be in this dish, I don't mind them,
but I've left them out here. The quantity of spices used might appear large but this recipe uses a large quantity of vinegar and the flavors need to stand up to it.
Vindaloo is a bright red spicy, vinegary dish I love eating with bread or
rice. It benefits from some starch to balance the sourness of the dish and help
sop up all that delicious gravy. The word vindaloo comes from the Portuguese dish
carne de vinha d'alhos. When the Portuguese colonized Goa, they brought new
ingredients like chillies and vinegar that quickly became a part of the local
culture and cuisine. Vindaloo is one of those dishes that arose during that
time. The high acidic conditions of vinegar prevented the growth of harmful
bacteria, helped tenderize the pork, and increased the shelf life, especially
for those long journeys on the sea.
Because we're not using pork in this version, and since raw white meat like
chicken is much more sensitive to the effects of vinegar (unlike lactic acid in
yogurt and other fermented dairies, the acetic acid in vinegar and citric acid
in lemons and limes, is much harsher on the texture of raw meats during
marination and cooking), I've cut back on the marination time. One more thing,
unlike pork vindaloo, which is usually cooked a few weeks ahead of time and
stored in the refrigerator, chicken vindaloo doesn't. You can eat it on the day
off or wait a day before eating it.
Print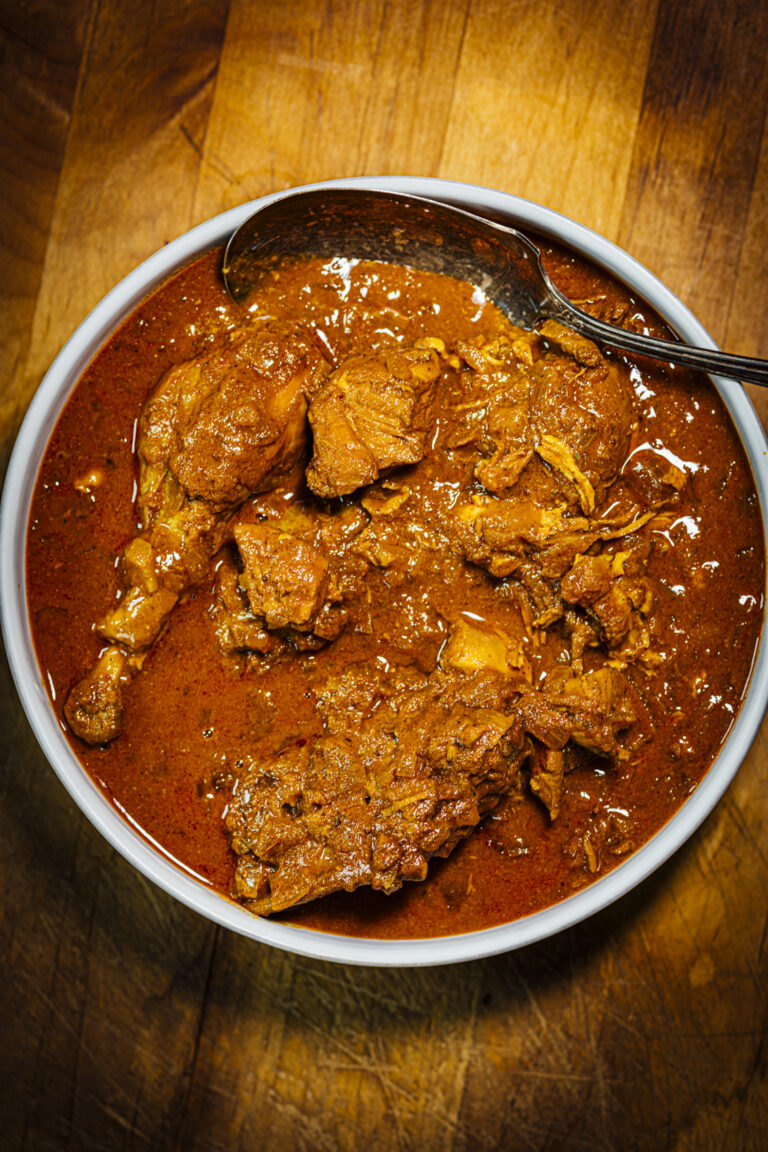 Chicken Vindaloo
Vindaloo is an iconic dish in Goan cuisine, often served on holidays, Christmas, Easter, and special occasions. The dish is famous for its bright red color, rich combination of aromatic spices, and generous use of vinegar. While pork is the traditional choice of meat used to make vindaloo, chicken also works well. In this version, I use bone-in chicken, but if preferred, you can also prepare this with boneless chicken. Unlike the pork version, this vindaloo does not need to sit in the refrigerator for several weeks and can be eaten the day it's prepared. Personally, I prefer leaving it in the refrigerator for a day to help the flavors come together.
2 ½ to 3 lb/1.2 to 1.4 kg skinless bone-in chicken, cut into bite-sized pieces
12 whole cloves
10 to 12 garlic cloves/total weight about 30 to 35 g
2 in/5 cm piece fresh ginger, peeled and diced
1 in/2.5 cm cinnamon stick
1 tsp whole black peppercorns
½ tsp ground cumin
¾ cup/180 ml malt or apple cider vinegar
½ cup/120 ml water
1 tsp ground turmeric
3 Tbsp/45 ml neutral oil, such as grapeseed
2 large red onions/total weight about 800 g, diced
Fine sea salt
1 tsp sugar
Instructions
Pat the chicken dry and transfer to a large mixing bowl. 
Grind the Kashmiri chillies, cloves, garlic, ginger, cinnamon, peppercorns, cumin, vinegar, and water together in a high-speed blender to get a smooth paste. Add the spice paste to the chicken with 1 tsp of salt. Fold to coat well and leave covered for 30 minutes at room temperature. 
While the chicken marinates in the vinegar spice mixture, cook the onions. Heat the oil over medium-high heat in a medium Dutch oven or non-reactive thick heavy-bottomed stainless-steel saucepan. Add the onions with a tiny pinch of salt and sauté until they turn light brown. The cooking time will vary. If the onions start to burn, add a tablespoon or two of water. Fold in the marinated chicken with the marinade. Stir in the turmeric and sugar. Reduce the heat to a simmer, cover with a lid, and occasionally stir to prevent the chicken from sticking to the bottom of the pot and burning. Cook until the chicken turns tender, opaque, and thoroughly cooked. If the liquid levels drop during cooking, add a few tablespoons of water. 
Once cooked, remove from the heat. The vindaloo can be eaten immediately, but I prefer to let it sit in the refrigerator for a day to improve the flavors. The chicken vindaloo can be stored in the refrigerator in an airtight container for up to 1 week.
Notes
Vindaloo is usually made with palm vinegar, but I find malt and apple cider vinegar to be excellent substitutes, with malt being my top choice. 
Vinegar is primarily composed of acetic acid; it reacts with metals. I used a ceramic glazed Dutch oven or a non-reactive stainless-steel saucepan to prepare the vindaloo. Ideally, store the vindaloo in a non-reactive stainless-steel container or glass container in the refrigerator. 
Because acetic acid is harsher on meat muscle proteins that lactic acid, do not marinate the uncooked meat for more than 30 minutes, or the texture won't be as tender.
The quantity of spices like the cloves might seem intimidating but if too little is used, it won't come through the vinegar. 
While I'd rather you use whole Kashmiri chillies for this recipe, you can use the powder but the flavor will not be as nice. You can use this conversion: 1 Tbsp of ground Kashmiri chilli powder comes to about 4 whole Kashmiri chillies.