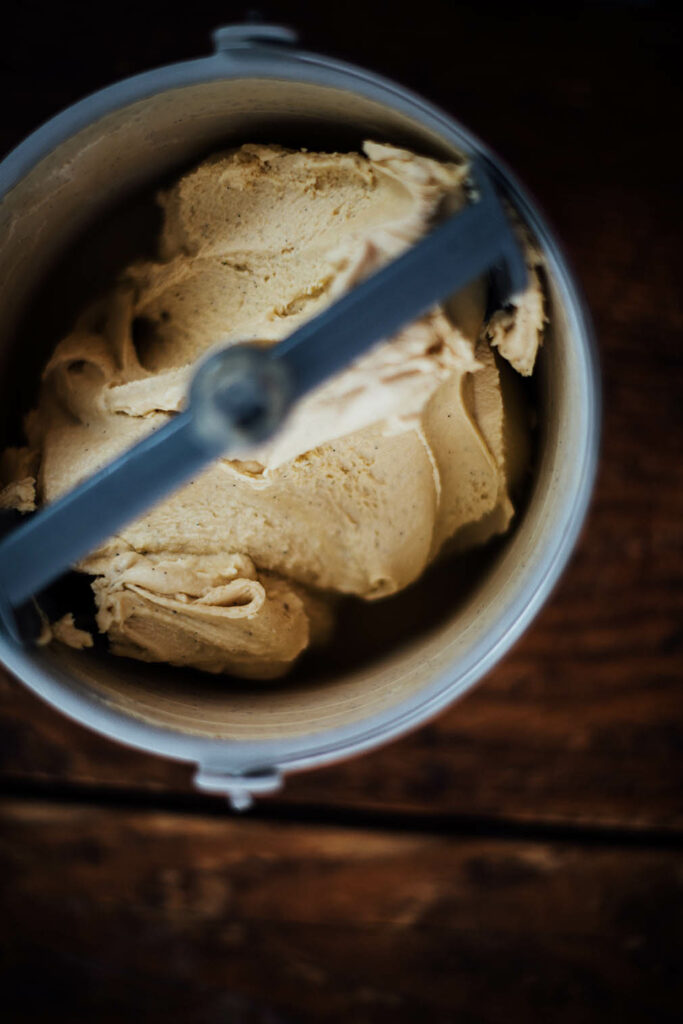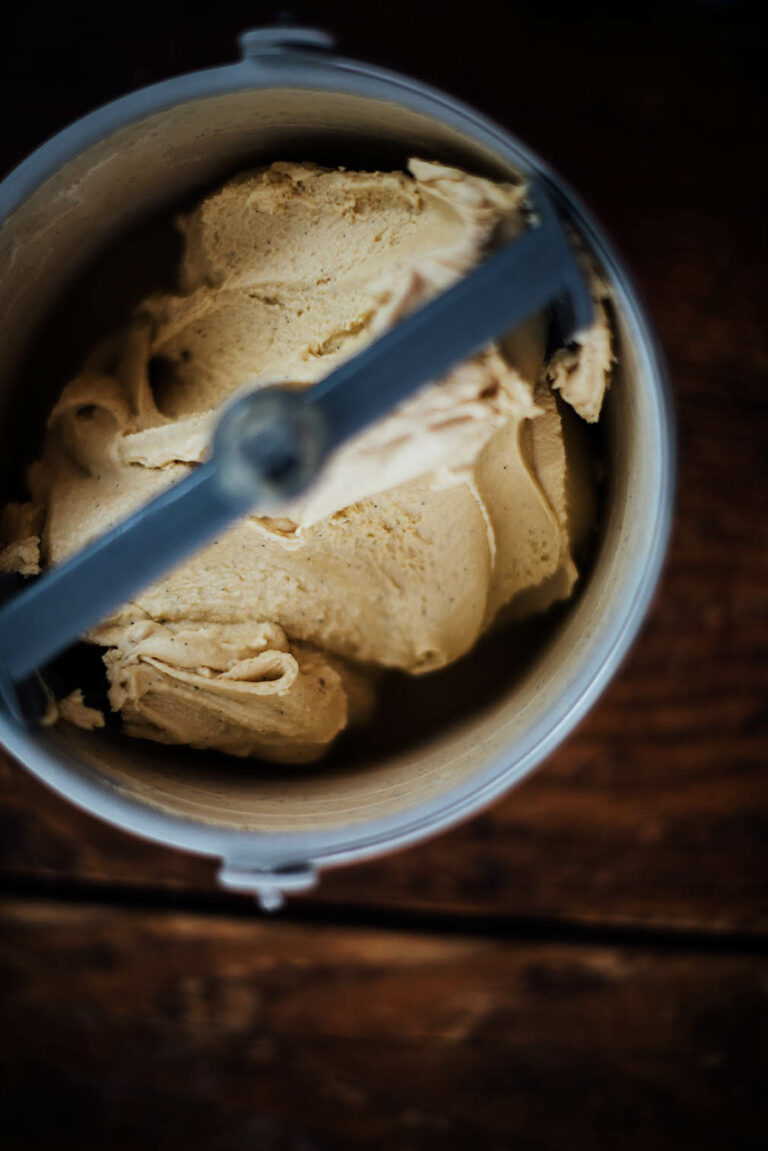 Print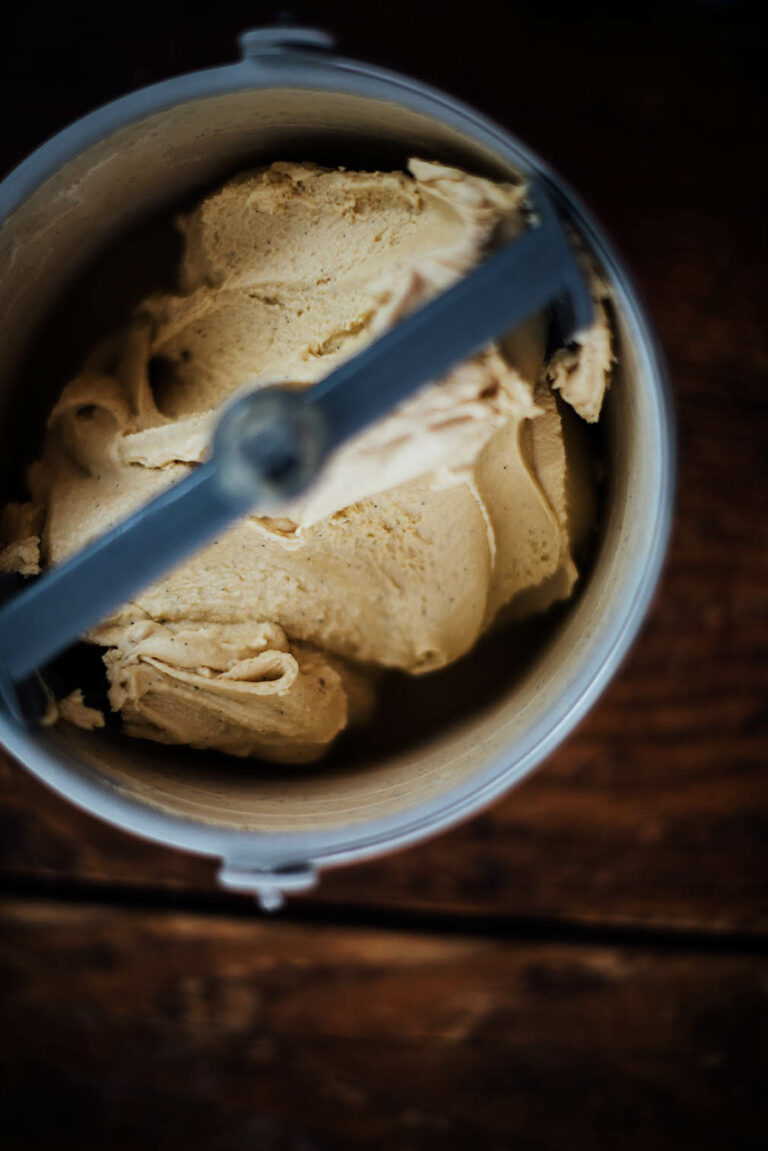 vanilla bean, jaggery and bourbon ice cream
This ice cream falls into one of my pantry-clean-out desserts. It relies on jaggery (an unrefined form of sugar used in Indian and South Asian cooking), a good quality vanilla bean, and bourbon for flavor. Jaggery imparts an earthy sweetness to this dessert that stands out in this frozen treat. If you can get your hands on Parle-G biscuits/cookies, use them to make ice cream sandwiches.
One whole vanilla bean

½ cup/120 ml whole milk

2 ½ cups/600 ml heavy cream

2/3 cup/130 g packed jaggery

6 yolks from large eggs

1/4 cup/60 ml bourbon
Instructions
Scrape the vanilla bean and add the stalk, seeds, milk, heavy cream, and jaggery to a medium saucepan. Stir with a silicone spatula and heat over medium-low heat until the jaggery is completely dissolved, 3 to 4 minutes.
In a small bowl, whisk the yolks and then whisk in ½ cup/120 ml of the warm milk and cream mixture. Pour the warm egg yolk mixture into the saucepan and whisk quickly until combined. Cook over low heat and stir constantly until the mixture thickens to a custard-like consistency at about 165F to 170F/74C to 77C and coats the back of a spoon (your finger should leave a clean trail when you draw a line with your finger across the custard coating on the spoon), 6 to 8 minutes. Remove from heat and strain the mixture through a fine mesh sieve to remove any lumps. Transfer to a resealable gallon ziptop bag and seal. Plunge the bag into an ice bath and leave it there for about 30 minutes, or until the custard is chilled.
Stir in the bourbon.
Pour the ice cream base into the canister of your ice cream maker and prepare as per the manufacturer's instructions. Alternatively, if you don't own an ice cream maker, transfer the ice cream base to a metal container and cover it with cling wrap. Freeze the mixture for 2 hours or until it begins to firm up. Remove from the freezer, unwrap, and crush the ice crystals using a fork or immersion blender. Alternatively, transfer to a blender or food processor and pulse to break the ice crystals. Cover with the cling wrap and refreeze. Repeat three to four times at 30-minute intervals until the mixture turns soft but frozen. Freezing times will vary depending on the refrigerator.
Scrape the ice cream into a freezer-proof, airtight container and freeze for at least 2 to 4 hours before serving. The ice cream will stay good for up to 1 week.
Notes
Jaggery is one of the key flavor ingredients here, but muscovado sugar and piloncillo also work if you're in a pinch.