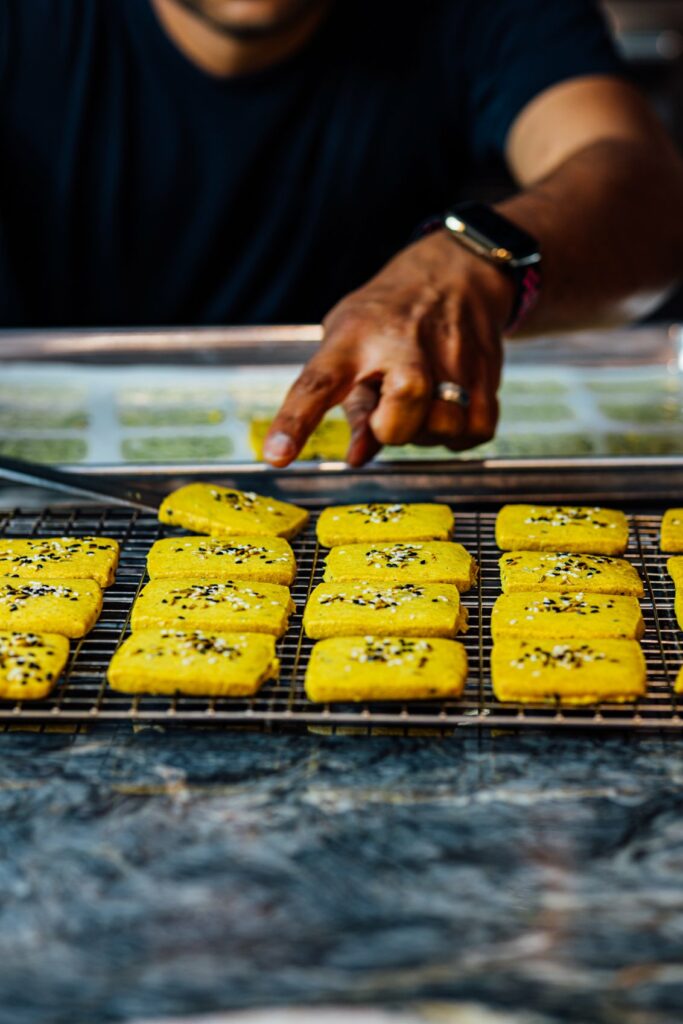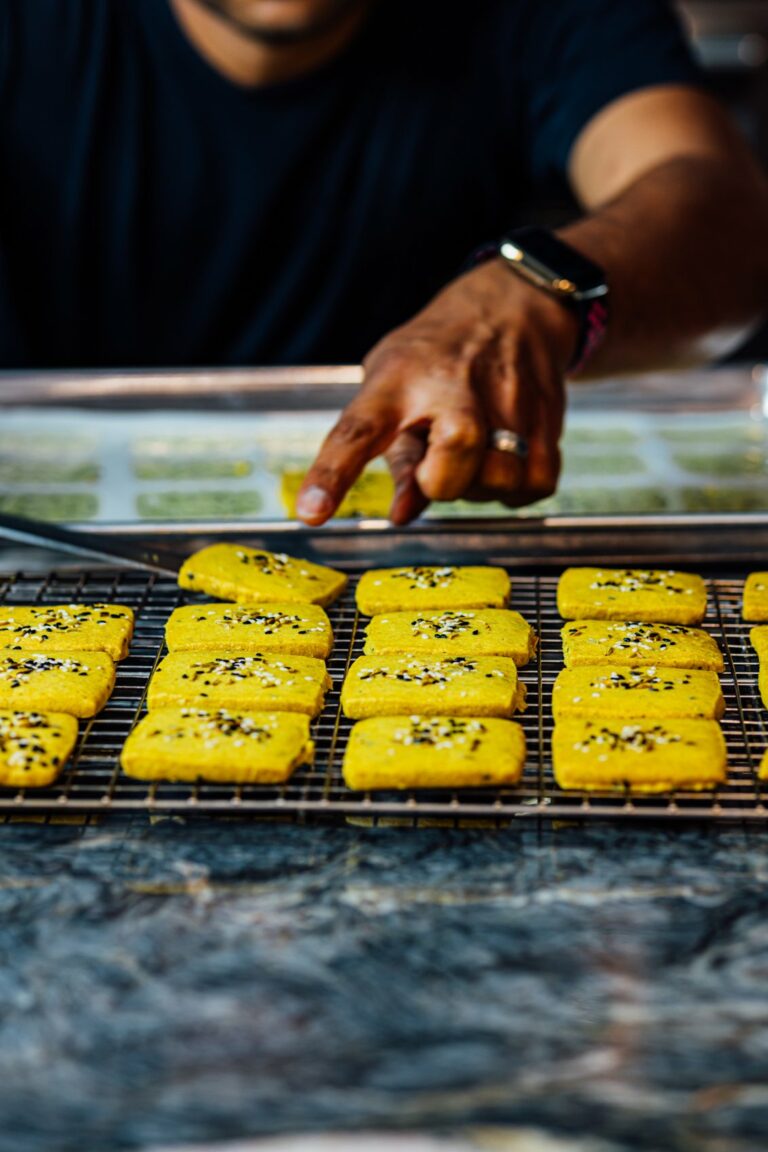 I am a sucker for teatime because it's the perfect excuse to eat cakes and cookies. I've been reminiscing over the days when I would visit my grandparents in Bombay, India, and wait for the "biscuit man" to drop by in the afternoon with his tin boxes filled with cookies/biscuits. The cookies would come in various shapes, sizes, and flavors, and my favorites were the ones gently kissed with spices or the cookies sandwiched with a thick layer of fruit jam. Sometimes we'd walk through the neighborhood bazaar and visit the bakery to pick up fresh sweet buns stuffed with dried fruit or grab a cream horn. Teatime was a treat. As an adult, I don't treat myself often with teatime, and perhaps if we had kids, I would repeat this tradition that was an integral part of my life. (I might be setting myself up for a dangerous situation here, my husband will probably read this and ask me to make him tea and cookies every evening.)
This shortbread is inspired by the sweet memories of those evening teas and delightful treats. There's a hint of turmeric for color and a dash of warm spices for aroma. I've also thrown in a few sesame and fennel seeds that bring a crunchy bite and flavor. These also make a lovely gift to share with family and friends.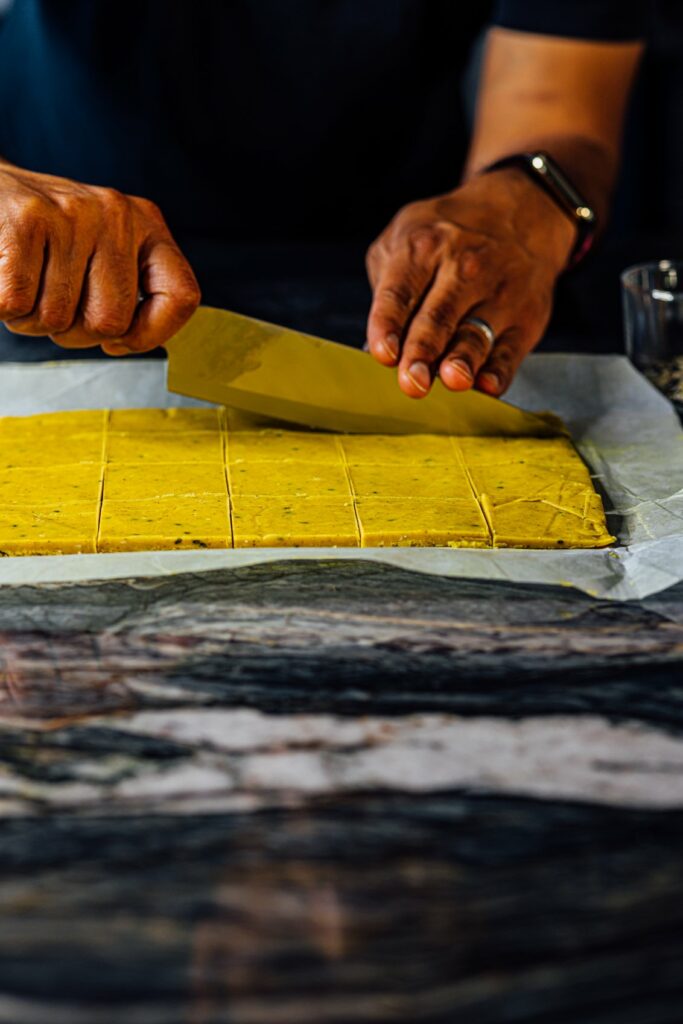 The Basics of Shortbread Making According to Science
Butter
Butter is an emulsified fat where water droplets are trapped inside the fat. The fat helps coat the gluten-forming proteins in the flour and prevents them from coming together. Any water from the butter that might encounter those proteins gets absorbed by the cornstarch (see below for how that works).
Hardboiled Yolk
Uncooked fresh egg yolk is about 50% water; during boiling, this water participates in the chemical and physical changes inside the egg and yolk proteins and phospholipids and is no longer readily available. As the egg and yolk proteins denature, the phospholipids change, and the yolk solidifies. These substances form a mesh and squeeze their water out.
Why does this matter? Water is an essential component of the gluten-forming reactions when the dough is prepared from flour. If a raw egg yolk were used in this recipe, there would be greater gluten formation because the water from the yolk is much more readily available. In a hardboiled yolk, that water is lost. The cooked yolk provides the necessary fat for the cookie structure without the water.
Confectioners' Sugar
When it comes to sugar and texture, the size of the sugar crystals matters; larger crystals take longer to dissolve and produce crunchier textures. For cakes and desserts, bakers often rely on superfine sugar's/caster sugar's tiny-sized crystals to dissolve faster and make tender and more delicate crumbs. Confectioners' sugar/icing sugar is ground down to a tiny size (smaller than superfine sugar), and if you look at the crystal sizes below, you'll see what I mean.
Sugar Crystal Size Comparisons
Coarse Sugar 700 to 1400 µM
Granulated Sugar 450 to 650 µM
Superfine Sugar/Caster Sugar 150 to 450 µM
Confectioners' Sugar/Icing Sugar 10 to 40 µM
Cornstarch
Cornstarch is pure starch, and when added to flour, it reduces the amount of gluten formed by sitting between the gluten-forming proteins. While mixing the batter, cornstarch hydrates by binding water, making it unavailable for gluten production. This is also why cornstarch makes a quick cake flour substitute; it helps create a more tender crumb.
Temperature
Cooler temperatures slow down the formation of gluten, which helps us achieve a better shortbread texture. Freezing and refrigerating the dough often during the prep steps will give us another backup in your quest to reduce gluten formation.
Now it's time to bake!
Sources Consulted
Karl F. Tiefenbacher, Chapter Ten – Glossary of Terms in Wafers, Waffles and Adjuncts, Editor(s): Karl F. Tiefenbacher, The Technology of Wafers and Waffles II, Academic Press, 2019, Pages 325-411.
The Ritz Carlton London Cookbook – Mitchell Beazley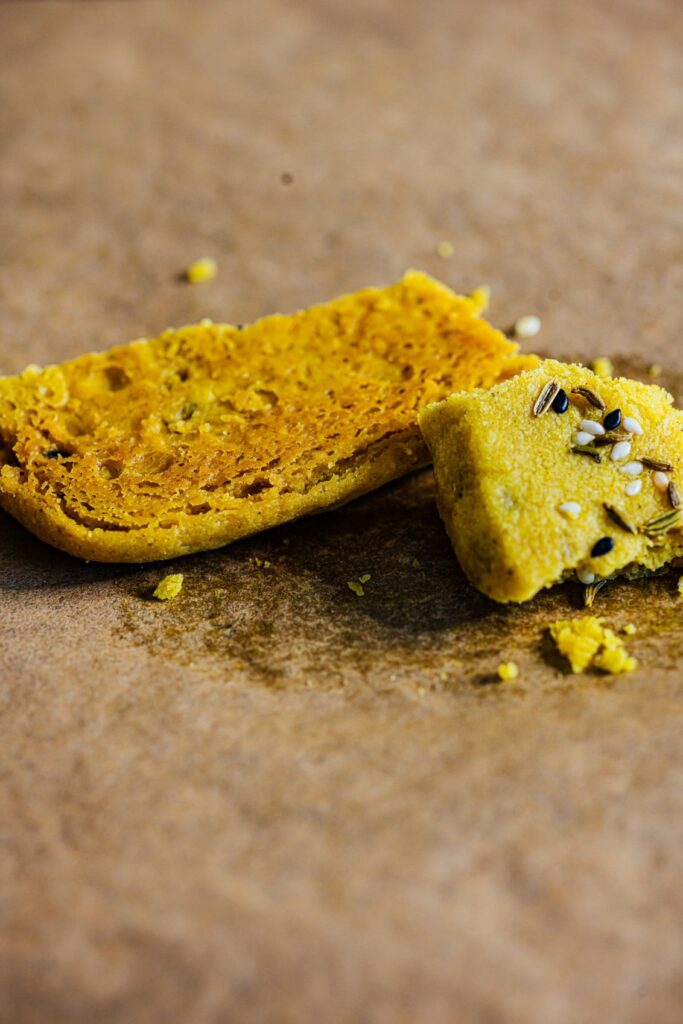 Print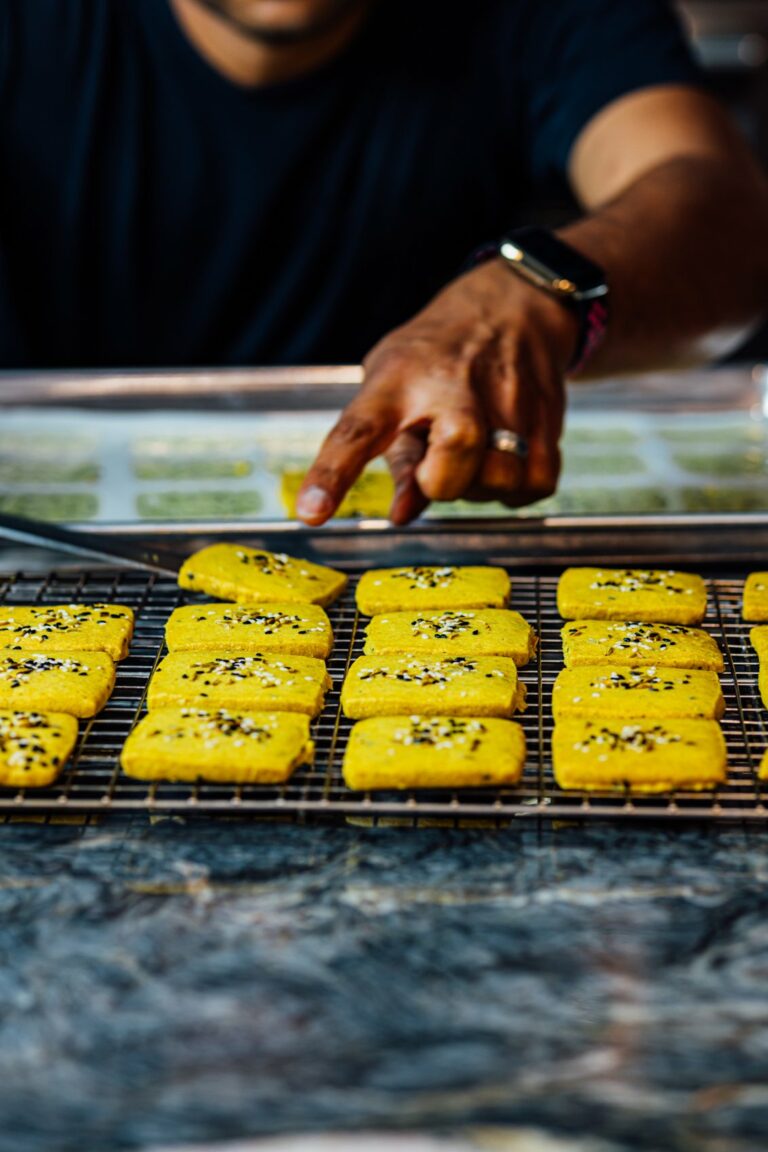 Spiced Golden Shortbread Cookies
These shortbread cookies are buttery and crisp, will melt in your mouth, and they're inspired by the different spiced cookies baked and served in India during teatime. Turmeric gives them a burst of golden sunshinelike tint, while the addition of spices gives them an irresistible fragrance. I've also added sesame and fennel seeds for a little crunch and nutty flavor.
Yield:

24 cookies each 1 in/2.5 cm square
1 Tbsp black sesame seeds
1 Tbsp white sesame seeds
1 Tbsp fennel seeds
1 ¼ cups/210 g all-purpose flour
¼ cup/35 g cornstarch
½ tsp ground black pepper
½ tsp ground ginger
½ tsp ground green cardamom
½ tsp ground cinnamon
½ tsp ground turmeric
8 oz/230 g unsalted butter, softened to room temperature
⅔ cup/80 g confectioner's sugar
1 yolk from a large hardboiled egg
⅛ tsp fine sea salt
Instructions
In a small bowl, mix the sesame and fennel seeds.
In a medium bowl, dry whisk the flour, cornstarch, black pepper, ginger, cardamom, cinnamon, and turmeric.
Using the paddle attachment, beat the butter and sugar over low speed until pale and fluffy, 5 to 6 minutes. Scrape down the sides and bottom of the bowl using a bowl scraper. Place the yolk in a fine-mesh strainer held over the bowl of the mixer and press the yolk with a spoon until it completely passes through and transforms into fine shavings. Add the salt and beat over medium speed until combined, 1 minute. Scrape down the sides and bottom of the bowl using a bowl scraper. Add the dry whisked flour mixture to the creamed ingredients in the bowl, and mix over medium-low speed until combined, 2 to 3 minutes. Scrape down the sides and bottom of the bowl using a bowl scraper. Add ½ of the seed mixture to the shortbread dough and mix over low speed for 1 minute, until evenly dispersed. Reserve the remaining seeds in the bowl for the shortbread topping.
Transfer the shortbread dough to a sheet of parchment paper. Roll and shape into an 8 in by 12 in/20 cm by 30.5 cm rectangle. Transfer the rolled-out dough with the parchment paper onto a baking sheet, top with a second sheet of parchment paper or cling wrap, and freeze for 1 hour or up to 2 hours.
Bring the baking sheet with the rolled-out dough and transfer the parchment paper with the cookie dough onto the kitchen counter. Unwrap and reserve one sheet of parchment paper. Using a sharp knife trim the edges (you can skip this and leave the edges untrimmed), score the rolled-out dough, and cut into 1 in/2.5 cm squares. Line the same baking sheet with a sheet of parchment paper. Transfer the cut squares of dough to the parchment paper, spacing them out evenly using an offset spatula (I left a ⅜ in/1 cm space). If the dough warms up and softens and makes it tricky to transfer them to the baking sheet, stick them in the freezer uncovered for 15 minutes to firm up. Sprinkle the reserved sesame and fennel seeds on top of the cookies. Take one of the reserved sheets of parchment paper, place it over the cookies, and gently press the seeds down to stick to the cookie dough's surface. Unwrap and return the sheet to the freezer for 15 minutes to firm up.
When ready to bake, preheat the oven to 300°F/150°C.
Once the cookies firm up, bake them on the baking sheet in the preheated oven, rotating the pan halfway through during baking, until the edges just start to turn golden brown, 30 to 40 minutes. Remove from the oven and let the cookies rest on the baking sheet for 5 minutes, transfer to a wire rack and let cool completely. Store the cookies in an airtight container for up to 1 week.
Notes
Confectioner's sugar and cornstarch are light, can blow with the wind and sudden movements, and make a mess. When weighing, adding, and mixing them, execute caution; combine them slowly, saving you from later cleaning a giant dust cloud.
Scrape the sides and the bottom of the bowl as often as possible to ensure the ingredients mix evenly. Invest in a bowl scraper if you don't own one. Because of their curved design, bowl scrapers do a much better job than silicone spatulas at reaching the deeper curved sides of the bowl.
To grate a hardboiled egg yolk, sift it.
Refrigerate the uncooked dough as often as possible to help create a crispier shortbread cookie.
If you have a ravioli roller on hand, use that to get a fancier edge on the cookies, but a sharp knife and a cookie cutter also work. I prefer keeping it simple because cookie cutters come in odd shapes and tend to create extra work (you'll have to collect the dough scraps and roll it out again, increasing the amount of gluten, and the second batch might not be as crispy).
These cookies are sweet enough for most people, however, dust them lightly with confectioner's sugar if you like them sweeter.