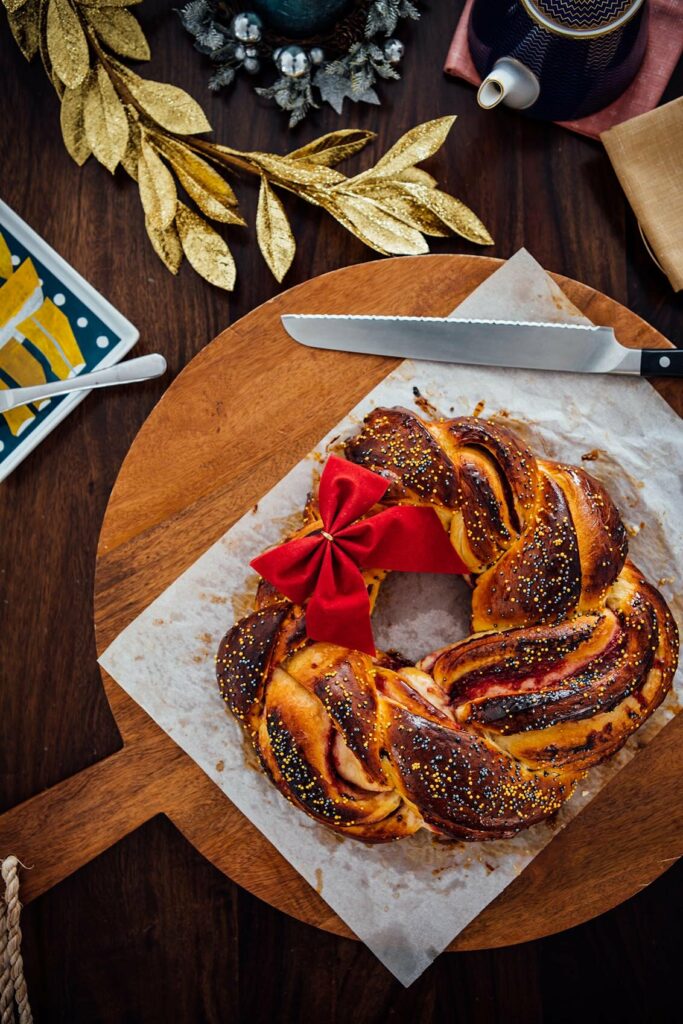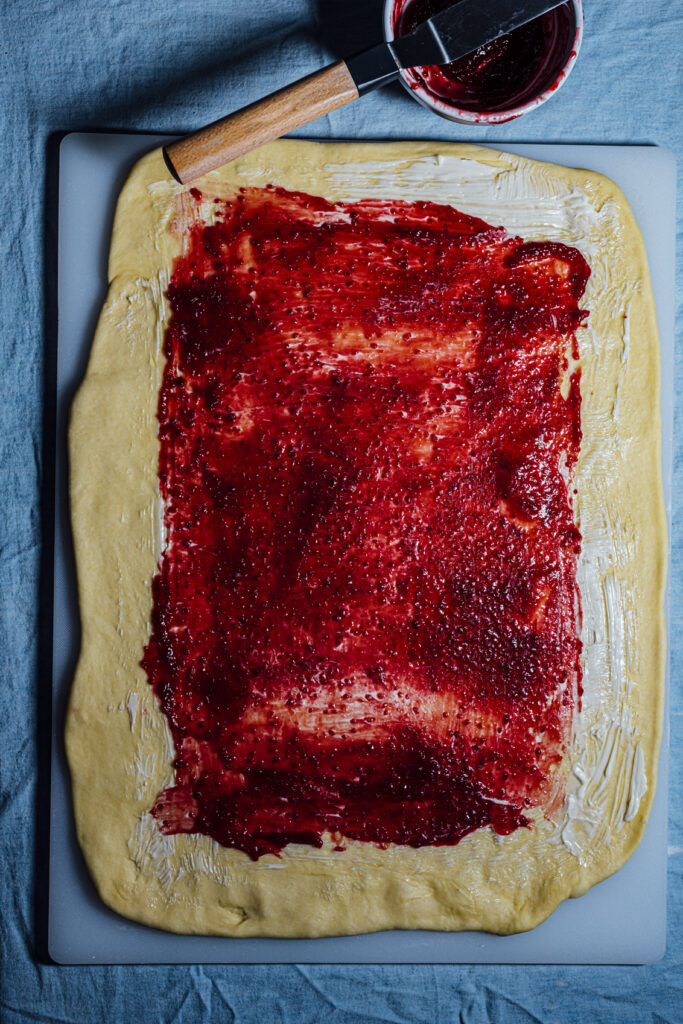 Print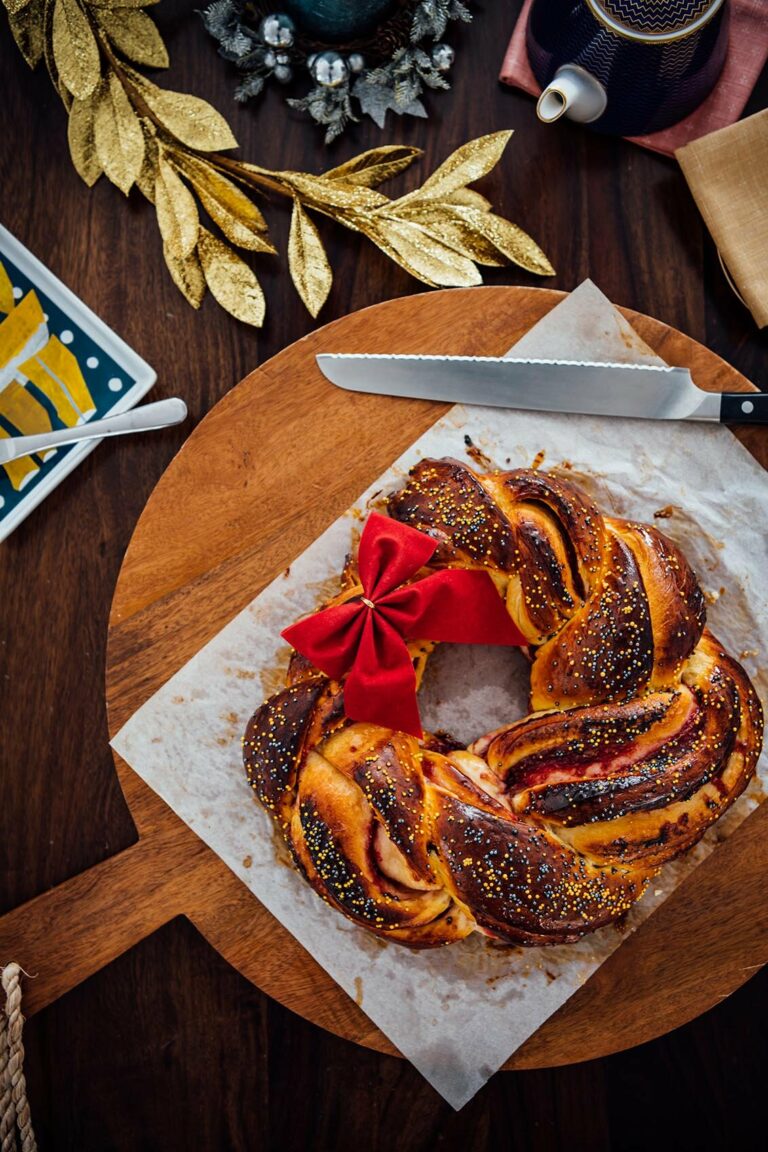 Spiced Christmas Bread Wreath With Raspberry Jam
There is a clear positive relationship between the Christmas season and my baking activity. This year, I've been baking festive bread wreaths in all sorts of shapes and all sorts of fillings. Today with King Arthur Baking Company, I'm sharing my recipe for this easy bread wreath that's spiced with a good dose of black pepper and cardamom and then filled with a layer of bright red raspberry and lime jam. I usually cut a big slice and then lather some cold butter on top.
For the Bread
1 cup/240 ml whole milk
½ cup/100 g sugar
½ cup/110 g unsalted butter, melted
2 large eggs, lightly whisked
1 ½ tsp active dried yeast
4 cups/560 g King Arthur Baking Company all-purpose flour
1 tsp fine sea salt
1 tsp ground green cardamom
1 tsp ground black pepper
For the Filling 
2 Tbsp unsalted butter, softened to room temperature
½ cup raspberry jam
1 Tbsp fresh lime juice
1 Tbsp fresh lime zest
For the Topping 
1 large egg, lightly whisked
2 Tbsp edible gold pearls
2 Tbsp edible silver pearls
2 Tbsp honey or golden syrup
Instructions
Warm the milk to 110F/43C. Stir in the sugar, butter, and eggs, whisk till smooth and the sugar is completely dissolved. Add the yeast.
In a large bowl whisk the flour, salt, cardamom, and black pepper. Make a well in the center and pour the milk-yeast mixture. Stir with a wooden spoon till the dough comes together. Knead for 5 minutes, shape into a ball, place it in a large greased bowl, cover loosely with a lid, and let it double in size for about 2 hours in a warm spot.
Once the dough has doubled, turn it out on a lightly floured sheet of parchment paper or large kitchen towel and roll it out into a 12 in by 9 in (30.5 X 23 cm) rectangle. Spread the 2 Tbsp of butter with an offset spatula leaving a 1 in/2.5 cm border at the outer ends of each side. Mix the jam with the lime juice and zest and spread it out with the offset spatula over the butter, again leaving a 1 in/2.5 cm border on each side. Carefully roll the dough into a log from the longer send and seal the open edge by brushing the dough with a little water to form a seal. Using a sharp knife cut the log into half. Braid the dough by twisting the two halves over each other. Line a baking sheet with parchment paper and place a 5 in/13 cm ramekin bowl in the center. Wrap the braided dough around the ramekin and then seal the ends over each other using a little water and then press them together. Cover the dough with a damp towel and let rise for 30 minutes. Preheat the oven to 350F/180C. After the dough rises, remove the ramekin. Brush the surface of the dough with the whisked egg. Sprinkle the edible pearls over the bread and bake for about 45 minutes, turning the dough halfway through during baking. Once the bread is baked and evenly golden brown, remove from the oven and dab the honey on top with a pastry brush. Let the bread cool for at least 30 minutes before serving.
Notes
I
f you prefer seedless raspberry jam and can't find any, then strain 3/4 cup of raspberry jam through a fine mesh sieve set over a bowl to collect the jam. Discard the seeds left behind. You're using a larger amount of jam here to account for the seeds and this gives you some extra wiggle room.
Resist the urge to add too much jam, the bread tends to become slippery and it will be trickier to braid.
Disclaimer: This post is sponsored by King Arthur Baking Company, all opinions expressed are entirely my own.