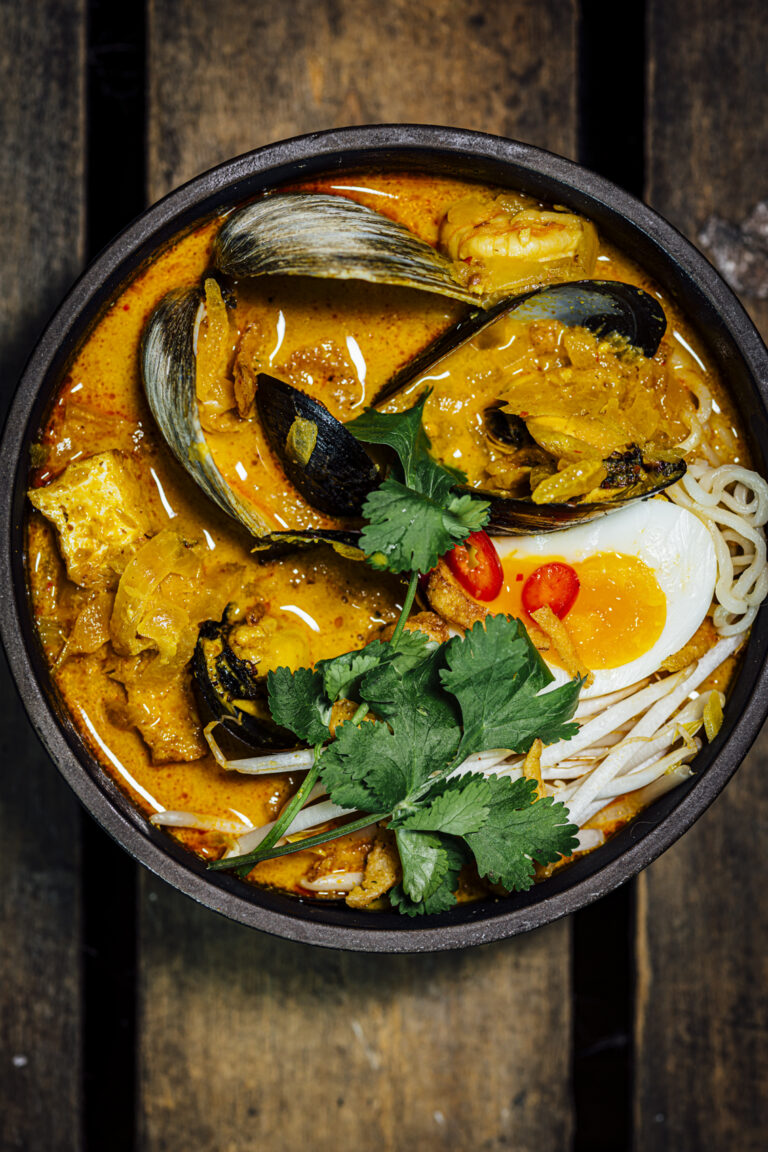 Print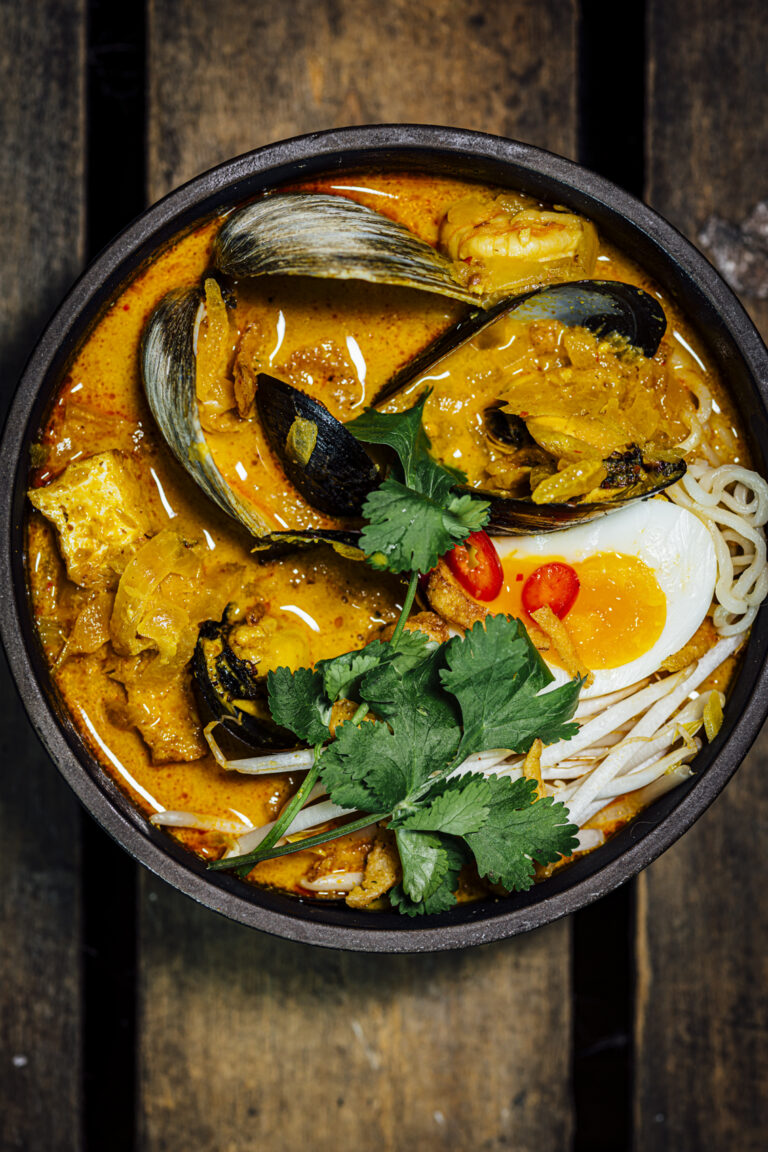 Seafood Laksa
Laksa is one of my favorite soups from the Peranakan cuisine served in Indonesia, Malaysia, and Singapore, and I make it often. This is my version made with clams, mussels, shrimp, and chunks of puffed tofu. I refresh the laksa paste by cooking it with a few spices and freshly grated lemongrass. It's an extra special treat to get my hands on laksa leaves, aka Vietnamese cilantro, at my grocery store. 
1/4 cup/60 ml neutral oil such as grapeseed
1 large onion/400 g, minced
4 garlic cloves, grated
3 Tbsp fresh ginger, peeled and grated
2 stalks lemongrass, white part grated (see The Cook's Notes)
1 cup/350 g laksa paste
2 tsp ground cumin
2 tsp ground coriander
1 tsp ground turmeric
4 1/2 cups/1 L low-sodium chicken or vegetable stock
1 Tbsp low-sodium soy sauce
2 tsp fish sauce
1 lb/455 g clams
1 lb/455 g mussels
1 cup/240 ml plain unsweetened coconut milk
8 large shrimp, peeled and deveined (with or without tails)
1/4 cup/60 ml fresh lime juice
10 oz/285 g cooked rice noodles like vermicelli, egg noodles, or ramen
Toppings
12 1 in/2.5 cm cubes of puffed tofu
4 Tbsp fresh bean sprouts (see notes)
4 soft hardboiled eggs, cut in half
1 bird's eye chilli, thinly sliced
4 Tbsp crispy fried shallots or onions
4 Tbsp fresh Vietnamese cilantro, cilantro, or mint leaves
Instructions
Heat the oil in a large stockpot or Dutch oven over medium heat. Add the onion and sauté until toffee brown, 15 to 20 minutes (your cooking time will vary). Add the garlic and ginger, cook for 1 minute, until fragrant. Add the lemongrass, laksa paste, cumin, coriander, and turmeric and cook, often stirring to prevent burning, until the mixture turns fragrant, 2 to 3 minutes. 
Stir in the stock, soy sauce, and fish sauce. Bring to a boil over medium-high heat, then reduce to low and let simmer. Add the clams, mussels, and tofu, and simmer covered for 10 minutes until the shellfish open up completely. Remove and discard any unopened shellfish. 
Fold in the coconut milk and shrimp. Simmer until the shrimp turn bright pink and plump, 4 to 6 minutes. 
Stir in the lime juice and fold in the cooked rice noodles. Taste and season with salt if needed. 
Serve the soup in large bowls. Top each with bean sprouts, soft hardboiled eggs, chilli, crispy fried shallots, and cilantro. 
Leftovers can be stored for up to 4 days in an airtight container in the refrigerator.
Notes
I use a microplane zester to grate the lemongrass stalks, producing a finer texture that releases flavor into the laksa as it cooks.
My favorite brand of laksa paste is the Por Kwan Laksa Paste. The flavor is terrific. 
Blanch the bean sprouts in a bowl of boiling water for 30 seconds, transfer them to a bowl of ice-cold water, drain, and then use them as a garnish. 
You can use either herb listed in the recipe or all of them simultaneously. 
Feel free to adjust the amount of seafood in the recipe. Crab and lobster can also be used. 
Rice noodles like vermicelli are the traditional choice with laksa, but I've also used ramen.