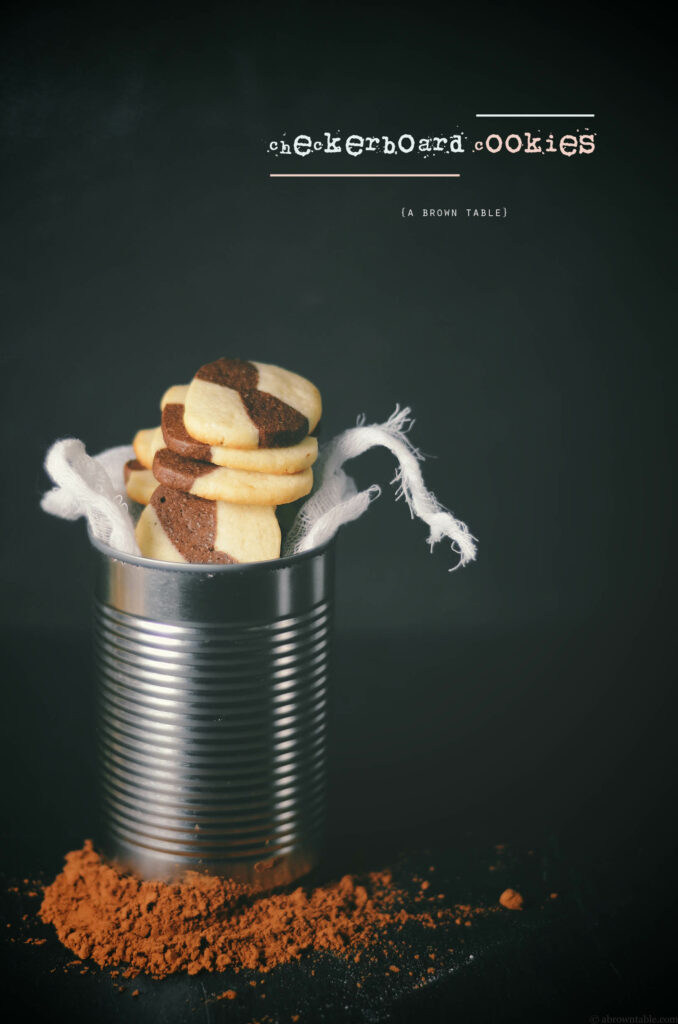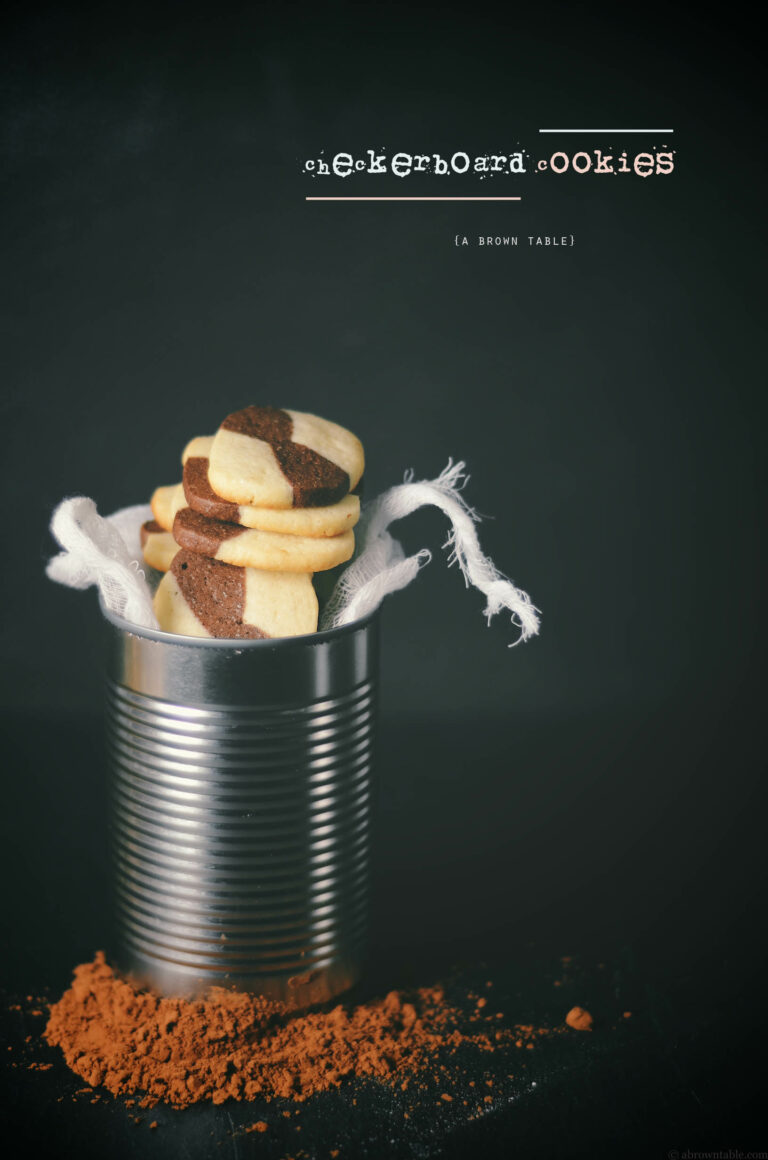 Earlier this week, I received some good news; I was nominated for India's Best Food and Drink blog category. How crazy is that? It's an honor and a humbling experience to share the spot with some amazingly talented bloggers. If you have a moment to spare, please check out the link, and I would appreciate it if you could give me your vote. This past year has been amazing. I have met so many wonderful people via this tiny space of mine; your overwhelmingly positive and encouraging comments have been very supportive, and I thank you.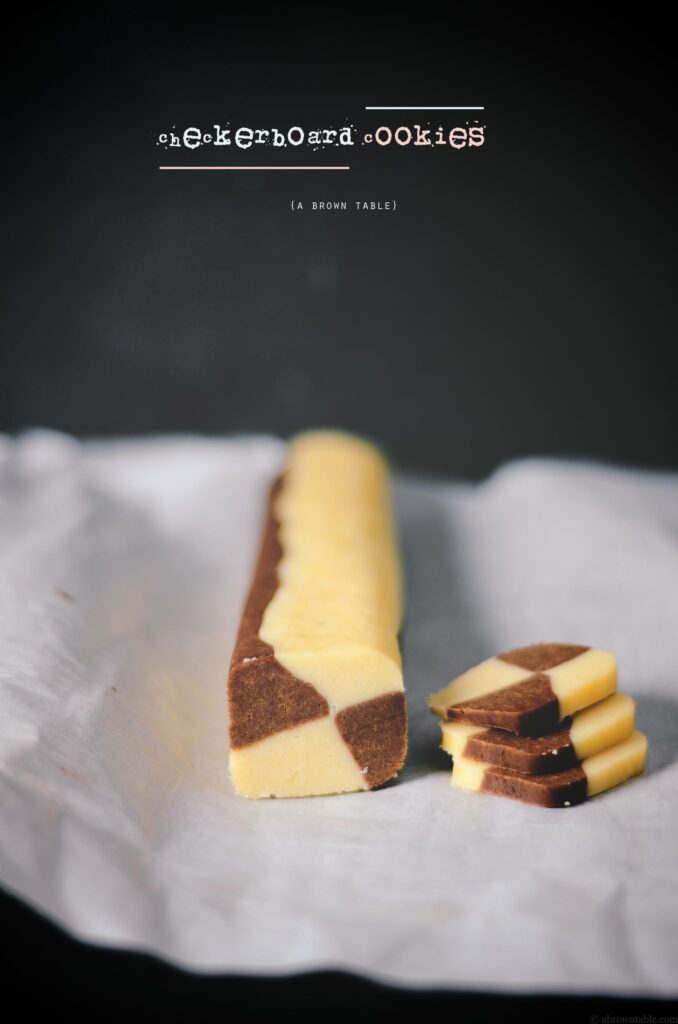 We are off to Charleston this weekend for the wedding of my two dearest friends.  To make our long 8-hour drive fun, I baked one of my favorite childhood cookies, the checkerboard. There are so many wonderful things about checkerboard cookies; they look cute, taste good (cocoa and vanilla), and smell great, take my word for it; they are simply delicious! I got the recipe from one of my mom's old cooking notes, though I am unsure where she got it.
Did I forget to mention, how good the kitchen smells when you bake vanilla and cocoa? I need to bake these guys more often before people come over. 
Print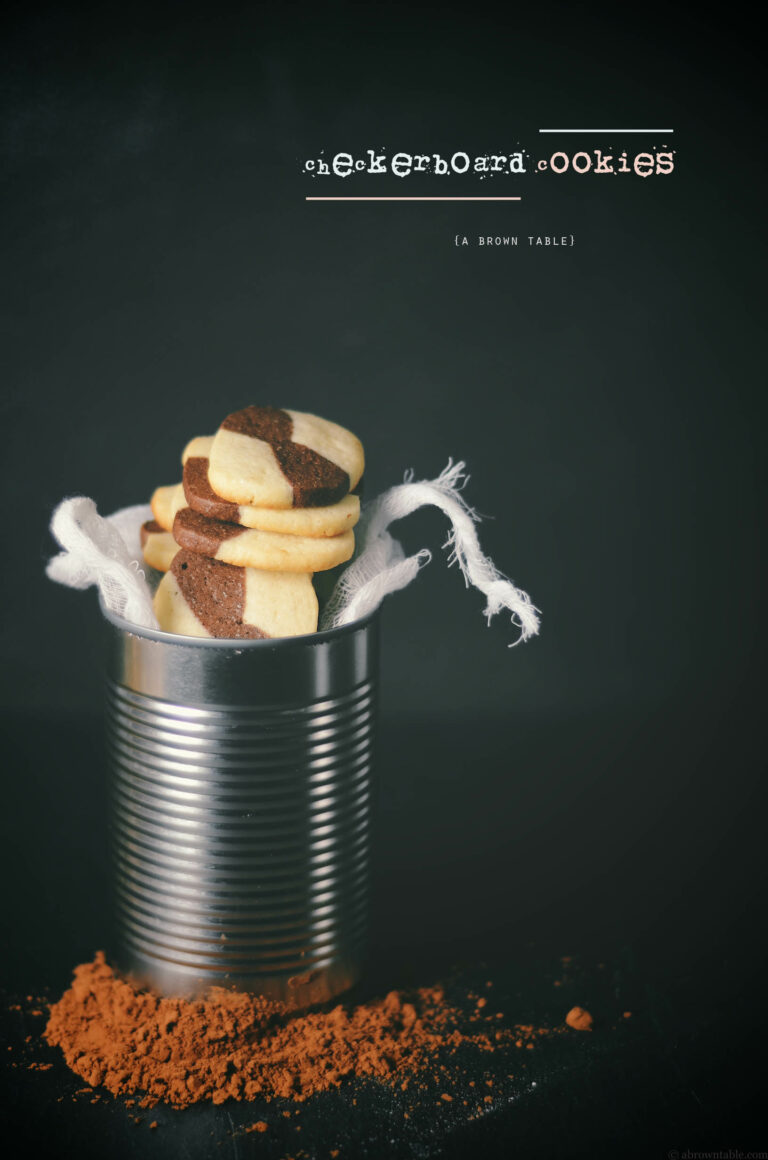 checkerboard cookies
Checkerboard cookies are one of my favorite childhood cookies, and I love making them year-round, especially at Christmas. To increase the number of checks, double or triple the recipe to make more logs of the vanilla and cocoa dough and arrange them alternately to create the checked pattern.
Yield:

Approximately 30 cookies
4 oz/110 g unsalted butter, at room temperature

¾ cup/150 g sugar

1 tsp vanilla extract

1 ¾ cups/280 g all-purpose flour

1 large egg

2 Tbsp milk

2 Tbsp unsweetened cocoa powder (70% cacao)
Instructions
Preheat the oven to 350F/180C. Line two baking sheets with parchment paper.
Add the butter, sugar, and vanilla to the bowl of a stand mixer. Using the paddle attachment, beat over medium speed until light and fluffy, 2 to 3 minutes. Scrape the bottom of the bowl using a bowl scraper. Add the egg and beat until pale yellow and fluffy, 1 to 1 ½ minutes. Scrape the bottom of the bowl using a bowl scraper. Add the flour and whisk over low speed until there are no visible dry flecks of flour, 1 to 2 minutes. Add 1 Tbsp of milk and mix over low speed until the mixture resembles a dough. The dough will be pale yellow.
Divide the dough in half by weight. Remove one-half of the dough and keep aside. Add the cocoa powder and one tablespoon of milk and mix over low speed until the dough turns completely chocolate brown, 1 to 2 minutes. Divide the vanilla and cocoa-flavored dough into half. Roll each half into 12 in/30.5 cm long logs/cylinders.
Place one log of vanilla and one log of cocoa dough lengthwise adjacent to each other. Place the second log of cocoa above the first vanilla-flavored log. Place the second vanilla-flavored log over the first log of cocoa dough. This will create a checkered pattern. Press the 4 logs gently together. Wrap the dough with parchment paper, pressing gently to create a smooth flat edge. Refrigerate the dough for an hour to firm up.
When ready to bake, preheat the oven to 350F/180C. Line two baking sheets with parchment paper.
Once the dough is firm, cut into 1/8 in/4 mm thick slices using a sharp serrated knife. Place the slices on the lined baking sheets. Refrigerate the cookies for 10 minutes to firm up. Bake the cookies for 10-15 mins on the middle level until they turn golden brown on the edges, rotating the sheet halfway through during cooking. Let the cookies cool on the baking sheet for 5 minutes, and transfer to a wire rack to cool completely. Store in an airtight container for up to 1 week in an airtight container.
Notes
When baking these cookies, I prefer to bake one sheet at a time in my oven. I usually cut the dough, split the cookies between two sheets, and then refrigerate the sheet I am not going to bake immediately.
This cookie dough is slightly sticky, so I prefer to roll out the cylinders on parchment paper. Less mess, and you don't need extra flour for dusting. Too much flour can also prevent the cookie dough logs from sticking to each other.
The cookie dough is easier to cut if it is firm and comes out crispier, so refrigerate them for a few minutes before cutting.