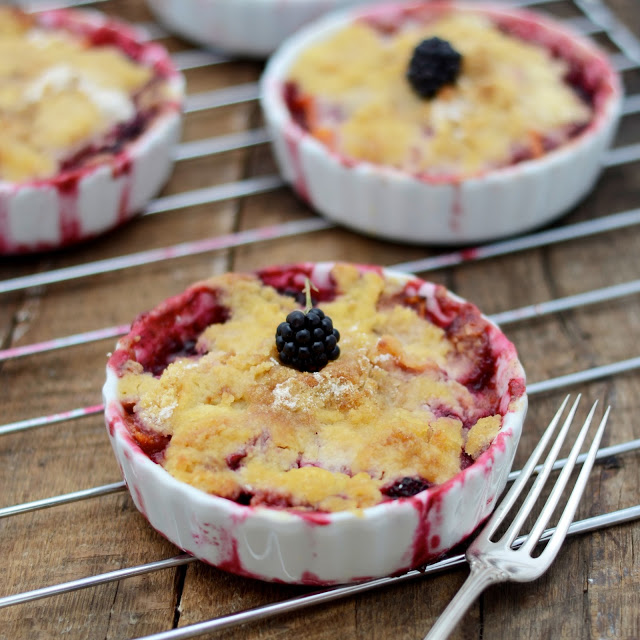 Sometimes during our summers we would visit our grandfather's family home that was located a few hours away from the city. Since the house faced the port, we would watch the ships enter and leave the docks. Some days were spent on the sandy shores of the beach where we'd act silly and play in the water. The house also contained a big garden at the back and we would collect and eat plenty of fresh coconuts, mangoes, jackfruits, and cashews. We'd come back to the city with crates of fresh mangoes to potentially last us for the rest of summer but that would never really went as well as planned. Those were wonderful days. Later as time passed the house was sold and the bountiful garden was gone. A newer and larger building came in its place. We'd still visit but I secretly missed the smell of the old house and its fruit trees.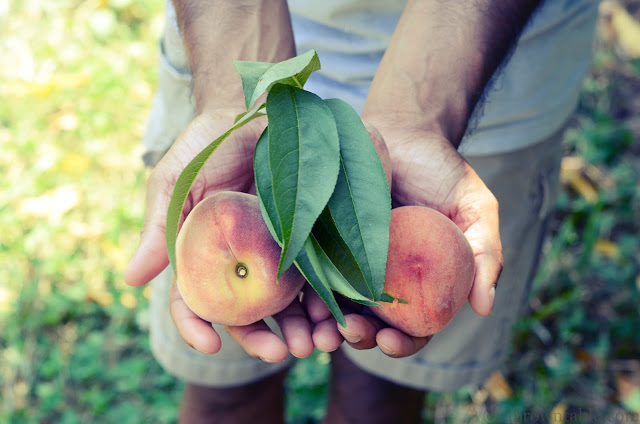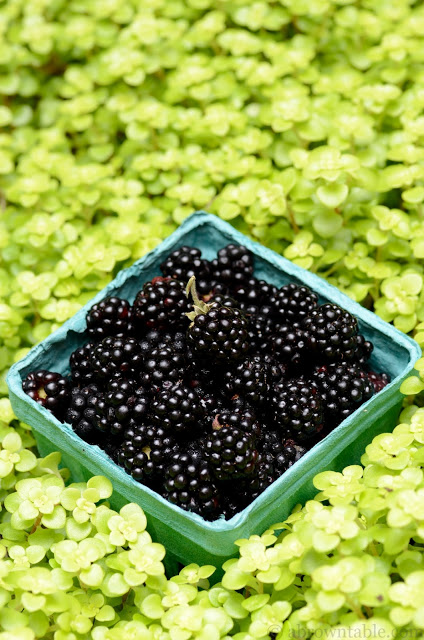 These days I get to relive my childhood summers and recreate them in a more grownup way. There are several beautiful vineyards and farms out in Virginia and Maryland. Fortunately for us, most of them are only an hour or so away from D.C. making it the perfect getaway. A few weekends back, we took a day trip down to the
Hollin's farm
in Virginia where we picked peaches and black raspberries among other fruits and vegetables. Coincidentally, August is also the National Peach Month and the orchards were loaded with all sorts and sizes of peaches. We picked more peaches than we could actually eat but that did not stop us from filling four pecks. Later we walked through the groves of black raspberries and picked the ripening berries straight off the vines. Some of them squeezed under the pressure of our fingers and stained our palms with a sweet and sticky purple color. By the time we were done, we had the car full with our "day's catch".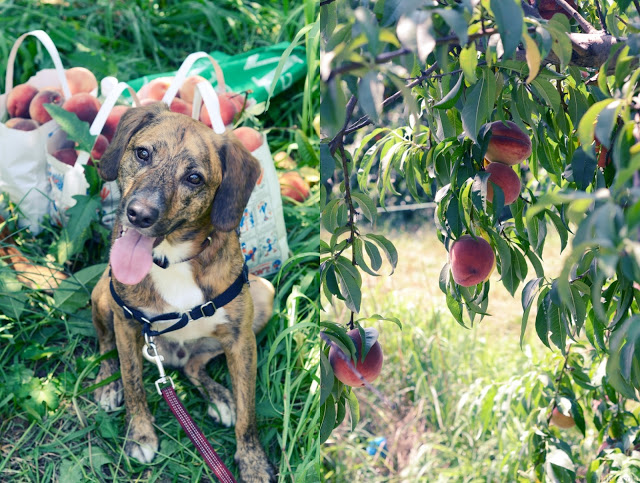 After sharing some of the peaches with friends and neighbors, I was still left with some 80+ peaches. Some I canned and froze and some that ripened fast we ate quickly. Still it is hard to keep with that many peaches and this is where my friend Alex came to my rescue. Alex was hosting an impromptu party at his home and he wanted a dessert. I told him about my peach overload situation and he suggested a peach cobbler for his party. To me this seemed like an answer to my prayers. A large peach cobbler for several people would use up several ripening peaches and so Alex got his peach cobbler.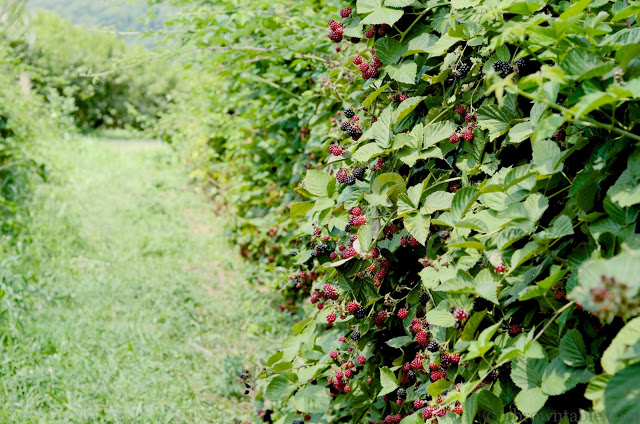 The original cobbler that I baked Alex had only peaches in it. This second batch of individual cobblers that I later had Alex and another friend Daniel taste-test during the week used up the black raspberries in addition to the peaches we picked at the farm.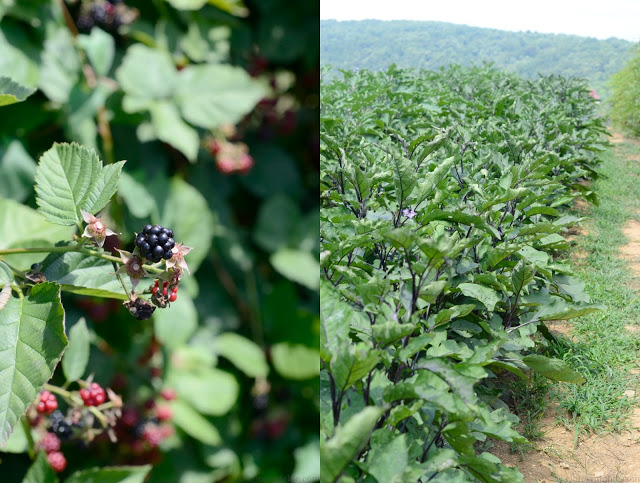 I originally had a delicious cobbler recipe given to me by
Shelly
that called for yellow food cake mix and jello. However, I made a few changes this time to the recipe and made my own crust. The first time I tried to make a crust, it didn't have the right texture and was too doughy. I used milk and water to make a wet dough which resulted in a tragic mess. The fruit filling was great but the crust lacked the flakiness that was needed. I had earlier noticed that Shelly's recipe called for a dry dough mix rather than a wet dough mix that most other recipes recommend using. Perhaps the problem and the solution was the liquid in the fruit. I realized that most fruits are rich in water and I could perhaps use the steam of the cooking fruit to moisten and bake the dough while it cooked. This turned out to be the perfect solution to my problem. Frozen and chilled butter helped to create the flaky crust that I was missing in my previous batches.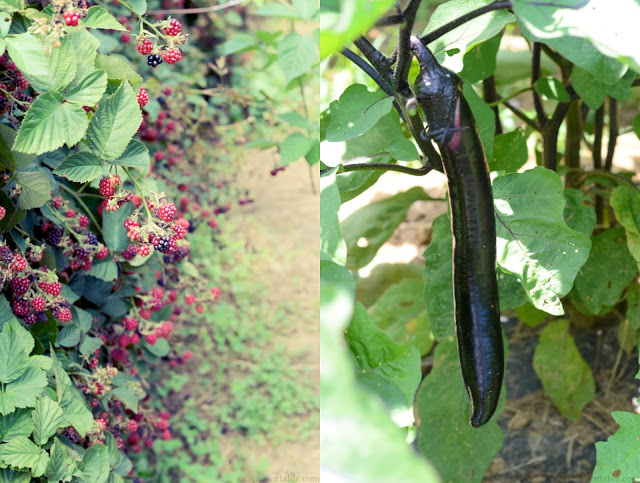 This recipe makes about six individual 6″ cobblers depending on the size of your baking dishes. You can also make one large cobbler. You can substitute the fruit with almost any fresh cherries, berries, apples, etc. I have previously used both gelatin and cornflour to thicken the fruit juices but I find gelatin to give a better thicker and richer sauce. If you use cornflour, you should use two tablespoons and mix it with the fruit before filling the baking dish.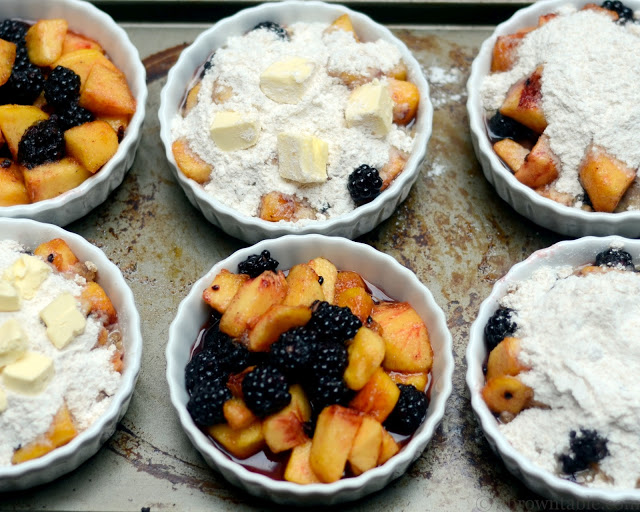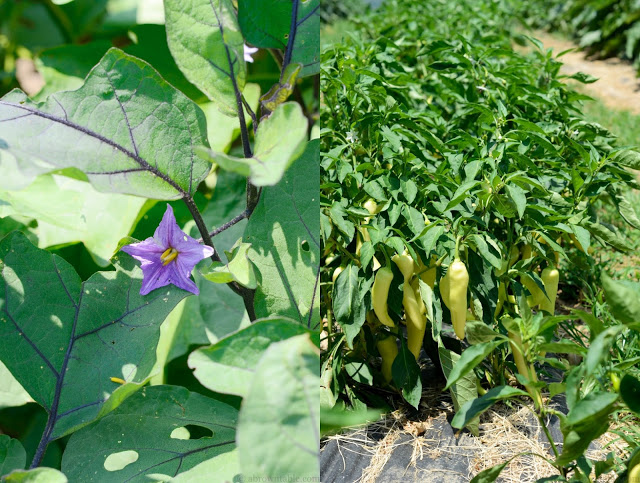 The beauty of a cobbler is its no-fuss method and style. A cobbler is rustic and should be easy. I like to serve cobblers hot, bubbling with its juices and dripping from the sides. It should always look messy and sticky. Some people like to serve cobblers with ice-cream, I rarely tend to do so but if you do like ice-cream, I would recommend a plain and simple flavor like vanilla that does not distract from the strong fruit flavors.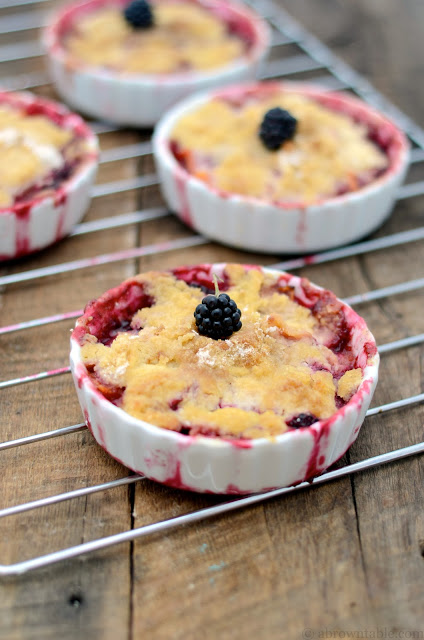 peach and black raspberry cobbler
ingredients
1 pint black raspberries
4-5 large ripe peaches (or 4 cups of chopped peaches)
1 vanilla bean pod
1 tablespoon freshly squeezed lemon juice
1/2 teaspoon fresh lemon zest
1/2 cup brown sugar
1 tablespoon cornstarch
2 cups all-purpose flour
1/4 cup brown sugar + 1/4 cup brown sugar for sprinkling on top of the cobblers
1 stick cubed chilled butter
1/2 teaspoon kosher salt
2 teaspoons baking powder
6 individual sized baking dishes (about 4 to 6 inches in diameter)
1. Preheat the oven to 350F. Peel the peaches and slice each of them in half to remove the stone at the center. Cut the peaches into large 1 inch thick pieces.
2. In a mixing bowl, mix together the raspberries, peaches, sugar, lemon juice, and lemon zest. Using a sieve dust the cornstarch over the berries and mix well (the sieve helps to prevent clump formation and allows even mixing). Carefully scrape the vanilla seeds out of the pod and fold the seeds into the fruit mixture. Cover the bowl with a lid or cling film and let it rest in the refrigerator for about 15 minutes.
3. In another mixing bowl, whisk together the flour, 1/4 cup brown sugar, butter, kosher salt, and baking powder and keep aside.
4. Place the individual baking dishes on a baking sheet. Scoop around 3/4 cup of the fruit mixture into each baking dish. Sprinkle 1/4 cup of the dry flour mix on top of the fruit in each dish. Randomly spread about 1 tablespoon of the chopped butter over the flour mixture. Bake the cobblers in the baking tray for about 45 minutes or till the crust is golden and crisp. Let them cool for 5 minutes outside the oven. Serve hot or warm with/without vanilla ice cream.