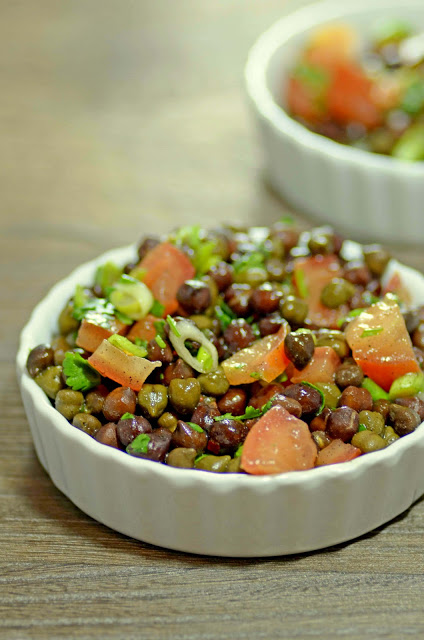 When you live in a city like D.C. you are constantly forced to deal with space issues or rather the lack of it. You end up adapting to the lack of space by buying and collecting less junk, getting rid of current junk, developing innovative ways to store your junk, or perhaps finding someone with extra space to store your junk. Since, I decided to redo the master bedroom and get a larger bed, I've been coming up with ways to get rid of stuff we don't need by simply tossing it out. I've begun a new project at the home front, "Project Redo Bedroom". Needless to say, I am inundated with choices, wider beds, beds with built-in storage, armoires versus dressers, different shades and tones of white paint for the walls, etc. I'm also nurturing the notion that I will build shelves on the wall and buy more books to fill them up. So here I am creating a muddle for myself, trying to get rid of stuff by buying more stuff to hide it all away. This is the dilemma of choices that I have brought on myself for the next few weeks.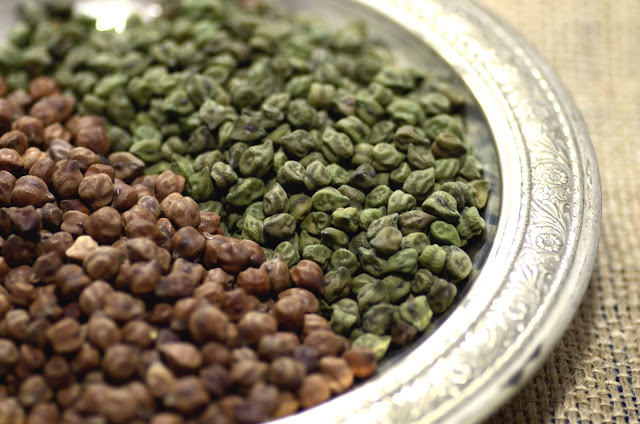 Don't get me wrong, choices can be fun too and this recipe surely takes a note of that. This is a hot salad for a cold wintry day. Chickpeas come in so many fun colors and varieties. You have the regular chubby garbanzo beans and then these brown and green varieties that are a little smaller and sturdier in their texture when cooked. This salad is based on a street food recipe from India that is light and delicious. You would normally find vendors selling this spicy hot salad out of cones of newspaper, topped with fresh lime juice and hot chili flakes.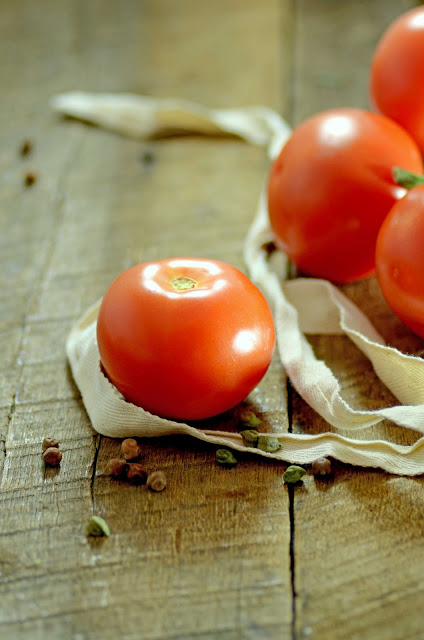 This is one salad where I prefer the main ingredient to be hot in temperature while the rest of the ingredients can be added in cold. But this salad is even wonderful, when it comes chilled straight out of your refrigerator. Though I've listed amounts below, feel free to add as much chili flakes, tomatoes or scallions as your taste buds demand. Fresh lime juice is the key to bringing this salad together. Though not traditional, you can even add some dairy to this salad but tossing in some fresh feta cheese. Either way, this salad is delicious, refreshing and fun.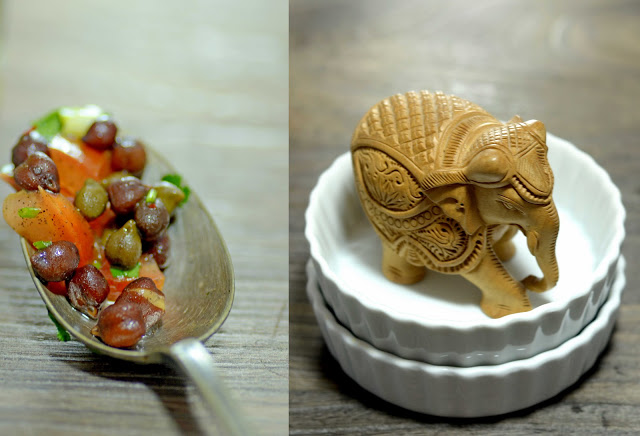 1/2 cup green chickpeas
1/2 cup brown chickpeas
1 bunch fresh scallions (about 1 cup)
1 large tomato (about 1 cup)
1 teaspoon red chili flakes (I used dried Kashmiri chili)
2 limes
salt and pepper to season
Soak the chickpeas in water overnight. Drain and rinse the chickpeas with cold water. Boil the chickpeas in a pot of water till tender. This should take about 45 minutes, then drain the chickpeas and keep aside. In the mean time, prepare the rest of the vegetables. Slice the tomato in half, discard the seeds and chop the tomato coarsely. Finely slice the scallions at an angle. In a mixing bowl, add the chickpeas, tomatoes and scallions. Slice the limes in half and extract their juice. Add the juice to the vegetables, sprinkle the chili flakes and toss to mix. Season with salt and pepper. Serve immediately or chilled with toasted naan or flat-bread.