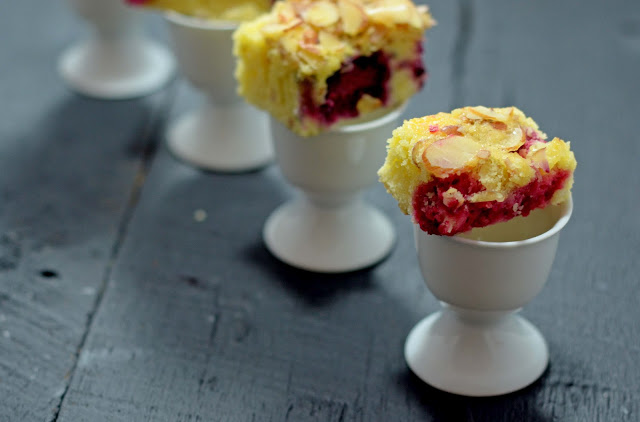 First, I was really astounded and had one of my
"Wait, what ???"
moments! You see, A Brown Table got a nod in the food section of
The Hindu
, one of the national newspapers in India. Needless to say, I am super excited and thankful for their generous feature. Its that time of the year again when the red carpet is rolled out and golden men are awarded. You can hear the loud pop of a champagne bottle and the resounding clapping of hands and perhaps see tears of joy rolling down after words of gratitude are shared. If you've already guessed by now, I am referring to the Oscars. Since we are having a few friends over to watch the show this weekend, I have been debating on my choice of dessert. For these kind of dinners, I normally lean towards some sort of chocolate based treat because it is usually a safe bet. But sometimes, I like to get a little adventurous and get everyone to partake in my culinary expeditions.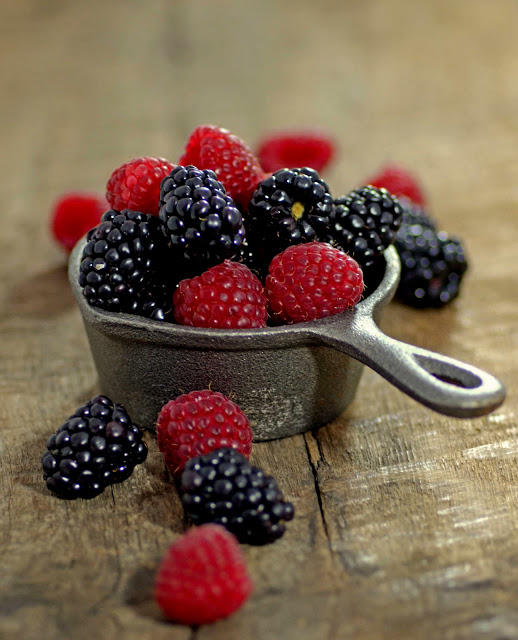 Seasonal mixed berries and convenience were my two big inspirations for this dessert. The convenience factor comes from the shape and size, thin slices are much easier to handle and make a great finger food. I would recommend flipping the berries to have their open ends facing downwards right into the batter, this way you won't end up with a surface full of craters and wells. You might notice some unusual types of flours for a cake batter in this recipe but when baking berries I've found adding cornflour and rice flour help to protect the fruit from getting mushy and absorb any excess liquid but at the same time keeping the cake moist.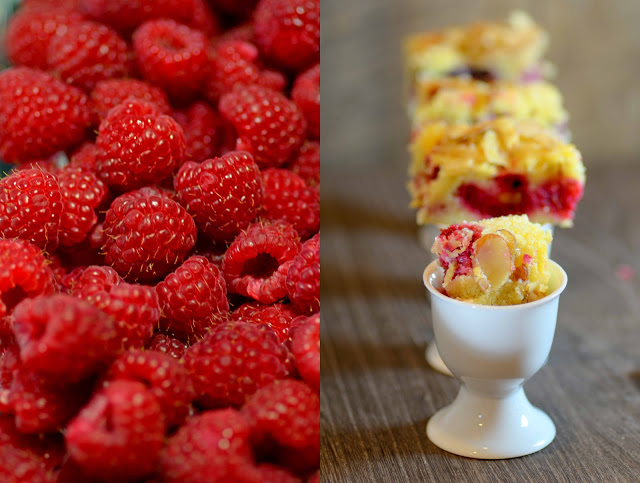 6 ounces blackberries
6 ounces raspberries
1 cup sliced almonds
4 large eggs
2 sticks unsalted butter at room temperature
1 1/4 cup sugar
1 cup all-purpose flour
2/3 cup cornflour
1/4 cup rice flour
1 teaspoon baking powder
Preheat the oven to 350F. Line an 9 X 10 inch rectangular pan with a sheet of baking paper and grease with a vegetable oil spray. Whisk the baking powder and flours together and keep aside. In a mixing bowl, cream the butter and sugar together using a hand or stand mixer. Now, add one egg at a time to the batter and beat till fluffy. Add 1/3rd of the flour mixture to the batter and continue beating till mixed. Similarly, incorporate the rest of the flour into the batter. Pour the cake batter into the baking pan, Randomly spread the berries out onto the surface of the batter keeping the open-end of the berries (raspberries) downward. Sprinkle the almonds on top of the entire cake and bake in the oven for 40 minutes or till knife comes out clean from the center of the cake when poked. Allow the cake to cool completely in the pan. Refrigerate for at least 30 minutes before you cut. Using a serrated knife cut the cake into squares or rectangles.