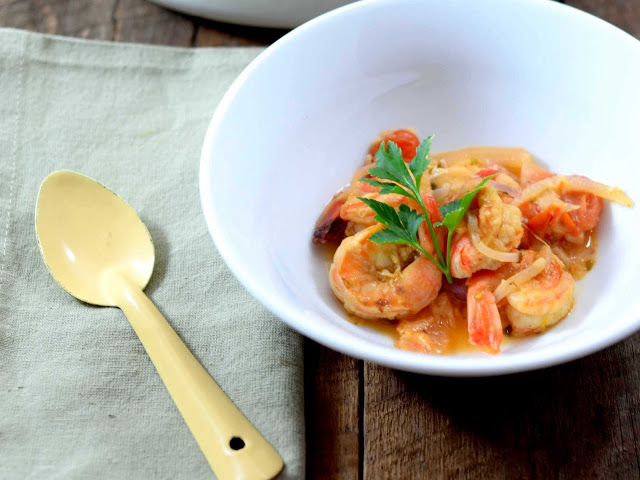 After a fun and relaxing holiday, I am now back home trying to nurse a sick throat. When I am sick, I prefer simple and warm soups that are nourishing and wholesome. This could probably end up being the week of stocks and soups posts if I had my way.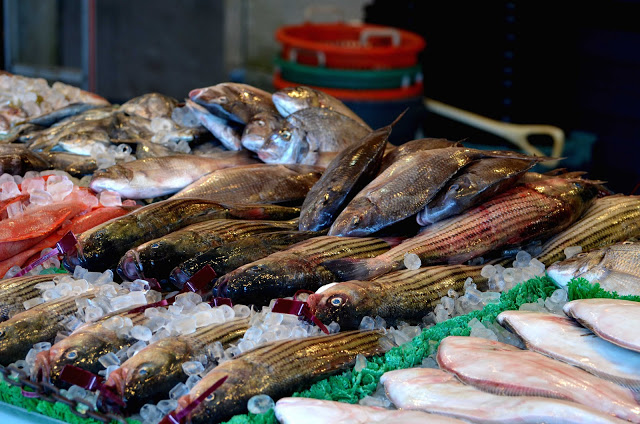 I had plans to check out the Waterfront at Main Avenue which is D.C.'s fresh fish market. On a chilly December afternoon, the market felt surprisingly warm but I think it was the sight of the fresh catch on the fisherman's boats that had my undivided attention.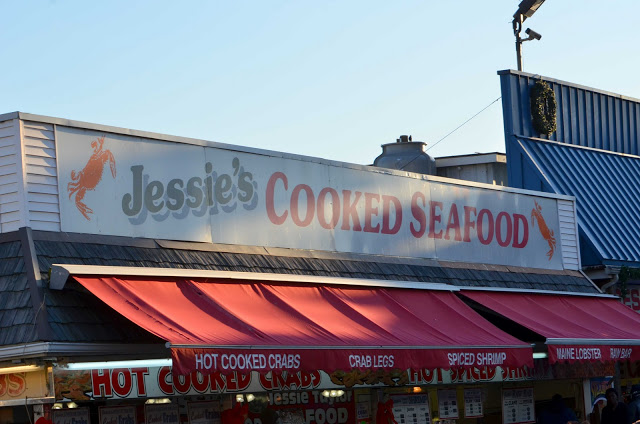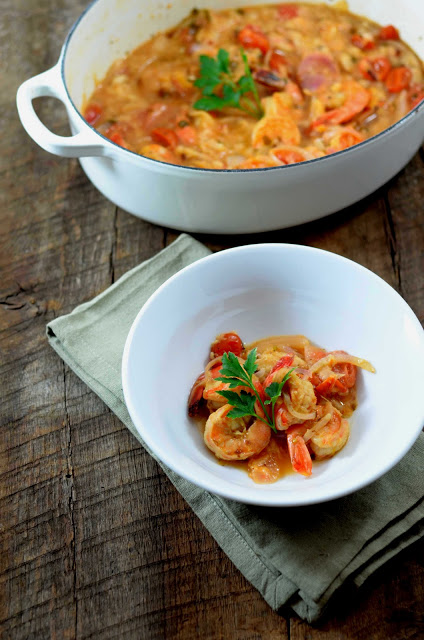 The Waterfront is not a large fish market by any means but it still has a decent variety of fresh seafood with a broad range including popular Cephalopods like squid and octopus. You can choose from a variety of cooked to raw seafood items at the market. I ended up leaving with a bag of fresh tiger shrimp that I intended to use for my soup.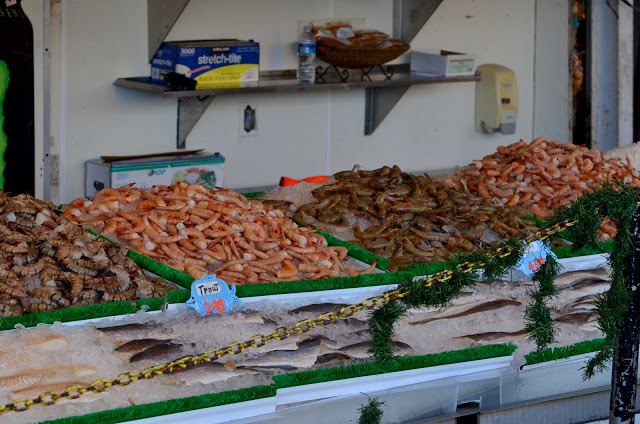 This shrimp/prawn soup is one of my favorite Portuguese soups, it has simple savory flavors that are fresh and vibrant but also healthy. I love exploring Portuguese cuisine due to its strong influence on Goan history, culture and food. Portuguese food relies on fresh herbs and vegetables are to complement seafood dishes because they can accent the taste in different ways depending on the combination and types of fresh produce used. This is a highly modified version of the popular Tomatado soup of southern Portugal that is normally served without any inclusion of seafood. This soup is simple and delicate and definitely worth a try for any occasion. Bread is often used as a thickening ingredient in many Portuguese soups and here too the addition of chunks of bread make this soup a wholesome and tasty dish for a cold wintry day.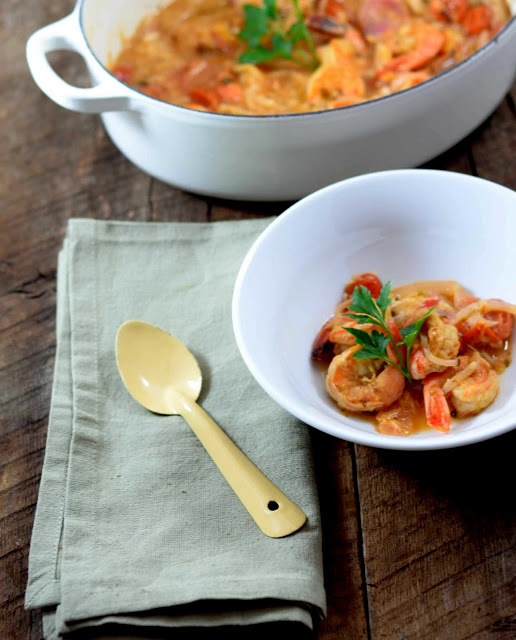 tomato and tiger shrimp soup
1lb fresh tiger shrimp, unpeeled
2 tablespoons of extra virgin olive oil
1/2 teaspoon sweet paprika
1/2 cup chopped shallots
2 cloves of garlic, minced
1/2 teaspoon chili flakes
2 cups grape tomatoes, halved
3 sprigs of fresh oregano
1/4 cup fresh cilantro/flat-leaf parsley, coarsely chopped
1/2 cup Pinot Grigio white wine
1 cup vegetable stock
2 cups dry white bread of any kind
1 teaspoon salt
1/4 teaspoon pepper
1. Bring a pot of water and the salt to a boil and add the whole shrimp. Let them cook till the color changes to pink which should take about 2 minutes. Drain the shrimp and transfer to chilled ice-cold water to stop the cooking. Once cooled, peel and devein the shrimp and leave only the shell on the tail behind. Discard the rest of the shells.
2. Heat the olive oil in a stockpot on a medium flame, add the shrimp and paprika and sear the shrimp on each side taking care to coat the shrimp with the paprika. This will take about 3 minutes till the shrimp get brown on each side. Remove the shrimp from the pot and keep aside.
3. To the same stockpot, add the shallots, garlic, and chili and cook till softened. Add the tomatoes and oregano and cook for 3 minutes. Pour the wine in to deglaze the pot followed by the vegetable stock. Bring the contents to a boil and then reduce the flame to a gentle simmer.
4. Rip or chop the bread coarsely into small 1/2 inch cubes. Add the bread and the shrimp to the contents of the stockpot and stir for about 3 minutes. Let the soup thicken for about 5 minutes. Season with the salt and pepper, taste and adjust if necessary. Add the fresh cilantro/parsley before serving to the soup. Serve warm or hot with toasted bread.