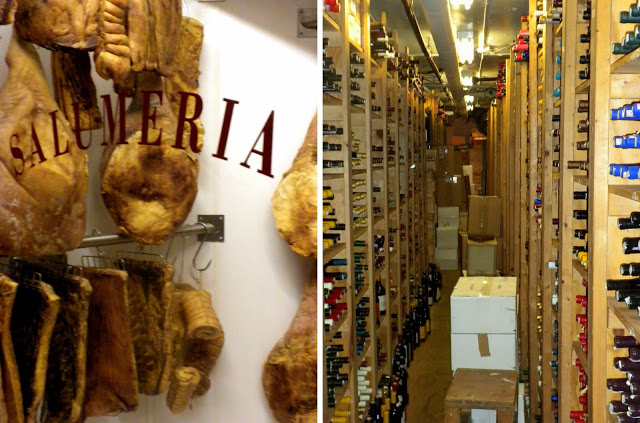 We finally made it to N.Y.C. after a harrowing and unfortunately long and extended ride due to the crazy rain and slow traffic. What should have been a four hour ride ended up doubling and we canceled our dinner plans. The next morning made up for the journey, we visited the Christie's wine auction to check out their wine collection and later spent an amazing afternoon tasting some amazing reds from Italy at the Italian Wine Merchants shop in the city. They were kind enough to give us a tour of their huge underground wine storage cellar and explain how they manage and supply their expansive selection of wines to almost all parts of the country.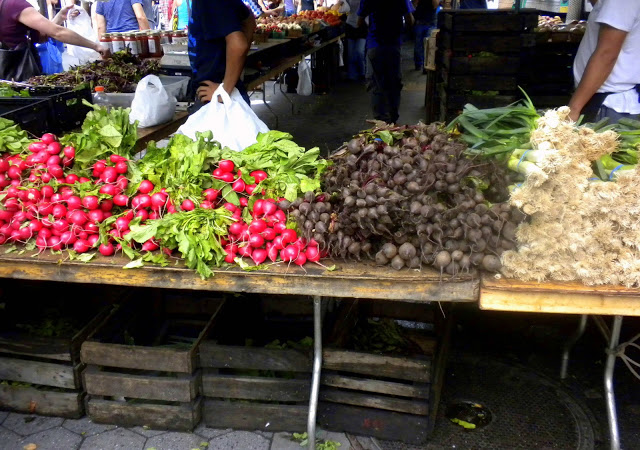 Our visit to the farmer's market at Union Square in N.Y.C. was spectacular. It's colorful, vibrant. loud and energetic. Simply stated, in my opinion, it has all the components that make a market. The vendors stay out with their little shops all day long while New Yorkers bustle through the stands hunting for fresh produce and goods. The gigantic mushrooms sold by the pound, the colorful assortment of radish and beet displays, made me stop by almost every stand in sight. I was suddenly pleasantly surprised by the sweet smell of honey coming from the fresh grape stands where even the bees had come to visit. Ahh, how can you not love this city? Even in as busy and crazy as New York can be, you can still find a noisy, crowded market that will make you feel like you're in an oasis.
After a little bit of shopping we stopped by Tarallucci Et Vino to get a little bit of a caffeine kick and grab a bite to eat. The pulpo (octopus) is a delight that was perfectly cooked and seasoned that melted in our mouths.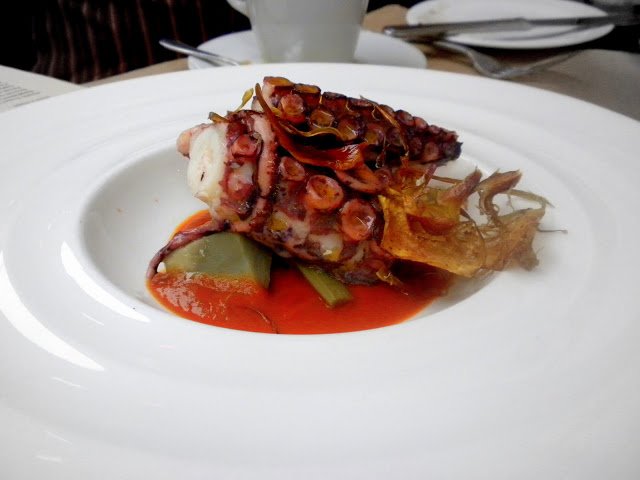 Fast forward to the absolutely fun and amazing experience in the evening. I did not get a chance to get any photographs at this amazing establishment as I simply forgot to capture our moments in there. I was too preoccupied with the chatty chef and the rich and warm aromas from his kitchen and of course tasting his delicious creations. The
Kebab Cafe
run by Chef Ali El Sayed or Ali as he likes to be called, is a little hidden treasure cove from Egypt nestled in Astoria. I am so happy and thankful that our friends had heard of this place and introduced us to it. This is not the place for the squeamish or those who insist on menus. Be prepared, the quirky chef cooks a different meal every day and you will eat what he has to offer. Do not ask him about the menu or interrupt him while he speaks. He holds court. While you sit in the tiny little restaurant and watch him shuffling around cooking and talking to you, you inhale and imbibe the different exotic aromas from his kitchen. The
mezze
sampler served with fried and seasoned kale, hummus, falafel, peppers, baba ganoush and warm pita bread was only the beginning. When our entrees came, we were a quiet and happy foursome, devouring the tender and spicy Alexandrian steak, the roasted duck with eggplant and the goat chops dressed with an Egyptian pomegranate sauce. Of course we got the entire dessert sampler (composed of all sorts of exotic sweet and spicy baklava pastries and semolina cakes) and of course we got it to go, after that huge and amazing meal we need to walk around a little and not succumb to a food coma. Between eating Ali's delicious food and chatting with him, can you really blame me for forgetting about my camera ? Looking back, I do regret my memory lapse and now all I have to take back with me are my memories of the Kebab Cafe and its chef.