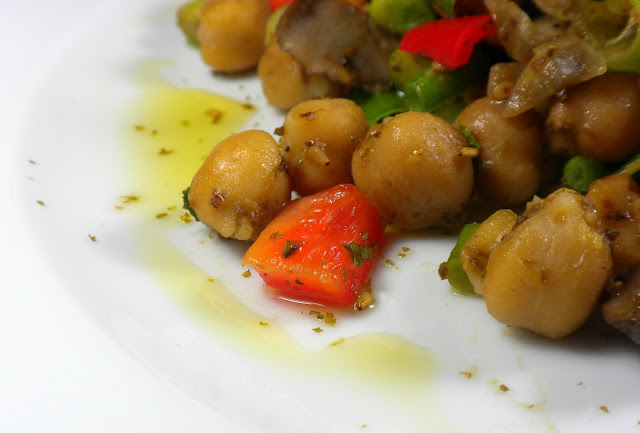 Fall is here, after a wonderful weekend at the Outer Banks, we missed the sudden drop in temperatures. D.C. is much cooler and it seems to have happened a bit too fast for me. Summer clothes must be packed away and the sweaters need to come out. None of this has happened yet, at least at my end.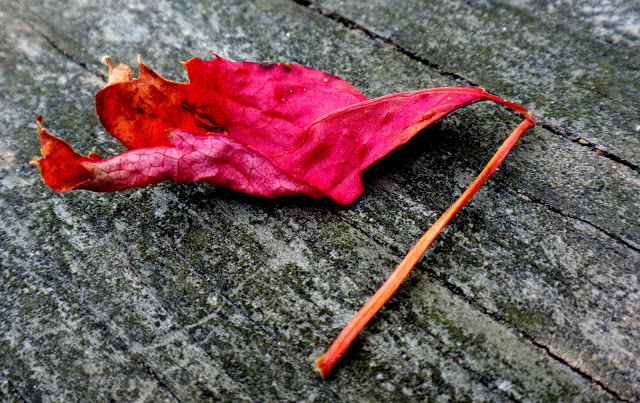 We will be up in N.Y.C. this weekend to visit our friends Tim and Meghana who have planned a fun trip to what I think is called "Little Egypt". I've been to N.Y.C so many times especially more so after Meghana moved there. Meghana was my partner-in-crime during our school days and we share a common fondness for good food and wine among other things. I constantly rely on her recently developed "home grown" experiences of the city as she experiments her way through the diverse and rich cultures of the melting pot that is N.Y.C. I have been cultivating my ulterior plan for this trip, MUST PURCHASE A
Tagine
!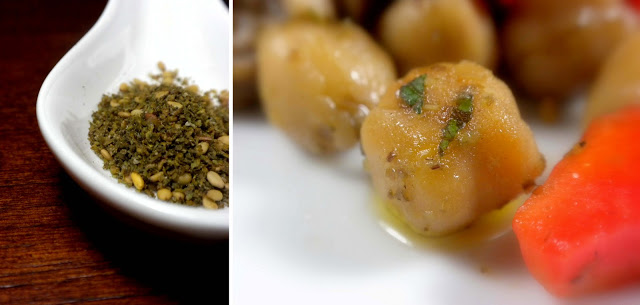 This quick and easy salad was based on the idea that I could prepare a protein rich vegetarian salad packed with flavor and color. I also wanted to avoid a salad with any sort of liquid dressing but still get a good lemony flavor. I realized that I might be able to avoid adding fresh lemon juice or vinegar but get the acidic taste in the salad and keep it dry at the same time by using Za'atar. Za'atar is like magic. Za'atar is one of my favorite Middle Eastern spice blends that commonly contains sesame seeds, salt, sumac and dried herbs like oregano, thyme and marjoram. By sauteing the chickpeas and the mushrooms and then adding freshly cut scallions and gorgeous sweet red peppers, the salad was able to have delicious crispy crunch in every bite. This salad could be accompanied with pita bread or you could even toss in some crushed toasted pita chips.
za'atar chickpea salad
yield: 4-6 servings


ingredients


1 tablespoon extra virigin olive oil
4 cloves of garlic minced
2 cups of chickpeas, soaked overnight or 2 cans of chickpeas
1 cup sliced button mushrooms
1 tablespoon Za'atar
1 cup chopped fresh scallions – both green and white parts
1 cup chopped sweet red pepper
1/2 cup freshly chopped mint leaves
salt and pepper to season


1. In a skillet, heat up the olive oil on a high flame and saute the garlic for 30 seconds to release the flavors.
2. Rinse and drain and the chickpeas and add them along with the mushrooms and saute for about 6-7 minutes.
3.Toss in the Za'atar and take the skillet off the flame and keep aside to cool to room temperature. In a large bowl, add the rest of the vegetables, followed by the cooled chickpeas and mushrooms. Garnish with the fresh mint and season with salt and pepper as necessary. Serve the salad at room temperature or chilled.