What a weekend! Irene, the hurricane was nothing compared to suddenly catching someone break into your car and then run away with the phone and G.P.S charger. I guess that is the risk you take when you park on the streets in D.C. I am so proud of Snoopy for his alertness to the sound of the window getting shattered and thankful that nothing of any real value was stolen.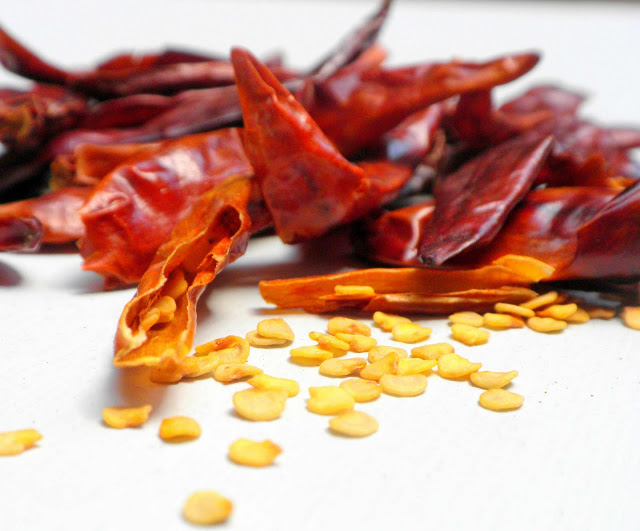 When I crave something, I must have it. This is probably my downfall when it comes to food. This week I am craving African and Middle Eastern food but all that pops in my head is Morocco. I am thinking of Moroccan tiles with the pretty patterns and clay tagines on a fire stove. Whenever, I think Moroccan food or North African food, Harissa is the first word that comes to my mind. Hot minty and garlicy, it is probably one of the hottest flavorings that can be used with meats, fish, rice, couscous, salads, soups etc. The recipe varies a little from household to household and you can make it your own by varying the ingredients. Traditionally, caraway seeds are added but fennel seeds can also be used as a substitute. I used a sun-dried chili called the Kashmiri chili since they are extremely hot and posses a strong  flavor to add heat to this sauce. To store Harissa, your options include canning or keeping it in an air tight jar or container. The olive oil that is left behind can be used to dip bread or dress salads.
harissa 
yield:

Approximately 500ml 
100 gm dried red chilies 
1 tablespoon dried mint leaves
1 teaspoon ground fennel seeds (preferably caraway seeds if you can find some)
1 tablespoon ground cumin
1 tablespoon ground coriander seeds
1/2 tablespoon sea salt
12 cloves of garlic
1/2 cup extra virgin olive oil
1. Remove all the stems from the chilies and then cover let them with just enough boiling water to reach the surface and let them soak for about 1 1/2 hours. Strain the chilies and discard the liquid. 
2. In a food processor, pulse the chilies, mint, fennel, cumin, coriander, sea salt, garlic, and olive oil. Process till you get a smooth paste. Store the ground paste in sterilized jars. The harissa should last for up to six months in the refrigerator.