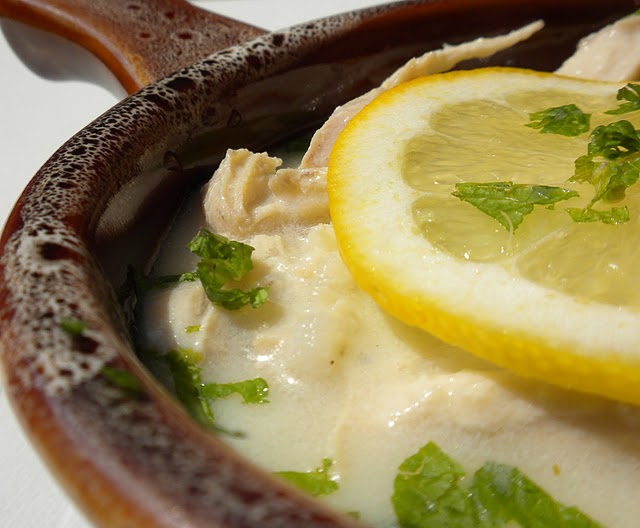 What a way to start a post, an earthquake in Washington after 67 years! Thankfully, no one was hurt and damage appears to be minimal so far. Since, people started to panic getting home was a challenge with traffic gridlocks everywhere. Work gave us the remainder of the day off and I finally ended up walking home. This is my final post on lemons for now that completes my entire lemon themed lunch. I think I may have found my new favorite soup, Avgolemono, the egg-lemon soup that is so very popular in Greek cuisine. The creamy richness of this lemon soup makes for a wonderful dip for a warm and crusty slice of bread. I made several alterations to this soup, mainly through playing around with the components of my chicken stock. The addition of fennel stalks and leaves to the chicken stock was purely coincidence. Since, I can never figure out what to do with some vegetable parts that I am unable to use in some recipes, I normally freeze them and use them in making stocks. I substituted barley instead of short-grained rice that is usually used to make this soup.

avgolemono


yield:

6 servings

1.5 liters water
1lb lean chicken breast
1 whole red onion halved
4 cloves
4 bay leaves
1 lemon, chopped in half
1 bunch fennel leaves and stalk
6 unpeeled garlic cloves, cut in half
3 eggs separated
1/3 cup barley or short grain rice
3 tablespoons fresh lemon juice
fresh mint or parsley for garnishing
1. In a large stockpot, add 1.5 liters of water, chicken, onion, cloves, bay leaves, the halved lemon, fennel, and garlic. Add sea salt and freshly ground black pepper to season. Slowly bring the water to boil and then reduce to a simmer. Let it simmer until the chicken is cooked. Remove the chicken and keep aside to cool. Strain the stock completely and discard the solids.
2. Add the stock back to the stockpot and add the barley/rice to it and let it cook on a reduced flame until the rice is tender. In the meantime, shred the chicken.
3. In a separate bowl, whisk the egg whites till they form stiff peaks and then beat in the yolks. Carefully, beat in the lemon juice.
4. Now temper the eggs with approximately 150ml of the hot stock solution by immediately whisking it into the beaten egg mixture. Now add the entire tempered egg mixture to the stock pot with careful stirring. Make sure the stock is not boiling and is simmering, this will prevent the eggs from coagulating.
5. Add the chicken and season the soup with salt and pepper as necessary. Serve the soup with fresh lemon slices in individual bowls. Garnish with fresh mint or parsley leaves.

Hopefully, no more calamities or traffic jams for a while or is that too much wishful thinking ?