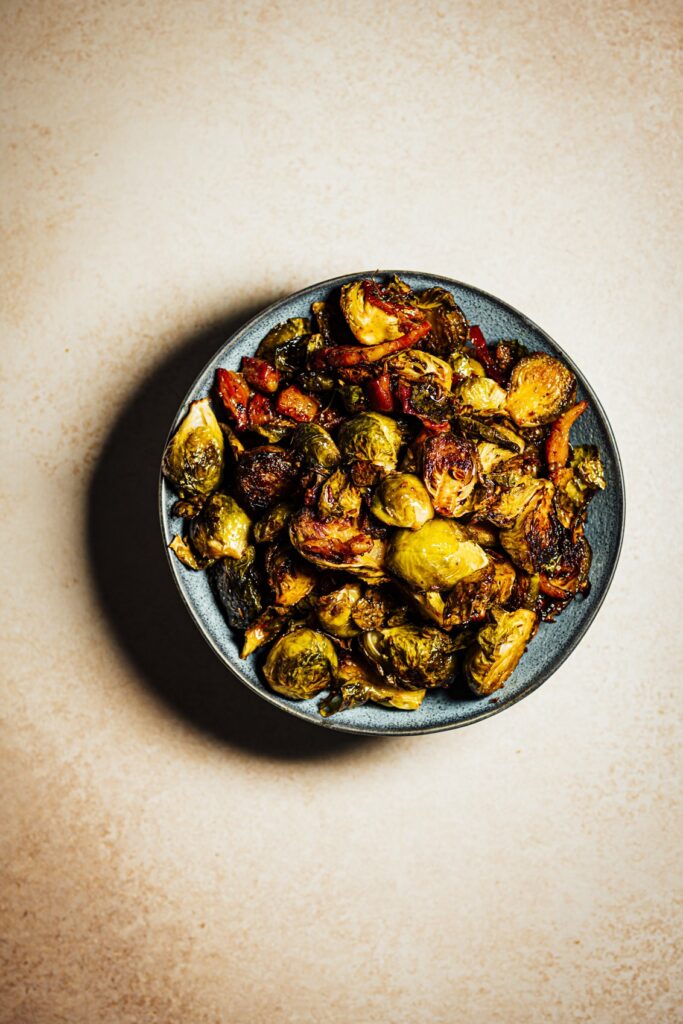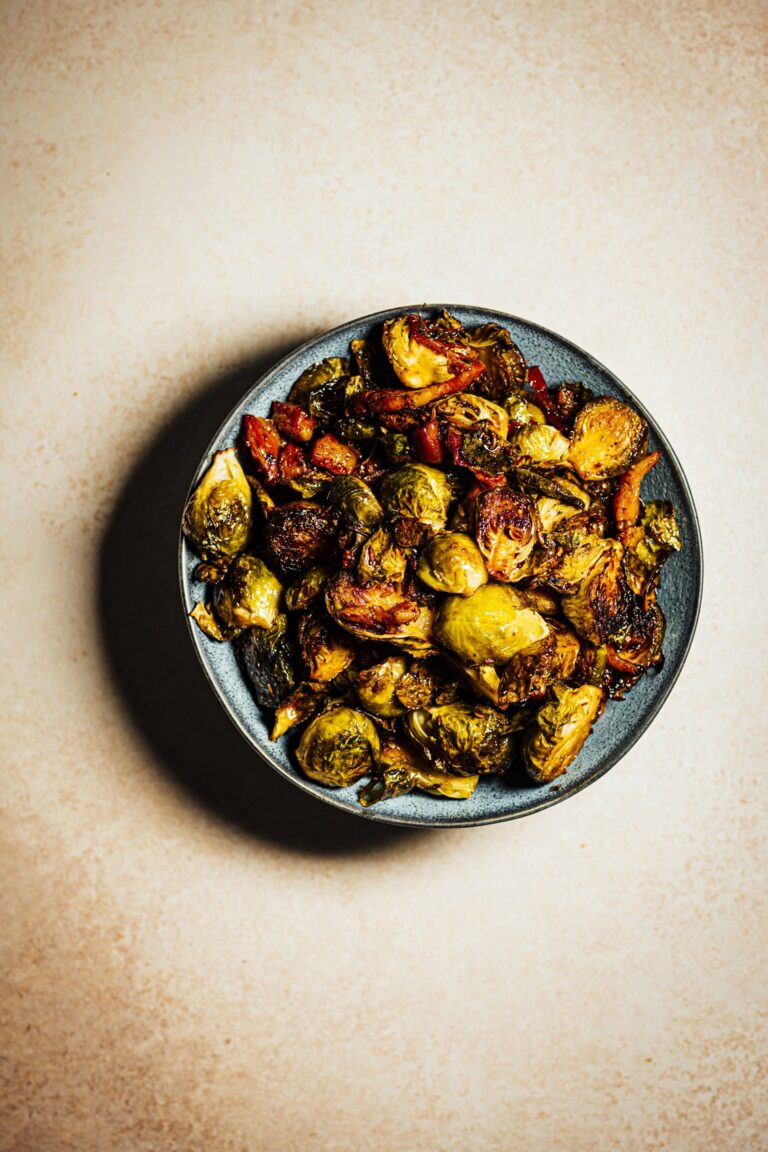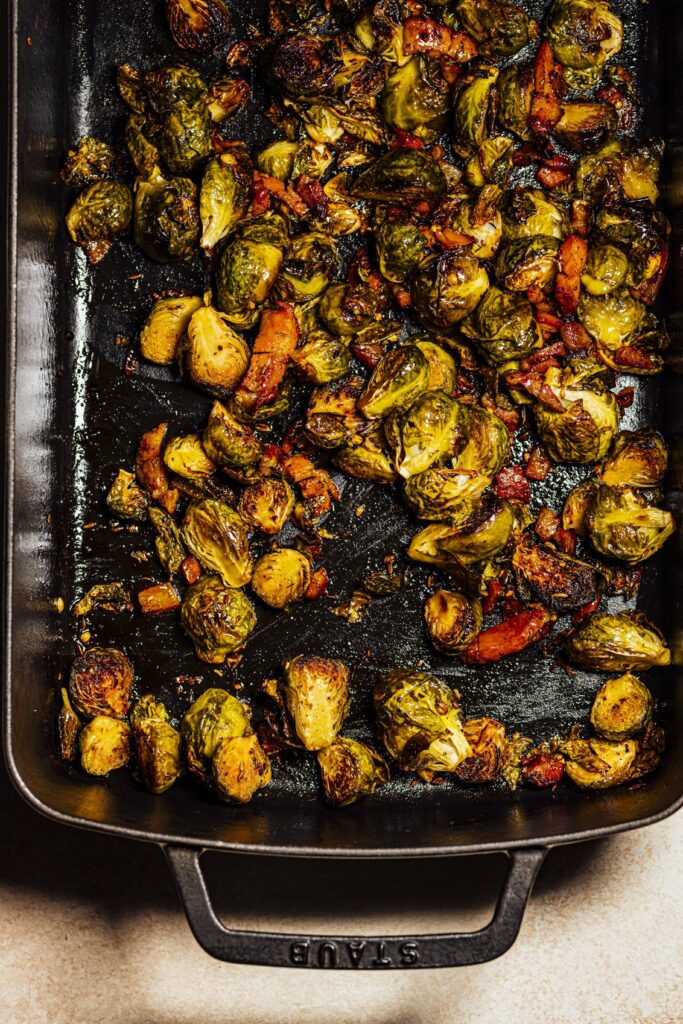 Print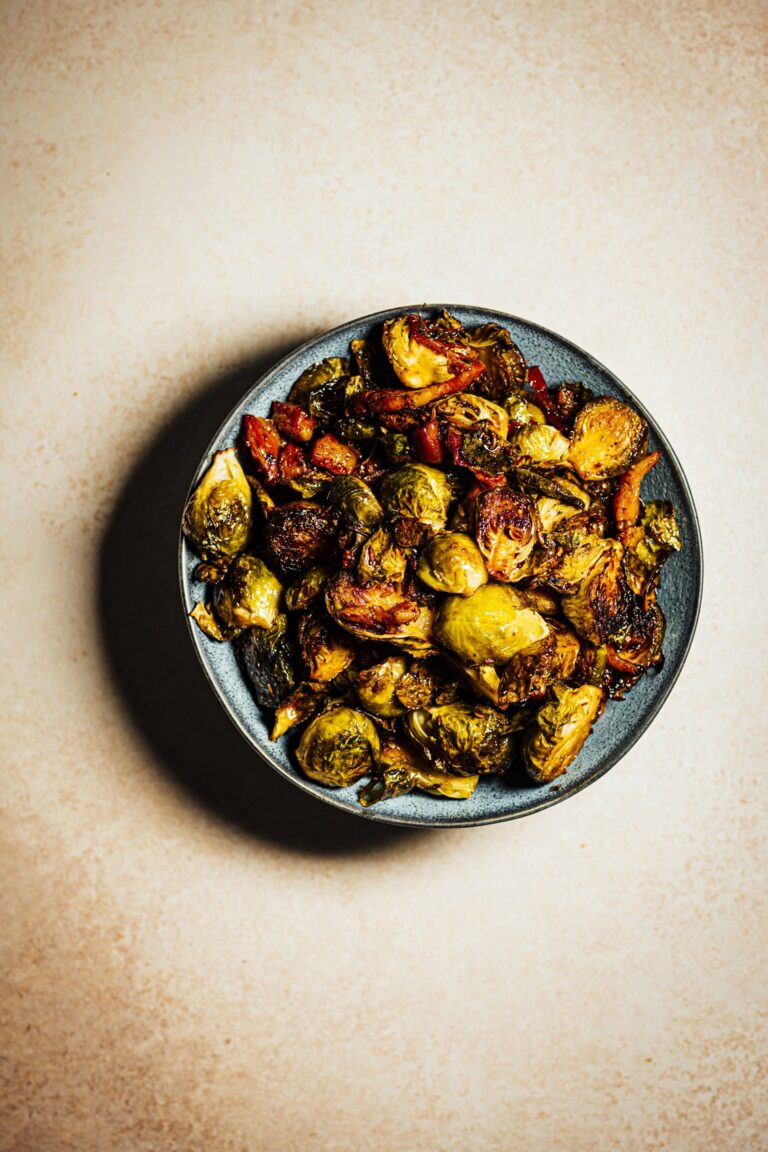 Roasted Maple Brussels Sprouts with Pancetta
Brussels sprouts shine marvelously when charred because they take on a smoky flavor and, combined with the savory salty flavor of pancetta, fragrant spices, fresh lime, and maple syrup, give it a whole new depth of flavor. This is a good dish that can be prepped a day ahead of time; toss all the ingredients together in the roasting dish, wrap with clingfilm tightly, leave in the refrigerator overnight, and cook it when you're ready to roast.
½ tsp whole cumin

½ tsp whole coriander

½ tsp whole fennel

1.5 lb/680 g Brussels sprouts, stalk trimmed and discarded, cut in half lengthwise

5 oz/ g diced pancetta

½ tsp ground black pepper

½ tsp red pepper flakes such as Aleppo, Maras, or Urfa

2 Tbsp extra-virgin olive oil

flaky sea salt, preferably smoked

2 Tbsp fresh lime juice

2 to 3 Tbsp maple syrup or honey
Instructions
Preheat the oven to 425F/220C.
Crush the cumin, coriander, and fennel with a mortar and pestle.
Add the Brussels sprouts, pancetta, crushed spices, black pepper, red pepper flakes, and olive oil in a 9 in by 12 in/23 cm by 30.5 cm roasting pan or baking sheet. Season lightly with flaked salt and toss to coat well. Transfer to the oven and roast. After the first 15 minutes of cooking, stir the Brussels sprouts and pancetta; this will help the fat rendered from the pancetta coat the Brussels sprouts; repeat every 12 to 15 minutes. Roast until the Brussels sprouts turn crisper and slightly charred and the pancetta crispy, 45 to 60 minutes. Remove from the oven, sprinkle the lime juice and maple syrup over the Brussels sprouts, and fold to coat well. Taste and season with salt if needed. Serve hot or warm.
Notes
Pancetta is salty by nature, so add minimal flaky salt.
Use bacon or ½ tsp liquid smoke for a more robust smoked flavor. If you don't consume pork, use liquid smoke and smoked salt.