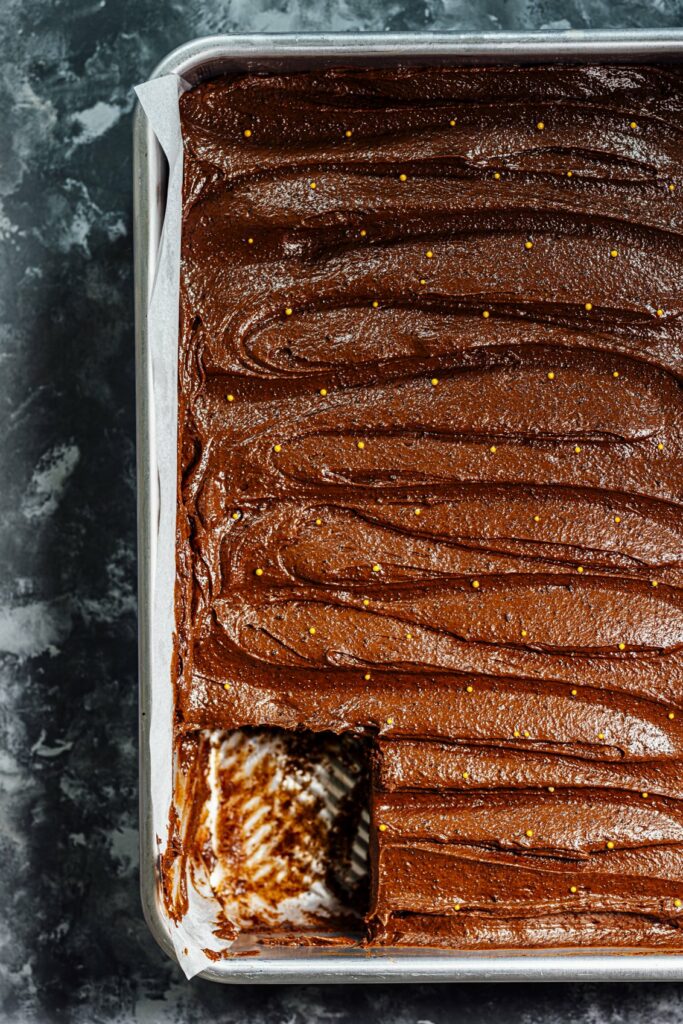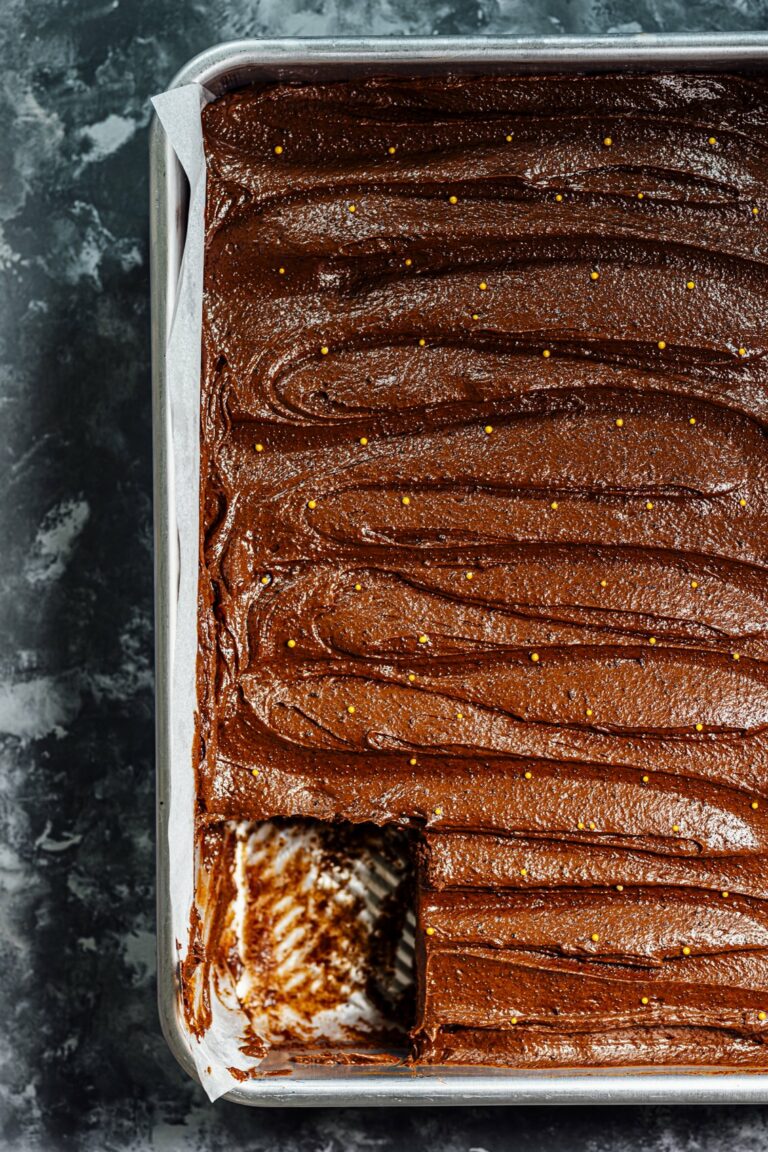 No, it is not my birthday. It is neither my half nor my quarter birthday!
I've simply had chocolate cake on my mind for a while and I wanted one that felt a bit more festive or birthdaylike (frostings and cake decor makes things fancier).
Here's my thought on birthday cakes, a birthday cake can be any cake you love, it should be whatever cake that will make you happy on your day. Maybe next year on my actual birthday, I'll skip chocolate entirely and make myself a fresh fruit cake with lots of ripe and sweet slices of mangoes or colorful berries.
Today, it's all about chocolate.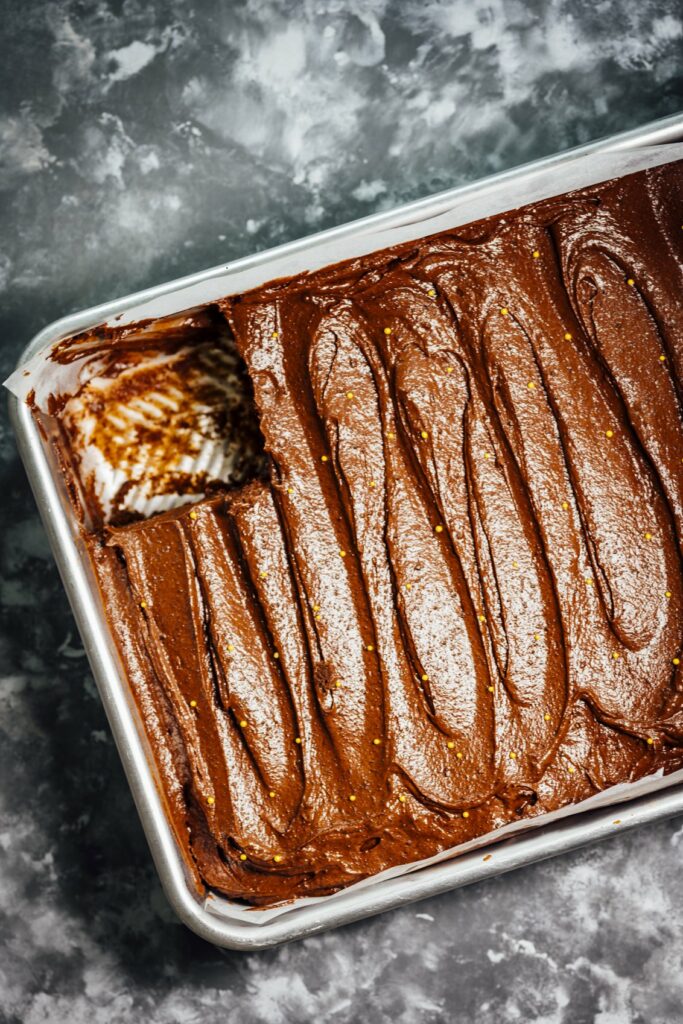 It is always good to look for shortcuts and if I can find a way to use fewer dishes (less dishwashing), it's a bonus. And this is where the blender steps in and why the admittedly unattractive name "Blender Cake" sits atop of this newsletter today. A few years ago, when I started to play around with oil-based cake batters (See sponge cake in Season), I noticed that if the liquid part of the cake batter is first emulsified in a high-performance blender (one of those blenders with a bit of extra horsepower), the cake develops a much nicer crumb texture. The extra bonus here is "one appliance to rule them all". Don't attempt to blitz the dry ingredients with the liquid ingredients in the blender, speaking from experience, it won't work well. Now, if only I could make good buttercream in a blender quickly!
As for the buttercream frosting that accompanies this cake, it's got a hint of bourbon to go along with the dark rich notes of chocolate. To keep the frosting smooth, I like to add a little bit of honey or Lyle's Golden Syrup, both of these contain fructose that will prevent sugar from crystallizing in the frosting, keep it silky, and avoid that gritty texture that can sometimes form.
And for the final part, I like a little shimmer on cakes, gold sugar pearls get the job done here. If you like funfetti, use it. Make it YOUR cake!
Print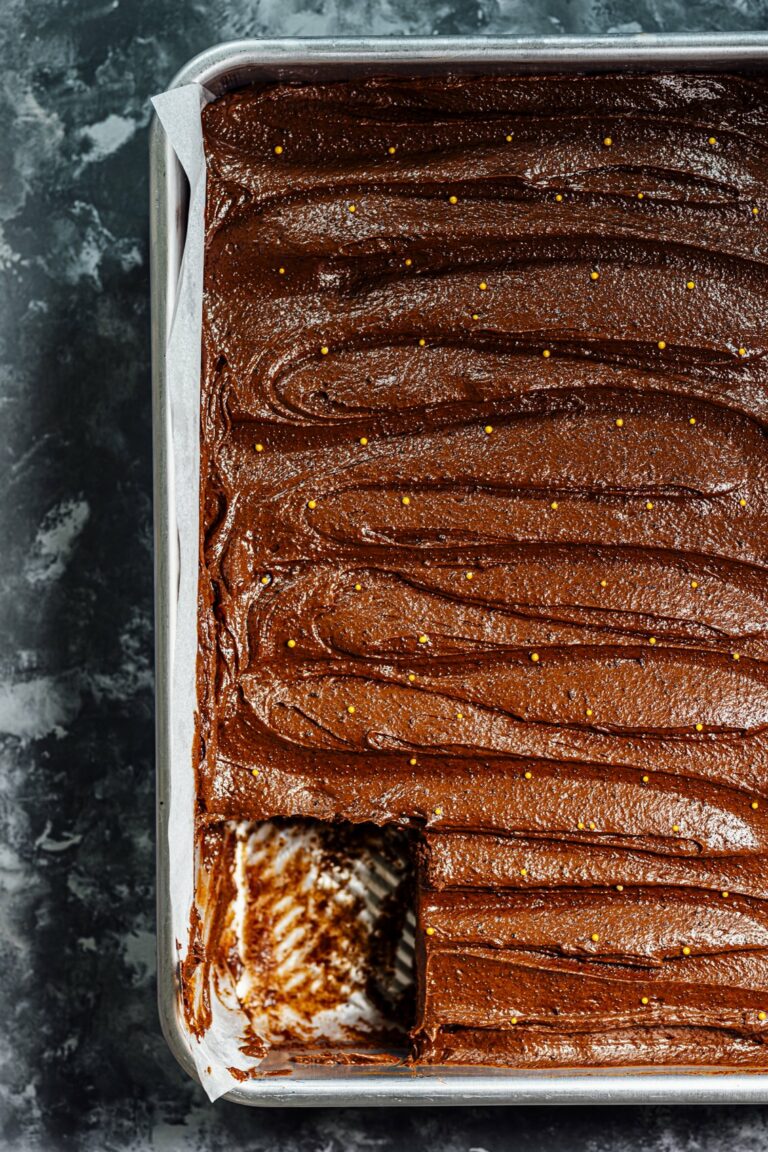 Chocolate Cake with Chocolate Buttercream Frosting
A rich chocolate cake painted with a layer of silky velvety chocolate buttercream that would fit the bill for a celebration or on those days you need a slice of cake.
Yield:

One rectangular 9 in by 13 in/23 cm by 33 cm cake
1 cup/240 ml neutral oil such as grapeseed plus a little oil to grease the baking pan
2 ½ cups/350 g all-purpose flour
½ cup/50 g unsweetened Dutch-processed cocoa
1 Tbsp baking powder
½ tsp fine sea salt
3 Tbsp+ 1 tsp/50 ml boiling water
3 ½ oz/100 g semisweet chocolate chips (70% cacao or greater)
1 ½ cups/300 g packed light or dark brown sugar
4 large eggs, at room temperature
½ cup/120 g sour cream
2 tsp instant coffee or espresso powder
2 tsp vanilla extract
Instructions
Preheat the oven to 325F/165C.
Lightly grease a 9 inch by 13 inch /23cm by 33cm (the pan should be at least 2 inch/5cm deep) rectangular baking pan with a little oil and line with parchment paper.
In a large bowl, dry whisk the flour, cocoa, baking powder, and salt. Make a well in the center.
Pour the boiling water over the chocolate chips in a small bowl and stir with a silicone spatula or whisk till the chocolate melts and is smooth and silky. Pour the melted chocolate into a blender, add the oil, sugar, eggs, sour cream, coffee, and vanilla. Pulse at high speed for a few seconds at intervals till the mixture is combined and emulsified. Don't overdo the blending or your cake might turn dry.
Pour all the liquid from the blender into the well you made earlier in the flour. Stir the mixture with a wooden spoon, a spatula, or a whisk until combined and smooth, and there are no visible flecks of dry flour. Pour the mixture into the prepared baking pan, level the surface with an offset spatula, and bake in the preheated oven till a skewer or knife when inserted through the center of the cake comes out clean, 45 to 50 minutes. Let the cake cool in the pan for 5 mins, then run a knife along the edges to help release the cake and transfer to a wire rack to cool completely. Keep the pan aside while the cake cools, once cooled return the cake to the pan. I find this makes it easy to store and transport the cake (if you were planning on sharing it).
Notes
You can make the cake and frosting separately ahead of time and then put the cake together on the day it's needed.
You do not need to use grapeseed oil; canola is also a good option. You can use olive oil but I find that the flavor of good olive oil gets masked by the chocolate in this cake, for that reason, I recommend reserving that olive oil for another purpose where it can shine.
The bourbon flavor in the frosting is very subtle, you can leave it out.
On a related side note, there are multiple ways to line a cake tin, here's how I line my cake pans. Pictured here is a loaf pan but the same idea applies to any rectangular, square, or circular pan. Check out my video here to see how I line my pans.
Print
Chocolate Buttercream Frosting
1 ½ cups/330 g unsalted butter, softened to room temperature

1 ½ cups/180 g confectioner's sugar

2 Tbsp runny honey or golden syrup

½ cup/50 g unsweetened Dutch-processed cocoa

¼ cup/60 ml boiling water

8oz/255 g semisweet chocolate chips (70% cacao or greater)

¼ cup/60 g sour cream

1 Tbsp bourbon (optional)

1 ½ tsp vanilla extract

1 Tbsp gold sugar pearls (optional)
Instructions
Place the butter in the bowl of a stand mixer and whisk on medium-high speed using the paddle attachment, until the mixture turns pale yellow, 3 to 4 minutes.
Add the confectioner's sugar and honey and whisk over low speed (or it will fly out). Once the white "dusty" sugar is no longer visible, increase the speed to medium-high, and beat till the mixture turns light and fluffy and pale white, 4 to 5 minutes.
Stop the mixer and scrape the sides of the bowl down with a spatula. Add the cocoa and mix on low speed till combined, 2 to 3 minutes
Fill a saucepan with about an inch/2.5cm of water and bring it to a simmer. Place a medium, non-reactive stainless-steel bowl over the saucepan, the water should not touch the bottom of the bowl. Add the boiling water and chocolate and stir with a silicone spatula till the chocolate completely melts. Remove from the bowl from the saucepan, fold in the sour cream, bourbon, and vanilla. Pour this mixture into the creamed butter mixture and whisk on medium speed till the mixture is completely combined, scrape the sides of the bowl down to ensure there are no unincorporated bits. Whisk on high speed till the mixture is fluffy. It might fall apart but it will eventually come together. Transfer the mixture to an airtight container, cover the surface with a sheet of clingfilm or parchment paper pressing down gently, refrigerate until ready to use.
When ready to frost the cake, FIRST make sure the cake is completely cooled or chilled or by the buttercream frosting will melt. SECOND, warm the chilled frosting for at least 30 minutes to room temperature before applying it to the cake. Use an offset spatula to top the cake with the frosting.
Decorate however you want to with the gold sugar pearls. You can use silver or skip it entirely (and yes, even use funfetti).
This cake will be good for up to 3 days if stored in the refrigerator. You can also freeze it but remember to wrap it tightly with clingfilm ad keep it in an airtight container or it will dry out.