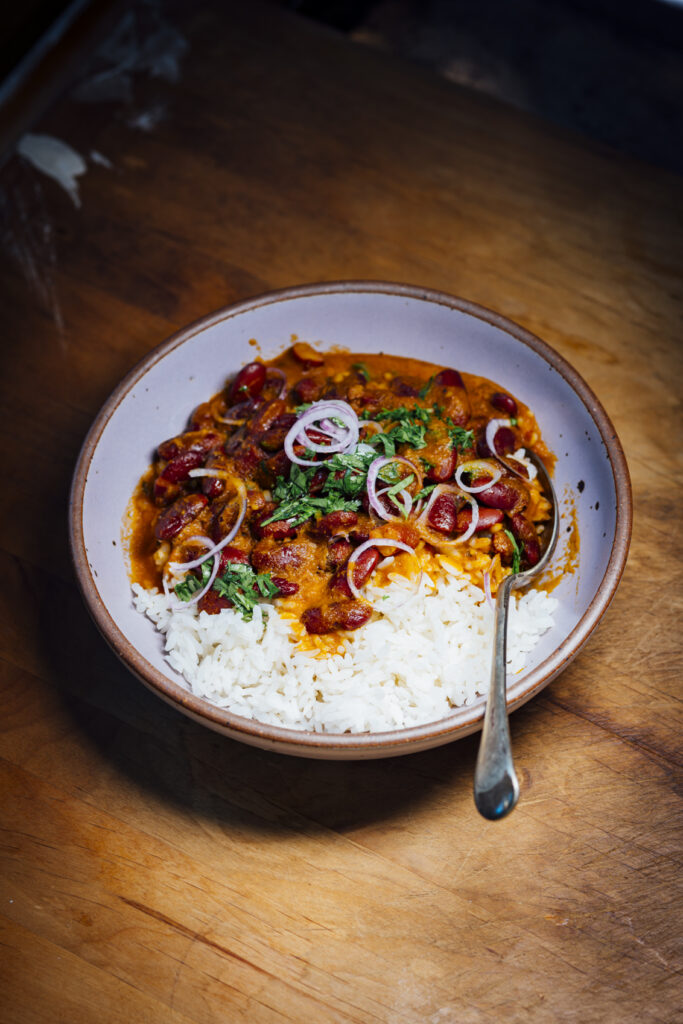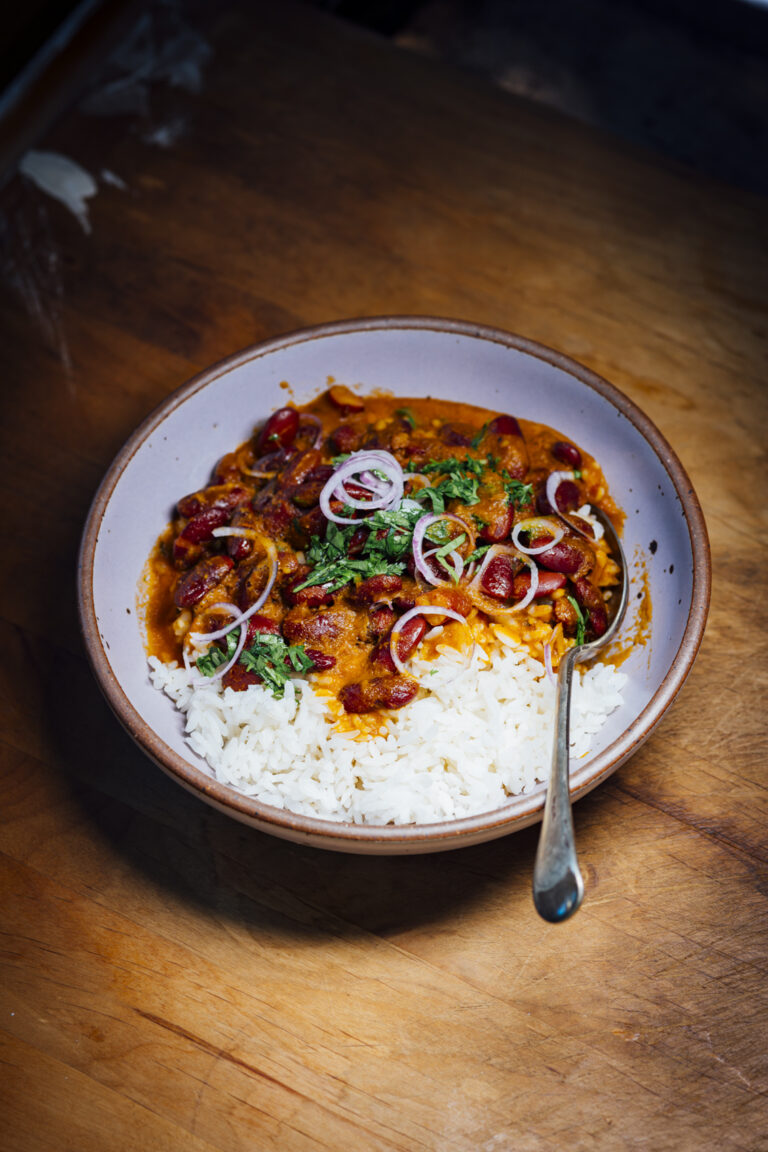 Print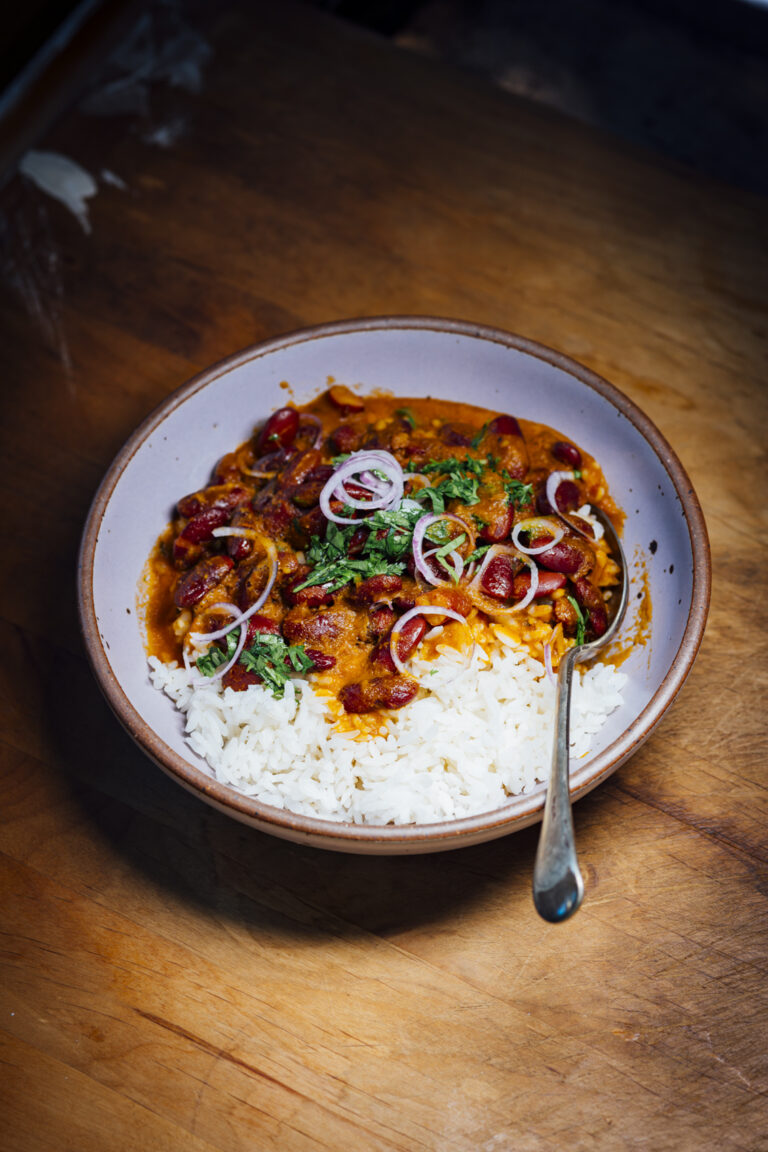 rajma/kidney bean stew
Rajma is Indian comfort food, and a warm, simmering pot of these red kidney beans on the stove is a treat on a cool day. I love to eat it with plain rice or a flatbread like roti, but you can eat it with naan, too. I prefer to cook the kidney beans and the sauce base separately because it makes things much easier. You can also use canned beans and make this shorter.  
2 cups/340 g dried kidney beans
fine sea salt
¼ tsp + 1/8 tsp baking soda
2 Tbsp ghee or extra-virgin olive oil
2 large/total weight about 600 g, white or yellow onions, minced
12 garlic cloves, grated
3 Tbsp grated fresh ginger
¼ cup/60 g tomato paste
1 bay leaf
1 1/2 tsp ground coriander
1 tsp whole cumin
1 tsp ground Kashmiri chilli
1 tsp garam masala, homemade or store-bought
1 tsp kasoori methi
1/4 tsp ground turmeric
fine sea salt
1/4 cup/60 ml fresh lemon juice
1 shallot, thinly sliced
2 Tbsp chopped cilantro
Instructions
Clean the beans and pick for any stones or debris. Rinse the beans under running tap water and cover with 4 cups/945 ml of water. Stir in 1 tsp salt and 1/4 tsp baking soda and leave overnight. 
The next day discard the soaking water and rinse the beans. Transfer the beans to a medium saucepan or Dutch oven. Add 4 cups/945 ml water, 1 tsp salt, 1/8 tsp baking soda, and bring to a boil over high heat. Reduce the heat to low and cook until the beans are completely tender and falling apart, 30 to 40 minutes. 
While the kidney beans cook, heat the ghee in a medium saucepan or Dutch oven over medium-high heat.
Add the onions and sauté until they turn golden brown; the cooking time will vary. 
Stir in the garlic and ginger and sauté for 1 minute until fragrant. 
Stir in the tomato paste, bay leaf, coriander, cumin, Kashmiri chilli, garam masala, kasoori methi, and turmeric. Cook and stir often until the fat separates from the ingredients, about 5 to 6 minutes.
Fold in the beans with 2 cups/480 ml of the cooking liquid. Increase the heat to high and bring to a boil. Lower heat to medium-low and cook for 15 to 20 minutes, until the beans almost fall apart and the sauce thickens slightly. Stir in the lemon juice. Taste and season with salt. Remove from the heat and garnish with the shallot and cilantro.  
Leftovers can be stored in an airtight container for up to 4 days in the refrigerator or frozen for up to 1 month. 
Notes
If using canned kidney beans, use about 1.5 lb/700 g of drained beans start with step 3. 
I don't do this every time I make rajma but when I'm making it for a celebration or dinner party, I'll fry thin strips of julienned fresh ginger in ghee and pour it over the rajma before serving.
You can drizzle a few tablespoons of fresh cream or creme fraiche over the rajma before serving.
There is no good substitute for kasoori methi, the aroma is very different and mellow. Neither fenugreek seeds nor fresh fenugreek can be used here, their aromas are way too intense and they will make the dish taste bitter. Leave it out, if you don't have kasoori methi.