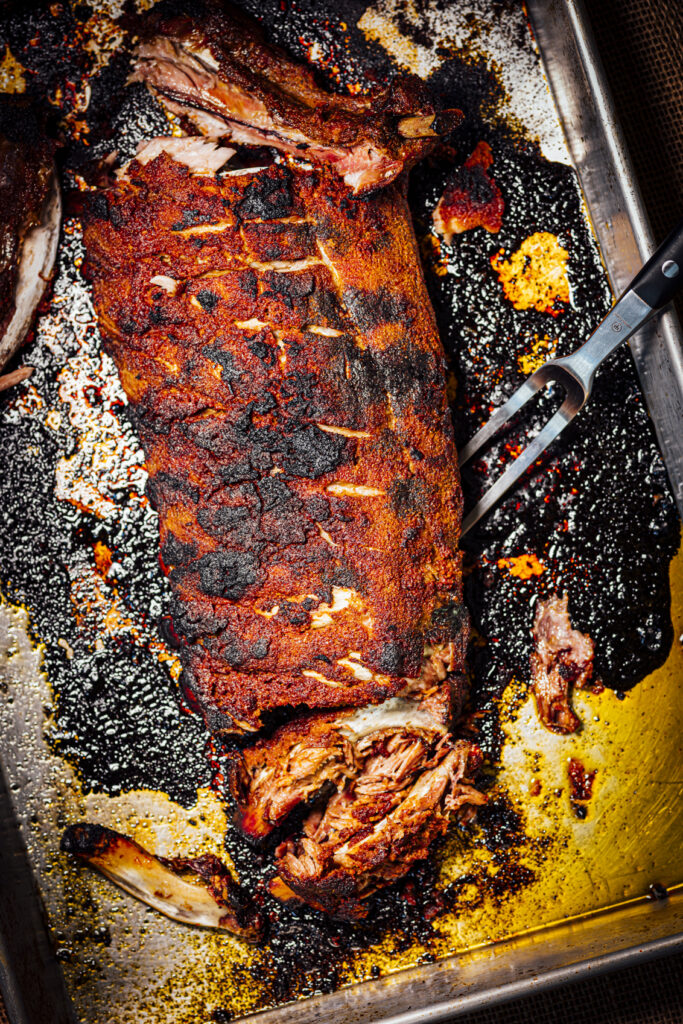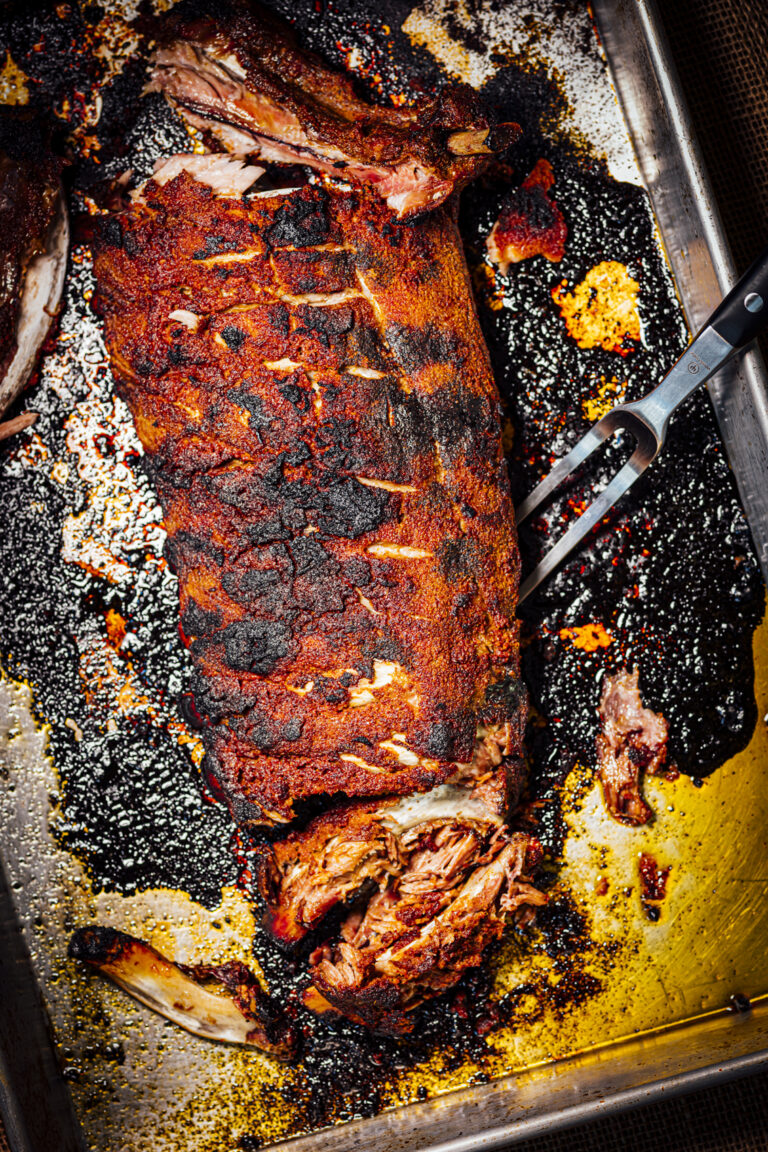 Print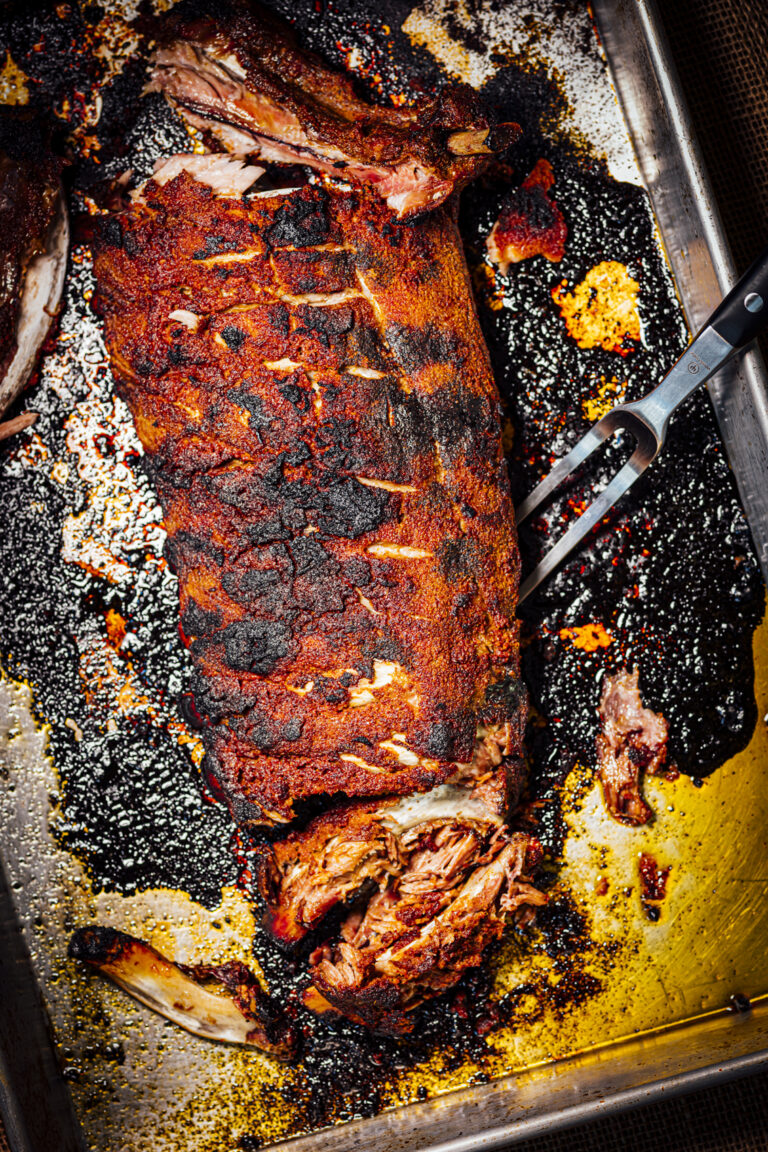 Paleo Pork Ribs
Sometimes I crave ribs that aren't sweet, and this is the recipe I turn to. Smoked chilli powders in chipotle and paprika give the ribs the necessary smokiness, while a splash of vinegar on the hot ribs is one of the most delicious aromas filling your room. The ribs are cooked by braising and a quick broil to create a deep char flavor. Since no liquid is added to the ribs, they are cooked by baking at a low temperature in the oven; this allows the water inside the meat to turn into steam and create a juicy and tender meat texture. For this reason, creating and maintaining a tight seal between the foil and the baking sheet is essential. 
3 to 3 1/2 lb/1.4 to 1.6 kg pork ribs
2 Tbsp onion powder
1 Tbsp garlic powder
1 Tbsp ground roasted cumin
1 Tbsp smoked sweet paprika 
1 tsp ground chipotle
1/4 to 1/2 tsp ground cayenne
2 tsp fine sea salt
1/4 cup/60 ml malt, sherry, or apple cider vinegar
Instructions
Preheat the oven to 300F/150C.
Trim the ribs of any excess fat and remove the thin white membrane that covers them using a sharp paring knife. Place the ribs in a large roasting pan. 
In a small mixing bowl, mix the onion powder, garlic powder, cumin, paprika, chipotle, cayenne, and salt. Rub the spice mixture all over the ribs. Cover and seal the pan with two sheets of foil and crimp the edges to form a tight seal. It is important to ensure the seal is airtight to help the meat braise in its liquids and prevent it from drying out. 
Cook the ribs in the oven for 3 1/2 to 4 hours. Remove the pan from the oven and peel and remove the foil. The meat should be falling apart from the ribs, and the internal temperature should reach 145F/63C. Set the oven to broil on high and return the ribs to the oven; place on the upper rack and broil for 5 minutes until the top develops a few char marks. Remove the pan from the oven and drizzle the vinegar over the hot ribs. Serve immediately. Leftovers can be stored in an airtight container for up to 4 days in the refrigerator. 
Notes
Beef ribs can be substituted in place of pork. The cooking time will remain the same, but the internal temperature should reach 200F/95C. 
To ensure that the ribs remain moist during cooking and the meat turns tender enough to fall off the bones easily, it is critical to maintaining a tight seal between the foil and the roasting pan. 
If you want a mild sweetness to the ribs, add 1 Tbsp of coconut sugar to the spice rub. 
I don't line the base of my roasting pan with foil, but you can do so to reduce your time cleaning up.