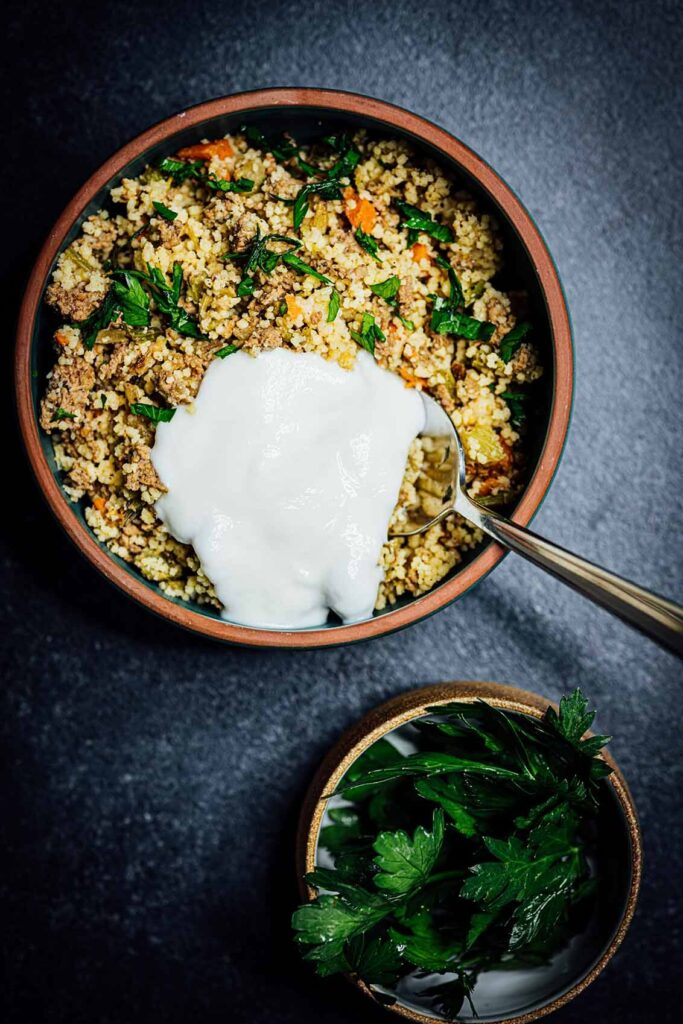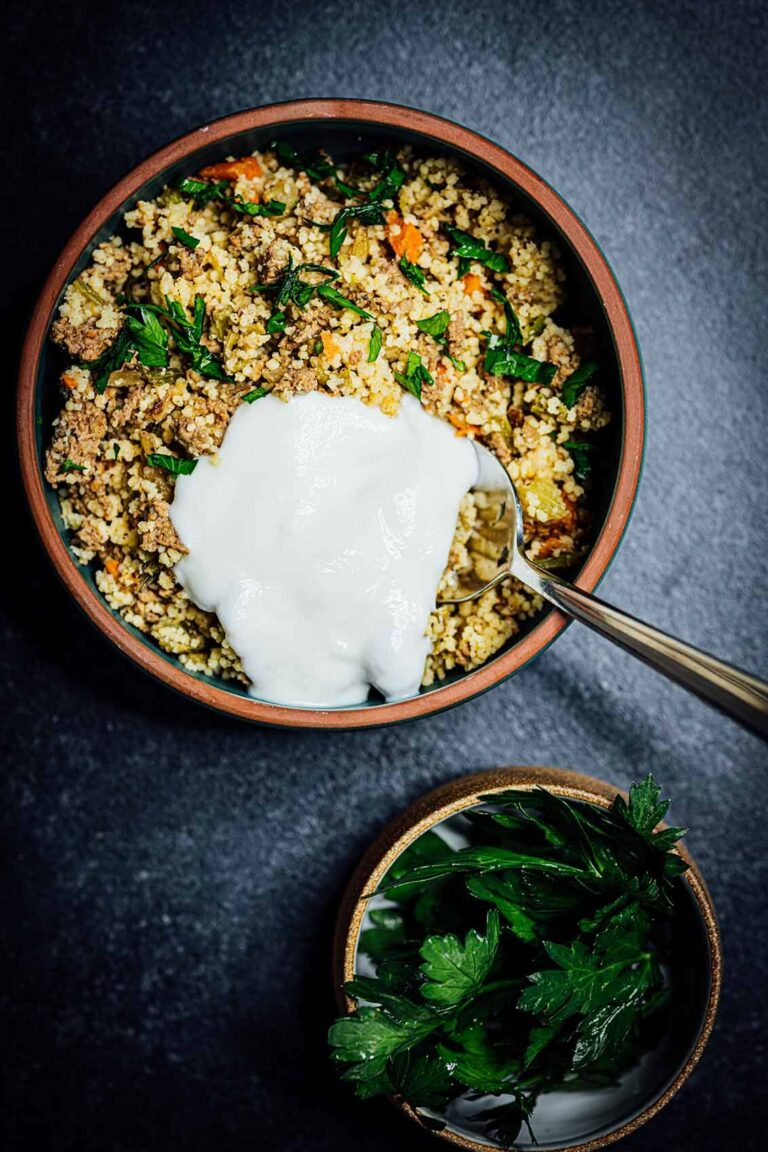 Disclaimer: This post was sponsored by the American Lamb Board. All opinions expressed are solely my own.
You could label this as a type of pilaf, or you could call this lamb couscous; what matters is that it's quick and easy. A single pot and minimal clean-up (I'm not a big fan of washing dishes) make life easy, and this is a wonderful dish to put together during a busy week.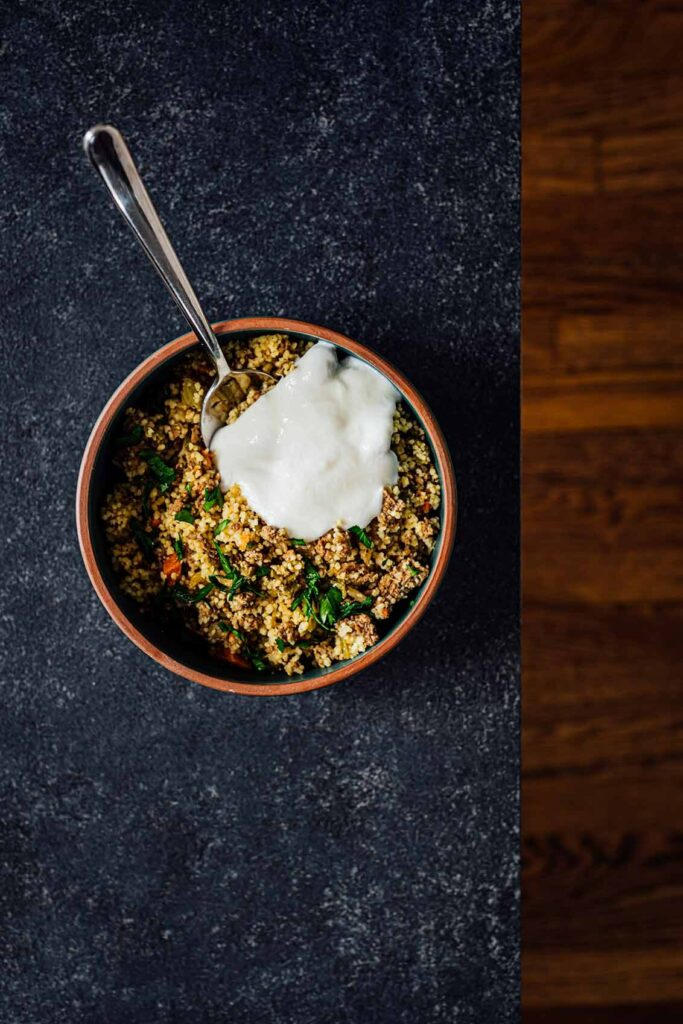 What makes this recipe quick is the use of ground American lamb and couscous. Neither requires a lot of time to prepare.  A second advantage to using ground lamb, you don't need to marinate the meat and wait; add and cook, and the meat absorbs the flavors from the ingredients and the spices. Just like the lamb, the couscous will cook quickly and come together in no time. I'll sometimes bulk this up with chickpeas, beans, or dried fruit to make it more celebratory when we've got company. It's a dish with a framework you can easily build off and make your own. I've used American lamb because of the strong commitment of the farmers to raise their animals ethically and humanely. In addition, the farmers have been doing their utmost to support their local communities, and if anything, this past year has demonstrated the importance of supportive networks.
Print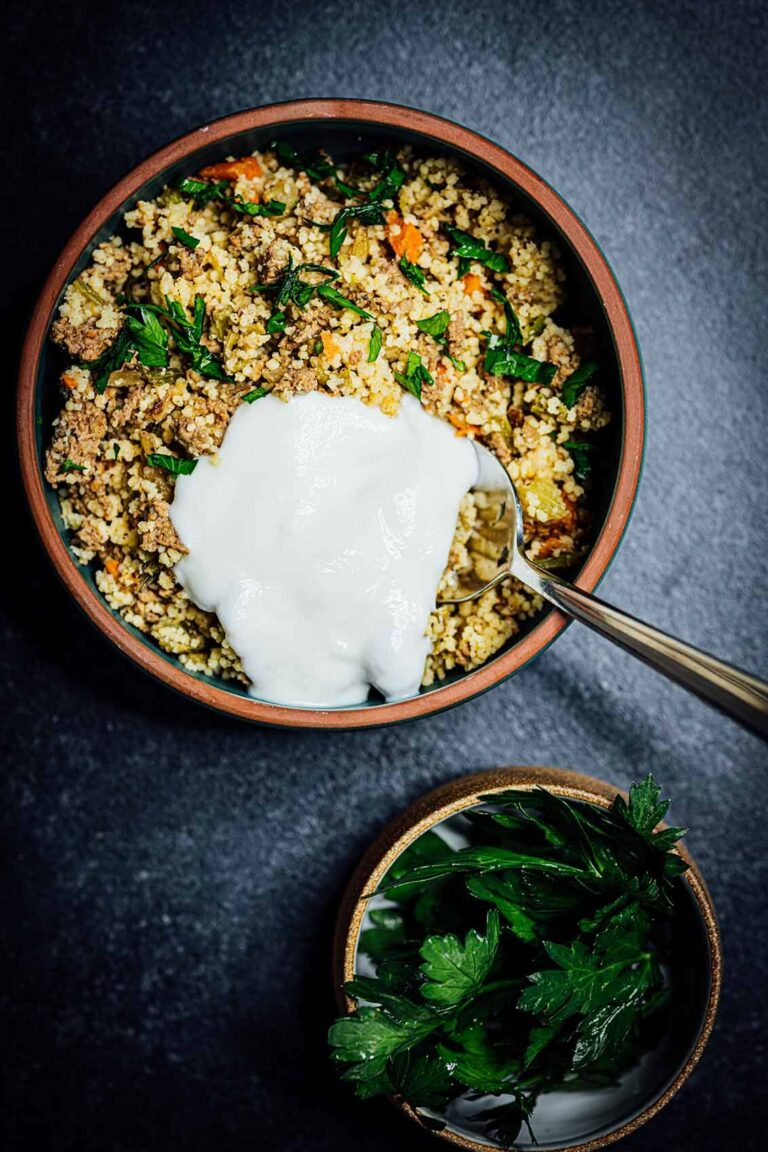 One-Pot Lamb With Couscous
2 Tbsp

extra-virgin olive oil

1 cup

diced white or yellow onion

1 cup

diced celery

1 cup

diced carrots

2

inch piece fresh ginger, peeled and cut into thin matchsticks

1 tsp

ground cumin

1 tsp

red pepper flakes

1 tsp

ground smoked sweet paprika

¼ tsp

ground cayenne

1

lb ground American lamb

1 cup

couscous
Fine sea salt

1 ¼ cup

low-sodium vegetable, beef broth, or water
Fine sea salt

1 Tbsp

fresh lemon juice

¼ cup

chopped flat-leaf parsley, leaves and tender stems
Instructions
Heat the oil over medium-high heat in a large stainless-steel saucepan or a Dutch oven. Add the onion, celery, and carrots and sauté until they just start to soften and turn brown, 4 to 5 minutes. Stir in the ginger, cumin, red pepper flakes, paprika, and cayenne, and cook until fragrant, 30 to 45 seconds.
Break the ground lamb into small chunks and add it to the saucepan; sauté until the meat turns brown, 3 to 4 minutes, and is completely cooked.
Stir in the couscous and broth, season with salt, and bring to a boil over high heat. Remove from the heat and cover with a lid, and let stand for 5 minutes. Remove the lid and fluff with a fork. Drizzle with lemon juice and garnish with parsley. Serve hot or warm.
Notes
The USDA recommends cooking ground lamb at 160F/71C.

Couscous cooking directions can vary depending on the manufacturer. While this recipe lists quantities that will work, I still recommend reading the instructions on the box and adjusting the time or the amount of broth needed.

If you want to take this dish a step further, add toasted pine nuts (or any type of nut or seed you love) and a large helping of caramelized onions.

You can also add dried fruit like chopped apricots, cherries, cranberries, or figs and sauté them with the onion.