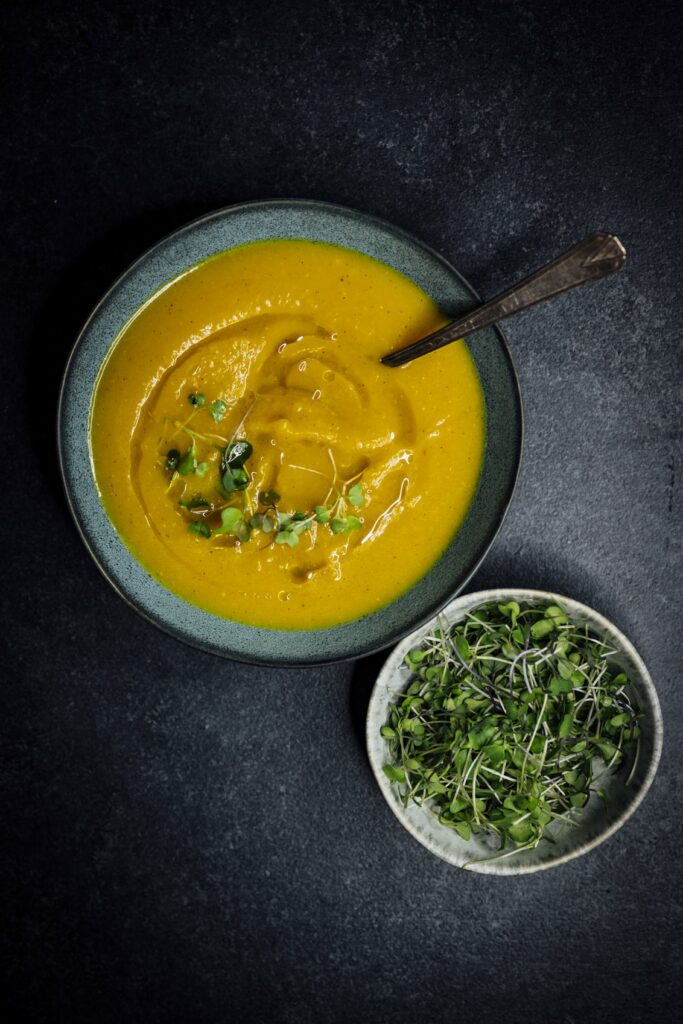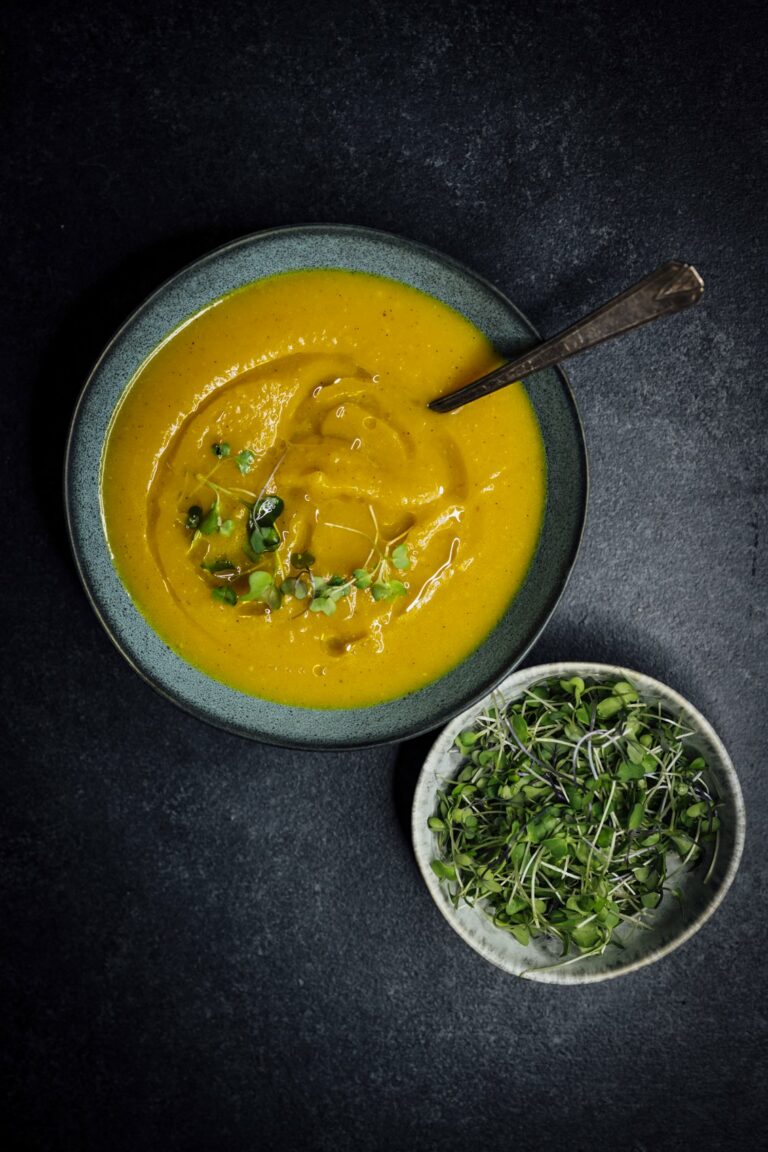 From an observational and a scientific perspective, I find our preferences, both our likes and dislikes fascinating. As a recipe developer, it helps me get a better understanding of what you like and don't like. Even the degree to which we like or dislike flavors or textures in our food can be scaled, from strong to weak. I find food as an experimental tool is one of the most fascinating ways to understand human behavior. To understand food preferences, I decided to run a little informal experiment on one of our favorite fall ingredients, squash soups.
A few weeks ago on Facebook and Instagram, I asked you about your textural preferences for squash soups (smooth or chunky). I pooled all your responses into this pie chart (I wish Excel had the capability to make a pie chart, but I did get the colors right). While this in no way is a scientific survey, it does present some interesting results and observations.
An overwhelming proportion of you love your squash soups smooth, silky, and velvety. A smaller proportion of you like your soups and as one of you best described it, #teamchunky. There was a smaller pool of people that seemed to like a mix of both smooth and chunky and they preferred the texture from anything other than squash e.g., croutons.
Another interesting observation, while I never mentioned pumpkins on Facebook (I did specifically refer to pumpkins in my Instagram stories), I noticed a lot of people assumed I referred to pumpkins or butternut squash, a small proportion did mention that their textural preferences depended on the type of squash. It's amazing how our minds immediately switch to the ingredients based on the season.
There are no right or wrong answers to my questions, they simply reflect our personal likes and dislikes, what we deviate towards or run away from. Human behavior is fascinating.
Before I forget, thank you to all those who participated, you make this a lot of fun.
#teamchunky v/s #teamsilkysmooth
Pumpkin Ginger Soup
Of course, all of this now means that I've got a pumpkin soup for you and it's silky, smooth, and velvety. My apologies to #teamchunky, I got your back, we will make a chunky pumpkin soup this fall. While this soup isn't chunky it gets a lovely texture and a bite from fresh radish microgreens.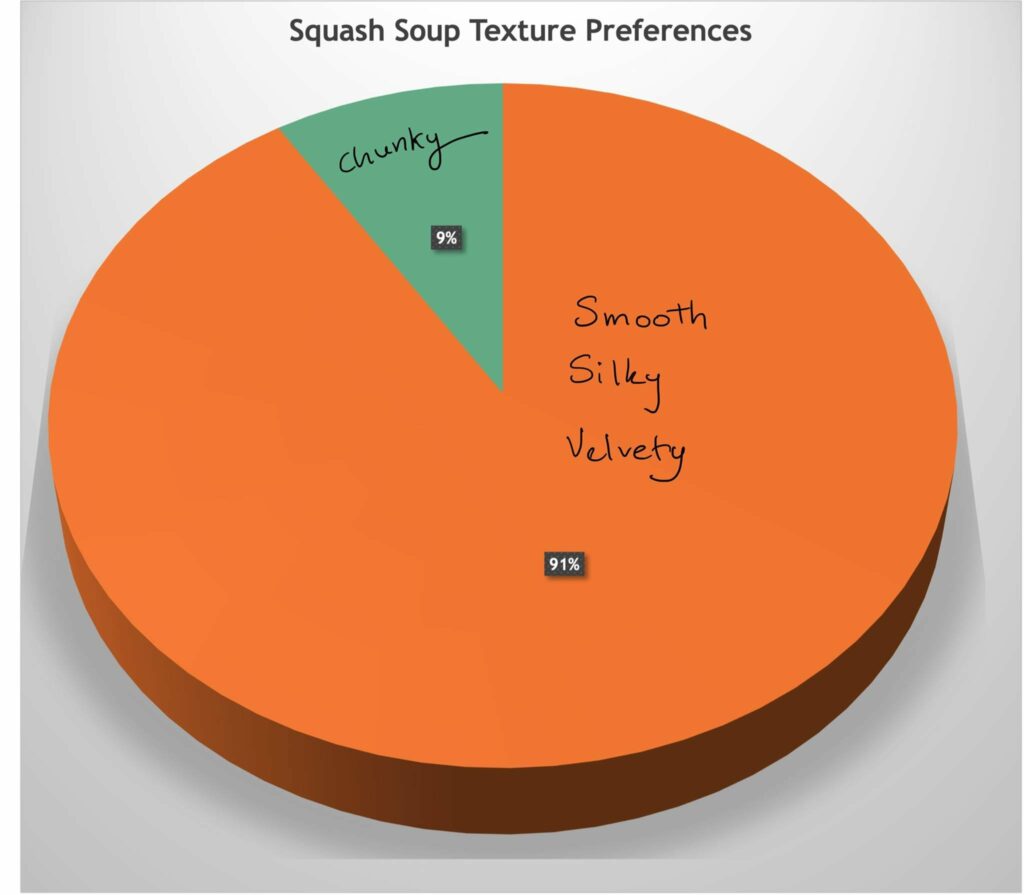 Print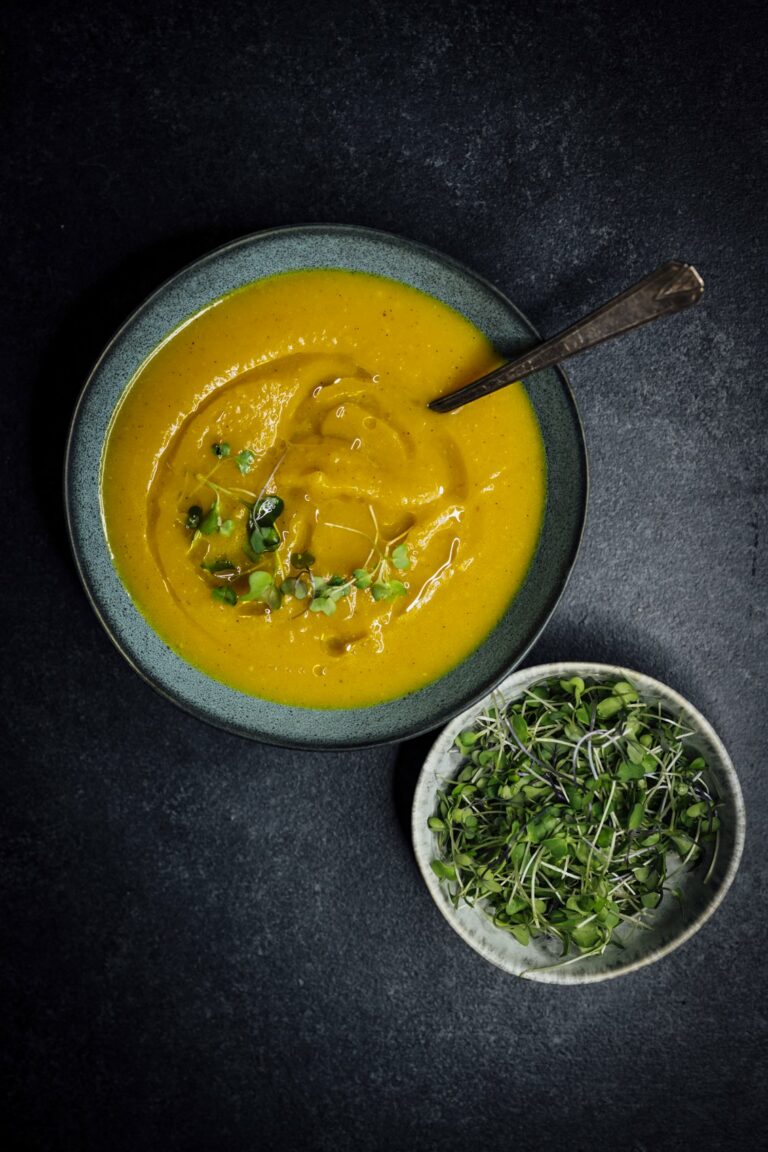 Pumpkin Ginger Soup
This smooth, velvety pumpkin soup relies on shiitake mushrooms for a deep and rich umami taste. Baking soda helps soften the pumpkin during cooking but also helps develop a richer caramel pumpkin flavor making it taste sweeter.
2 medium/total weight about 3½ lb/1.6 kg sugar pie pumpkins, cored and cut in quarters

¼ cup/60 ml extra-virgin olive oil plus extra for drizzling

Fine sea salt

¼ tsp baking soda

12/25 g dried shiitake mushrooms

1 cup/240 ml boiling water

1 medium/200g yellow or white onion, diced

1 garlic clove, grated

1 tsp ground cumin

1 tsp ground black pepper

½ tsp ground allspice

¼ tsp ground turmeric

5 cups/1.2 L water

2 Tbsp fresh ginger, peeled and grated

2 Tbsp fresh lemon juice

¼ cup loosely packed microgreens such as arugula or radish for garnish
Instructions
Preheat the oven to 400F/200C.
Place the pumpkin quarters on a rimmed baking sheet or roasting pan. Brush the pumpkin with 2 Tbsp of oil. Mix 1 tsp of salt with the baking soda in a small mixing bowl and sprinkle this all over the cut side of the pumpkin flesh, and roast in the preheated oven, until the flesh turns completely tender and lightly caramelized, 30 to 45 minutes (Don't go too dark or it might taste bitter). Remove from the oven and let sit until cool enough to handle. Scoop out and reserve the flesh and discard the skin.
While the pumpkin roasts, steep the shiitake mushrooms in the boiling water in a medium heat-proof bowl (or use one of those glass Pyrex measuring cups). Press the mushrooms down to submerge with a spoon and let sit for 30 minutes. After 30 minutes, squeeze the mushrooms well to extract as much liquid as possible. Reserve the liquid and discard the mushrooms.
Heat 2 Tbsp of oil in a large deep saucepan over medium-high heat. Add the onion and sauté until it turns light brown and translucent, 4 to 5 minutes. Add the garlic, cumin, black pepper, allspice, and turmeric and sauté until fragrant, 30 to 45 seconds. Add the roasted pumpkin flesh along with the water and bring to a boil over high heat. Remove from the heat and then using an immersion blender or a high-speed mixer blend the mixture until smooth. Add more water as needed, the final volume should be 8 cups/2L. Return the saucepan to the stove and simmer over low heat. Stir in the ginger and lemon juice, taste, and season with salt if needed. Remove from the heat.
Serve the soup hot or warm. Drizzle with extra olive oil, garnish with microgreens, and serve with warm toasted buttered bread.
Notes
I prefer working with smaller pumpkins or squashes. They taste better and are easier to handle. I also have no business lifting a pumpkin the size of Paddington or greater. Sugar Pie pumpkins, butternut squashes, kabocha, and turban squashes work great here.
Save the pumpkin seeds and brine and roast them with this recipe. The stringy material can be used to make stocks.
Baking soda helps make the flesh of the pumpkin softer by breaking down structural carbohydrates like pectin and helps act as a catalyst and promote caramelization and Maillard flavor-building reactions.
Once the soup is blended, be careful, blended soups on the stove can send out blazing projectiles will make a mess and can cause burns. Therefore, I prefer to boil the soup in its chunky state and blend it. Once blended, simmer and keep a lid on hand.
With the ginger, I find 2 Tbsp plenty, but you can kick it up a notch by using 3 to 4 Tbsp.
Microgreens are a great garnish and addition to salads. You can use what you find, arugula and radish are quite common, and both pack that nice horseradish taste.
Toasted pumpkin seeds or garlic croutons would also work great with this soup in place of microgreens.
For an extra touch of gingery texture, cut a 2 in/5cm piece of ginger into fine matchsticks and fry them in 2 Tbsp oil until golden brown and crisp. Drain them on a paper towel and then use them as a garnish for the soup.