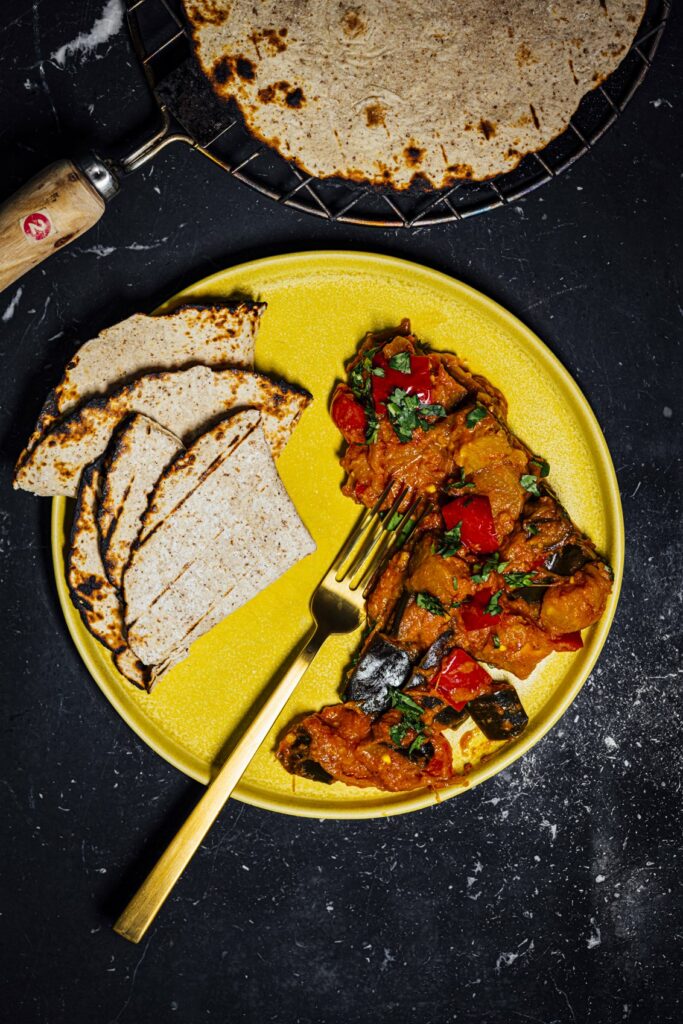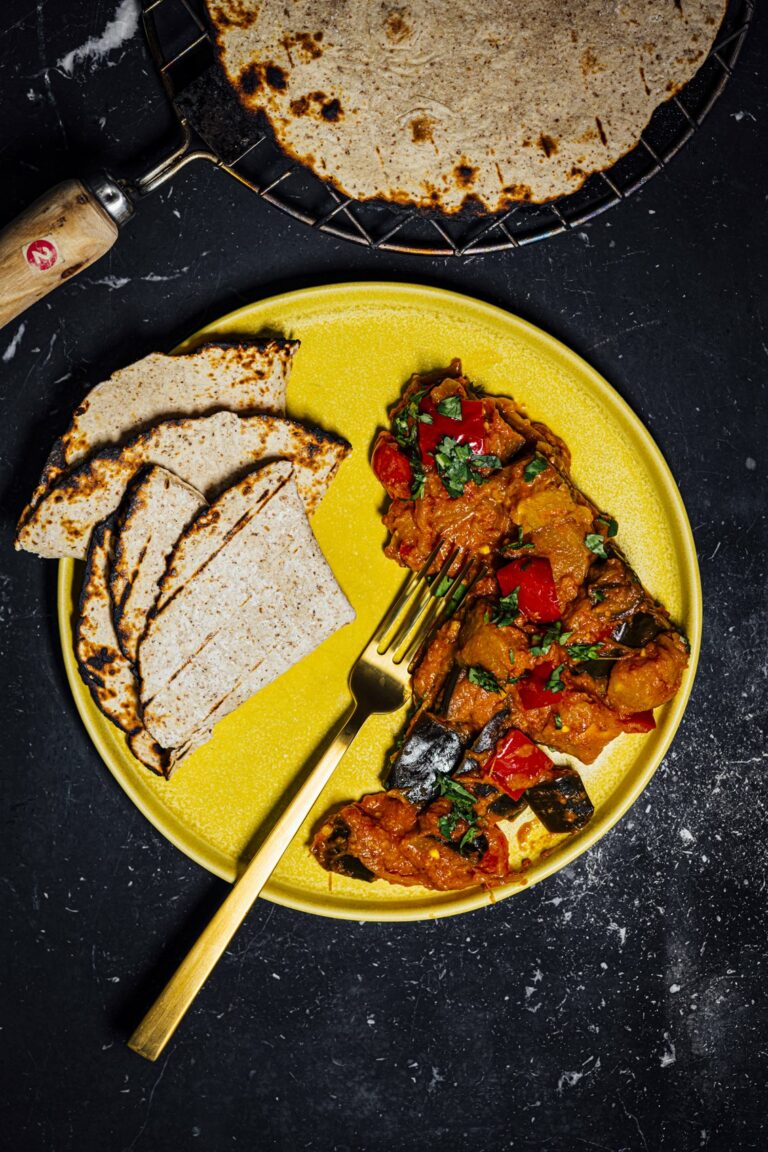 What's a kadai? It's an Indian cooking utensil that looks like a wok with two handles on the sides. Depending on whom you speak to, it also goes by karahi, kadhai, or cheenachatti. You've probably seen the fancier brass and copper ones used to serve food in Indian restaurants.
While this eggplant dish is made in a kadai, you certainly don't need one. You can prepare this eggplant dish in a wok or a large saucepan. I've got my mom's old kadai that I brought back several years ago on a trip to India. It's one of those items I can vividly remember so many meals prepared in that it is very special to me. Funny enough, I was able to get it because my mom was ready to toss it out as it was too old. I love the patina that the kadai developed from years of use. Unlike me, my mother does not like to collect things.
Kadai eggplant is a quick and simple, satisfying vegetarian dish. The eggplant is cooked in a tomato-based gravy, and it takes on a wonderful ethereal aroma from coriander and cardamom and lightly caramelized onions. I serve it with warm rice or some flatbread like roti, paratha, or tortillas (yeah, if I don't have any Indian flatbreads at home, I'll opt for flour tortillas). Kadai eggplant can also be made with the baby or Japanese eggplant varieties, slice them across their length before using.
To start, sauté the onions till they begin to brown. Avoid browning them too much, or they will overpower the dish's flavor. I also add a tiny pinch of salt to help soften the onions as they cook and help them cook faster. Salt softens pectin, a structural carbohydrate that is present inside vegetables. Sauté the onions with the bell pepper, the color of the bell pepper doesn't matter, but I find the color of red and green bell peppers stand out nicely in this dish.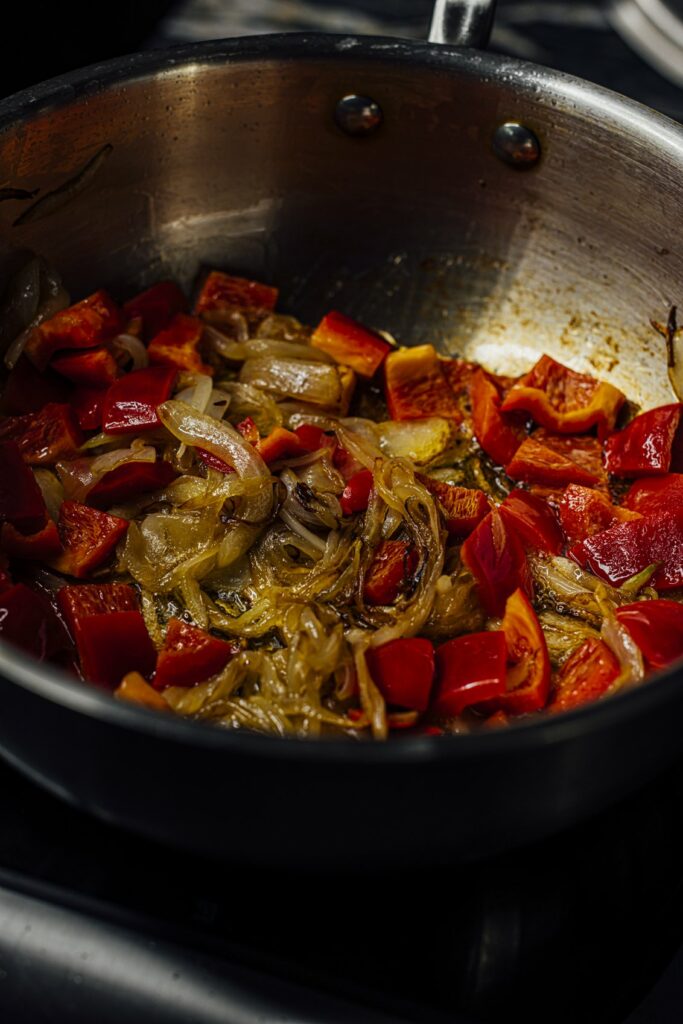 Once the vegetables are cooked, remove them, leaving the excess oil in the saucepan behind. This will be used to cook the eggplant. The eggplant also gets a tiny pinch of salt to help soften those tough structural carbohydrates and allow it to cook faster. Take a moment to appreciate the aroma of the spices added at this stage.
Typically, people use fresh tomatoes to make the sauce for this dish, but I love the taste of canned tomatoes here. Using canned tomatoes also shortens the cooking time needed for the tomatoes to fall apart.
Once the eggplant is tender, add the yogurt and lemon juice. I don't add salt to the dish except for the tiny amounts used when cooking the onions and the eggplant because tomatoes are naturally rich in salt. The recipe also uses fresh lemon juice (plus the acid from the tomatoes), and sour ingredients reduce the need to add salt to taste in food.
Print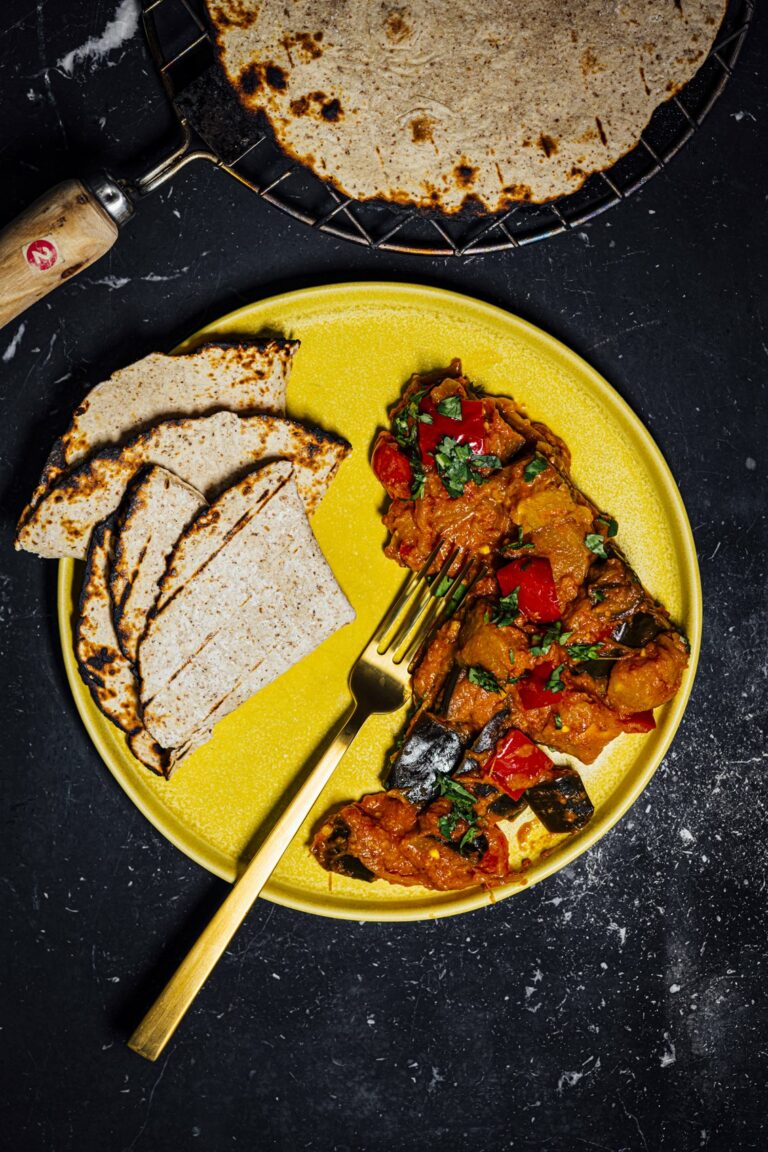 Kadai Eggplant
This classic Indian eggplant is prepared in a kadai/karhai which looks like a wok and behaves similarly. The high heat helps the vegetables cook quickly and also aids in their caramelization to produce a rich flavor. The fragrant tomato and yogurt sauce with the combination of onions and bell peppers makes it an elegant dish to serve at a fancy dinner party or on a weekday.
¼ cup/60 ml ghee or neutral oil like grapeseed

1 large onion/about 300 g, cut in half and thinly sliced

Fine sea salt

1 large bell pepper/about 200 g, cored and diced

1 large globe eggplant/about 680 g, diced into 1 in/2.5 cm cubes

2 Tbsp grated garlic

2 Tbsp grated ginger

1 Tbsp ground coriander

1 tsp crushed red pepper flakes

¼ tsp ground green cardamom

28 oz/795 g can crushed tomatoes

½ tsp ground turmeric

2 Tbsp plain unsweetened Greek yogurt

2 Tbsp fresh lemon juice

2 Tbsp chopped cilantro, tender stems and leaves
Instructions
Heat the ghee or oil over medium-high heat in a large saucepan, kadai, or wok. Add the onion with a tiny pinch of salt, and sauté until it just starts to brown; the cooking time will vary. Add the bell pepper and sauté until it begins to brown, 3 to 4 minutes. Transfer the onions and bell pepper to a plate using a slotted spoon, leaving the oil behind in the saucepan.
Add the eggplant with a tiny pinch of salt to the saucepan, and sauté over medium-high until the eggplant skin starts to brown, 6 to 8 minutes. Add the garlic, ginger, coriander, red pepper flakes, and cardamom, and fold to coat well. Fold in the tomatoes, the sautéed onion, and bell pepper mixture, and cook covered with a lid over low heat until the eggplant is completely tender, often stirring to prevent sticking. Add the turmeric. Fold the yogurt and lemon juice, taste, and season with salt. Remove from the heat, and garnish with the cilantro. This dish will stay good for up to 4 days if stored in an airtight container in the refrigerator. Serve hot or warm with rice or flatbread.
Notes
I salt this dish minimally as I cook because tomatoes are naturally rich in salt. I add tiny pinches of salt to the onion and eggplant during cooking because it hastens their softening and reduces the cooking time.
If the eggplant is cut and not used quickly, it can brown naturally due to the polyphenol oxidase enzyme. This won't affect taste or texture. Drizzle and toss the pieces with 2 Tbsp of fresh lemon juice if you want to avoid this.
Indian stores sell readymade jars of ginger-garlic paste. If you decide to use that, then use 4 Tbsp.
If you aren't a fan of cilantro, use flat-leaf parsley, mint, chives, or scallions for the garnish.