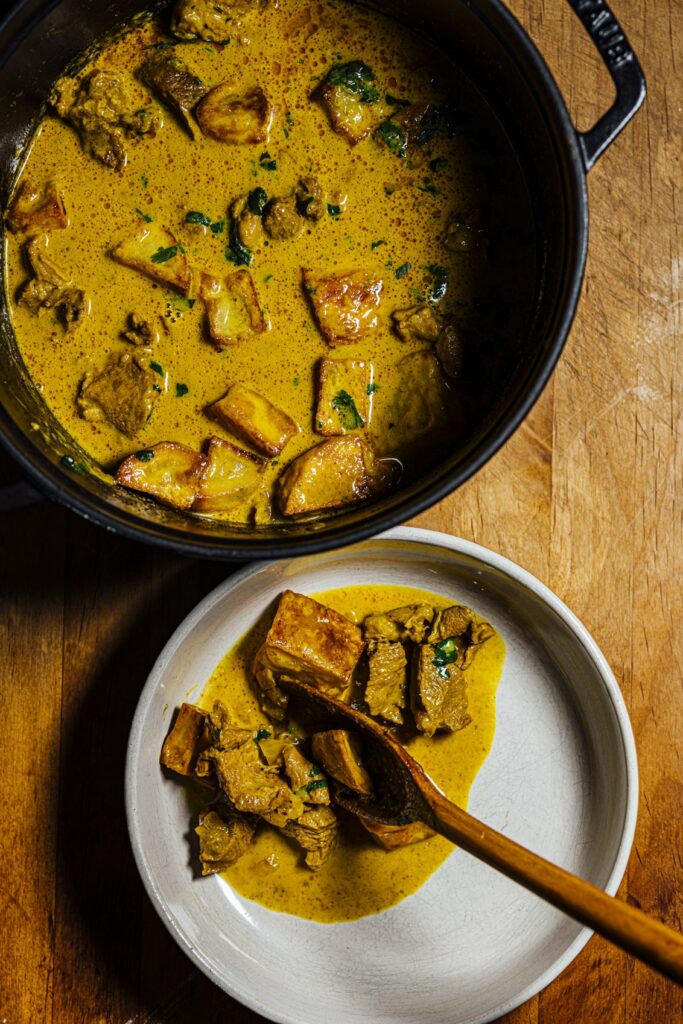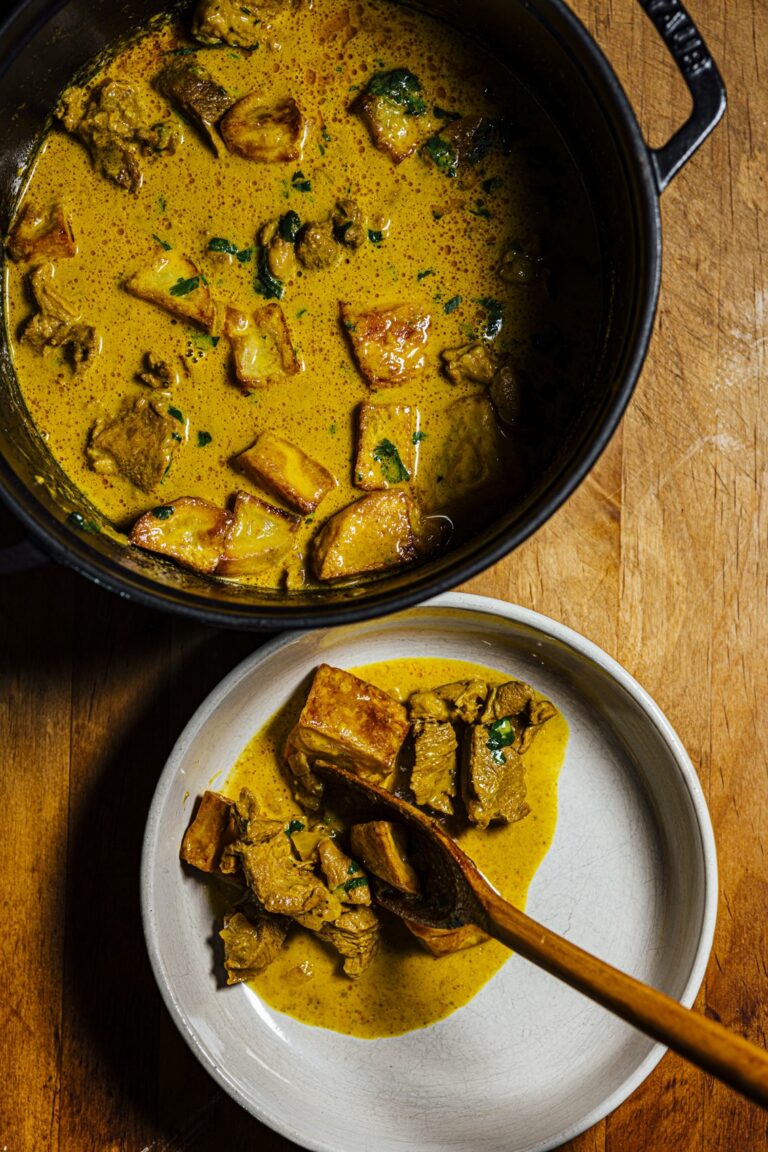 Disclaimer: This post was sponsored by the American Lamb Board. All opinions expressed are solely my own. 
If one ingredient stirs strong feelings for home and my childhood, it must be coconut. I grew up on the West coast of India in Bombay, where coconut trees were plenty. When visiting my grandparents' home in Goa, coconut trees were again a big part of the landscape and our lives. Every part of the tree was used. The leaves were used to weave baskets; the young tender coconuts were used for their sweet water and tender flesh; the mature coconuts were used to prepare rich, thick gravies, stews, and curries, while the oil formed the base of flavor for many sweet and savory dishes. This Goan lamb curry relies on coconut for its velvety texture and aroma. 
I've used  American Lamb in this coconut curry to complement the spices and coconut flavor. Once cooked, the lamb turns tender and falls apart quickly under the pressure of a fork. This is comfort food to me. It reminds me of home and those simple meals that satisfied me. There are three parts to this recipe. I first prepare the lamb and cook it with the spices until the meat is tender; once cooked, I stir in the coconut curry and malt vinegar. You can use lemon or lime juice in place of vinegar. This reduces the risk of coconut milk curdling during cooking. Finally, instead of frying the potatoes as my mother and grandmother did, I roast them in the oven until they were tender but crispy. 
My favorite way to eat this lamb curry is with bread like dinner rolls or plain rice. It's one of those dishes you need to use your fingers to sop up that gorgeous golden liquid and enjoy. It's part of that wonderful experience.
Print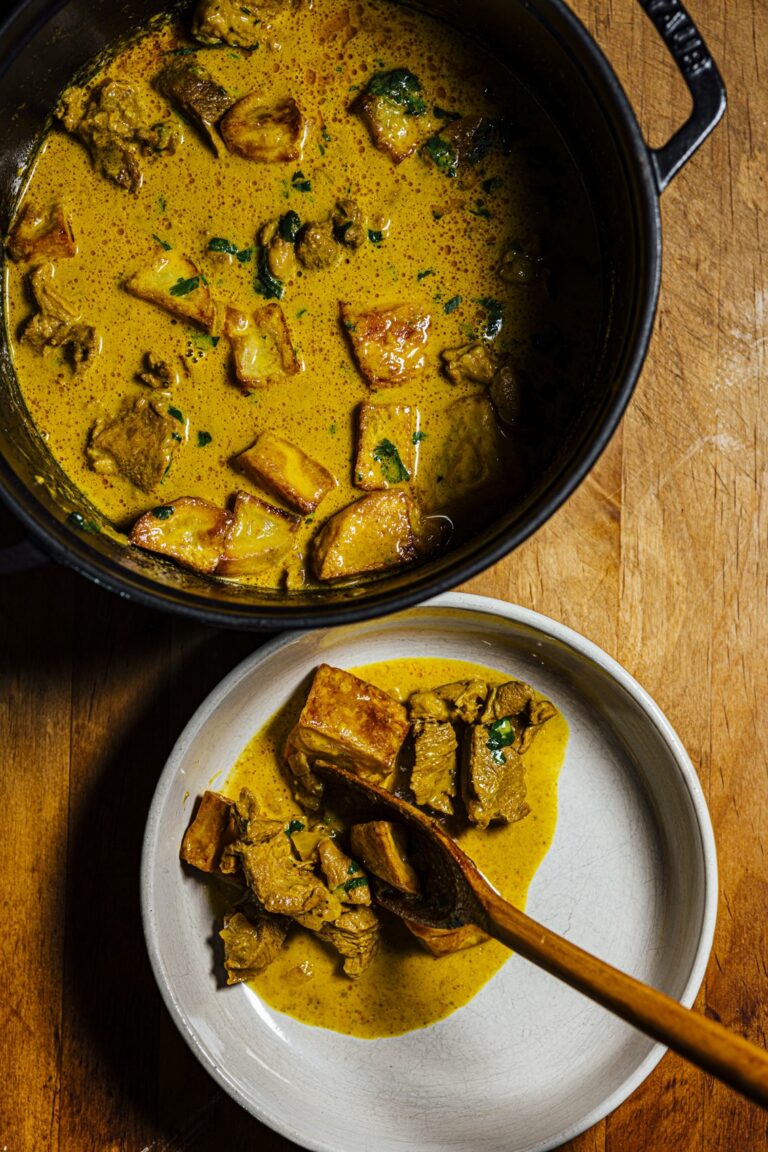 Goan Lamb Curry
A simple yet soothing lamb curry from Goa that is rich with the aroma of coconut and spices. Oven-roasted potatoes and tender, succulent pieces of lamb are put together in this luscious coconut-based stew. I prefer to eat it with plain rice or bread to enjoy every drop of that flavorful liquid.
3 Tbsp/45 ml neutral oil, such as grapeseed

1 ½ tsp garam masala, homemade or store-bought

1 tsp ground black pepper

½ tsp ground Kashmiri chilli

½ tsp ground turmeric

½ tsp ground cardamom

1 large/300 g white or yellow onion, diced

2 Tbsp grated garlic

2 Tbsp grated ginger

1 ½ lb/ g boneless American lamb shoulder, excess fat trimmed and discarded, cut into 1 in/2.5 cm pieces

Fine sea salt

½ cup/120 ml water

1 large/400 g Russett potato, peeled and cut into 1 in/2.5 cm cubes

1 cup/240 ml plain unsweetened coconut milk

2 Tbsp fresh lemon or lime juice

2 Tbsp chopped cilantro, tender stems and leaves
Instructions
Heat 2 Tbsp of the oil in a medium Dutch oven or saucepan with a heavy lid over medium heat. Add the garam masala, black pepper, Kashmiri chilli, turmeric, cardamon, and sauté until fragrant, 30 to 45 seconds. Add the onion and sauté until translucent and soft, 4 to 5 minutes. Stir in the garlic and ginger and cook for 1 minute. Fold in the lamb. Sauté the lamb until the meat starts to brown, 8 to 10 minutes. Add the water and ½ tsp salt. Bring to a boil over medium-high heat. Reduce to a simmer, cover, and cook until the lamb is tender about 1 hour. USDA recommends lamb reach an internal temp of 145F/63C with a 3-minute rest.
While the lamb cooks, preheat the oven to 400F/200C. Spread the potatoes out onto a rimmed baking sheet. Toss the potatoes with 1 Tbsp oil and ½ tsp salt, spread in a single layer, and roast in the oven until the outside is golden brown and crisp while the insides are soft and easily pierced with a knife, 25 to 30 minutes. Remove from the oven.
Once the lamb is cooked, stir in the coconut milk and lemon juice. Taste and season with salt. Add the potatoes and garnish with the cilantro. Serve hot or warm. Leftovers will stay good for up to 3 days if stored in an airtight container in the refrigerator.
Notes
If you can't find boneless stew lamb, use a boneless shoulder cut and either get the butcher to trim the fat off and chop it or do it at home. I prefer to use American Lamb in my cooking because of the high quality of the meat that produces the best flavor and texture in this curry.
I prefer a Dutch oven to make this curry because the lid is heavy and holds steam well. This, in turn, helps the lamb cook faster and turn more tender.