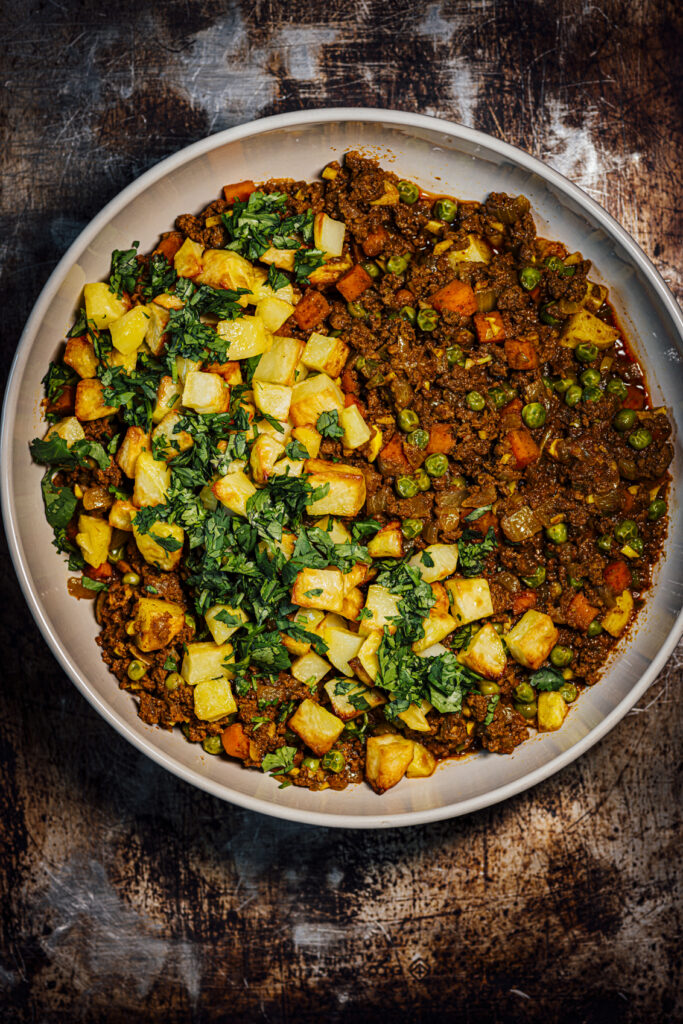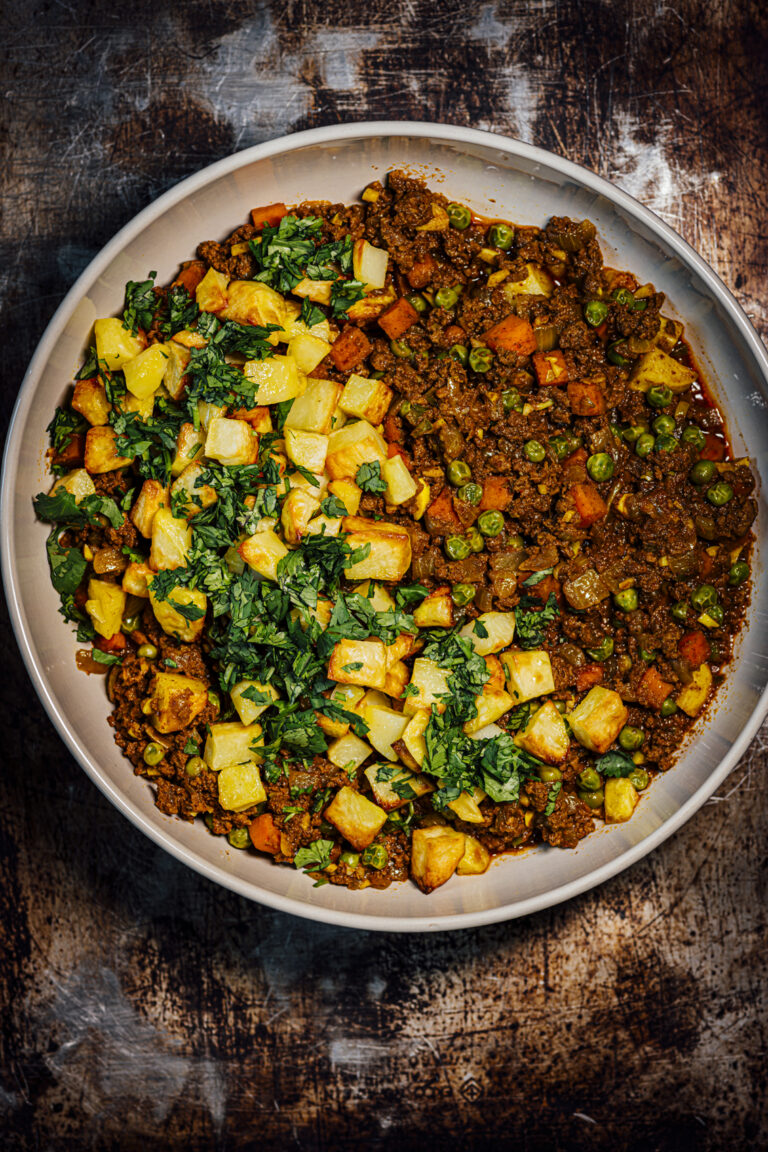 Print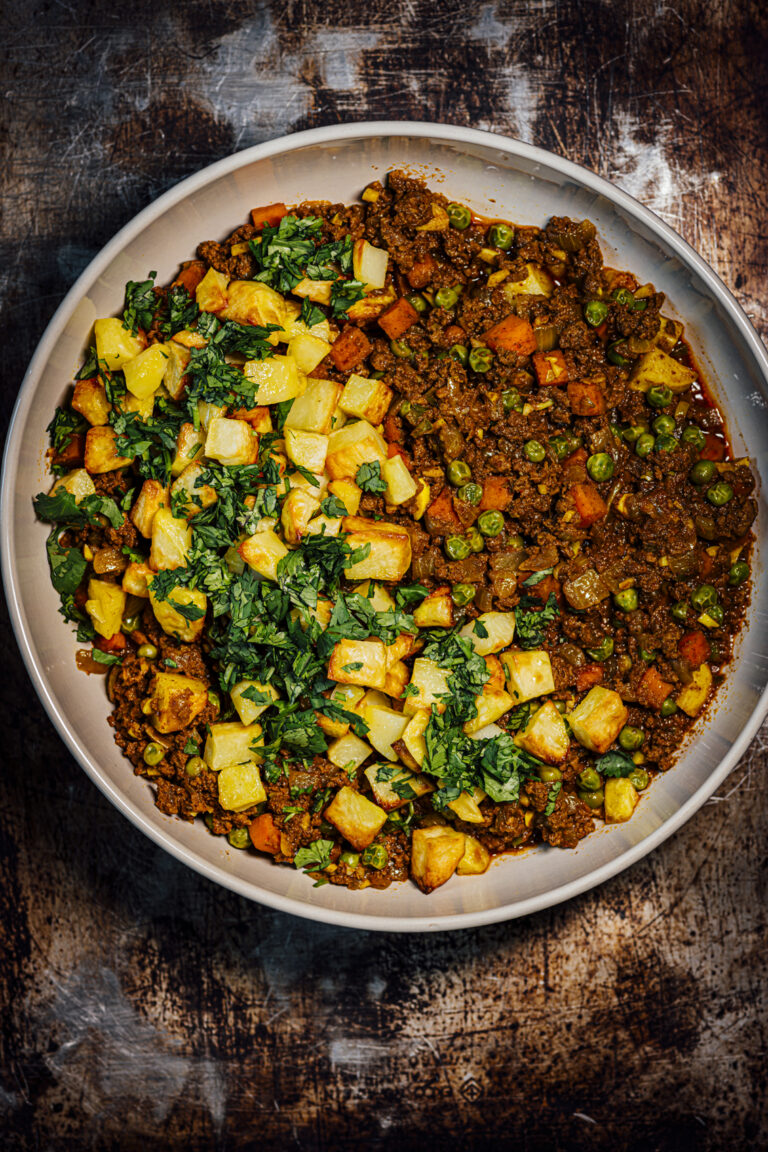 Goan Kheema/Mince
Growing up in a Goan household, mince or kheema was a frequent dish made at least once during the week. I suspect its popularity lay in the fact that it was more economical to purchase and quick to prepare. There are many regional variations of kheema, and the Goan version varies distinctly in its use of vinegar and ground cloves. Mince was eaten directly with soft bread rolls called paos or rice.
4 Tbsp/60 ml extra-virgin olive oil, vegetable oil, or ghee
1 large/400 g russet potato, peeled and diced into 1/4 in/6 mm cubes
fine sea salt
One large/300 g yellow or white onion, diced
One large/70 g carrot, peeled and diced
2 Tbsp grated garlic
2 Tbsp grated ginger
1 tsp garam masala, homemade or store-bought
1 tsp Kashmiri chilli powder
1/2 tsp ground turmeric
1/4 tsp ground cloves
2 Tbsp tomato paste
1 lb/455 g ground beef, lamb, or mutton
1/2 cup/120 ml water
1/4 cup/60 ml malt, coconut or palm, or Chinese black vinegar
1 cup/120 g fresh or frozen peas
1 small green chilli such as jalapeno, serrano, or Thai bird's eye, chopped
2 Tbsp chopped fresh cilantro
Instructions
Heat the oven to 400F/200C. In a medium mixing bowl, toss 2 Tbsp of the oil, potatoes, and a pinch of salt. Line a baking sheet with parchment paper, spread the potatoes on the sheet, and roast them in the oven for 30 minutes, until golden brown and crisp, rotating the sheet halfway through during cooking.
While the potatoes cooks, heat the remaining 2 Tbsp of oil over medium-high heat in a medium saucepan or Dutch oven. Add the onion and a pinch of salt, and sauté until the onions turn tender and translucent, 4 to 5 minutes. Fold in the carrot and cover with a lid, stirring occasionally, and cook until the carrots are tender and light brown, 4 to 5 minutes.
Add the garlic, ginger, garam masala, Kashmiri chilli powder, turmeric, cloves, and tomato paste. Sauté until fragrant, 1 minute.
Break the ground meat into small chunks and fold it into the pot. Stir in the water and vinegar. Increase the heat to high and bring to a boil; reduce to a simmer, cover with a lid, and cook until the meat is thoroughly cooked, about 15 minutes. Stir occasionally to prevent scorching.
Add the peas and cook for another 5 minutes, until the peas are tender.
Remove from the heat, taste, and season with salt if needed.
Top with the roasted potatoes, chilli, and cilantro. Serve hot or warm with rice, dinner rolls, or flatbread. Leftovers can be stored in an airtight container for up to 4 days.
Notes
Use a malty flavor vinegar for this recipe. Palm or coconut vinegar would be the top choice, but it is not easy to find outside Goa. Malt and Chinese black vinegar are excellent options.
If you've got an air fryer, use that to cook the potatoes. 
I've listed a few different meat options here. Beef and mutton would be used traditionally, but lamb is also great. Go for leaner meat here; I usually get 15% fat.
I prefer using tomato paste for a richer flavor, but you can use two medium tomatoes too.
To make this vegan/vegetarian, use plant-based ground meat. It works great here.