The final week of the year is upon us, and who better than the brilliant baker Edd Kimber who writes one of my favorite baking blogs,The Boy Who Bakes. Edd is also the winner of the first season of The Great British Bake-Off and the author of numerous cookbooks, the latest being One Tin Bakes Easy (Amazon, Bookshop), which was also one of my favorite cookbooks of the year.
Every time I'm in London, I reach out to Edd for his latest recommendations on bakeries, local artisan chocolatiers, and restaurants I must try out. Yup, they're always spot on! Edd's also my go-to person for advice on baking when I'm working on something complex and need a sounding board. I'm absolutely stoked to have Edd Kimber with us here to talk about his new book, One Tin Bakes Easy (Amazon, Bookshop), and his Espresso Caramel Cake (recipe follows) is an excellent cake for your New Year's Eve celebration.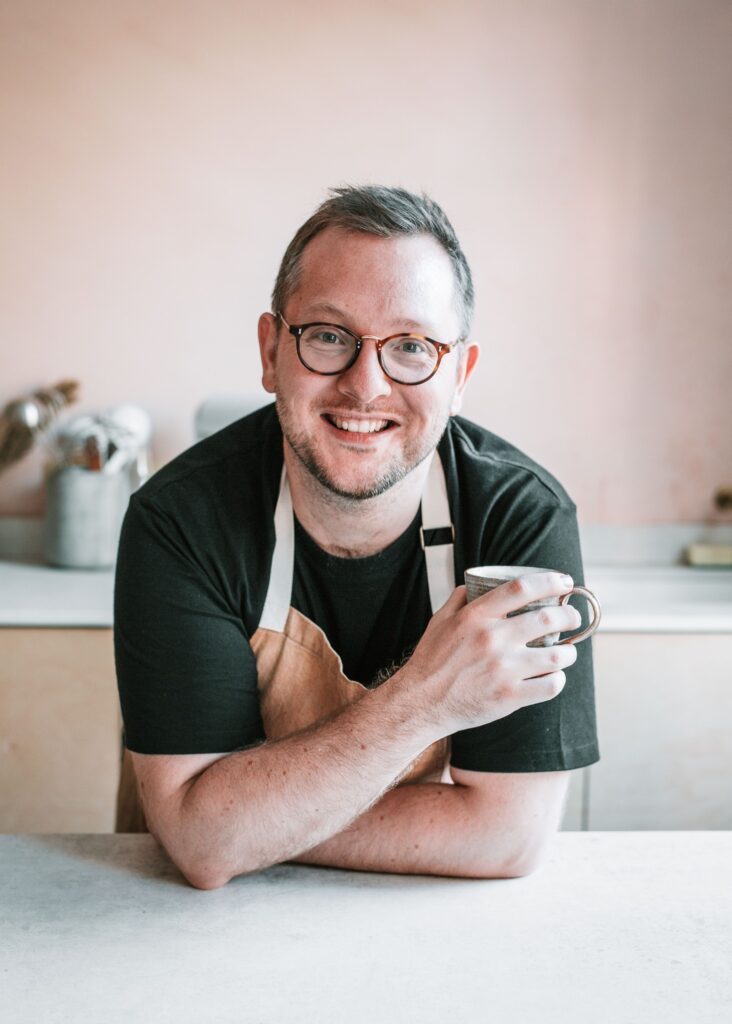 Nik: "One Tin Bakes Easy" takes a marvelous and unfussy approach to making some of the most elegant desserts. What made you write this book?
Edd: Whenever I write a book, I feel it needs a purpose; it's never simply a collection of recipes. When it comes to baking, I tend to find that purpose is eliminating a barrier to entry. So many people will say, "Oh, I'm a cook; I can't bake," and I'm on a mission to convince people that anyone can bake. My last book, the original 'One Tin Bakes', trying to solve the equipment issue. As someone who writes recipes for a living, one of the most frequent questions I receive is, 'I want to make your recipe, but I don't have that tin. Can I use something else? Food writers so often assume a lot from their readers, and often they don't think about the equipment a home cook or baker will have. To eliminate that problem and that particular barrier to entry, I wanted to write a book that used only one piece of bakeware, just one tin. This book is a follow-on to that idea, but I also wanted to make the recipes even easier to give people some confidence in the kitchen regardless of how much they've baked in the past.
Nik: This book delves into vegan and gluten-free baking. How was that process of recipe development different from your previous books?
Edd: I'm neither vegan nor gluten-free (although I am eating more and more vegan food), but many of my friends are, so the thought behind those recipes was making them as accessible as possible whilst not having to buy a whole new set of ingredients, I wanted to keep it simple. Gluten-free recipes use a store-bought gluten-free flour blend, vegan recipes use just one egg substitute, and then common dairy replacers. I wanted you to be able to make a vegan or gluten-free recipe without needing a whole host of ingredients you'd never use otherwise. Testing the recipes was definitely a steep learning curve, and the recipes needed more testing than normal, but I always want to ensure the recipes work, so it's worth it.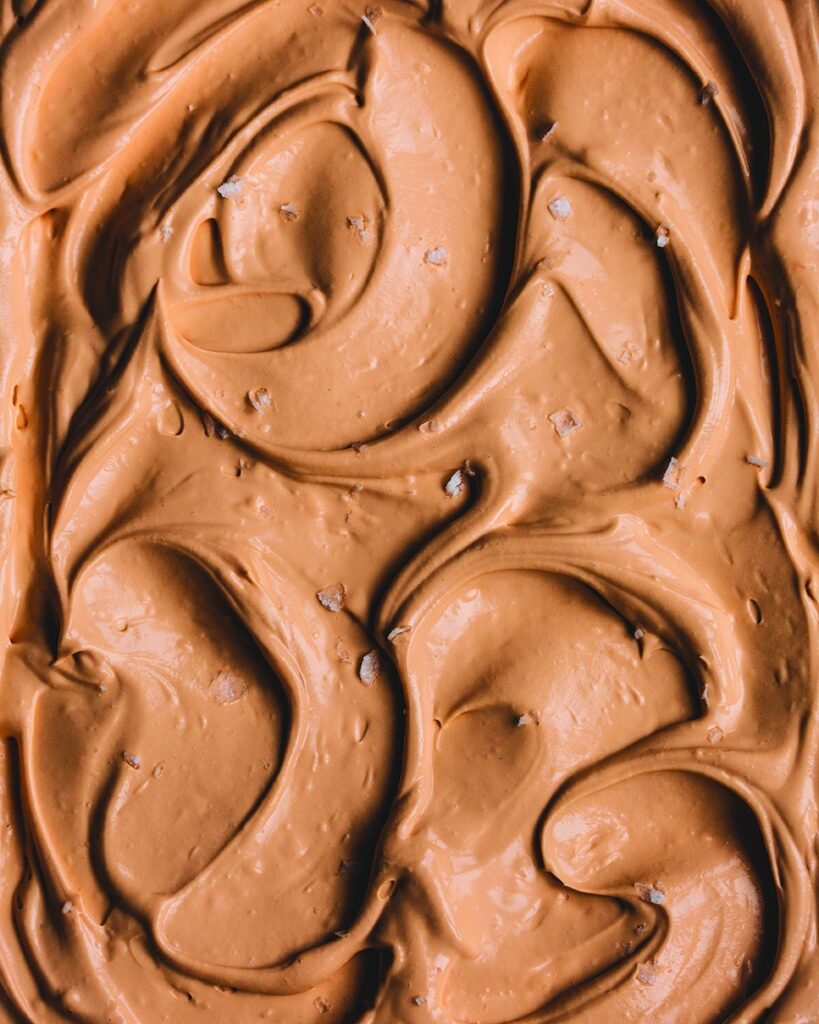 Nik: What are some of your favorite vegan and gluten-free substitutes that should be on people's radars?
Edd: My favorite substitute is ground psyllium husk, used as an egg replacer. It forms a really strong gel and is completely tasteless; it's the best egg replacer I've tried. You can't buy it in many supermarkets, but it lasts forever and is easy to buy online. Vegan butters have also made massive improvements recently, and I'm excited that you'll likely be able to get vegan butter that is basically identical to dairy butter.
Nik: What tips do people need to remember when buying vegan chocolate?
Edd: Vegan chocolate is a veritable minefield of varied quality. There is some great and gross vegan chocolate, so it's a good idea to find one you truly love. To that end, I mainly stick to dark chocolates because they're vegan naturally (unless cross-contamination in the factory occurs), and the quality is generally higher.
Nik: What is one ingredient and kitchen tool you think more bakers should often use?
Edd: This is particular to American bakers, but I will never stop evangelizing the benefits of baking with a scale. They're cheap to buy and make baking easier, quicker, and with less washing up as an added benefit. Thankfully I think scales are becoming more and more common in American kitchens, but until the emails asking me to convert my recipes to cups, I'll stop. I'll continue to preach the benefits of an electronic scale.
Print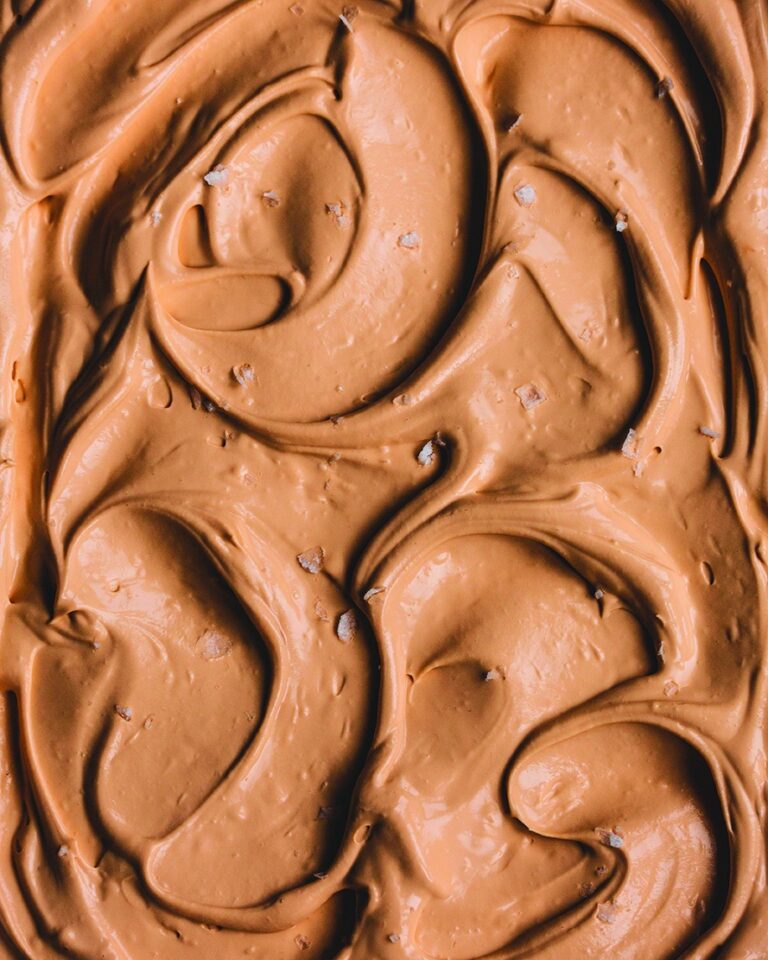 Edd Kimber's Espresso Caramel Cake
The traditional British coffee-and-walnut-style cake isn't for me, as I generally find it too sweet and the coffee flavour always tastes artificial because it's made with a bitter extract instead of the real deal. This simple sheet cake contains lots of espresso to create a genuine coffee kick, and the quick whipped caramel cream frosting is the perfect finishing touch.
FOR THE CAKE
170 g (6 oz/1 + 1⁄2 sticks) very soft unsalted butter, plus extra for greasing

320 g (11 + 1⁄4 oz / 2 1⁄2 cups + 1 tablespoon) plain (all-purpose) flour

3 teaspoons baking powder

1⁄2 teaspoon fine sea salt

175 g (6 oz/ ¾ cup + 2 tablespoons) caster (superfine) sugar

175 g (6 oz/ ¾ cup + 2 teaspoons) light brown sugar

3 large eggs

2 teaspoons vanilla extract

100 ml (3 + 1⁄2 fl oz/ 1/3 cup + 4 teaspoons) cold espresso or very strong black coffee

75 ml (2 + 3⁄4 fl oz/5 tablespoons) sour cream

Flaked sea salt, for sprinkling

FOR THE FROSTING
170 g (6 oz/ ¾ cup) cream cheese, at room temperature

397 g (14 oz) can dulce de leche

240 ml ( 8 1⁄2 fl oz/1 cup) double (heavy) cream, chilled
Instructions
Preheat the oven to 180ºC (160ºC Fan) 350ºF, Gas Mark 4. Lightly grease your 23 x 33cm (9 x 13in) baking tin and line it with a strip of parchment paper that overhangs the long sides, securing it in place with two metal clips.
Place the flour, baking powder, salt, and sugars in a large bowl and whisk to combine. Add the butter, eggs, vanilla, espresso, and sour cream and mix until a smooth batter forms. Pour it into the prepared tin and spread evenly.
Bake for about 35–40 minutes, or until the cake springs back to a light touch. Set aside to cool in the tin for 15 minutes before using the parchment paper to lift the cake onto a wire rack to cool completely.
For the frosting, place the cream cheese and dulce de leche in a large bowl and whisk until smooth. Add the cream and whisk until the mixture holds soft peaks. Spread the frosting all over the cold cake and sprinkle with flaked sea salt just before serving.
The cake can be made a couple days in advance if stored in a sealed container, but the frosting needs to be made and served on the same day.