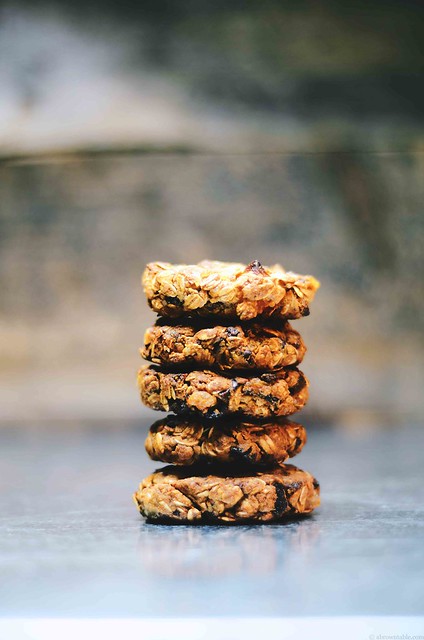 I decided to bake cookies in the middle of the night during the week because that is exactly what one does when their spouse is out of town. I made a happy mess, didn't tiptoe and worry about waking anyone up and I ended up cleaning the kitchen the next morning. Talk about the definition of being wild and crazy after you reach a certain age!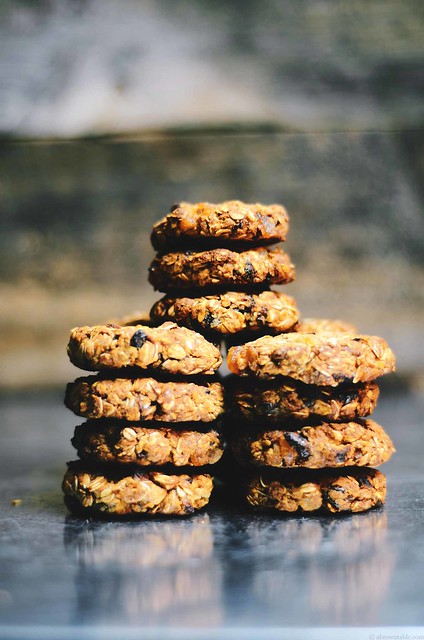 If you like a crispy oatmeal cookie then this cookie, is for you! It's packed with flavors and fruity bits of dried apricots and figs with each bite and a little hint of ginger too. Though my goal was to make an oatmeal cookie that was a little autumn/fall centric, you could make these cookies at anytime of the year because they use dried apricots and figs.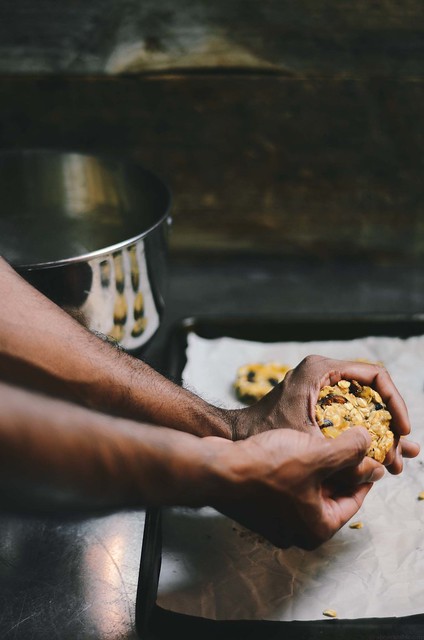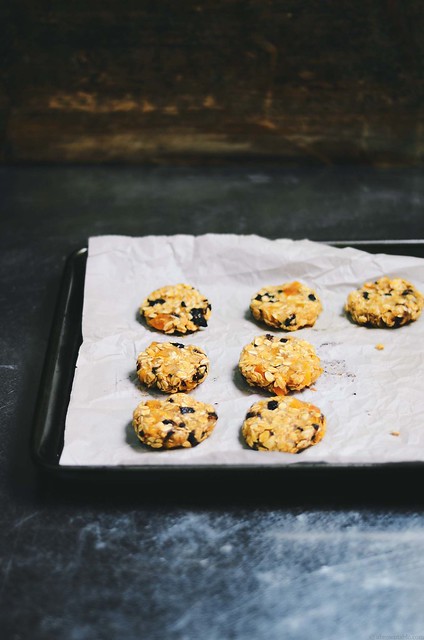 You might notice here that I call for refrigerating the dough overnight before baking. This is what my dessert hero and one of my all-time favorite food personality, Alice Medrich (I do hope I get to meet her one day, she knows her desserts) says to do. It works every time and the cookies are much more flavorful and rise better.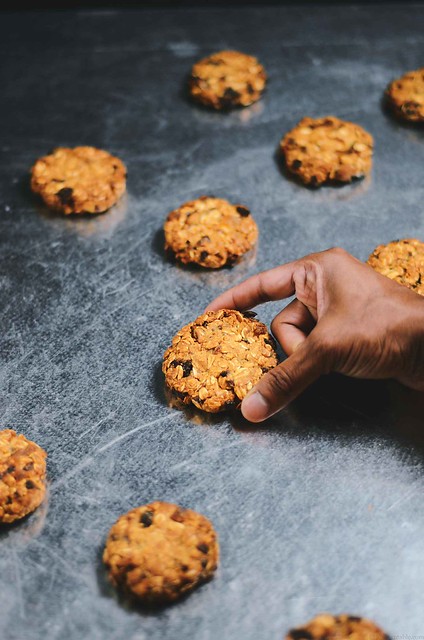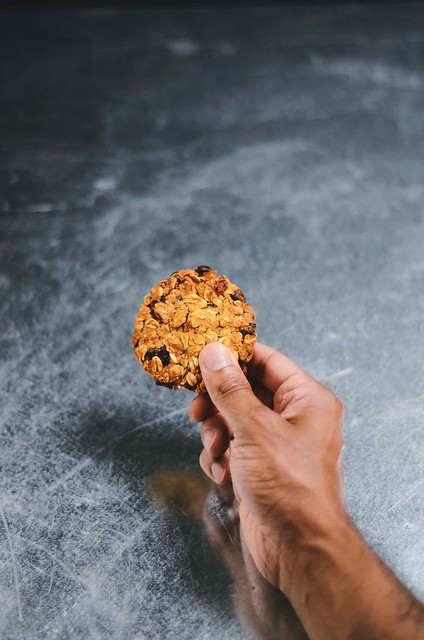 dried apricot and fig almond oatmeal cookies
yields: 24-30 cookies
ingredients
3 cups (9 1/2 ounces) old-fashioned rolled oats
2 cups (5 ounces) almond flour
1/2 teaspoon kosher sea salt
1/2 teaspoon baking powder
1/2 teaspoon ginger powder
4 tablespoons unsalted butter, softened to room temperature
3/4 (5 7/25 ounces) cup brown sugar
2 large eggs
4 tablespoons milk
1 teaspoon vanilla extract ( I used Madagascar Bourbon vanilla)
1 teaspoon fresh lemon zest
1 cup (4 1/2 ounces) dried apricots, chopped
1 cup (3 3/8 ounces) dried figs, chopped
1. In a large mixing bowl, mix the dry ingredients from the oats to the ginger powder. Whisk a few times until evenly combined. Reserve two tablespoons and keep aside.
2. Using the paddle attachment of a stand mixer, cream the butter and sugar on medium-high speed for about 2-3 minutes. Beat in one egg at a time and continue to cream the mixture. Add the milk, vanilla and lemon zest and mix until combined for about a minute. Remove the bowl from the mixer.
3. Toss the chopped apricots and figs in a small bowl with the two tablespoons of the dried mixture reserved from step 1. Keep aside.
4. Add the dry oatmeal-almond mixture from step 1 to the wet mixture in the bowl and stir until combined. Fold in the apricots and figs from step 3 until completely combined. Bring the dough to form a large ball and cover this cookie dough with cling film. Refrigerate the dough overnight.
5. Place a wire rack in the center of the oven and preheat to 350F/180C. Line a baking sheet with parchment paper. Mold the cookies with the palms of your hand. (I prefer to wet my hands in a little water so it won't stick as much). Form cookies that are approximately 1 inch in diameter. Place the cookies on the prepared baking sheet about 1 1/2 to 2 inches apart from each other. Bake for about 20-25 minutes until the cookies turn golden brown, turning the sheet halfway through during baking. Transfer the cookies to a wire rack to cool completely and store in an airtight container.