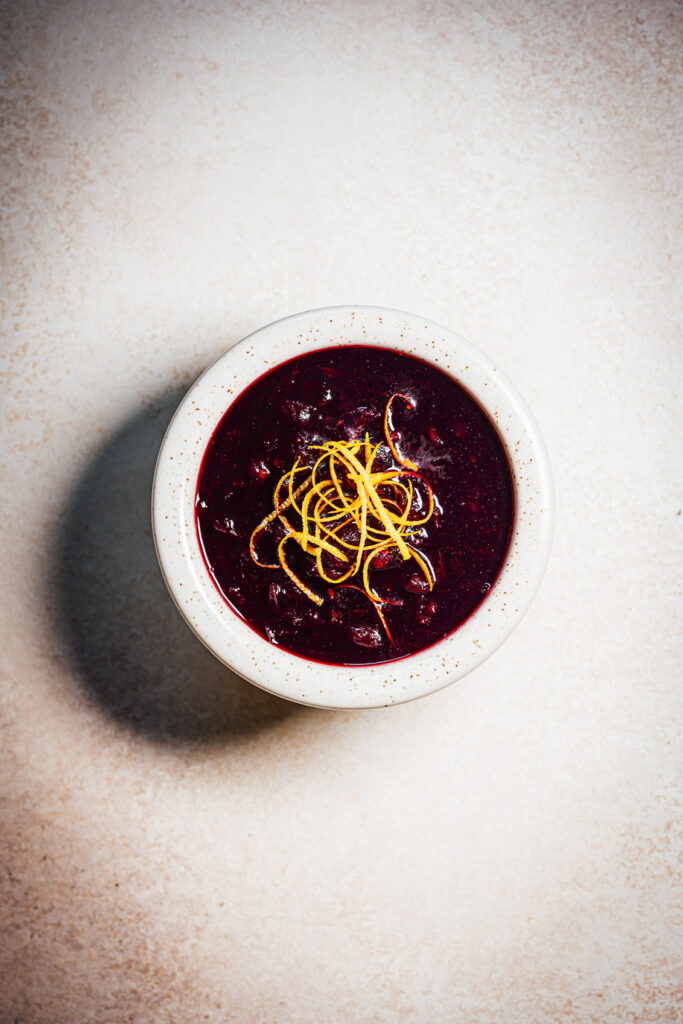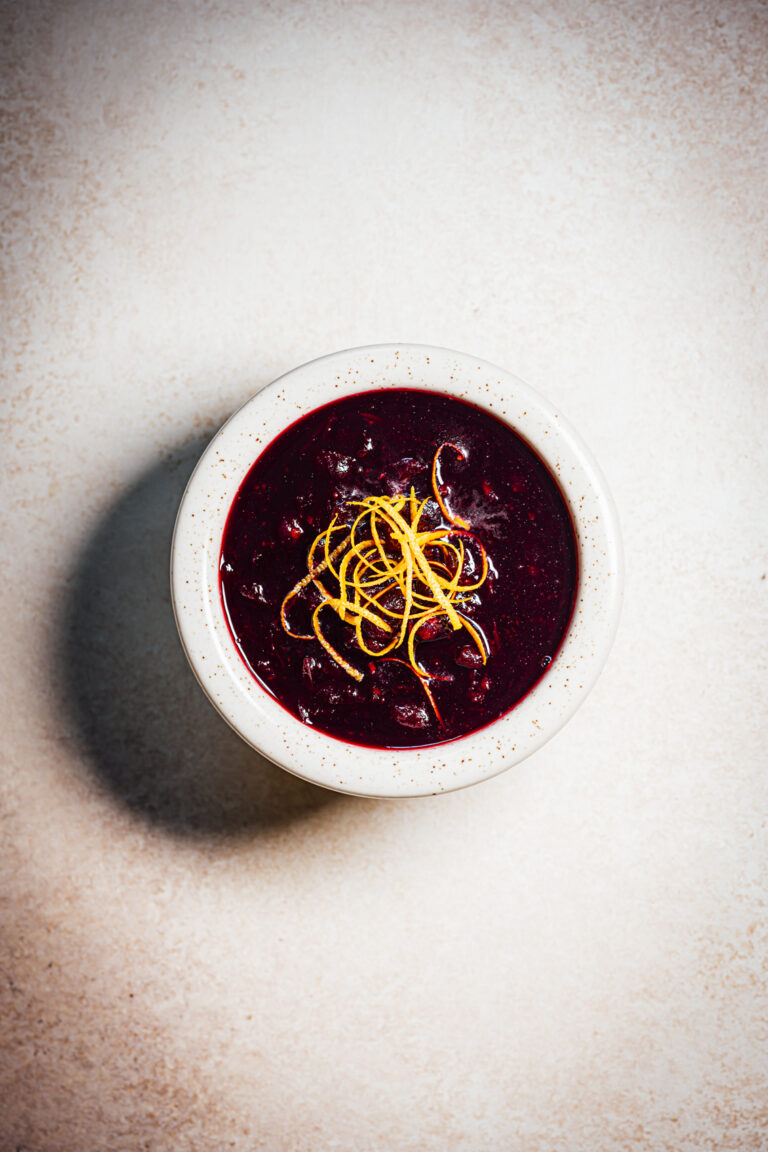 Print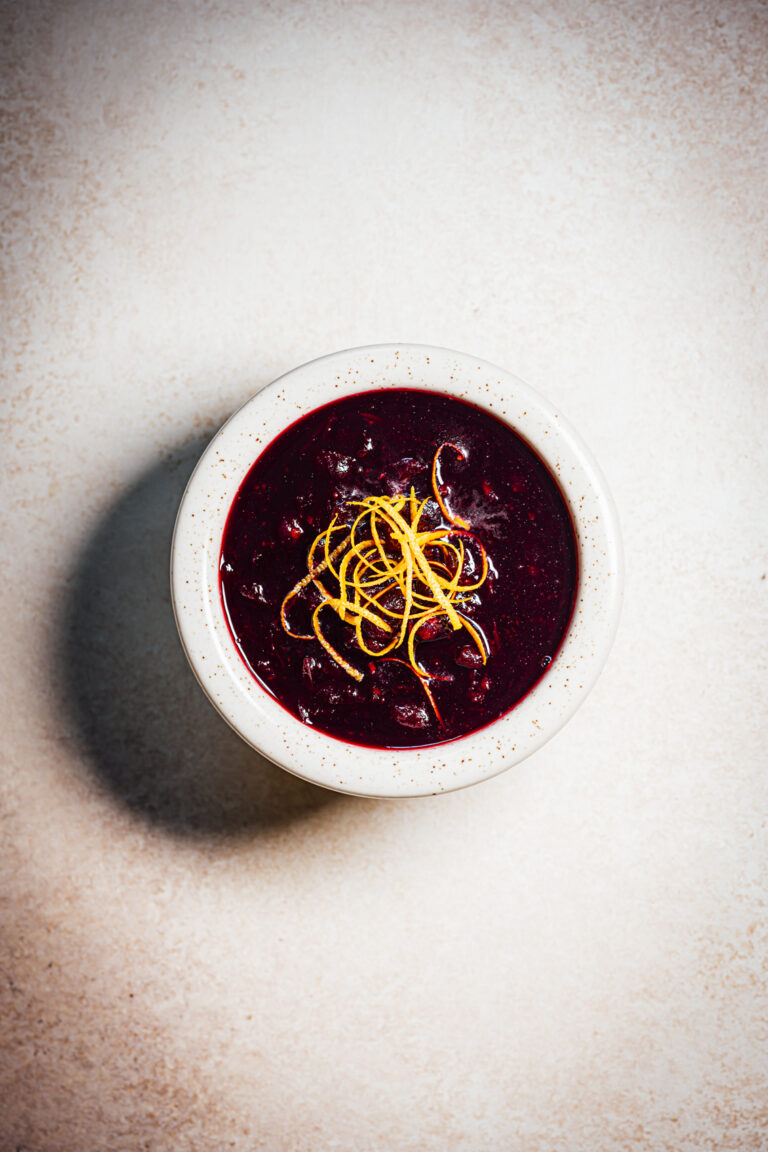 Citrusy Cranberry Chutney
Cranberry sauce – homemade or canned is another battle during Thanksgiving. and so is whether this is a chutney or is it a chunky sauce. I am not here to take sides around sides (pun alert!) instead if you make this fruity chutney, I want you to enjoy it, and save some for later to add to a sandwich with leftover turkey and stuffing.
Yield:

2 1/2 cups/ 600 ml
12 oz/340 g fresh or frozen cranberries (no need to thaw))

2 cup/480 ml unsweetened pomegranate juice

¾ cup/150 g packed light or dark brown sugar

1 tsp ground coriander

1 tsp red pepper flakes such as Aleppo, Maras, or Urfa

¼ cup/60 ml fresh orange juice

Zest of 1 large orange

Fine sea salt
Instructions
Bring the cranberries, pomegranate juice, brown sugar, coriander, and red pepper flakes to a boil in a medium saucepan over medium-high heat to a boil. Reduce the heat to a simmer and cook uncovered until the cranberries burst open, and the mixture begins to thicken, 25 to 30 minutes. Stir occasionally with a silicone spatula to prevent burning. Remove from the heat, transfer to a heat-proof air-tight container and stir in the orange juice and zest. Taste and adjust sweetness or salt if needed. Cover with a lid and let sit in the refrigerator for at least 1 day preferably 2 days. Serve warm or at room temperature.
Notes
Make the chutney 2 to 3 days ahead of time. It will taste much nicer and lose its bitterness, in fact, I insist.
By its very nature, cranberries are bitter and extremely tart. The bitterness comes from a class of bitter-tasting substances called flavonoids while their sour taste comes from citric acid. Their taste improves with the addition of a sweetener that masks the bitter-tasting substances.
Don't try to swap in cranberry juice for the pomegranate, it makes things very bitter, and you will end up having to add a lot of sugar to mask the bitter taste.
I don't add the orange zest during cooking but at the end after cooking. This reduces the risk of losing the essential oils during simmering and the final chutney is very fragrant.
The chutney will thicken due to the pectin from the cranberries, stir carefully to avoid burning. If you find it too thick, stir in 1 to 2 Tbsp of water.
If you want to make it look pretty, garnish it with a little bit more orange zest (like I did in the photo) before serving. Oh and get this citrus zester, I love it, it makes my food photos and dinner tables look very fancy that I think might Martha Stewart proud (I'm very clumsy)!