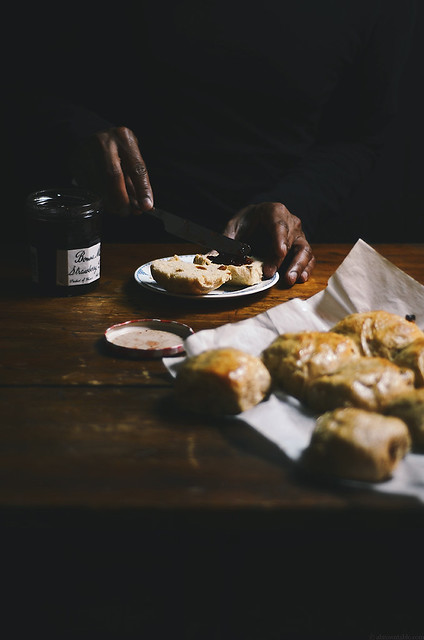 Remember, a couple of weeks ago when I asked you guys to help me out and send in my name for the Saveur food blog awards nominations, well guess what, we did it! A few days ago, I received an email informing me that my blog is a finalist in the Best Food Photography category for this year's Food Blog Awards of 2015. I'm extremely thankful to each and everyone of you for nominating and recommending my blog, this would not have happened without your love and support! To be honest, I didn't think this would happen and the past few days have been such an overwhelmingly happy moment to have my work recognized and I'm excited to share it with you.
Here's what's next. The final winner in this Best Food Photography category will be decided based on the number of votes and I would be extremely grateful and honored if you could take a moment to head over to and vote for my blog once more at the Saveur Food Blog Awards 2015 or click the badge below. Voting ends on April 30th, so please do vote and spread the word!
Thank you so much!!!
I've been exploring working with milk powder in my recipes and also learning more about enriched doughs. There were the milk and pistachio cookies earlier and now this enriched cinnamon raisin bread. This particular bread in itself is not very sweet and has the soft texture that comes from milk proteins and fat.
I like to eat it this cinnamon raisin bread with a little bit of butter and jam/honey for breakfast.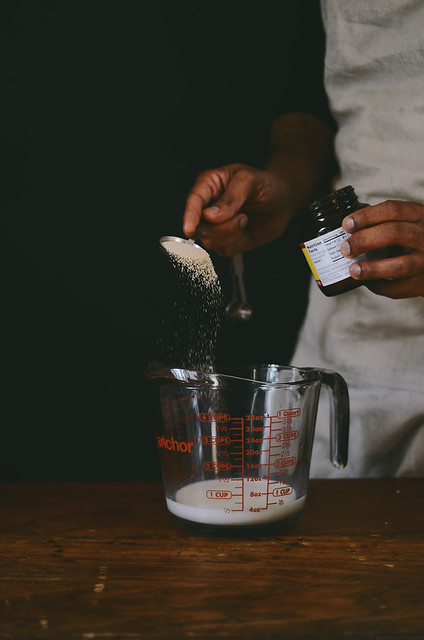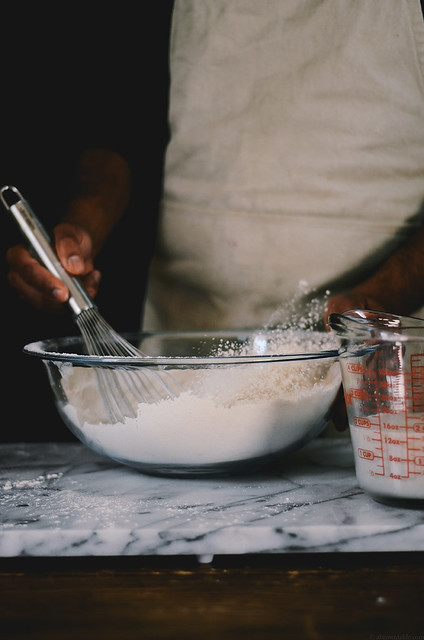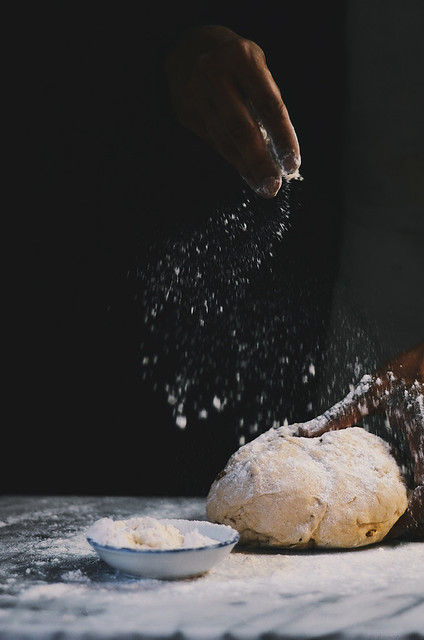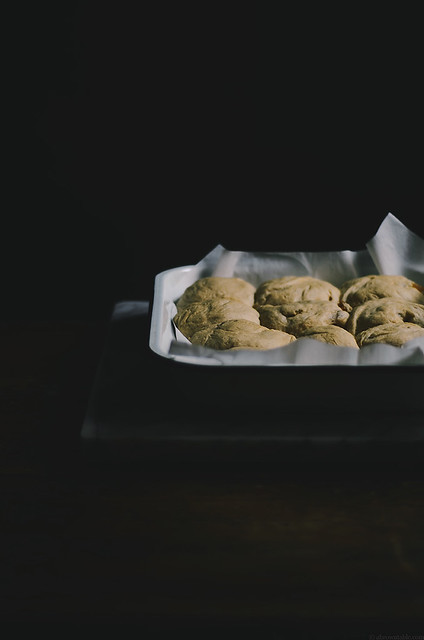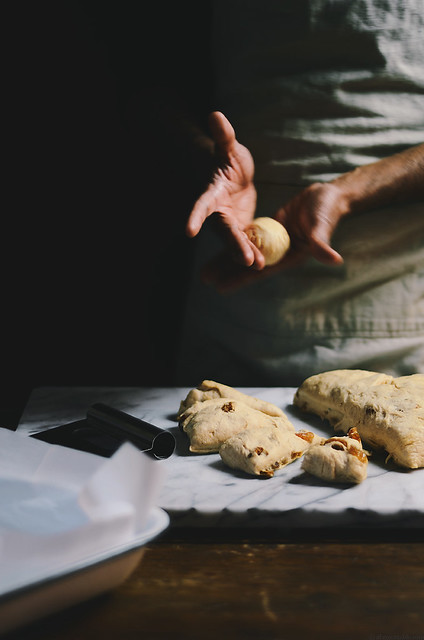 Here are some of my kitchen tips when preparing this bread
I went with a more dinner roll/bun approach when styling the bread but you can definitely shape it anyway you want, loaves, etc.
Make sure your yeast is still good and hasn't expired and your milk is fresh.
The prewarmed oven trick always works for me especially when the weather is unpredictable. The yeast ferments the sugars in the dough much more reliably this way and you end up with a nicely risen piece of dough.
I plan to remake this bread and flavor it with a few more spices to explore the flavor profile.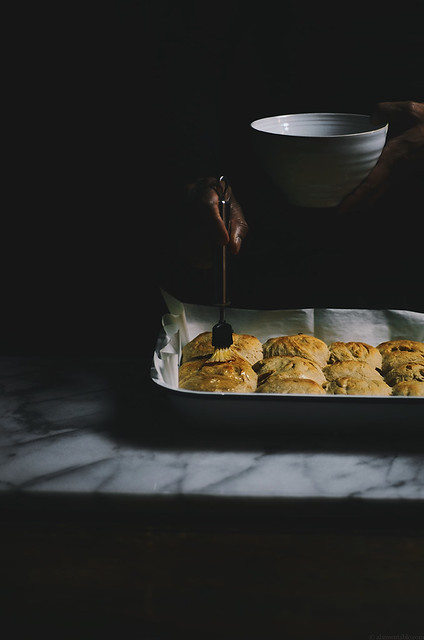 cinnamon raisin milk bread
yields: 12 rolls
ingredients
1 1/2 cups whole milk, warmed to
1/4 cup ( 1 ounce) sugar
4 tablespoons unsalted butter, melted
1 1/2 tablespoons instant yeast
3 1/2 cups (1 lb 1 1/4 ounces) all purpose flour
1/4 cup non-fat milk powder
1/2 teaspoon kosher sea salt, fine grain
1 teaspoon cinnamon powder, freshly ground
1 1/2 cups golden raisins
2 teaspoons gelatin
4 tablespoons boiling water
1 tablespoons sugar
1. Mix the milk, sugar, butter and yeast in a jar or bowl with a fork. Allow to sit for 5 minutes in a warm spot until the mixture turns foamy and frothy. If it doesn't, your yeast dead and you will need to repeat this step with fresh ingredients.
2. Preheat the oven to 200F for 5 minutes and then shut it off, keep the door shut. Dry whisk the flour, milk powder, salt and cinnamon to combine in a large bowl. Make a well in the center of the dry ingredients and pour the yeast mixture and stir with a wooden spoon to combine. When the dough is almost formed, toss in the raisins. Using your hands, bring the dough together to form one large ball. Alternatively, you can use a stand mixer to mix the ingredients and form the dough using the dough blade attachment. Mix for about 5 minutes on low-speed until the dough is just formed. Fold in the raisins. Place the dough in a large lightly greased bowl and cover the bowl with cling film. Place the dough in the prewarmed oven and allow to rise for 1 hour or until doubled in size.
3. Once the dough has doubled in size. Transfer it to a lightly floured clean surface and divide it into 12 equals parts. Shape each part into a ball and place it in a 9X5 baking pan lined with parchment paper. The balls should touch each other. Cover the surface with cling film and allow to rise for another 20 minutes in the prewarmed oven.
4. Remove the pan from the oven and preheat to 400F. Bake the pan with the bread on the middle rack for 20 minutes rotating the pan halfway through baking.
5. While the bread is baking, mix the gelatin, sugar and water in bowl to form the glaze.. Once the bread is baked remove the pan from the oven and immediately brush the surface of the hot bread lightly with the gelatin glaze. Allow the surface to dry and serve the bread immediately.