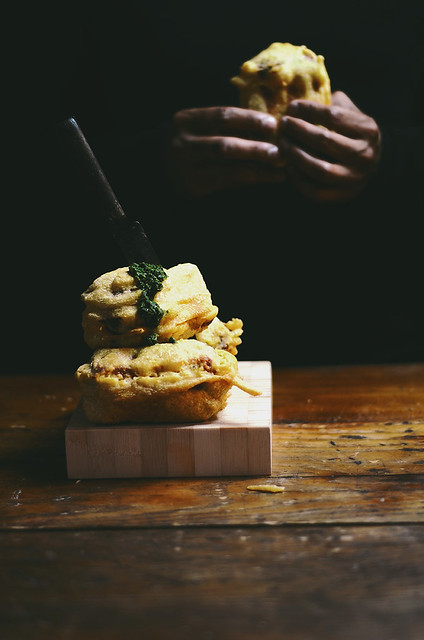 Sometimes, it's good to take a break even a short one if you can. I normally work on Saturdays and at the bakery, that's an extra busy day for me! Fortunately, last Saturday I was able to "wrap my pastries up" a little earlier than usual and we decided to be spontaneous and drive out to Monterey Bay. We sat on the sand, soaked in the sun for a little bit and then walked around the pier after grabbing a couple of crab and shrimp sandwiches. We got to watch the seals as they lay out sprawled in the sun on the decks at the pier doing nothing but sleeping and the occasional loud growl. A rather uneventful time at the beach except for the seals but still nonetheless every bit relaxing and fun. I realized that I need to do this more often whenever possible take a break and recharge.
Our trip to the bay reminded me of lazy Sundays with the occasional breakfast that would satisfy my fried food cravings and this sandwich satisfies that moment. It starts with a golden crispy exterior that encases a tender soft layer of bread that encapsulates a savory spicy herbed chutney and a layer of cheese. That's essentially what this chickpea battered sandwich/bread "pakoda" is all about!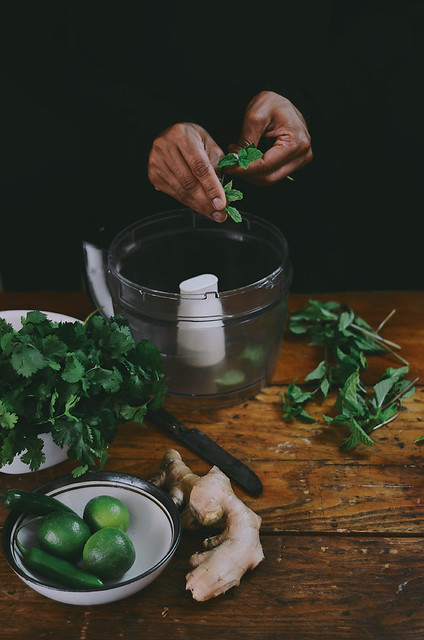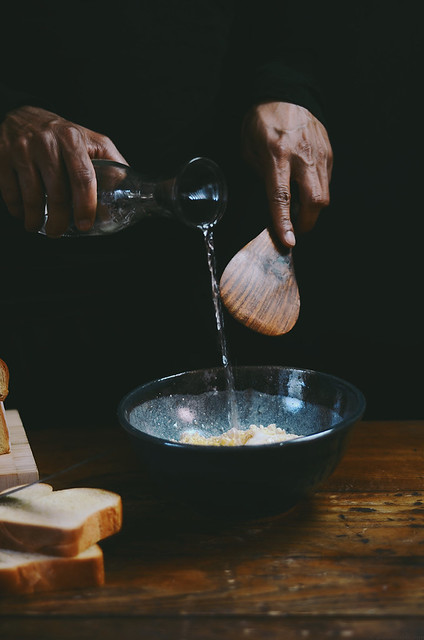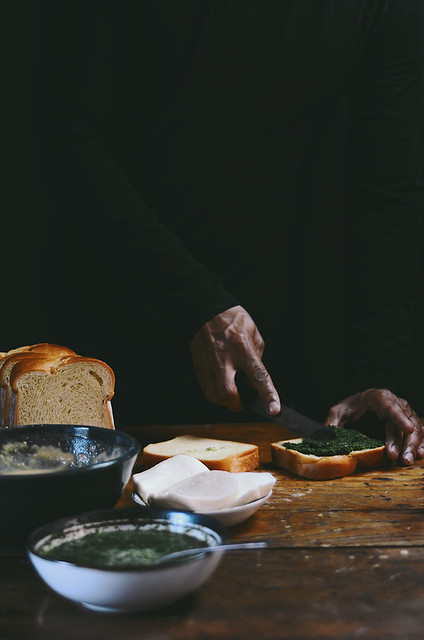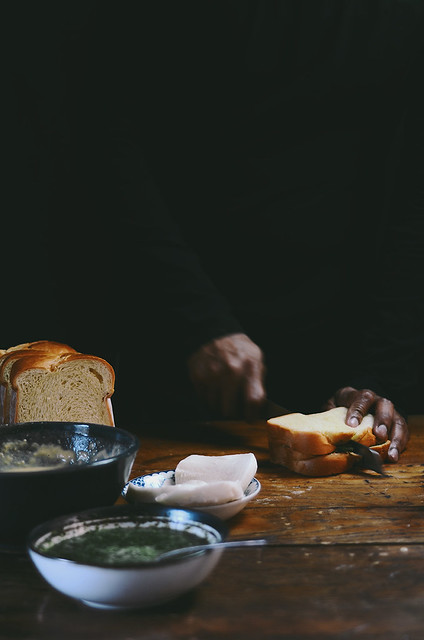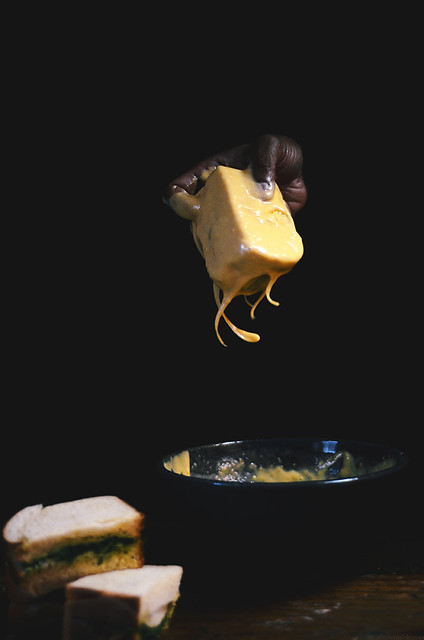 Here are some of my tips when preparing this sandwich that you might find useful,
Use thick slices of good bread, it doesn't collapse as easily when dipped into the batter. Don't leave the sandwiches in the batter for too long. As soon as you dip and coat them, add them to the hot oil.
I prefer savory fillings to this sandwich like this fresh herb chutney and layer of cheese I use in my recipe.
I recommend using as little water as possible when making this chutney. Start with half the amount of water listed in the recipe and then slowly add more. If it is too watery you will end up with a soggy sandwich. However, if you can't get the purée to form with less water, you can drain the liquid out a little before you spread it over the bread.
Remove the seeds from the chili pepper if you want the chutney less hot otherwise leave them in.
Eat the sandwiches as soon as they come out of the frying oil as they will get soft and soggy over time.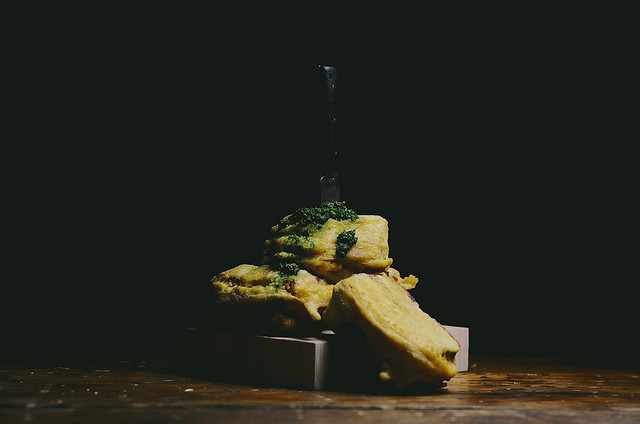 chickpea battered green chutney and mozarella sandwiches
yields: 4 half sandwiches
ingredients
2 bunches cilantro leaves, fresh
1 bunch mint leaves, fresh
1 serrano or thai chili pepper, chopped
1 tablespoon ginger root, peeled and chopped
4 tablespoons lime juice, freshly squeezed
1 teaspoon kosher sea salt
3/4 cup water, you may need less than this amount
4 thick slices of plain sandwich bread
2 fresh mozzarella cheese slices
for the batter
1 1/2 cups chickpea flour
1/2 teaspoon kosher sea salt
1/2 teaspoon baking soda
3/4 cup water
enough vegetable oil for frying
1. Place the fresh cilantro, mint, chili, ginger, lime juice, and salt in the bowl of a food processor. Then add half of the water and pulse until puréed. Add more water if needed but use water sparingly (see notes on tips). Taste the chutney and adjust salt if necessary. Keep the chutney aside until ready to use.
2. Take one slice of bread and spread a generous tablespoon of the chutney after draining any excess liquid if necessary. Place a slice of the mozzarella cheese and then top with a slice of a bread to form the sandwich. Slice the sandwich in half with a sharp serrated knife. Prepare the second sandwich in the same manner.
3. In a medium sized mixing bowl, whisk the chickpea flour, salt, baking soda and water to form a thick slurry.
4. Heat enough oil in a deep frying pan to around 350F. You can test if the oil is hot enough by dropping a half a teaspoon of the batter, if the oil is hot enough and ready, the batter will immediately bubble and rise up to the surface of the oil. Dip one halved sandwich in the chickpea batter and coat evenly. Immediately and carefully drop the sandwich into the hot oil and use a slotted spoon or spider move the sandwich in the hot oil to fry. Flip the sandwich over after about 1 or 2 minutes or until the surface is golden brown. Cook on both sides, remove and drain any excess oil by placing the fried sandwich on a plate lined with a sheet of absorbent kitchen towel paper or cloth. Serve immediately and hot with a side of the remaining chutney or ketchup.