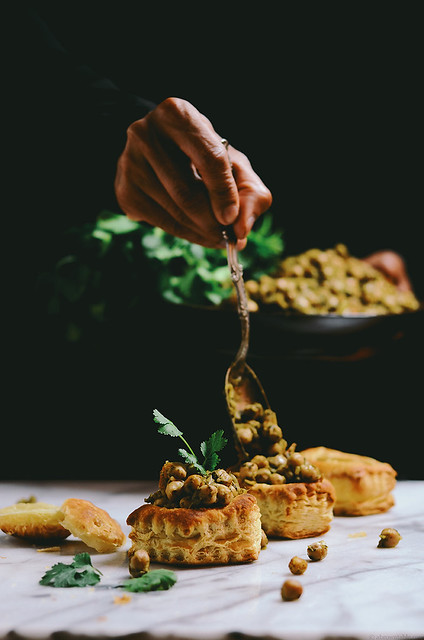 There were two articles recently in the Washington Post that echoed some of my thoughts I have about Indian food. One discussed why people find Indian food to be delicious while the other touched on the low popularity of Indian food in the US. Two interesting yet contrasting topics well worth the read if you have a few minutes to spare.
In my opinion, I think Indian food has reached an interesting stage in the food scene, traditional and well-known dishes remain popular but there still remains plenty of room to grow. And though, it's true that Asian and Mexican cuisines tend to dominate the Western food scene, I don't think there's any cause for alarm, in fact I think it's the perfect opportunity and time to explore the variety in Indian food. There's so much to share and learn from Indian food. Within India, itself you will notice a huge variation in culture, language and diet. However, I also think it is important to break away from tradition and create your own traditions when it comes to food. Here on my blog, I humbly try to make an attempt to mix Indian cuisine into Western culture. It is important for me on a personal level to share food that I enjoy to prepare and in a way that represents the elements that influence me and my thoughts on food, on a daily basis. So here's to the future of Indian food and all the wonderful and tasty possibilities it has to offer!
This is an easy yet flavorful Indian-inspired savory pastry appetizer that can be served at gatherings of any type. Remember that little mint-cilantro chutney I made for the chickpea battered sandwich? Well here's another use for it and yet, again with chickpeas. This time, they flavor whole chickpeas which get stuffed into little puff pastry nests. The ginger strips and fresh herbed chutney are what gives these chickpeas a flavorful and tasty punch!
The folks at Yahoo Food have me up as their Food Blogger of the Week and it's definitely been an honor and wonderful experience. Here's the link to the interview I did with them.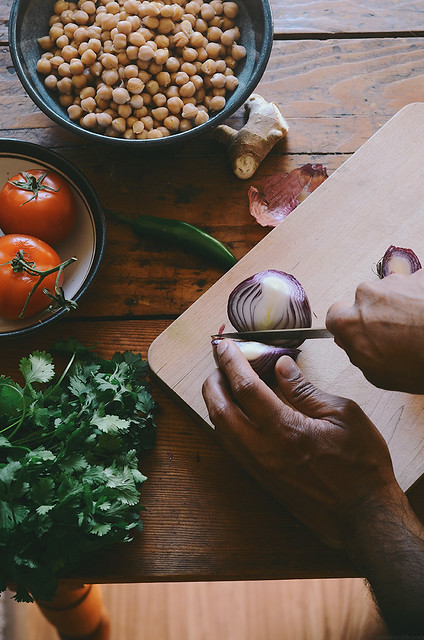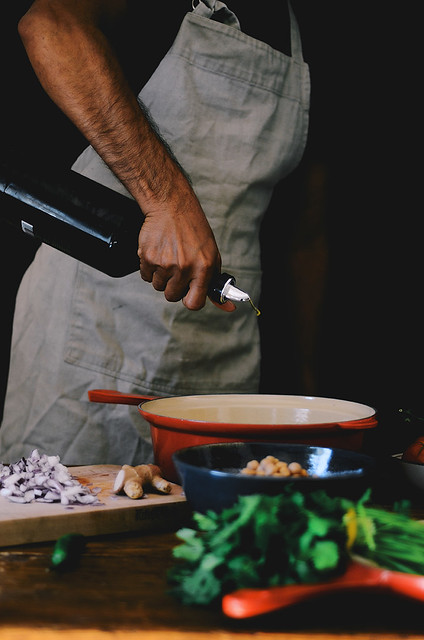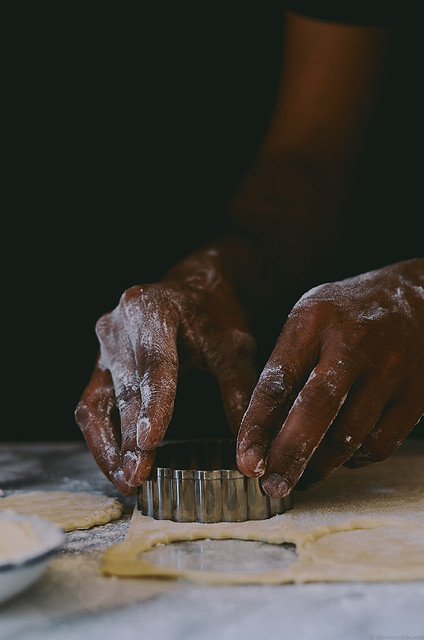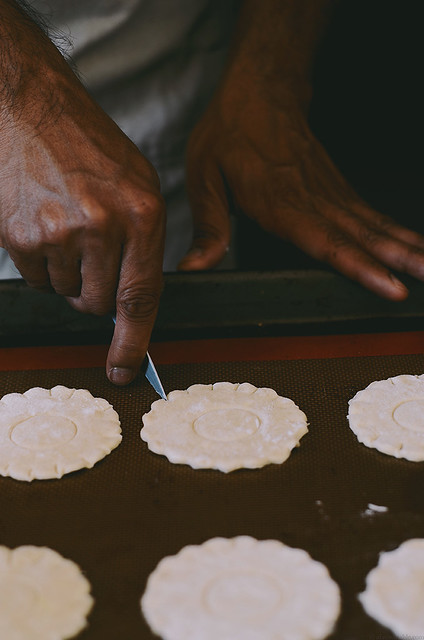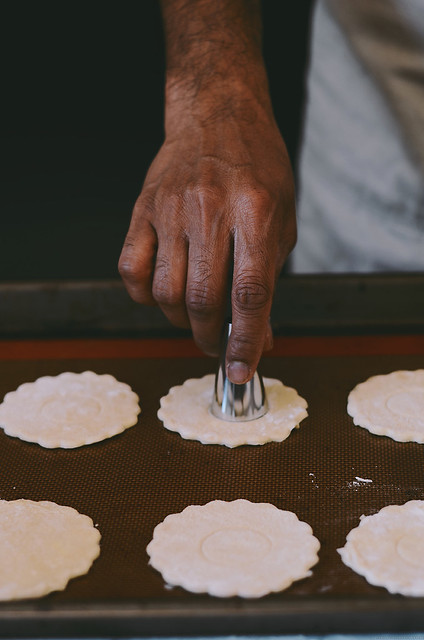 Here are some of my kitchen tips that you might find useful when preparing these vols au vent;
Make the chutney fresh. It will taste better the day it is made.
I remove the seeds from the center of the tomatoes as they contain a lot of liquid trapped in the surrounding gel.
I use store bought puff pastry. These days you can be puff pastry sheets or precut puff pastry shells which eliminate the need to cut the sheets. Go with you can find and what is easiest for you. To cut the smaller pastry circle within the large precut circle of puff pastry, I use the wider end of my large pastry tip. If you own a smaller circular pastry cutter, use that instead.
Always keep the pastry cold when working with it. Follow the manufacturer's instructions to bake the pastry. In general puff pastry bakes and rises well at high temperatures which allow the trapped steam and butter within the dough to expand and create multiple layers.
You will probably end up with way more chickpea filling than you need. I save the extra unused filling for lunch or as a side to add onto my dinner plate.
You can play around with the heat level of the filling by adding more chili or leaving the seeds in.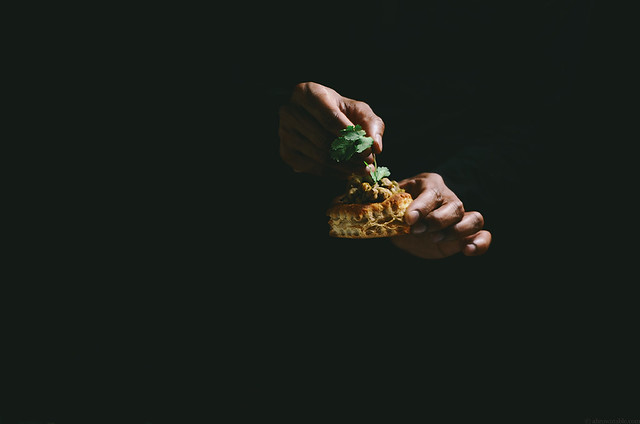 herbed lime chickpea vol au vent
yields: enough filling for 24 vol au vents
ingredients
1 tablespoon olive oil
1/2 cup red onion, chopped fine
1 inch piece ginger root, peeled and julienned
1/2 cup tomatoes, seeds removed
2 X 15ounces cans chickpea, rinsed and drained
1 teaspoon kosher sea salt
1/2 teaspoon black pepper
1/2 serrano or 1 thai chili pepper, thinly sliced
1 cup mint-cilantro chutney (recipe here – skip the chickpea batter part of the recipe)
2 puff pastry sheets or precut (store bought)
a little cilantro leaves, fresh to garnish
1. Heat the oil in a large saucepan on medium-high heat. When the oil is hot, sauté the onions until they turn light pink. Add the ginger and cook for another minute with constant stirring. Then toss in the tomatoes, chickpeas, salt, pepper and chili pepper. Stir for one minute, then fold in the mint-cilantro chutney and cover the saucepan with a lid. Reduce heat to medium-low and cook for about 25-30 minutes, stirring occasionally. The chickpeas should be tender when done. Remove the lid and cook for an additional 1-2 minutes to evaporate any liquid that might be left behind. Remove from stove and keep warm until ready to use. Taste and adjust seasoning if necessary.
2. To prepare the pastry for the vol au vent. Option 1: Precut vol au vents; Bake the precut shells as instructed by the manufacturer. Option 2: Pastry sheets: Place the pastry sheets on a lightly floured surface and cut out 3 inch circles using a biscuit cutter. Transfer the pastry to a baking sheet lined with parchment paper or silicone sheet. Using a sharp paring knife make indentations around the outer edge of the pastry. Then using a 1 inch diameter pastry cutter carefully cut a circle halfway through the center of each of the cut pastry circles. Bake the pastry as per the manufacturer's instructions. (In general for puff pastry, I bake the pastry in a preheated oven at 425F for about 18-20 minutes until the pastry rises completely and turns golden brown). Remove the baked pastry from the oven and allow to cool for about 10 minutes before handling.
3. To stuff the pastry, pop out the center from the cooked pastry and remove and discard and excess pastry from the center. Stuff the center with a generous tablespoon of the warm chickpea filling and garnish with a few leaves of cilantro. Serve immediately.