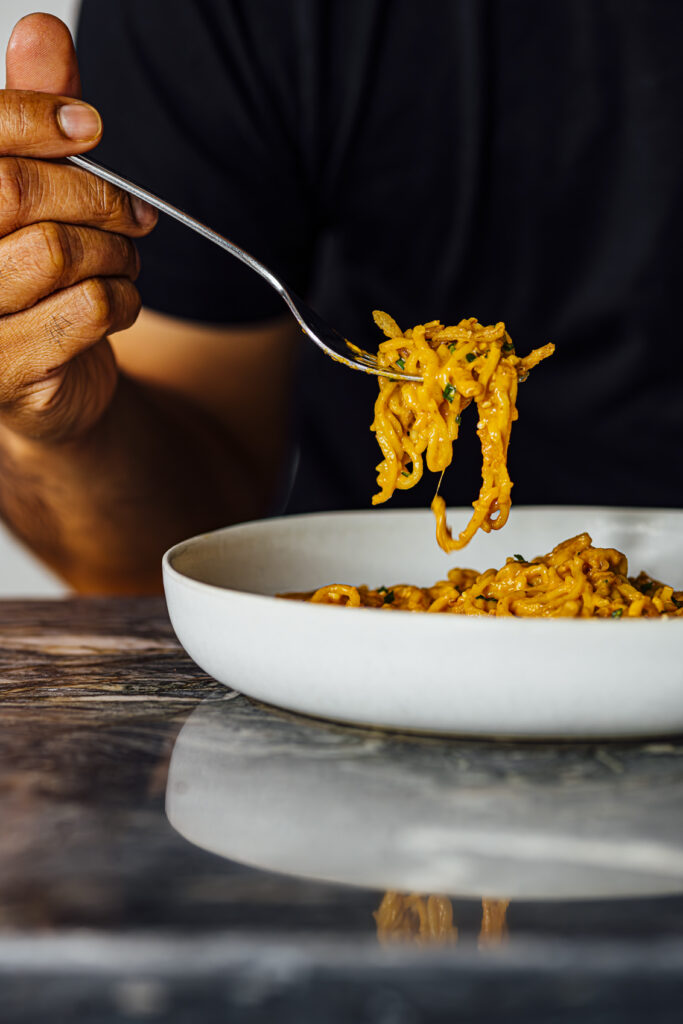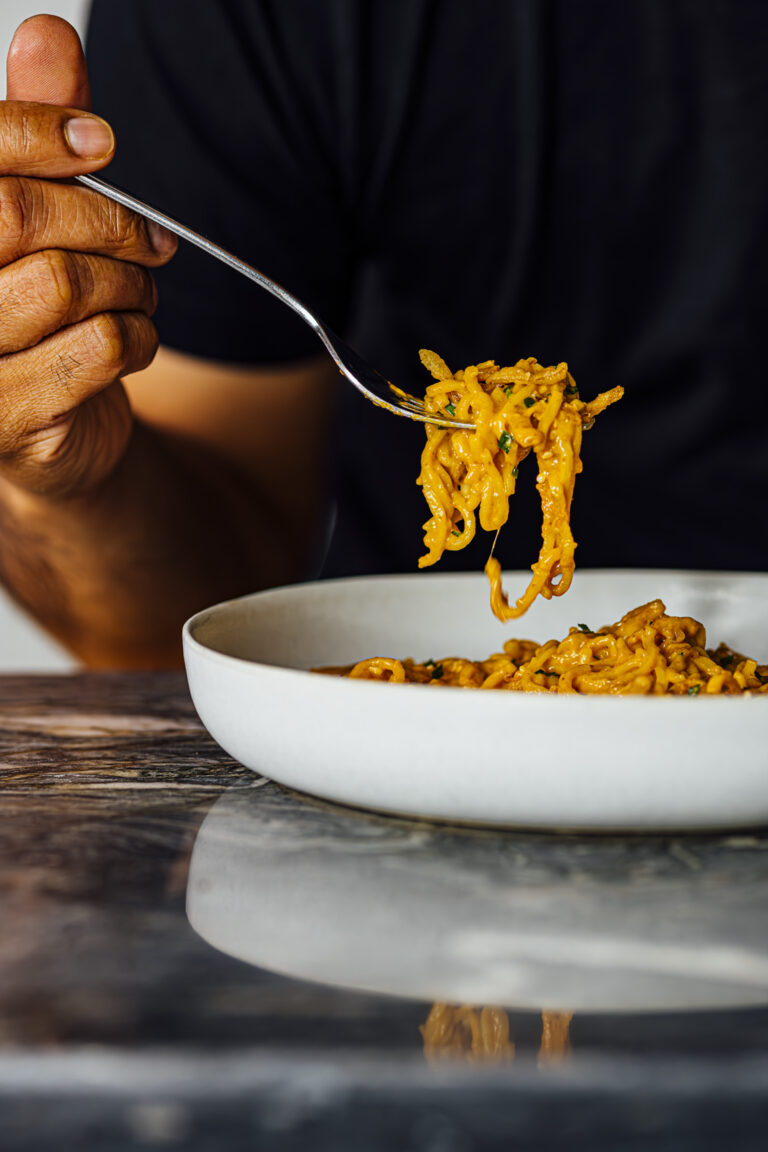 Print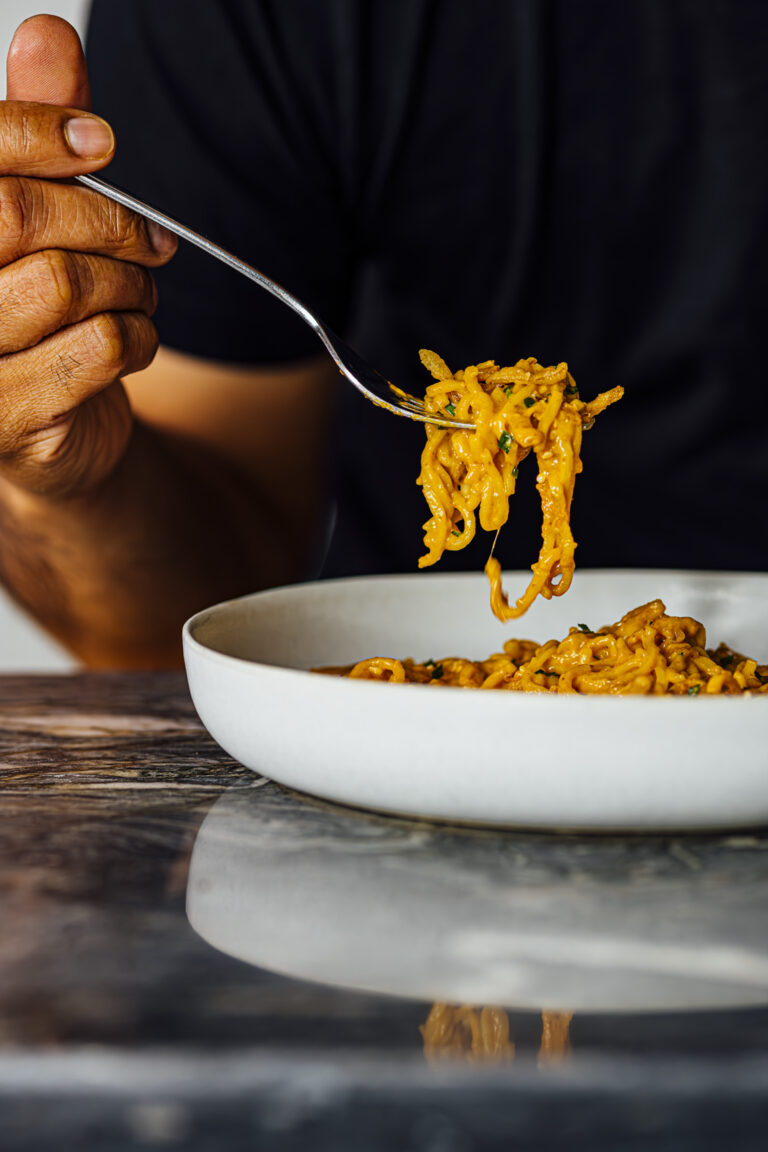 Cheesy Harissa Ramen
I grew up eating a lot of ramen and Maggi noodles, and one of my favorite ways to eat them was tossed in a velvety sauce made with cheese and a few spices. Inspired by those flavors, this cheesy ramen dish gets its flavor from harissa, garlic, and miso. This is a wonderful bowl of noodles to sit down with on a cold or wet day, but also when you want something quick and can't be bothered with spending a long time in the kitchen (we all have those days). 
While you might consider stopping after the noodles and sauce come together, I urge you to add the toppings to do this bowl of ramen justice.
Eat it hot or warm to get the cheddar's marvelous cheesy effect on the noodles. 
2 packets/each about 85 g ramen noodles 
1 tsp sesame oil
2 Tbsp unsalted butter
2 garlic cloves, grated
1 Tbsp all-purpose flour
1/2 cup/120 ml whole milk
1 Tbsp harissa paste (see Notes)
1 tsp white or yellow miso
1/2 cup/40 g grated cheddar 
2 Tbsp crispy fried onions
1 Tbsp chopped chives
1 tsp toasted sesame seeds
Instructions
Cook the ramen noodles as per the manufacturer's instructions. Toss the noodles in sesame oil to prevent them from sticking and keep warm. Reserve the ramen cooking water.
Melt the butter in a wok or medium saucepan over medium-low heat. Add the garlic and cook for 1 minute until fragrant. Add the flour and stir with a whisk until the flour forms a brown paste/roux, 4 to 5 minutes. Whisk in the milk and continue to cook until a sauce is formed.  
Add the harissa, miso, and cheddar and whisk until smooth and combined. Taste the sauce to make sure the flour is completely cooked. 
Fold in the hot noodles. Taste and season with salt if needed. Add some of the ramen cooking water if the sauce gets too thick. The sauce should be loose in consistency. Remove from the heat.
Garnish with crispy fried onions, chives, and sesame seeds. Serve immediately. Leftovers can be stored for up to 3 days in an airtight container in the refrigerator. 
Notes
Harissa's heat levels vary by brand. Use more or less, depending on your preference. 
Use toasted or untoasted sesame oil.
Scallions can be used in place of chives.
White or yellow miso is less salty than the darker version and works better here. 
While I've used ramen, any noodle will work in this recipe, except maybe rice noodles.