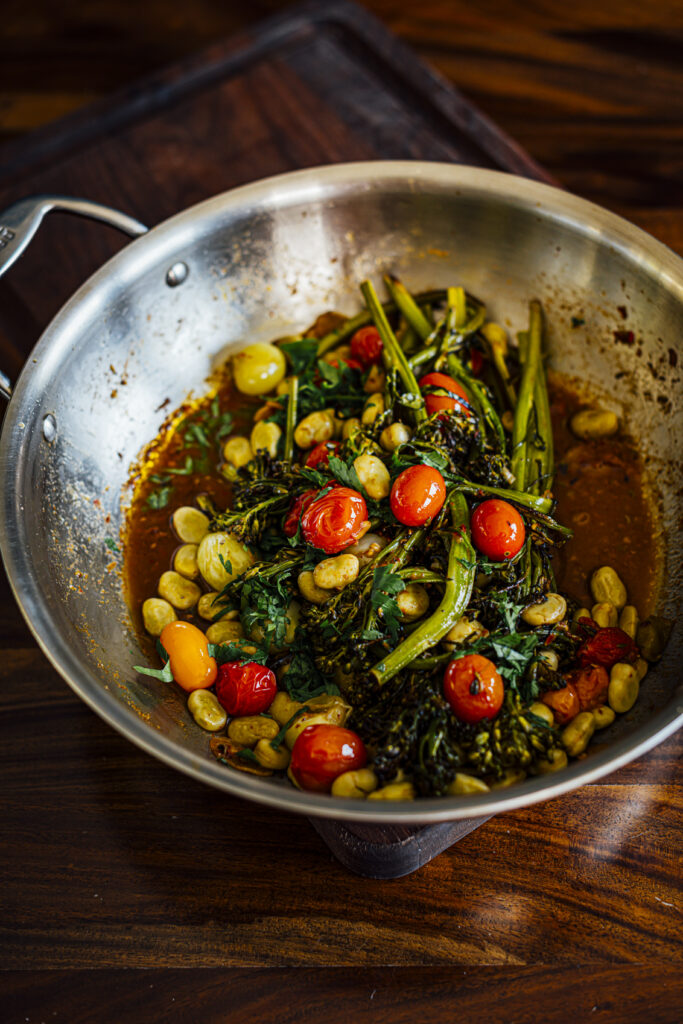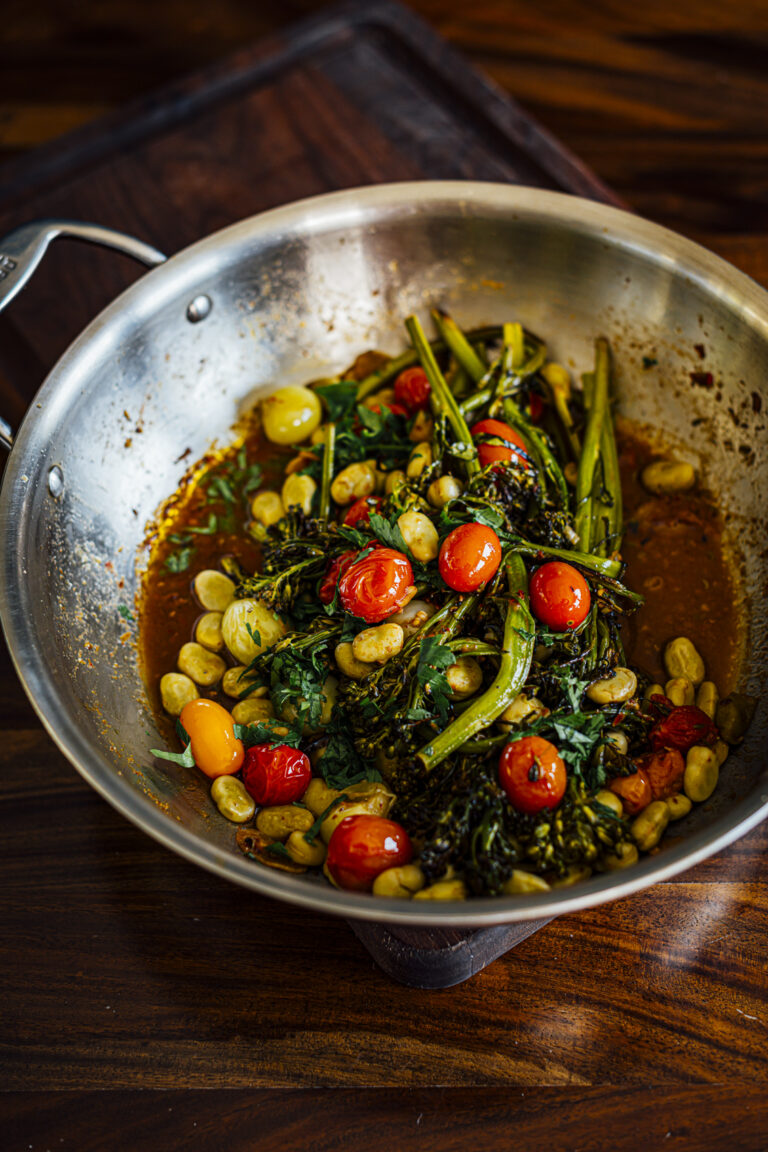 Print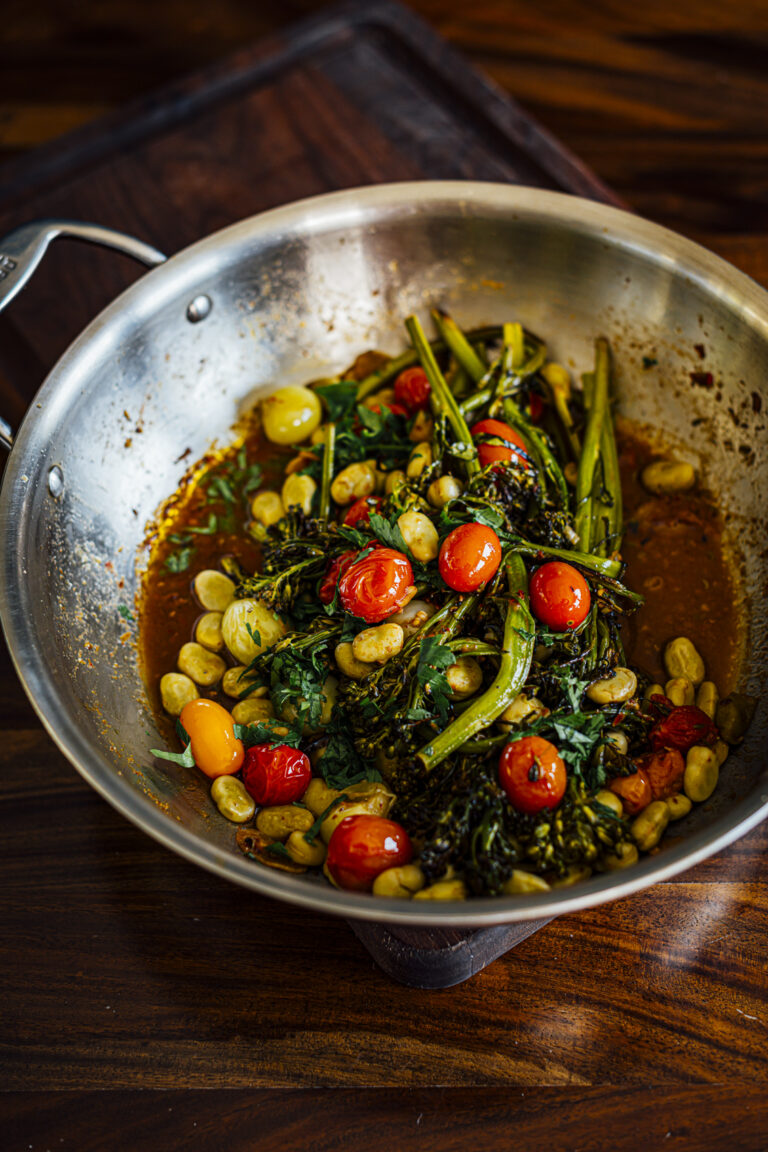 Charred Broccolini with Fava Beans in Vinegar
This is a fantastic side dish to almost any meal, but I love it particularly on a hot summer day by itself with thick slices of toasted buttered bread to grab the juices from the pan. I find summer tomatoes work best here because they add a mild hint of sweetness. 
3 Tbsp extra-virgin olive oil
1 bunch/about 300 g broccolini
 fine sea salt
2 garlic cloves, thinly sliced
1 pint/340 g cherry or grape tomatoes
1 tsp ground coriander
1 tsp ground smoked sweet paprika
1/2 tsp red pepper flakes
1/2 tsp fennel
1/4 cup/60 ml sherry or red wine vinegar
8 oz/230 g cooked fava beans
ground black pepper
2 Tbsp chopped flat-leaf parsley
Instructions
Preheat the oven to 400F/200C. 
Trim and discard the tough ends of the broccolini stems. Place the broccolini on a baking sheet, drizzle with 1 Tbsp of olive oil. Season with salt and roast in the oven for 15 to 20 minutes, until charred and tender. 
While the broccolini cooks, melt the butter in a large skillet over medium-low heat. Add the garlic and sauté until fragrant, about 1 minute. 
Add the remaining 2 Tbsp of olive oil, followed by the tomatoes. Cover with a lid, as the pan might spurt out hot oil. Cook for 2 minutes, rotating the pan carefully with the lid on. Add the coriander, paprika, chilli flakes, and fennel and sauté until fragrant, 30 to 45 seconds. 
Pour in the vinegar, cover with a lid, and cook until the tomatoes turn soft and the skins burst, 5 to 6 minutes. I like to crush a few tomatoes with a spoon to help release their juices into the pan.
 Fold in the fava beans and roasted broccolini. Taste and season with salt and black pepper. Cook for 2 minutes until the liquids in the pan bubble and remove from the heat.
Garnish with parsley and serve hot or warm. Leftovers can be stored in an airtight container for up to 3 days.  
Notes
Broccoli is a good substitute for broccolini.
I use Aleppo pepper for the red pepper flakes, but you can use something hotter, like cayenne. 
Besides fava beans, green chickpeas (if you can find them) and white beans are fantastic here.