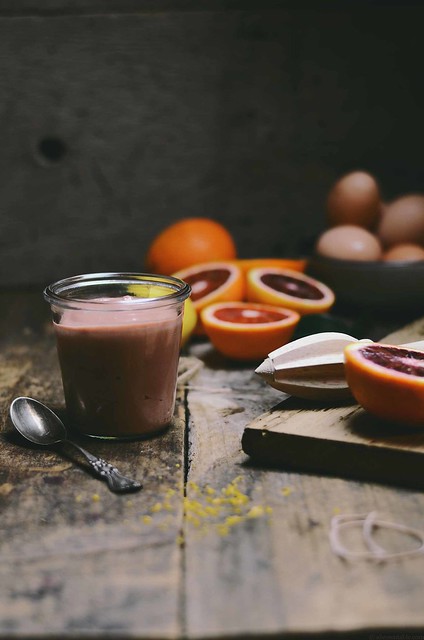 Goodness, it's already the last week of January! The start of the new year has been excellent, with lots of new unique, and exciting food and photography projects that I am grateful for. I've also been experimenting in the kitchen with a lot of many new techniques and flavor combinations, so stay tuned for some fun things in the future.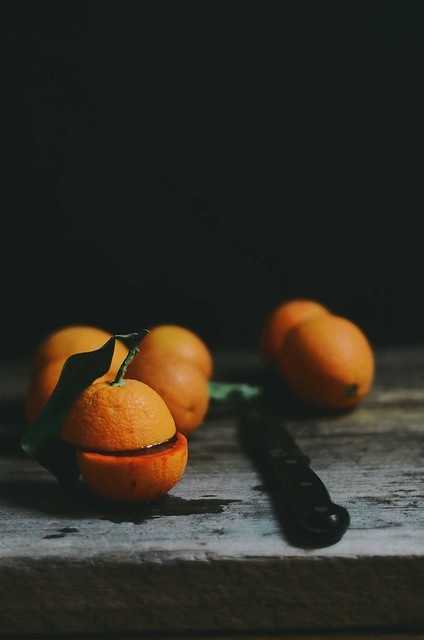 January is also a great, great time to get your hands on blood oranges! We've been buying a couple of pounds every weekend, and besides guzzling their sweet bloody segments down, I've been cooking extensively with them.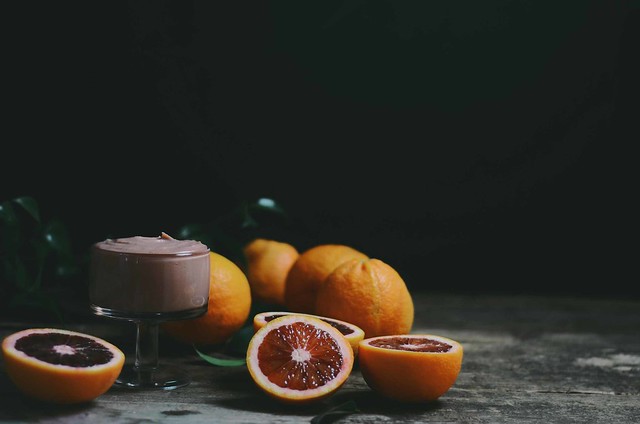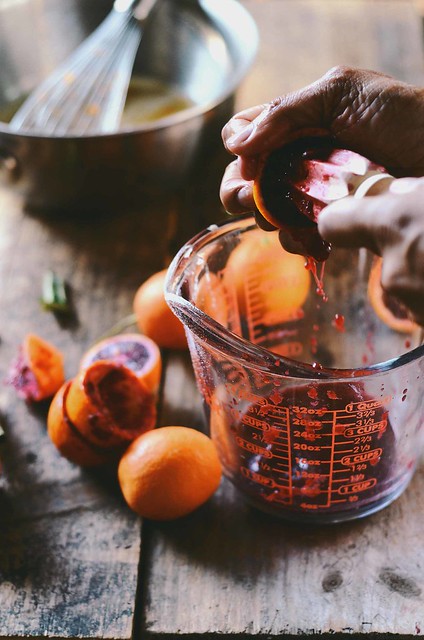 Every year I make a small batch of lemon curd, but this year, I decided to switch things around a little bit and prepare a blood orange version…..with a little honey bourbon. The result is a perfectly tangy and sweet citrus curd with a hint of bourbon flavor, making it a great little dip for fresh fruit or a spread for cookies or pound cakes. I had some fixed feelings about the final color. Though I like the pink color of the curd, I would rather have it deep and dark red, just like the orange, but the combination of the eggs and the butter will lighten things up. So to get around this issue, I added beet powder which gives the curd a more appropriate nice pinkish tinge.
Print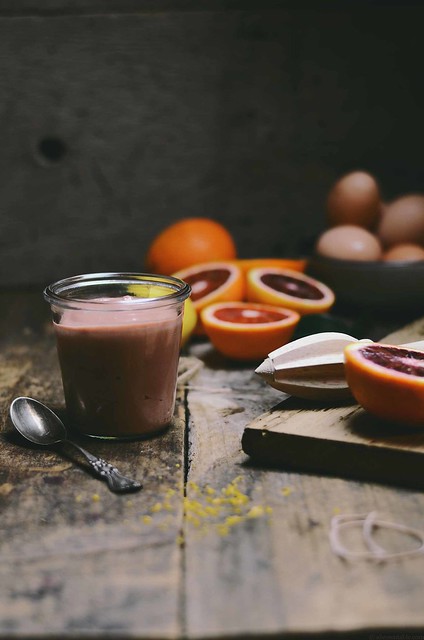 Blood Orange Curd with Honey Bourbon
2 large eggs plus 3 yolks
1 cup/200 g sugar
1 cup/240 ml blood orange juice
3 tablespoons lemon juice
1 teaspoon orange zest
1 teaspoon lemon zest
½  cup/115 g unsalted butter, cubed and softened to room temperature
¼ tsp beet powder (optional)
¼  tsp fine sea salt
2 to 3 Tbsp honey bourbon (optional)
Instructions
Fill an electric kettle with water and keep it ready to boil when needed.
Fill a medium saucepan with about 1 in/2.5 cm of water and bring to a simmer over low heat. Place a large heat-proof bowl over the saucepan. The water should not touch the base of the bowl.  Place the eggs and sugar in the bowl by hand or use an electric whisk until the mixture thickens and turns pale yellow at about 151F/66C, around 6 to 8 minutes.
Whisk in the orange juice, lemon juice, both zests, butter, and salt on low speed while continuing to heat the mixture. If the water in the saucepan gets low at any time, you can add a bit of hot water from the kettle. Whisk the mixture until combined, and switch to a silicone spatula, stirring the mixture constantly while cooking. Cook till the mixture thickens at about 165F to 170F/74C to 77C, about 10 to 12 minutes, scraping the sides of the bowl with the spatula. The liquid curd should be thick like a custard. Coat the back of a spoon with the custard and draw a line with your finger; the line should stay. Remove and transfer the curd to a container. You can also strain the curd through a fine mesh sieve lined with cheesecloth to remove any bits. Press a piece of cling film on the surface and refrigerate for at least 4 hours until chilled. This curd can be prepared and refrigerated for up to 1 week or frozen for up to 1 month.
Notes
The beet powder provides the pink color for the blood orange curd, otherwise, the curd will appear yellowish. 
Bourbon/whiskey is optional; if you don't like alcohol in your curd, skip it.
If you feel like your blood orange curd is not thick enough, you whisk in some cornstarch. Add ½ teaspoon cornstarch mixed in 1 teaspoon cold water and whisk and cook until the curd is thick but do not let it boil. The addition of cornstarch gives a better glaze if you wish to use the curd as a filling in pastries.
The curd must chill for at least 4 hours, but it will taste best after overnight refrigeration. The "eggy" taste disappears, and the blood orange curd flavors will be sweet and tangy.