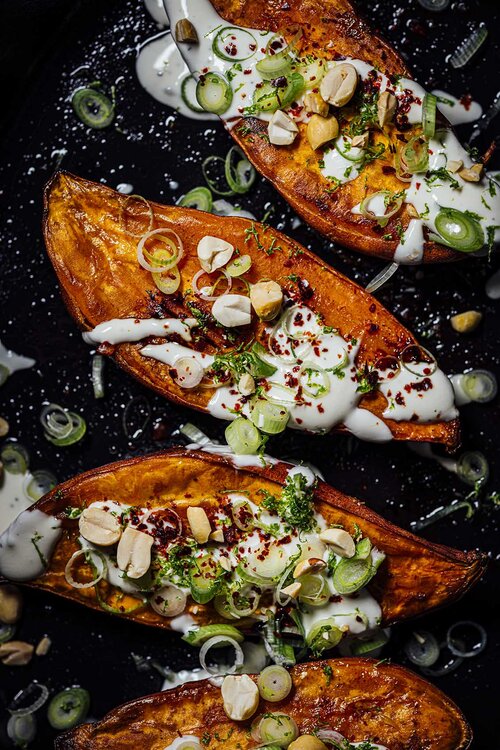 I love sweet potatoes. Put it in a savory or sweet situation; I'm game to eat it. This was one of the most popular recipes, as scored by my recipe testers and featured by Eater , and I think you will love it!
Note: There are vegan versions of fish sauce available in markets and online. They will add that hint of umami to the dish. 
Reprinted from The Flavor Equation by Nik Sharma with permission by Chronicle Books, 2020
Print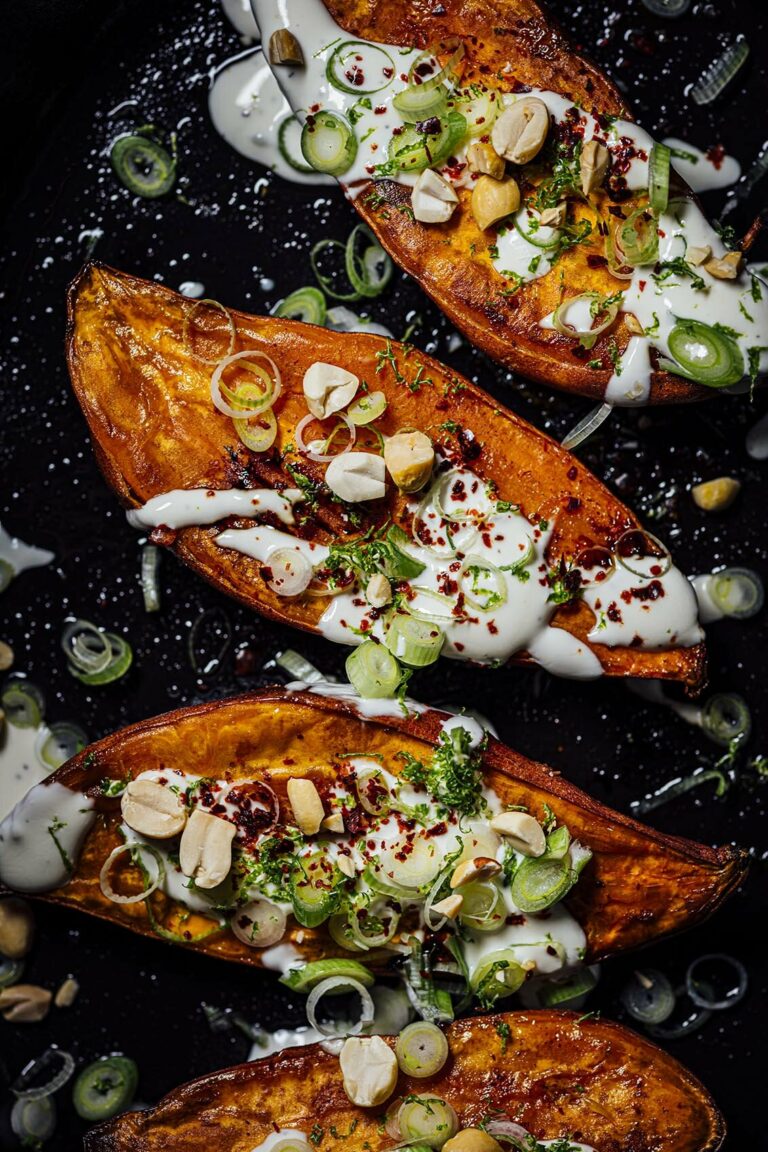 The Flavor Equation: Baked Sweet Potatoes with Maple Crème Fraîche
For the Sweet Potatoes:
4 sweet potatoes (each 7 oz [200 g]), preferably a yellow-fleshed variety such as Garnet or Jewel
2 Tbsp unsalted butter, at room temperature
Fine sea salt
For the Dressing:
½ cup [120 g] crème fraîche or sour cream
1 Tbsp maple syrup or honey
1 Tbsp fresh lime juice
2 tsp fish sauce (optional)
½ tsp ground black pepper
Fine sea salt
For Garnish:
2 Tbsp thinly sliced scallions, both green and white parts
2 Tbsp roasted peanuts
1 tsp red chilli flakes, such as Aleppo, Maras, or Urfa
Instructions
To prepare the sweet potatoes, preheat the oven to 400°F [204°C].
Rinse and scrub the sweet potatoes under running tap water. Slice them lengthwise and place them in a roasting pan, cut side facing up. Brush with the butter and season with salt. Cover the pan with a sheet of aluminum foil and press around the edges to seal snugly. Bake for 20 minutes. After 20 minutes, remove the foil, flip the sweet potatoes, and cook, uncovered, for 20 minutes more, until the sweet potatoes are cooked thoroughly and are tender; a knife inserted into the center of the sweet potato should slide through easily. Remove from the heat and let rest for 5 minutes.
To prepare the dressing, in a small bowl, combine the crème fraîche, maple syrup, lime juice, fish sauce, if using, and pepper. Taste and season with salt.
To serve, top the warm roasted potatoes with a few tablespoons of the maple crème fraîche dressing. Sprinkle with the scallions, peanuts, red chilli flakes, and lime zest. Serve with the extra dressing on the side.
Notes
Butter works as the fat of choice here due to its higher smoke point. As the butter melts, it separates into its constituents—fat, water, sugars, and milk solids—which undergo caramelization and the Maillard reaction.
The sugars concentrate as the water evaporates during cooking. Fish sauce adds a spot of umami to the sauce, you can use vegan fish sauce as an alternative. The peanuts and scallions provide crunch against the softer textures of the potato and the dressing.