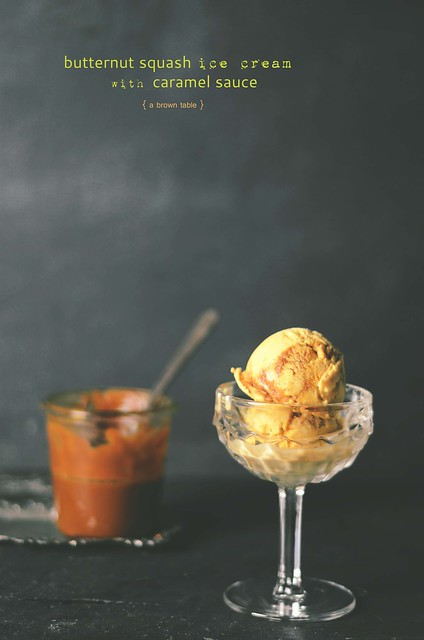 A while ago, I mentioned an exciting new photography related project that I would potentially get involved in, well here it is. Each month, I get to pick and interview one of my favorite food photographers and share it with you on the Huffington Post Taste section. If you haven't had a chance check out the first interview check it out
. I'm having a lot of fun with this new project and I hope to talk to some of the many photographers whose work continues to inspire and amaze me.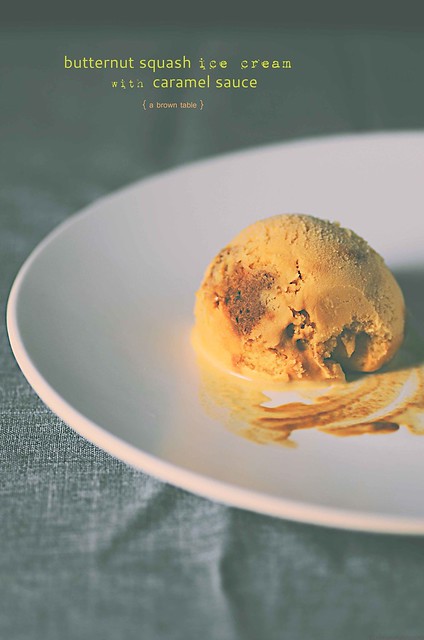 Now back to the food, this is one of my favorite new flavors for seasonal ice creams. Just because it's cold, it doesn't mean I am not going to make or eat ice cream. I think ice creams and sorbets are desserts that can be adapted and eaten at any time of the year. They also make the cold weather a little more delightful.
All I will say here is that butternut squash with swirls of frozen caramel sauce in an ice cream is simply amazing. This is one flavor combination that really surprised me in a good way! It' also one of my new fun ways to eat squash. To prepare the butternut squash puree, you can either buy raw precut butternut squash from your local grocery store or peel and cut the squash into one inch chunks. Microwave the squash pieces for about 3 minutes and then pulse the entire thing in a food processor to get a smooth puree. I have not tried roasting the butternut squash for this recipe but I think it should work fine but the roasting could potentially change the taste a little. I find the microwaving method faster and easier and any excess squash that I don't end up using gets frozen for later use.
The extra caramel sauce that did not go into layering the ice cream, I refrigerated and then served it on the side before warming it up slightly. I've loosely based my recipe using the basic ice cream base from
Jeni's Splendid Ice Creams at Home – Jenni Britton Bauer
.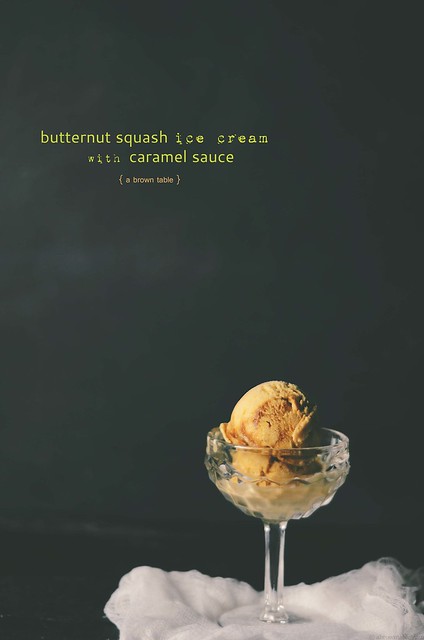 butternut squash ice cream with caramel sauce
yields:
6 servings
ingredients
1 cup butternut squash puree, unsweetened
2 cups whole milk + 2 tablespoons of milk
1 1/4 cup heavy cream
2/3 cup (5 1/4 ounces)  raw dark brown sugar
2 tablespoons honey
1 1/2 ounces cream cheese, at room temperature
1 1/2 tablespoons cornflour
1. Add the butternut squash puree, 2 cups of milk, cream, sugar, and honey into a thick bottomed stock pot and bring to a boil on a medium high-flame, whisking occasionally. After 4 minutes of boiling reduce to a gentle simmer.
2. Mix the two tablespoons of milk and cornflour in a small bowl to make a slurry. Pour and whisk by hand the slurry into the hot butternut squash mixture. Cook the liquid for another 2 minutes on medium-high heat until the mixture begins to thicken.  Remove from heat.
3. Place the cream cheese in a large mixing bowl. Whisk it a little and then add about one cup of the hot ice cream base. Whisk by hand until smooth, add the rest of the ice cream base and whisk till combined.
4 Transfer the liquid into a gallon ziploc bag and seal. Place in an ice-water bath and allow to cool for at least 30 minutes.
5. Pour the ice cream mixture into the frozen canister of your ice cream maker and churn as per directions of your manufacturer. 
6. Layer half of the ice cream into a freezer-safe air-tight container. Drizzle 1/4 cup of the prepared caramel sauce (instructions below) and then layer again with the rest of the ice cream followed by another 1/4 cup of the caramel sauce. Cover the top layer with parchment paper, place the lid on top of the container and freeze for at least 4 hours before serving. 
caramel sauce
yields:
approximately 1 cup
ingredients
2/3 cup raw dark brown sugar
1 1/4 cup heavy cream
1/4 teaspoon salt
1. Add the brown sugar to a thick bottomed stockpot and heat on a medium high flame with constant stirring. As soon as the sugar begins to melt it will start to caramelize, cook for 1 minute (if you like the sauce darker then cook it for another 1 minute, but be careful to not burn the sugar completely). 2. Remove the stockpot from the flame and carefully pour in the heavy cream. Add the salt. Bring the mixture back to the stove and stir on a medium-high flame to dissolve any hardened caramel completely. 
3. Transfer the sauce to sandwich size ziploc bag, seal and cool for 20 minutes in an ice water bath.