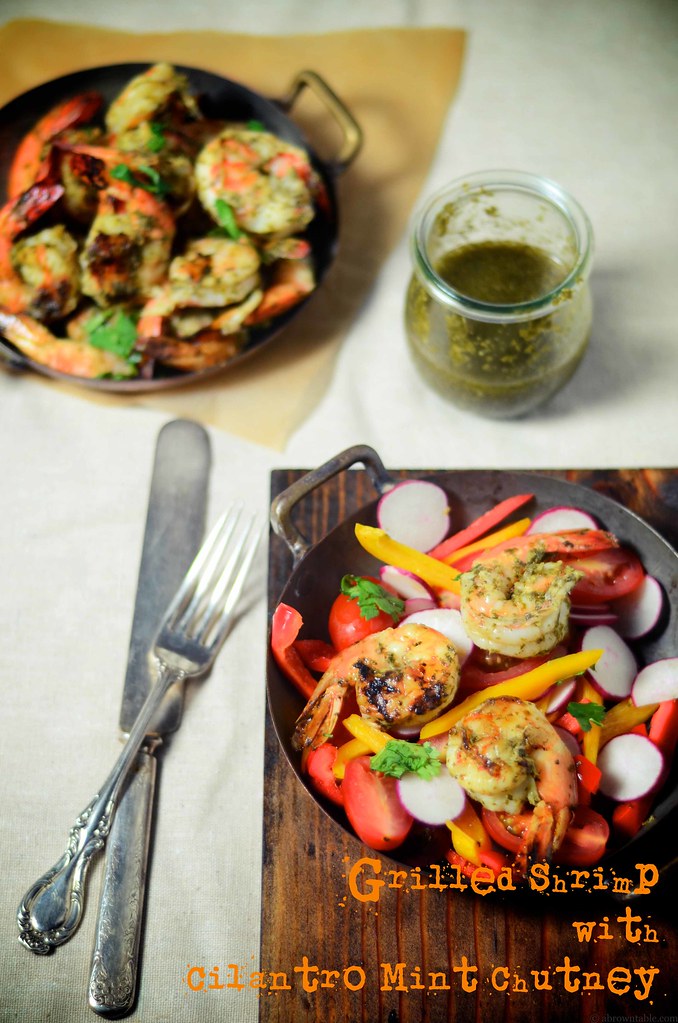 Summer surely is a perfect time to grill though I try to grill in any weather if possible. I find it as comforting as baking, each with its own charms and techniques that make them so unique and fun. I like to grill both outdoors and indoors and I like to grill everything possible. The flavors generally get much more complex and bolder making every meal delightful and tasty. This is really what comes to my mind when I hear the word "grilling" or "barbecuing". Deliciously exciting feelings cross my mind that involve the sizzling sounds of meat and vegetables hitting the hot grates of the grill while the smoky clouds rise from the searing food. This is probably why we grill so much in our home. I just really hate cleaning the grill, no love lost there! That is really the part I don't like to think about.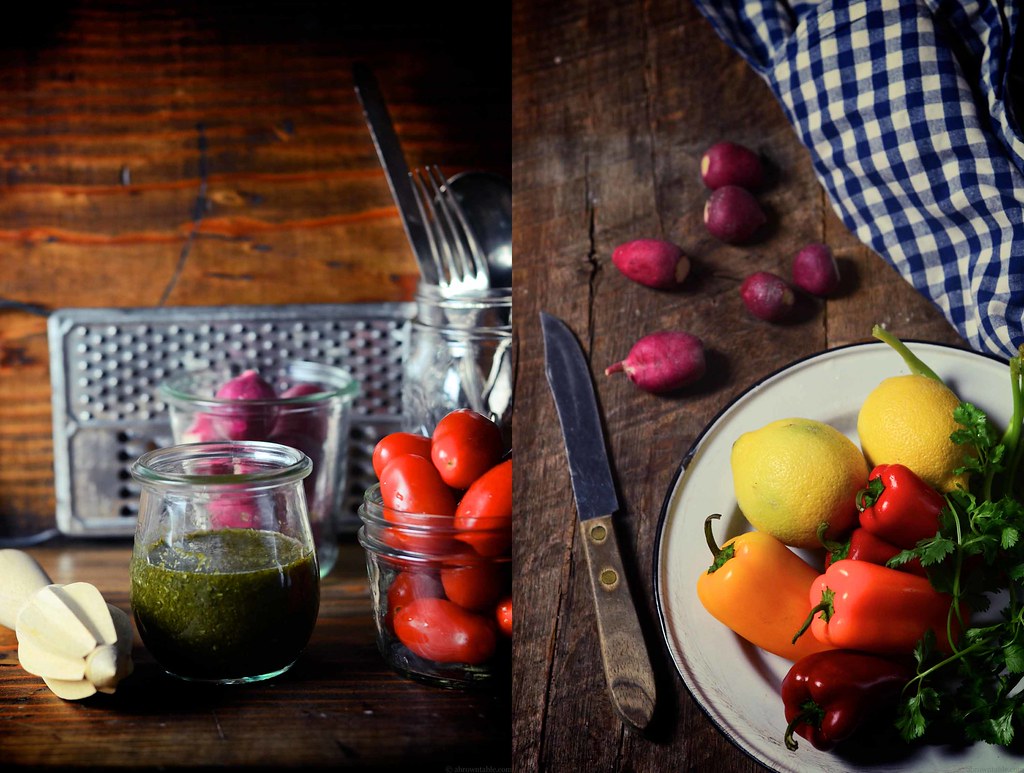 I based this recipe on a very popular chutney that is used in India as a dipping sauce for appetizers such as samosas and even as a sandwich filling. If you spread a bit between two buttered slices of bread, it is delicious! The flavors of this chutney are fresh so make sure to use absolutely fresh cilantro and mint leaves. The chilies, ginger and lemon juice give the chutney its flavorful pungent jolt. Since, we had picked up some fresh jumbo shrimp from the D.C. I thought it might be perfect to marinate the shrimp in a little bit of the chutney. The other half of the chutney I refrigerated (it stays good for upto a week) in an airtight container, I used some of it as a dipping sauce with the rest of the grilled shrimp. Overall, this is a great fresh "herby" grilled shrimp recipe with tons of classic Indian flavors. I love serving these shrimp with fresh crispy salad vegetables, so feel free to add whatever you can find or love!
On a side note please make sure to use fresh shrimp and devein them.
cilantro mint chutney
yields: about 1 1/2 -2 cups


ingredients


2 cups packed cilantro leaves, fresh
1 cup packed mint leaves, fresh
4 thai green chilis
1 tablespoon ginger root, peeled and chopped
1/4 cup lemon juice, fresh (about 2 large lemons)
1 teaspoon brown sugar
1/2 teaspoon black pepper, freshly ground
1/2 cup water
In a food processor, pulse all the ingredients from the cilantro to the water to make a smooth chutney. Adjust the taste with additional salt and pepper if desired. Store the chutney in an airtight container in the refrigerator for up to a week.
grilled shrimp
yields: 6 servings


2 lbs jumbo shrimp, peeled and deveined with tail on
2 tablespoons olive oil
1 large lemon, fresh
1. Pat the shrimp dry with a clean towel and add half of the cilantro mint chutney along with the olive oil. Mix and refrigerate in a covered container for at least 30 mins.
2. Preheat a grill. Skewer the shrimp and grill them on the hot grill for 2-3 minutes on each side. Baste as needed with the leftover marinade from the chutney. The shells at the tail end and the meat will turn a hot pink color when they are done cooking. Remove the skewers and immediately squeeze a little lemon juice from the lemon over the hot shrimp. Serve them on the skewers with the reserved chutney.


Note: I like to serve these shrimp straight off the grill on a bed of fresh crisp veggies such as radishes, sweet bell peppers and grape tomatoes. Cucumbers, carrots and lettuce are a great addition too.