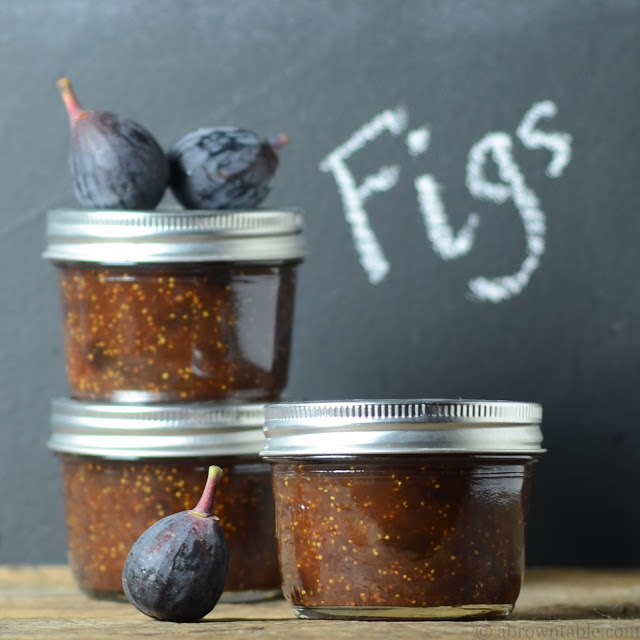 It's getting chillier by the day and something tells me this winter is going to be a little intense. Thankfully, I have some canning recipes in the works that are helping me stock the pantry up. Yes, I might be surviving on a whole lot of jams and pickles this cold season. I thought my previous post on the
poached fig sauce
would be the last, but I was so wrong! The last time I came back from my grocery store, a couple of figs magically popped up in my grocery bag. I could have just eaten the entire batch directly but then I knew I would miss them for the rest of the year. So what's one to do but stretch their presence out a little longer, perhaps till the next fig fruiting season? Since canning is my new culinary addiction, I turned to making a sticky and sweet fig preserve with bold flavors that would happily remind me of autumn.
This preserve uses whole figs that have their stems removed but I keep their skins because I like them. If you are not a big fan of the fruit's skin, then by all means peel them off with a paring knife. Use good quality dry spices for this recipe because they will make the preserve taste better. The cinnamon flavor is gentle yet warming but the dry ginger powder gives the figs a delicious and bold zing. Instead of using brown sugar in this recipe (which you most certainly can try), I find honey to be my preferred choice of sweetener for the fig preserve, somehow that marriage between honey and figs is truly blessed. Yeah, I also like to add a bit of booze to everything I cook, so here it is a cup of Riesling. It brings everything together in my opinion without taking away from any of the flavors of the figs. Serve this on top of some thick plain yogurt for breakfast or spread it over buttered bread. You can also serve this with some sharp cheeses at your parties for an appetizer. Remember with this preserve, a little of it goes a long way!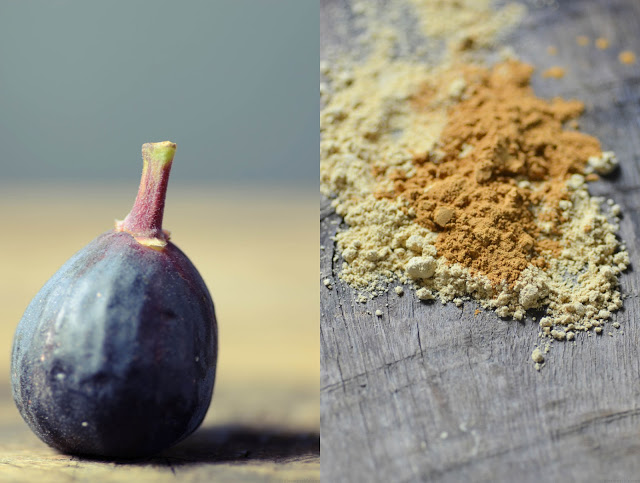 spiced fig preserves


ingredients



3 cups chopped figs with stems removed
2 cups of a good quality honey
1/4 cup crystallized ginger
juice of one fresh lemon
1 cup riesling wine (a good quality moscato would also be good here)
1 heaped tablespoon ground cinnamon
1 heaped tablespoon ground ginger powder
1. Put all the ingredients together in thick bottomed saucepan.
2. Heat on a medium to high flame and bring the contents of the saucepan to a boil. Stir constantly. This should take about 10 minutes. Don't be surprised if the viscosity of the honey decreases and the hot liquid begins to thin, this is absolutely normal.
3. Mash the figs with a potato masher to release the fruit's pulp.
4. Reduce the flame to the low setting on the stove's dial. Cook the figs for total time of 1 hour. Stir the mixture once or twice every 5 or 8 minutes. The volume will reduce during the process.
5. Transfer the hot preserves to sterile four, 4 pint jelly jars and seal. Process for 10 minutes in a boiling water bath. Cool for another 5 minutes in the water bath before removing to cool and store.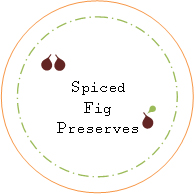 Here is the label that I designed for this set of jams, feel free to use them as needed. Click on the image to the right to download the label pdf.
Disclaimer: These labels are for personal use only. If you do use them or credit them, please post a link back to the related original recipe and not the file. © A Brown Table


Update: The recipe has been updated to reflect the addition of the lemon juice.