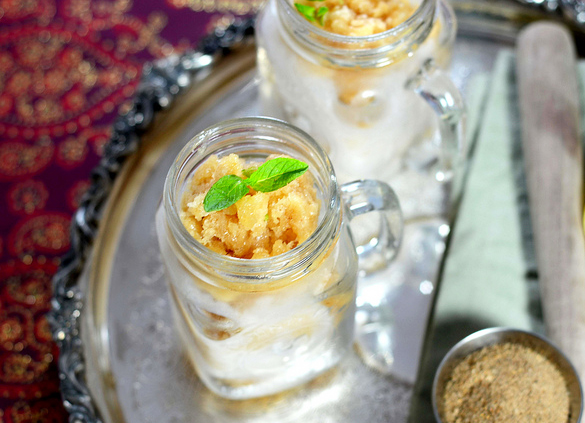 Thanks to you guys, I had a wonderful start to the week, actually its been the perfect start! A Brown Table's Chilled Almond Milk-Drunk cake was featured by the wonderful people at The Kitchn as part of their "Most Delicious Links" series. To celebrate here is a fun recipe that I hope you will try and love. I know the thought of having granitas in February sounds weird and makes me sound a tad bit crazy, but it does feel like spring and now the weather man says it will be another six weeks of warm weather. Who knows if a dusting of snow will rear its ugly head. Despite these factors, my Bombay granitas are here to stay. Let me explain why I named these granitas after Bombay. If you have ever traveled to Bombay (or Mumbai), you must have definitely heard of its characteristic and wonderful street food known as "chaat". If you haven't, well then you must put it on your bucket list. Chaat encompasses the delicious savory snacks that you will perhaps see on a wooden cart of a street vendor who will harbor tons of sweet and spicy snacks. From little pan fried potato cakes served with creamy garbanzo beans to freshly pressed sugarcane or lemon drinks flavored with roasted spices served with ice, chaat certainly holds its own unique and special place in Indian cuisine.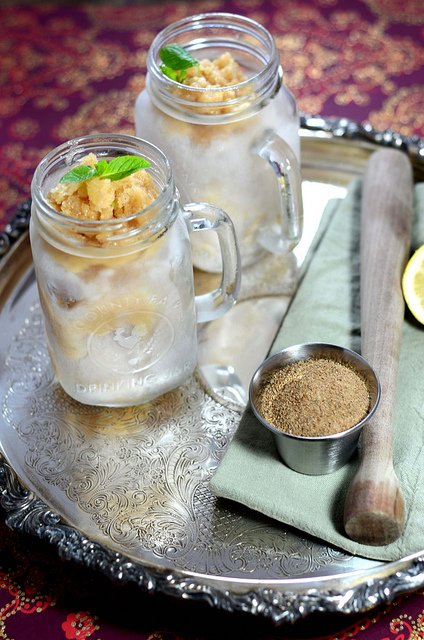 Fresh nectarine and pear fruit in this granita are gently spiced with several heavenly aromatic spices and doused with a little fresh ginger and lemon juice that lend a fresh and bright flavor. This spiced fruit granita is excitingly refreshing and soothing, don't let the spices scare you away. You can find all of them at your local grocers. This recipe is simple, fast and easy and only requires a blender or a food processor to puree the fruits together.You could also dunk a good sized scoop of this granita into a flute loaded with champagne for a Sunday brunch or perhaps even Valentine's Day. Now before I forget, let me remind you about the deadline to the cookbook giveaway which is getting closer and in case you haven't entered, hurry up and go to the Contest for more details. The "Encyclopedia of Sandwiches" is a great book on classic and modern sandwiches loaded with some gorgeous photographs that will make you very, very happy and of course hungry.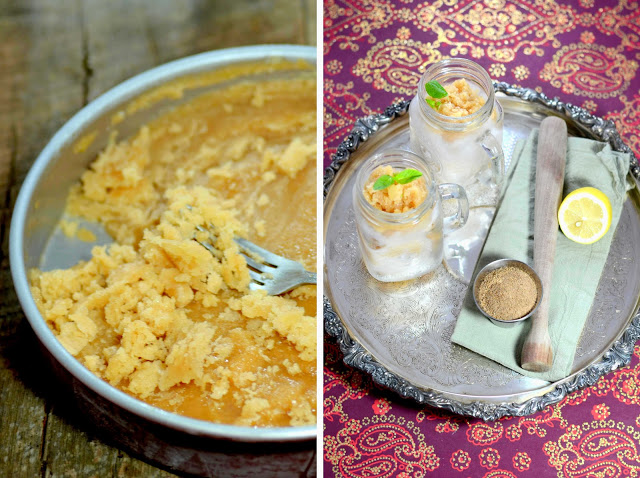 bombay granitas


yields: 4-6 servings


ingredients


chaat spice mix
1 teaspoon cumin seeds
1/2 teaspoon ground black salt
3 cloves
1/2 teaspoon freshly ground nutmeg
1/2 teaspoon green cardamom seeds
1/2 teaspoon dried ginger powder
1/2 teaspoon coriander/cilantro seeds
1/2 teaspoon black pepper
1/2 teaspoon powdered Kashmiri chilies or cayenne pepper




1 medium sized ripe pear
4 nectarines
1 tablespoon fresh ginger root juice
juice of one fresh lemon
1 cup sugar
2 cups water
a few fresh mint leaves to garnish
1. Heat a pan on a medium flame and gently toast the cumin, coriander seeds and pepper till they get light brown and immediately transfer to a cool surface to prevent them from burning.
2. Using a coffee grinder or blender, grind the toasted spices and the rest of the ingredients in the spice mix till you get a fine smooth powder. Store in an air-tight container where it will stay good for a few months.
3. Prepare a syrup by boiling the water and sugar together till completely dissolved and take off the gas and let it cool to room temperature.
3. Peel, core and de-seed the pears and nectarines and then chop the fruit into large chunks. Put the fruit into a food processor along with the lemon and ginger juice and attach the lid. Begin to pour the sugar syrup into the food processor while pulsing the fruit pulp and juices to a smooth puree. 4. Transfer the fruit mixture to a freezer-safe pan or bowl or container and stir in one teaspoon of the ground chaat spice mixture. Cover with cling film or a lid and freeze overnight or for at least 4-6 hours. Before serving, scrape the granita out with a metal spoon/fork into pre-chilled drinking glasses and garnish with fresh mint.