There is a constant staple of apps on my iPhone that I use daily. Besides checking my email and text messages, I constantly use my Pandora station. It is sometimes hard to imagine how I ever traveled without my constant musical companion. My dependence on technology these days appears to be getting all encompassing and I am not sure what I would do without constant internet access. I have no complaints though, I enjoying every minute of being connected. Its made me some wonderful friends along the ways especially through this blog.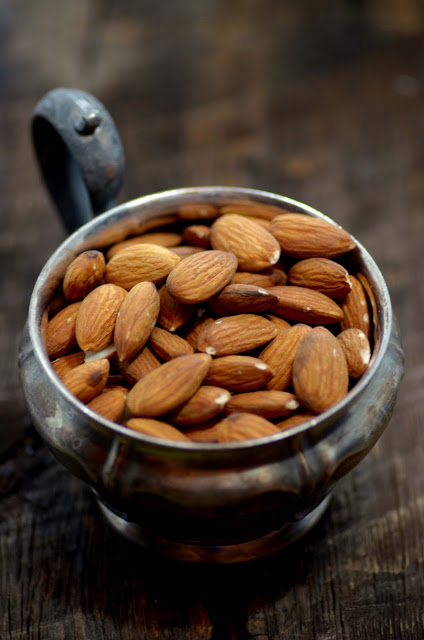 Its finally the end of the week and time for dessert. Mostly that's how I think weekends should be redefined, in terms of dessert. Almond milk is probably the best kind of milk substitute. It is naturally sweet and rich in proteins and healthy fats. Almond nuts by themselves are very popular in Indian desserts and even make a great garnish to some rice and meat dishes in Indian cuisine.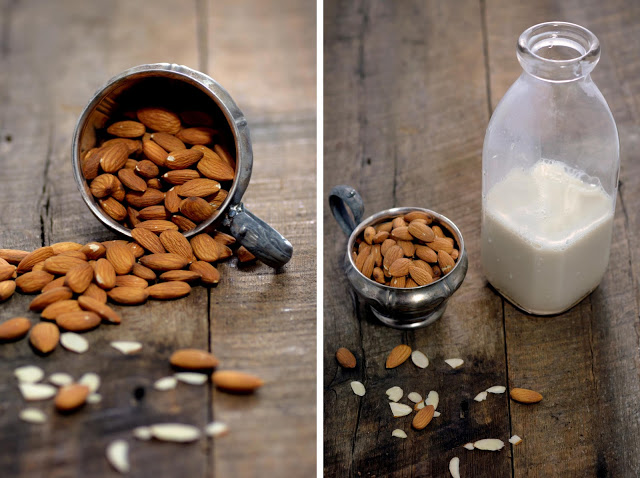 This particular cake was inspired by the Latin American Tres Leche and a couple of ingredients common to Indian desserts – cardamom and almonds. Cakes can make everyone happy, even the biggest sourpuss on the planet (or so I'd like to think) and I've been wanting to make this for a while. I added a bit of ground cardamom and slivered almonds to the cake. While this cake bakes in your oven, the aromas will breathe a new flavor of freshness in your kitchen. There is nothing better than the scent of toasted almonds in a room. Unlike the tres leche which uses three different types of milk to soak the cake, this cake has the milk replaced by almond milk. A new marriage in heaven was created when I heated the almond milk with some freshly ground cardamom seeds. I admit to keeping a little of the lightly sweetened milk aside to "taste for personal reasons". There is no need for whipped cream when you have crunchy and toasted almonds on the cake's soft crust. Try this unique chilled almond milk cake and it will surely make you a very, very happy trooper!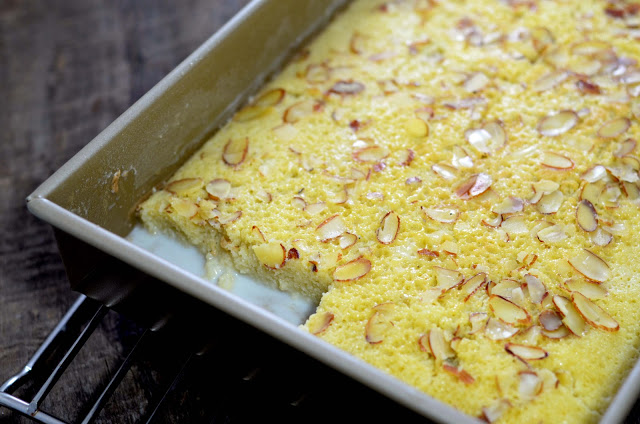 You might have notice in this particular post, I have "overused" the little silver cup in my photographs. I wanted to test and see how much I could stretch my imagination with this prop for a single post by keeping the cake the subject of each photograph and everything else secondary.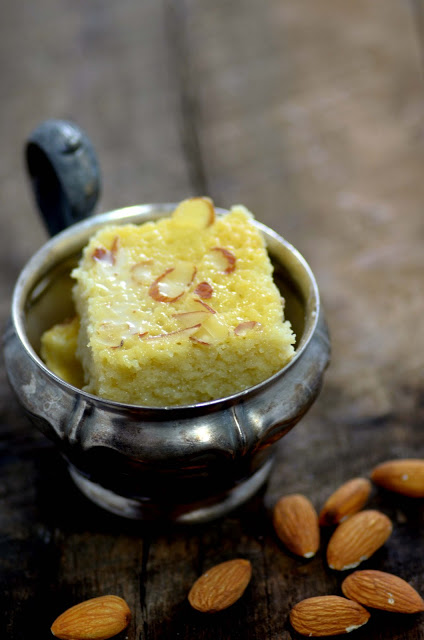 chilled almond milk drunk cake


yields: 10-12 servings


ingredients


a little extra butter and flour to grease the pan

1 1/2 cups all-purpose flour
1 tablespoon ground almond powder
1 teaspoon baking powder
1 teaspoon almond liqueur / extract
1 cup butter, cubed at room temperature
1 cup sugar
5 large eggs
1 teaspoon ground cardamom
1/4 cup slivered/sliced almonds
3 cups unsweetened almond milk
1/2 cup sugar

1. Preheat the oven to 350F. Gently grease and lightly dust a 9″ X 13″ baking pan with a little butter and flour.
2. Sift the flour, almond powder, and the baking powder twice and keep aside. In the mixing bowl of a stand mixer, cream the butter and the 1 cup of sugar together using the paddle attachment on medium-high speed.
2. Beat the eggs into the creamed mixture, one at a time till completely blended. Beat 4 tablespoons of the sifted ingredients to the creamed mixture each time, until all of the flour mixture is completely blended.
3. Fold in the almond powder, almond extract and half of the cardamom. Pour the cake batter into the prepared pan and gently spread the batter evenly with an offset spatula. Sprinkle the top of the cake with the slivered/sliced almond and bake for about 30 mins or till a knife comes out clean from the center. Remove the cake and let it cool to room temperature in the pan.
4. Heat the almond milk, rest of the cardamom and sugar till it comes to a gentle simmer on a low flame. Using a butter knife cut the cake in the pan into equal squares. Gently poke the surface of the cake with a fork to make holes for the almond milk to seep through. Pour the milk mixture on to the surface of the cake evenly and cover the pan with a lid and let the cake chill for at least 4 hours (8 hours is best) before serving. Serve chilled.


Note: While sifting the almond flour, you may get a couple of tiny grains of ground almonds (depending on how fine you grind them) left back in the sieve, just toss them back into flour mixture.