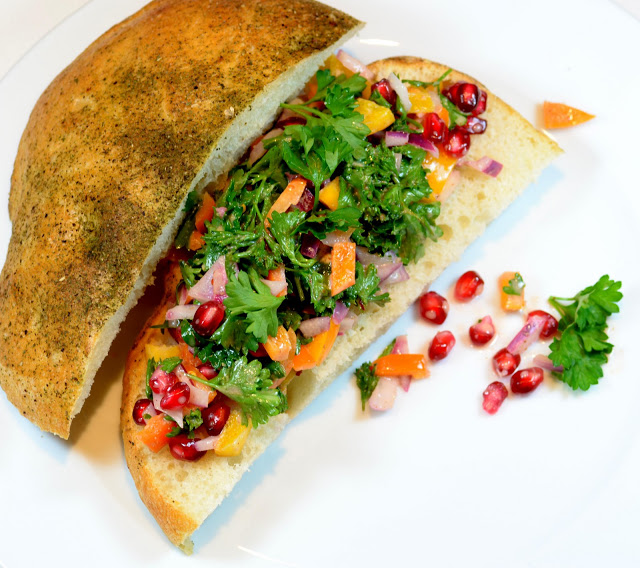 It is suddenly warm in D.C. in the midst of November and also a bit wet. Just as this weather is a bit unusual but welcoming in every way so is this sandwich. This is probably one of the most unusual sandwiches that I can think of but it is perfect in every way. The combination of sweet pomegranate seeds against the zingy mustard flavored dressing provides an explosion of flavors in every bite. Finding pomegranates in D.C. can be challenging and I wish we had them all year round like or at least find them at almost every farmer's market like we did in India. Pomegranate seeds remind me of little nutty sweet and tart bursts of juice as they pop open in my mouth. The best thing about sandwiches, wraps and salads is the way they can be used interchangeably, mixed and modified and eventually making it your own.

You could put shavings of Parmesan cheese in this sandwich but I prefer it without any cheese. The bread can be substituted with a wrap or flat-bread or completely skipped and you can as I have in the past, eaten this dish as a salad. Toast the bread or use it directly depending on your mood but do give this a shot and you will be surprised with the fun tastes in this colorful sandwich.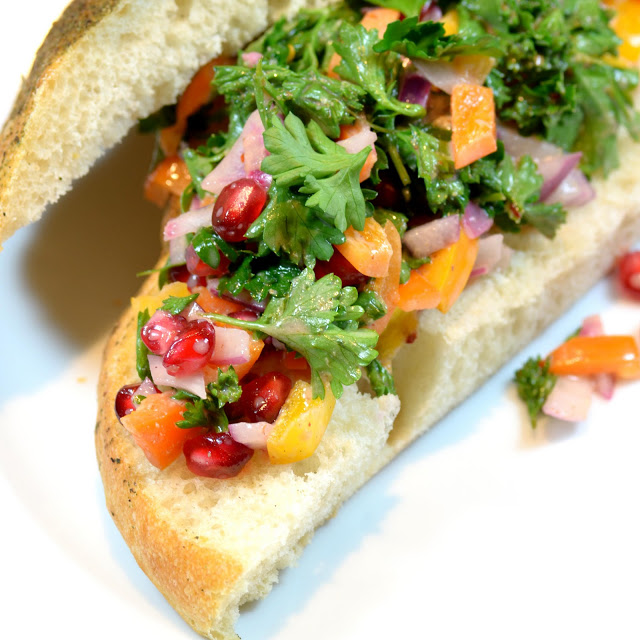 pomegranate & sweet pepper sandwich
ingredients
1/2 cup fresh pomegranate seeds
1/2 cup diced fresh sweet peppers
1/4 cup diced red onion
1/4 cup coarsely chopped flat leaf parsley or curly leaf parsley
1/2 teaspoon red pepper flakes
2 tablespoons extra virgin olive oil
1 tablespoon freshly squeezed lemon juice
1 teaspoon whole grain spicy mustard
salt and pepper to taste
Focaccia bread
1. Slice the bread width-wise and keep aside.
2. In a bowl combine and toss the rest of the ingredients and let them sit for 5-10 minutes to let all the flavors blend together. Spoon out the salad onto the bread and it is ready to eat.