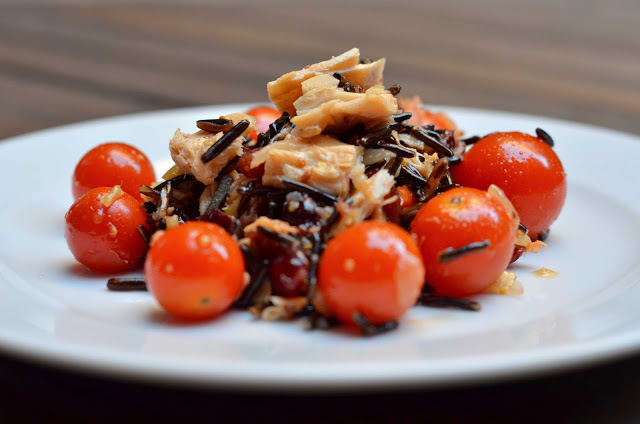 This has been a slow week not so much with regards to work, school and chores but more so with time not passing by faster. There is a secret to this, let me share! One of the biggest advantages of working in D.C. is getting every single federal holiday on the calendar, especially days like Columbus Day and President's Day which are almost unheard off. So yes, I look forward to the long weekend ahead. I just hope I complete all my school work to take full advantage of this respite. Whenever things seem slow and I lack motivation, I tend to try and plan out simpler things to do. This week a wild rice and tuna salad with some fresh cherry tomatoes from the C.S.A hit the spot. I love the way the tomatoes popped right in my mouth with every bite of this quick and easy salad. Oops!, I almost forgot to mention that this weekend is "Taste of D.C." which I hope to visit at some point on Saturday. Ah, already a weekend that should be quiet is filling up a bit too fast.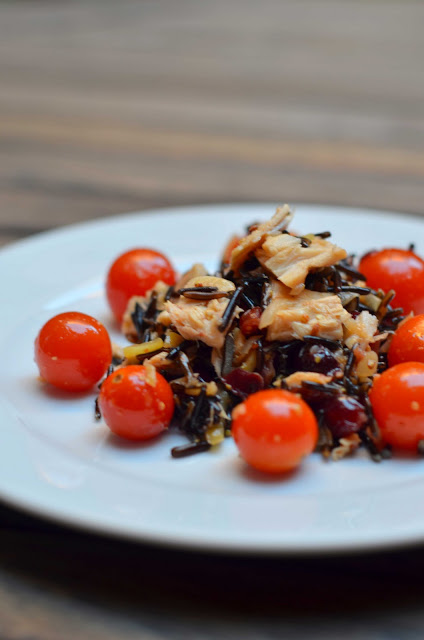 ingredients
2.5 cups of water
1 cup wild rice
1 cup boiled tuna or a can of tuna packed in water (drain the water)
1/4 cup sweetened dried cranberries
1 finely chopped Hungarian hot wax pepper
1/2 cup diced white onion
2 cloves sliced garlic cloves
1 teaspoon whole grain mustard
1 tablespoon extra virgin olive oil
1 teaspoon honey
4 tablespoons rice wine vinegar
salt and pepper to taste
1. Bring the water to boil, add the rice and then reduce to a simmer. Cook till the rice is tender and then allow to cool to room temperature.
2. In a separate skillet, add the oil and heat on a high flame. Add the whole cherry tomatoes and sear them for about 1 minute making sure the tomatoes don't pop open.
3. Add the garlic, peppers, onions and cranberries and saute for another 4 minutes. Remove the vegetables from the flame and keep aside.
4. In another bowl, whisk the olive oil, honey and vinegar to prepare the dressing.
5. In a large bowl, flake the tuna with a fork, add the vegetables, rice and the dressing. Season with salt and pepper and fold the ingredients together. Serve chilled or at room temperature.