I'm going to sign up for a cheese course at The Seasonal Pantry this month with my friend Shannon. It's time
I learned something about my favorite condiment/dairy delight/breakfast/tea…..all rounder and can't wait for the class soon enough. I've heard some fantastic reviews about The Seasonal Pantry from friends, so I think I am ready for this exciting class taught by the American Cheese Society, I really wonder if they sit and taste cheeses all day at their jobs, now that would be amazing.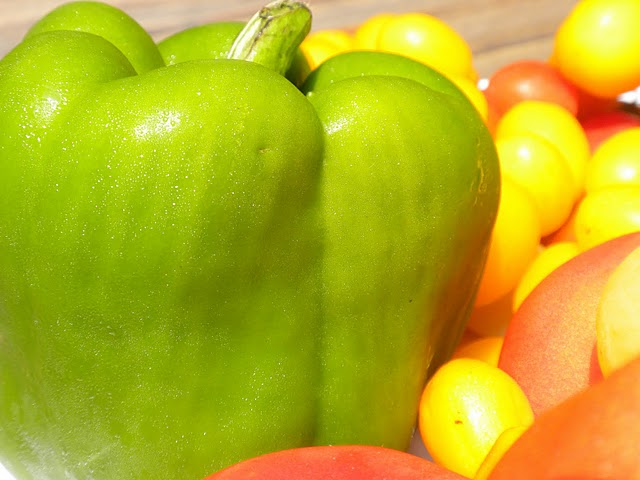 This week we opened our C.S.A box to find an assortment of tomatoes of different colors and sizes. I could probably spend hours just staring at the different colors in the box and keep pondering on how to tackle them. Fortunately, we also had a couple of nice sized heirloom green bell peppers in our box which kind of pushed me towards making a gazpacho. Though, I think my motivation behind preparing gazpacho is the fact that we have returned back to the late 90's this week again and what better way than to get through the heat than with a chilled bowl of gazpacho at your side. On a side note, you can vary the final color of your gazpacho by playing around with the colors of your tomatoes and peppers, my soup turned out a bit orange due to the yellows and greens but if you wanted a red soup stick with red peppers and red tomatoes and if you wanted a more yellow soup use yellow colored produce.
Here's the recipe that I modified slightly from my copy of The Essential Mediterranean Cookbook, I love these cookbook series, they have almost everything in these books with beautiful pictures. Yes, I love pictures in cookbooks, I think cookbooks sometimes make better coffee table books than those on travelling.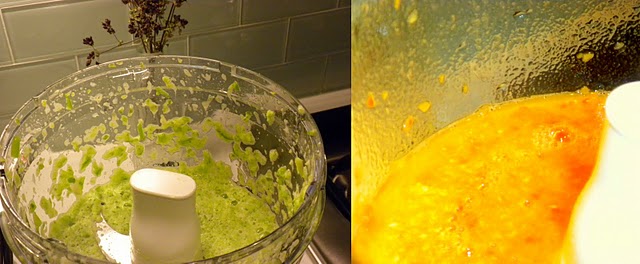 ingredients


1 kg(2lb) tomatoes
1/2 cup Italian bread crumbs
2 green bell peppers, seeded and chopped
2 large cloves of garlic
1 teaspoon sugar
1/4 cup white vine vinegar
2 tablespoons extra virgin olive oil
1 teaspoon of red chili hot sauce or 1 red chili, seeded


garnish


1/2 Lebanese cucumber, seeded and diced
1/2 green bell pepper, seeded and diced
1/2 red onion, finely diced
1/2 ripe tomato, diced
fresh basil leaves
1. Mark a cross at the base of each of the tomatoes, if you use small cherry or grape tomatoes like I did you don't need to cross them. Set a large pot of water to boil on the stove. Once the water is boiling, plunge the tomatoes in and let them boil for 10 minutes. Then remove the tomatoes and let them cool till you can handle them. Chop the head of the tomato and peel the skin off (I prefer to leave the skin for both the large and the small tomatoes).
2. Add the rest of the ingredients to a food processor ,except those for the garnish. Pulse and taste the mixture to see if it is seasoned well. Refrigerate to chill for at least two hours and then garnish before serving in individual bowls.

Gazpacho is one of those soups that gets better with time, I normally prefer to leave it in the refrigerator chilling for at least one day before I serve it. Coincidentally, I just remembered trying out a bowl of watermelon gazpacho at
Matchbox
in Chinatown last week. Matchbox is famous for its pizzas and 3-6-9 sliders but the wait times are terribly long and they have a no reservation policy which makes it challenging at times, but then again its well worth the wait.