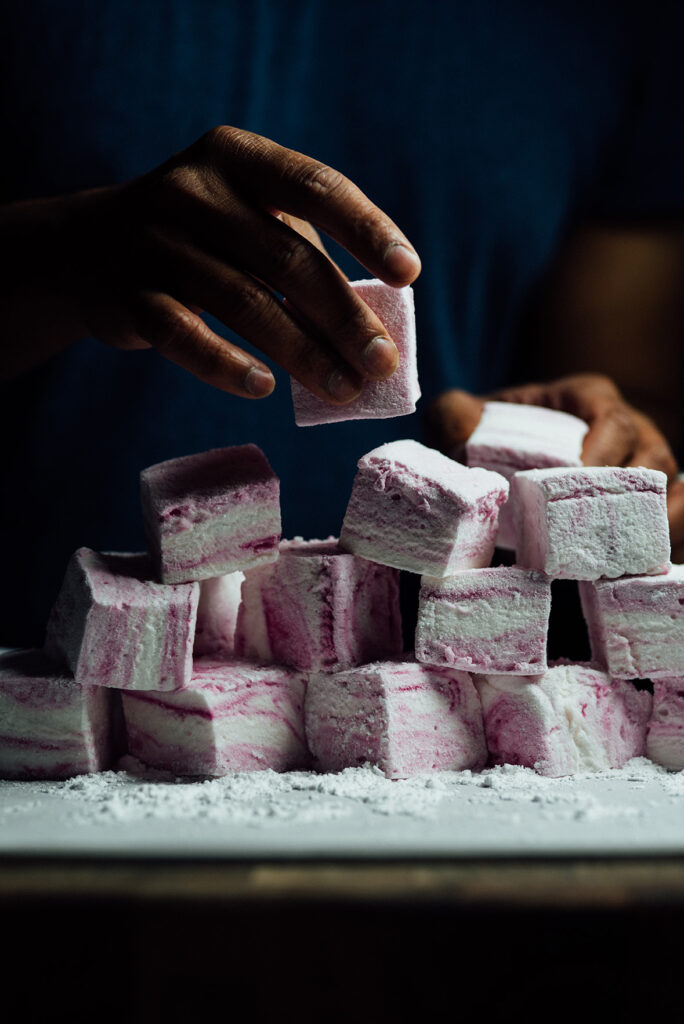 A marshmallow is like a soft pillow that jiggles with the finesse of a belly dancer to a song. It should be able to bounce in your hands when tossed and stretch when pulled apart with your hands. Marshmallows are light and can be used as an accent to garnish so many desserts like cookies and cakes or even added to hot milky cocoa. But I like my marshmallows straight up because I live for the chew.
This is a version of an old family recipe my grandmother and mother have used for decades. What I appreciate about their method is that they've worked it out without using light corn syrup (glucose syrup). There's nothing wrong with golden corn syrup, it's not high fructose syrup, but there are ethical issues with corn production and the environment. In India, corn syrup is not that easy to find (at least back when I lived there), so their recipe is rather remarkable; in the absence of an ingredient, they've figured a way out to make marshmallows happen for every Christmas of my life.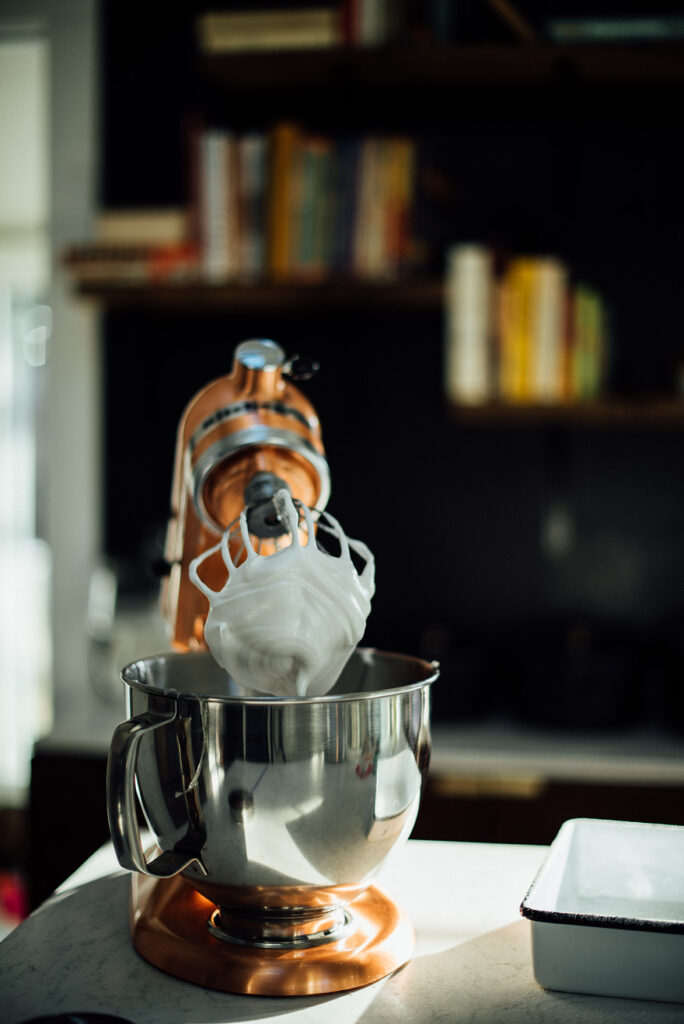 I did tweak their original recipe a little bit; let me explain; it involves a little science. Light corn syrup is typically added to prevent sugar crystallization. When making the syrup, you must be careful to avoid crystal formation; the slightest agitation of the sugar at 240F/115C can cause the crystals to form and seed. Honey and maple syrup don't work the same way as corn syrup since they're chemically very different, even though they're all sweeteners. So, I turned to the cream of tartar which has a dual role in this recipe; not only does it prevent sugar crystallization of the syrup, but it also helps to stabilize the egg white foam as it builds up. The result is a light and airy marshmallow that is wonderful in texture.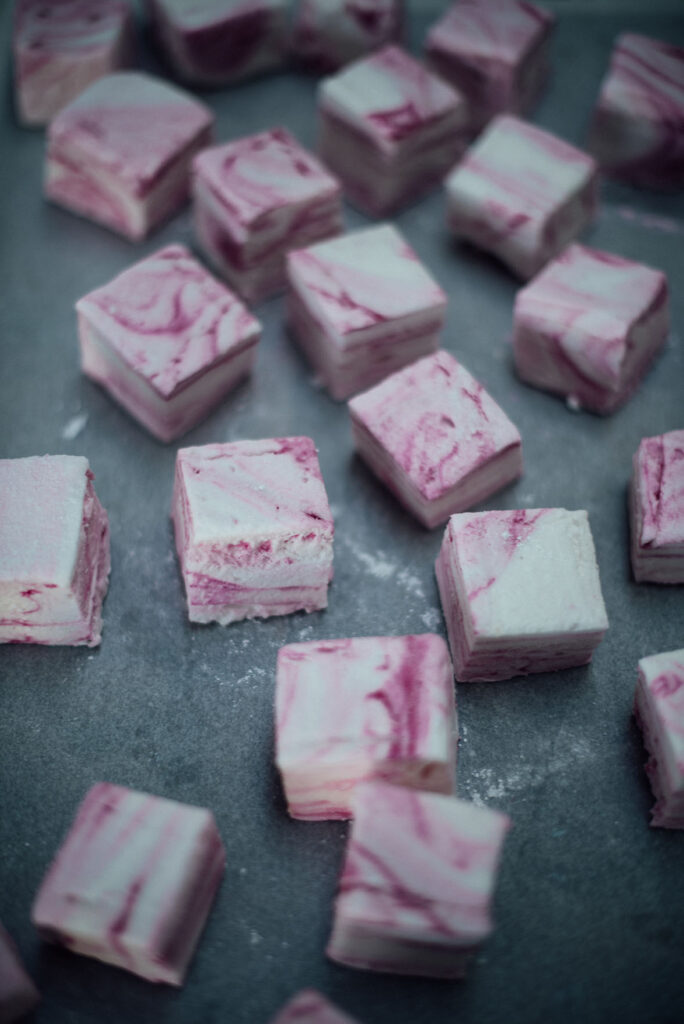 For color, I picked up some beet powder-based food color from my local store, Bi-Rite, and some wonderfully potent peppermint extract to give these little guys a bit of holiday cheer. Bi-Rite carries a lot of amazing natural food colors and extracts for baking, and I was very impressed with this beet color's ability to transform without leaving any noticeable taste of the root. To get those pretty swirls, remember to add the food color at the final stage in a couple of concentrated spots dropped randomly in the foam, don't over mix as the whole thing will turn pink.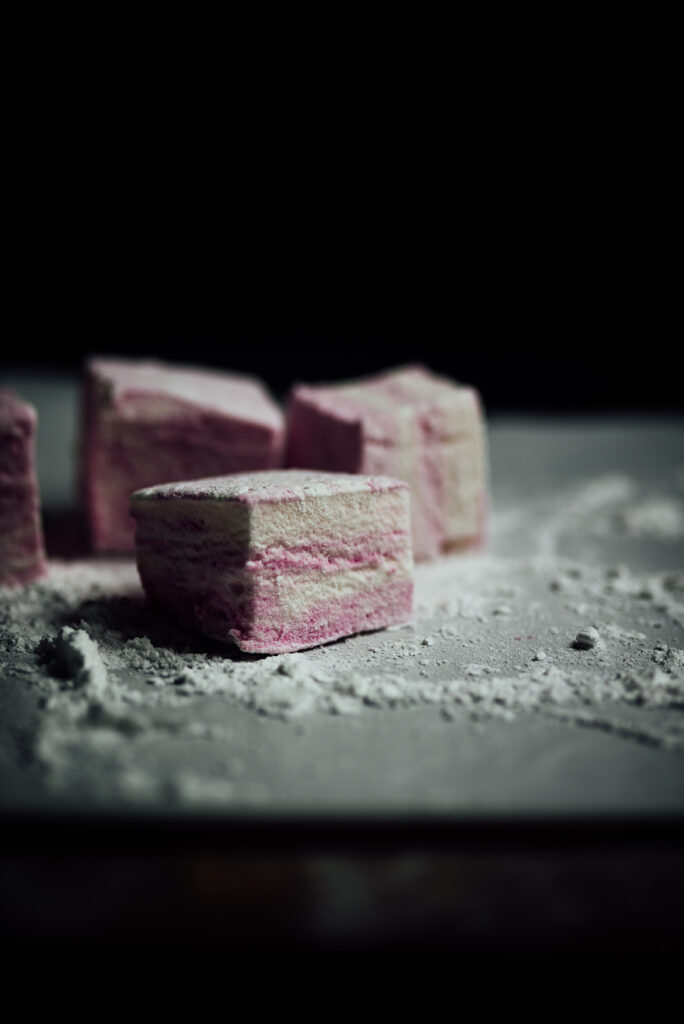 Disclaimer: This post was sponsored by the Bi-Rite Family. However, all opinions expressed are solely my own.
Print
Lucy's Peppermint Marshmallows
¼ cup/35 g cornstarch

¼ cup/30 g confectioner's sugar

1 cup/240 ml water

¾ oz/20g granulated gelatin

10 ½ oz/300 g superfine sugar

1/8 tsp cream of tartar

2 large egg whites, warmed to room temperature

½ to 1 tsp peppermint extract (depending on how strong you like it to be)

Red food coloring (I used 1 tsp of beet powder mixed in 2 Tbsp water)

Neutral oil for greasing
Instructions
Sift the cornstarch and confectioner's sugar with a fine mesh sieve over a small mixing bowl. Sift 2 Tbsp over a square 9 in/23 cm baking pan. Grease the sides lightly with a little a neutral-tasting oil. Keep aside.
Place ½ cup/120 ml of water in a small heat-proof mixing bowl or measuring cup. Sprinkle the gelatin on top and allow to sit undisturbed.
Pour the remaining water into a medium saucepan, add the sugar and cream of tartar. Cover with a lid and heat on medium-low heat until all the sugar is dissolved and the temperature reaches 240F/115C on an instant-read or candy thermometer.
While the sugar cooks, prepare the egg whites. Place the egg whites in the bowl of a stand mixer and using the whisk attachment, whisk on medium-high speed until the egg whites turn foamy and eventually produce stiff peaks, about 5 minutes. Stop the mixer.
Once the sugar syrup reaches 245F/115C, pour it in a thin stream into the gelatin at the side of the mixing bowl. It will start to foam, so add it slowly to prevent it from spilling. Stir with a fork to dissolve the gelatin in the syrup, it will take a few minutes to get it smooth. Then pour the hot sugar-gelatin syrup into the egg whites in a thin and steady stream while continuing to whisk the egg whites on medium-high speed. Once the syrup is added, continue to whisk for 1 additional minute and then increase the speed to high and whisk until you get stiff peaks (the foam should be white in shiny white in color and will hold its shape). Whisk the peppermint oil for 1 minute on high speed. Then stop the mixer and add a few drops of the coloring and whisk for 3 to 4 seconds just long enough to create a few swirls (avoid the urge to over-mix or it will become uniformly pink). Remove the bowl from the mixer and using a silicone spatula transfer the mixture to the prepared baking pan. Take a small offset spatula and lightly grease it with a little oil and even the top layer. Allow the pan to rest covered for at least 4 hours preferably 6 hours. The marshmallow will be ready once it is cool and spongy to touch in the center.
To cut, dust a clean surface with a little bit of the cornstarch-sugar mixture. Run a small knife around the edges of the pan to release the marshmallow. You might need to gently pull it from the sides to help release it. Cut into 1 in/2.5 cm squares with a sharp knife (you can grease the knife with a little oil to prevent sticking). Dust the squares with a little cornstarch-sugar mixture and store in an airtight container for up to 1 week.