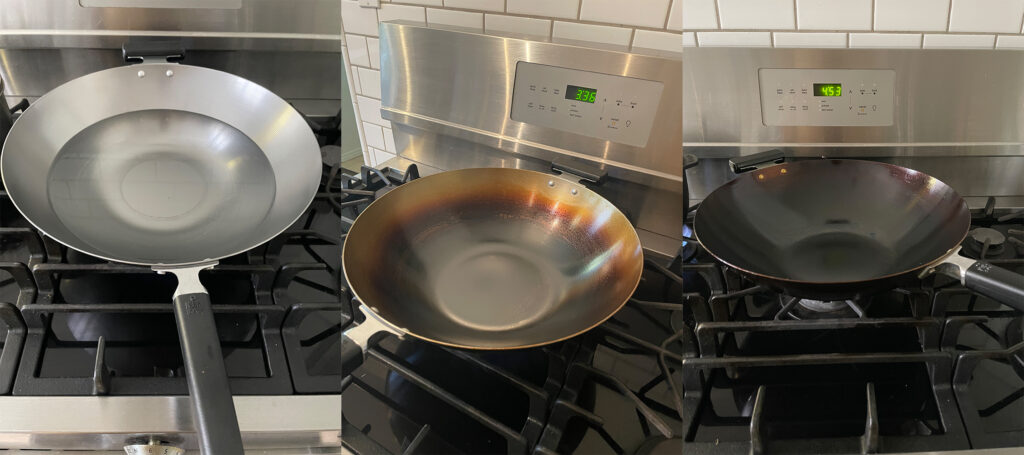 I receive a lot of questions about the cookware and appliances I use at home. Since we've got fried rice on the menu, I thought this would be a good time to share my abbreviated version of all things related to wok and wok cooking that I use in my kitchen.
The Wok
I prefer the Northern-style woks over the Cantonese-style woks because of the handle; it makes wok cooking easy. I own two woks (both Northern Style), one from Joyce Chen and the other by Made In. Both are made from carbon steel, and their quality is equally outstanding. Besides looks, there is one noticeable difference between the two; the Joyce Chen wok is slightly lighter than the one from Made.In which makes it easier to maneuver during cooking. Woks are also made from cast iron, aluminum, and stainless steel, and some brands make non-stick varieties. I avoid most non-stick cookware at home and don't recommend them, especially for high-heat cooking, because Teflon starts to degrade at temperatures higher than 500F/260C and causes many problems. In my experience, I've found cast-iron and carbon steel to make the best woks; they use very little oil during cooking, unlike the stainless-steel ones.
How to Season a Wok
Both carbon steel and cast iron woks need to be seasoned to maintain their quality and prevent them from rusting. Two great resources for wok seasoning come from Serious Eats and Made In. I also got myself the carbon steel seasoning wax from Made In it is one of the best seasoning waxes I've come across and works wonderfully. BTW, don't panic if the wok seasoning is stripped off after the first round of cooking in your new wok; that is bound to happen. Woks seasoned well and used repeatedly will develop a uniform dark patina.
How to Clean and Store Your Wok
I use a sponge and very hot water to clean my wok (there are wok-specific bamboo brushes that can also be used). Once that's done, I wipe the wok with a dry towel and then heat it on the stove. Cleaning the wok can remove some of the seasoning. To avoid rust, I apply a layer of the seasoning wax, season it again before letting it cool, and put it back in storage. BTW, if the wok does rust, don't panic. Give the wok a good wash under hot water, pat it dry, and then heat it on the stove and season. Because the wok is seasoned on both the inside and outside, it might stick to the surface of the cabinet. To avoid this, I keep my wok on a few sheets of old newspaper or parchment paper.
Accessories For Your Wok
I don't own too many accessories for my wok; this is what I find at a minimum; you'll need to get the job done. You'll need a wok lid to steam and stir-fry. I also own this set of wok spatula, skimmer, and ladle that is fantastic to cook with; the wooden handles stay cool during cooking which is a big help. If you plan to steam food, use this bamboo steamer; I've had it for three years and love it.
Additional Wok Reading Cookbooks
I learned most of what I know about woks from two books – 
The Breath of a Wok by Grace Young and Alan Richardson (Amazon/Bookshop/Now Serving L.A.), 
Phoenix Claws and Jade Trees by Kian Lam Kho (Amazon/Bookshop).
The newest addition to this lot of books is The Wok by Kenji López-Alt (Amazon/Bookshop/Now Serving L.A.).