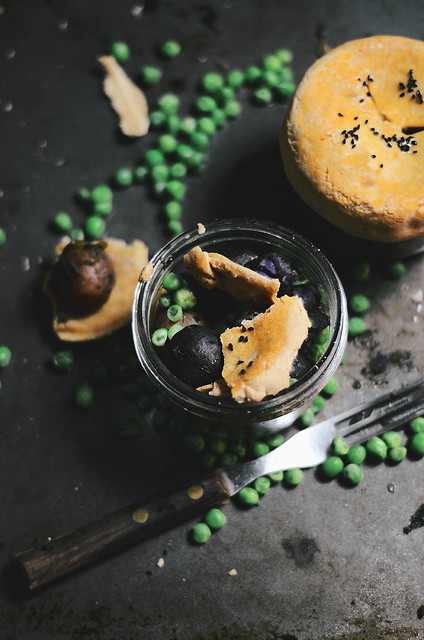 Both my hands trembled by the keyboard, for a good 5 minutes or so when I found out I had been included as a finalist in the Best Photo Based Culinary Blog category for this year's IACP awards. We were almost a few minutes from leaving our home to head out to the open house at the culinary school that I'm hoping to attend (barring all other life constraints, etc) when I received the news. Then came the excitement and the crazy happy dance with the dog looking at me in complete bewilderment. To be included among these talented folk makes me feel thankful and humbled. And, I have you to thank for this, your constant encouragement and support is what makes me and this tiny space on the internet grow.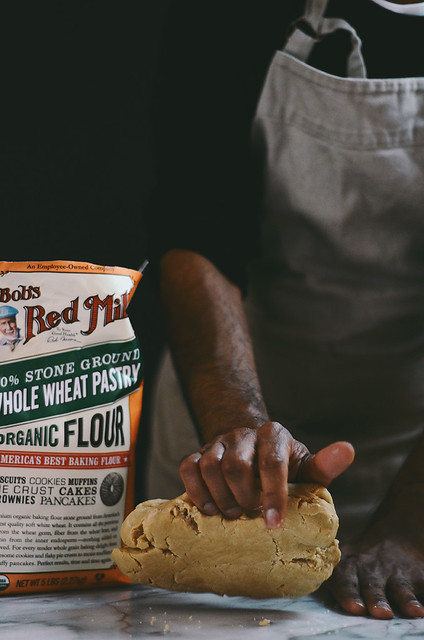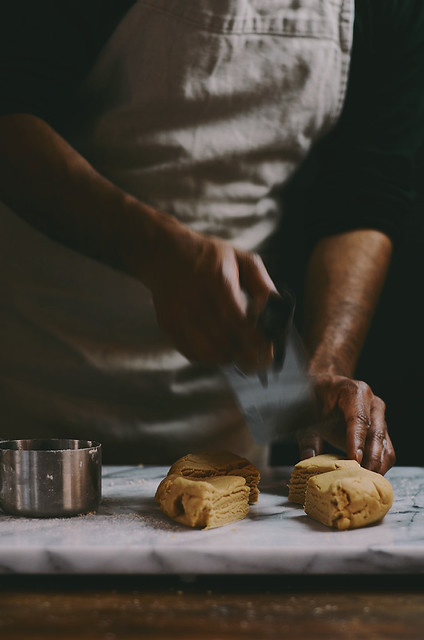 Sometimes, it's good to deconstruct and then reconstruct. This is exactly what this recipe is all about. Break the triangular samosa down then build it up again in the form of a mini pie in a mason jar. The crust is flaky and buttery, seasoned with a pinch of pretty black nigella seeds. Little marbles of red, white and purple potatoes with brightly green colored peas remain hidden under this layer of pastry only to reveal a pepper and ginger spiced coating. Serve these pies straight out of the oven with your favorite accompaniments, this cilantro mint chutney and/or this sweet tamarind and date one will go well.
To prepare the pastry crust, I used whole wheat pastry flour from Bob's Red Mill which gave me the exact amount of texture and flavor I needed. The pastry turned out to be pretty light and with even layers of flakiness making it perfect for this mini-samosa pie. This is going to be one of my favorite whole grain flours to work with from now on!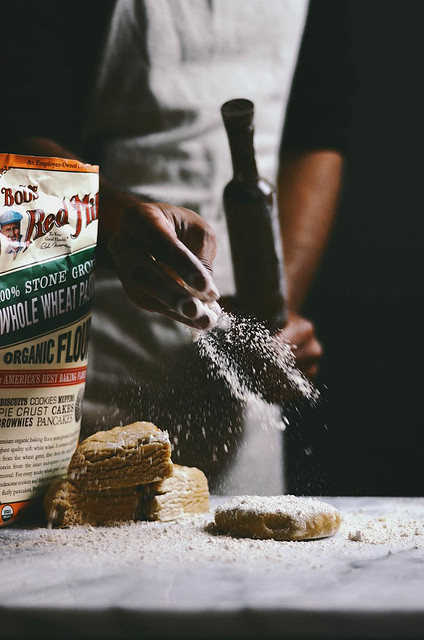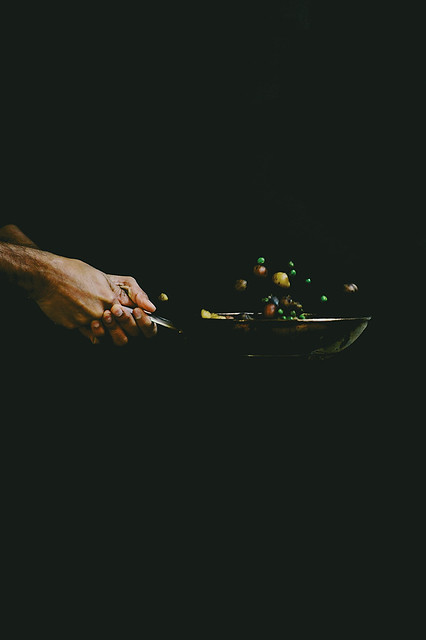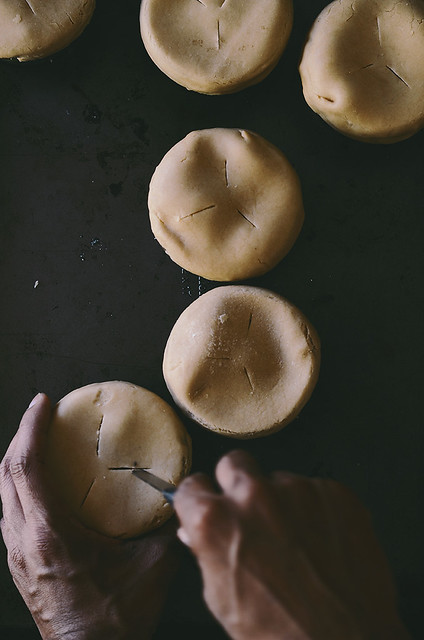 Here are some of my kitchen tips when preparing these mini pies, that you might find useful:
I used whole-wheat pastry flour which is different from whole-wheat flour in origin, it is milled from white wheat while regular whole-wheat originates from hard red wheat. The pastry flour variety is also low in protein when compared to the regular whole-wheat (via Bob's Red Mill).
When I use my food processor to blend flours, I wrap the mouth of the bowl with cling film and then attach the lid before switching the machine on. This way any flour mess is minimized. Once the liquids are added to the dry ingredients, the
I recommend using a cool surface to roll out the pastry, a marble pastry board does a great job.
If you can't find nigella seeds use black sesame or carom seeds in the same amount.
Traditionally a samosa is fried and uses no egg wash. But since I baked the pastry in the form of a pie, I brushed the surface with a little egg wash to give it a glaze to make it more attractive. You can definitely brush the entire pastry completely even on the sides, I personally prefer the center glazed and the sides untouched. Do it the way you like.
The Fillings: go all out, you can use my savory filling here, or do a breakfast one or an apple one. Let your creative juices flow!
***One word on the pie-slits in the crust. You don't need to do it. If you do it add a teaspoon of water into each pie before sticking it into the oven, this keeps the filling from becoming too dry in the oven. If you don't want to create the slits to vent the pie that is fine too.
Disclaimer: This post is sponsored by Bob's Red Mill. For more delicious recipes and a coupon for $1.00 off any product, please visit Bob's Red Mill.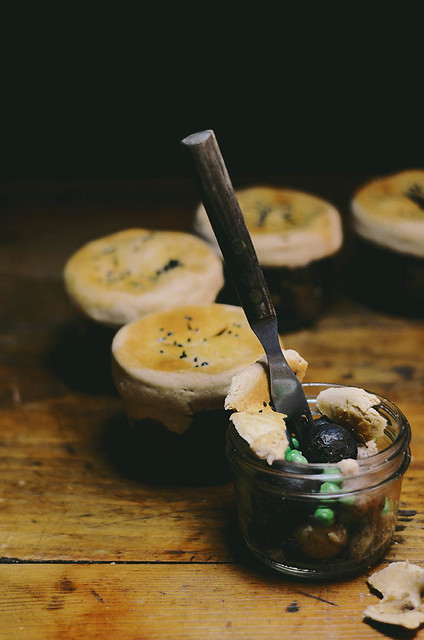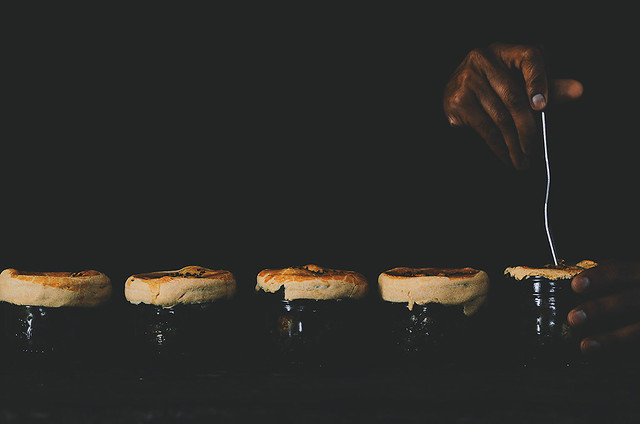 mini samosa pot pies with tricolored marbled potatoes and peas
yields: around 8 X 4ounce mason jar pies
ingredients
2 cups ( 9 7/8 ounces) Bob's Red Mill whole-wheat pastry flour
1 1/2 teaspoons fine grain kosher sea salt
7 tablespoons ( 3 1/2 ounces) unsalted butter, chilled and cut into cubes
2 tablespoons greek yogurt (2% fat)
1/4 cup chilled water + you might need a little more
8 teaspoons water, chilled
1 large egg lightly mixed with 4 tablespoons water (at room temperature)
1 tablespoon nigella seeds (or black sesame/carom seeds can also be substituted)
1. Place the flour and salt in the bowl of a food processor attached with a dough blade. Cover with the lid and pulse for 5 seconds, four times to blend. Add the butter and yogurt and begin to pulse the ingredients. While the ingredients are mixing slowly drizzle the chilled water into the flour. Stop adding water until the dough starts to come together. You might need to add a little more water. The dough will be soft, transfer the dough to a cool and clean surface such as a marble pastry board. Using your hands, quickly bring the dough together to form one large ball and then flatten it into a disc and wrap in clingfilm. Allow the pastry to rest in the refrigerator for at least 30 minutes before using.
2. Place a wire rack at mid-level in the oven and preheat the oven to 350F. Unwrap the rested dough and divide it into 4 equal parts. Take one part of the dough and then cut it in half, roll one half to form a circle that's about 1 1/2 to 2 inches larger than the diameter of a 4 ounce mason jar . Cut in half and place one half over a potato and pea stuffed mason jar (4 ounce size), add one teaspoon of water to each jar and then press the edges of the pastry against the jar gently and trim off the excess pastry hanging from the edges. Prepare the rest of the filled jars in the same manner. Using a sharp paring knife cut three, 0.5 inch slits equally apart from each other in the center of the pastry. Brush the surface of the pastry of each jar with the egg wash and sprinkle with generous pinch of nigella seeds. Place the prepared jars on a baking sheet and bake in the preheated oven for 20 – 25 minutes until the surface of the pastry is golden. Serve hot. *** See my note above on the pie slits
Note: Any extra left over pastry can be reused.
tricolored marbled potatoes and pea filling
yield: enough for 8 X 4 ounce mason jars
ingredients
2 tablespoons olive oil
32 ounces tricolored marbled potatoes
1 1/2 teaspoons kosher sea salt
3/4 teaspoon coarse black pepper, freshly ground
3/4 cup frozen peas
1/2 cup red onion, chopped fine
2 inch piece ginger root, peeled and julienned into thin strips
1/2 teaspoon cayenne pepper powder
1/2 teaspoon red chili flakes
1/2 teaspoon coriander seeds freshly ground
1/2 teaspoon garam masala
1 tablespoon lime juice, freshly squeezed
1. Heat the oil in a large saucepan with a lid on medium-high. When the oil gets hot, add the potatoes and salt. Cover with the lid and allow to cook for about 8-10 minutes with occasional stirring until the potatoes are seared and just tender. Using a potato masher, lightly smash half of the potatoes in the saucepan.
2. Reduce the heat to medium-low and add all the peas and cook for another 2 minutes. Add the rest of the ingredients from the onion to the garam masala and cook for one additional minute. Remove from stove and drizzle with lemon juice. Taste and adjust seasoning if necessary. Divide the filling equally between 8 clean 4 ounce mason jars. Prepare the pies as described earlier.