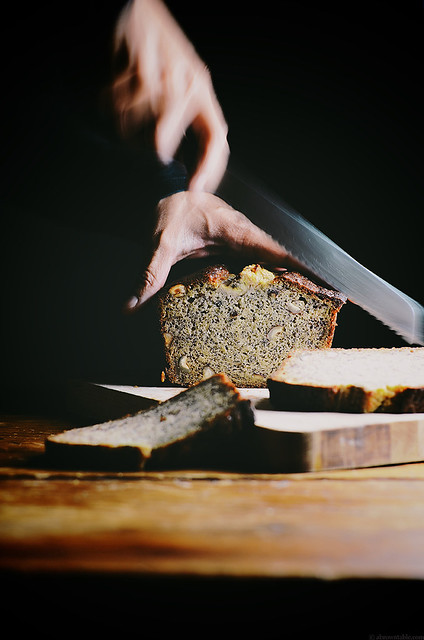 Friends, I have a huge favor to ask of you. The nominations for Saveur magazine's annual food blog awards start today and if you like my work, I would be really grateful if you could take a moment to stop by drop my blog's name in their online ballot. Thank you so much for all your support and love thought the years!
Now, let's get back to today's dessert, it's all about pound cakes. When I think of cakes that might fall into the comfort food/dessert category, I immediately think of pound cakes. They are simple to make and hearty, without the need for any fancy decorations (though you absolutely do something if you wanted to) and can be eaten as a snack or as a treat after a meal. Banana pound cakes are one of my favorites and this cake is extra special because it has one of my favorite nuts thrown in, hazelnuts!
For all practical purposes when I bake with bananas they are generally overripe. The more ripe the banana, the sweeter the fruit and the aroma is even more intense. The fruity aroma associated with bananas comes from a chemical found in the fruit called isoamyl acetate. If you like to geek out on food biochemistry this paper has an interesting analysis on the different components of bananas and then there's this fun article on bananas from UCLA. Another fun fact about bananas, they are VERY, VERY, VERY and naturally mildly radioactive, they contain a radioactive form of potassium. You'd need to eat several thousands of bananas in one sitting to have any effect from radioactivity, so don't worry about it.
Hazelnuts have one of the best aromatic flavors from a nut. I think I could consume them in any and every conceivable way. Most of the time, I drink black tea when I wake in the morning but when I do drink coffee, I'll get a hazelnut creamer to flavor it. Chocolate and hazelnuts are another fantastic combination (Nutella!).
I'm guest posting over at my dear friend Valerie's blog Une Gamine Dans La Cuisine and sharing the recipe for this banana hazelnut pound cake. Valerie is one of my favorite bakers and she comes up with a lot of unique and fun flavors. When she asked me to share a recipe, I knew I would share one of my favorite desserts with some of my favorite flavors.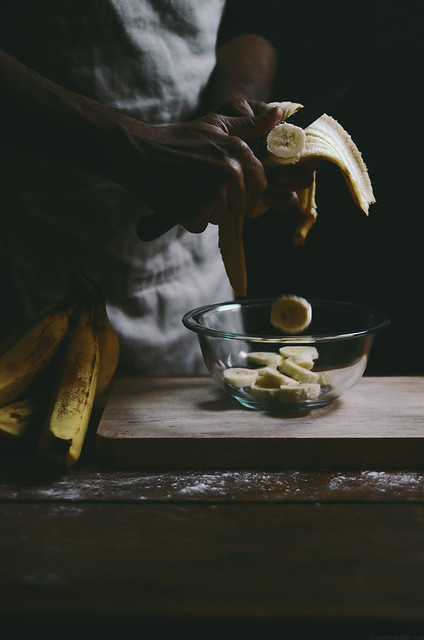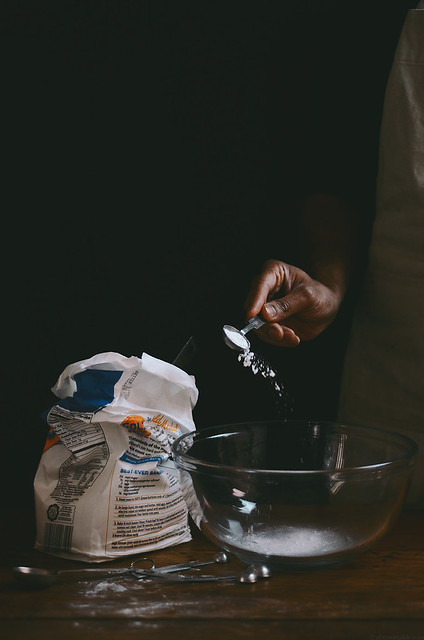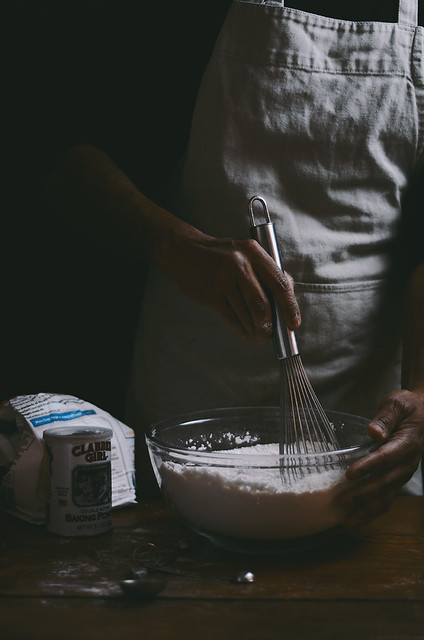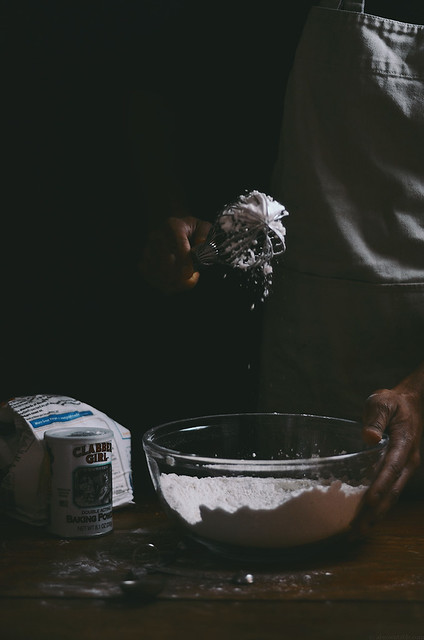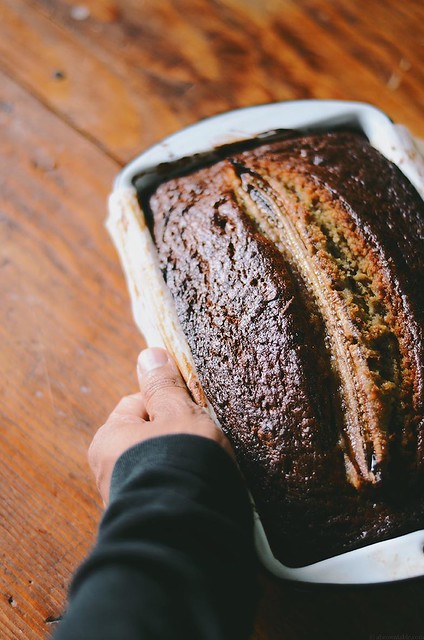 Here are some of my recipe tips when preparing this pound cake;
Use dark skinned overripe bananas for the best flavor.

I used a trick I saw on America's Test Kitchen on PBS where they mashed the bananas and then microwaved them to release the liquid from the fruit.

You can use raw or toasted hazelnuts in this recipe, they both work great. I kept the skin on to add more visual texture and flavor to the pound cake.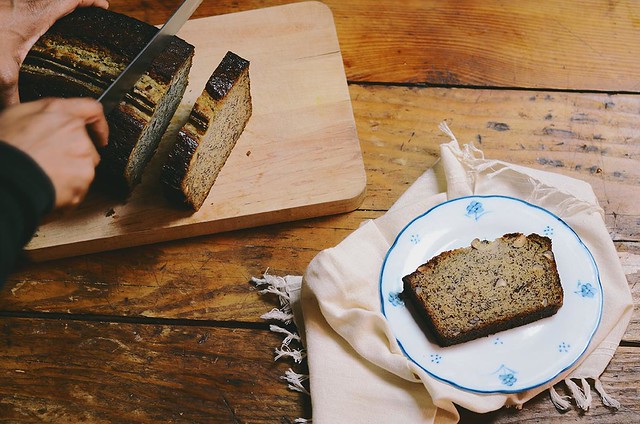 banana hazelnut pound cake recipe at Une Gamine Dans La Cuisine
Banana Hazelnut Pound Cake
yields: one 9-inch loaf
ingredients
5 overripe bananas
1 3/4 cups (7 18/25 ounces) all-purpose flour
2 tablespoons cornstarch
1/2 teaspoon kosher salt
1 1/2 teaspoons baking powder
1 teaspoon baking soda
2 sticks (8 ounces) unsalted butter, cubed and chilled
3/4 cup (5 7/25 ounces) brown sugar
3 tablespoons dark molasses
5 large eggs, cold
1 teaspoon hazelnut creamer or hazelnut extract
1/2 cup raw hazelnuts with skin, coarsely chopped or crushed (toasted hazelnuts will work fine, too)
baking spray oil, or a little extra butter for greasing cake pan
1. Preheat the oven to 350F.
2. Take one banana and slice it across its length and keep one slice aside, cover with cling film and refrigerate until ready to use. Slice the rest of the bananas along with the single leftover slice and place them in a medium-sized microwave safe bowl. Microwave for 3 minutes and then transfer the fruit to a medium-sized strainer and place it over a bowl. Let this sit for 1 hour without disturbing, you should get around 1 cup of liquid that will drain and collect. Keep strained bananas until ready to use.
3. Place a wire rack at mid-level in the oven. Take a loaf pan and grease it lightly with the spray oil or butter. Line pan with a sheet of parchment paper.
4. In a large mixing bowl, whisk all the dry ingredients from the all-purpose flour to the baking soda and set aside until ready to use.
5. Place butter, sugar and molasses in the bowl of a stand mixer and, using the paddle attachment, cream the butter for about 5 minutes on med-high speed. Add one egg at a time to the creamed butter mixture and mix till combined. Add the hazelnut creamer/extract and mix for 5 seconds on med-high speed.
6. Stop the mixer and add half of the dry ingredients to the wet ingredients. Mix on low speed for 15 seconds, then increase speed to med-high until just combined. Add the drained banana mixture to the batter and mix on med-high for 2-3 seconds, then add remaining dry ingredients; mix on med-low speed, gradually increasing to med-high. Add hazelnuts and mix for 15 seconds. Once batter is mixed, transfer to prepared loaf pan. Place reserved slice of banana in the center of the loaf. Bake 75-80 minutes, rotating the pan halfway through the baking process. The cake will rise and will be done when the outer layer is firm to touch and caramelized. A knife or skewer when passed through the center should come out clean.