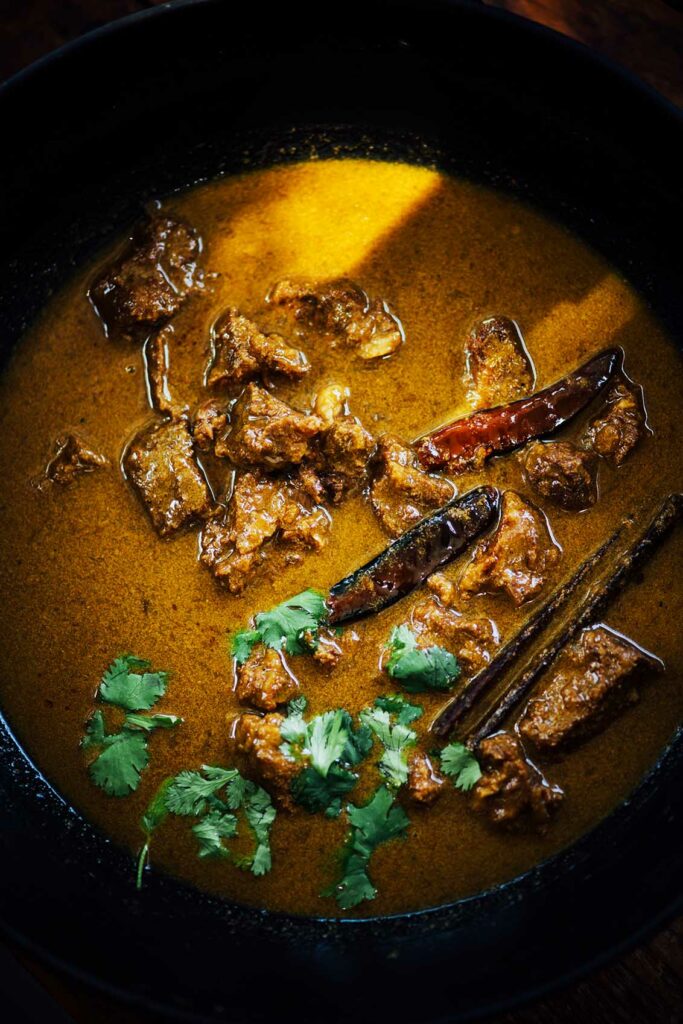 Print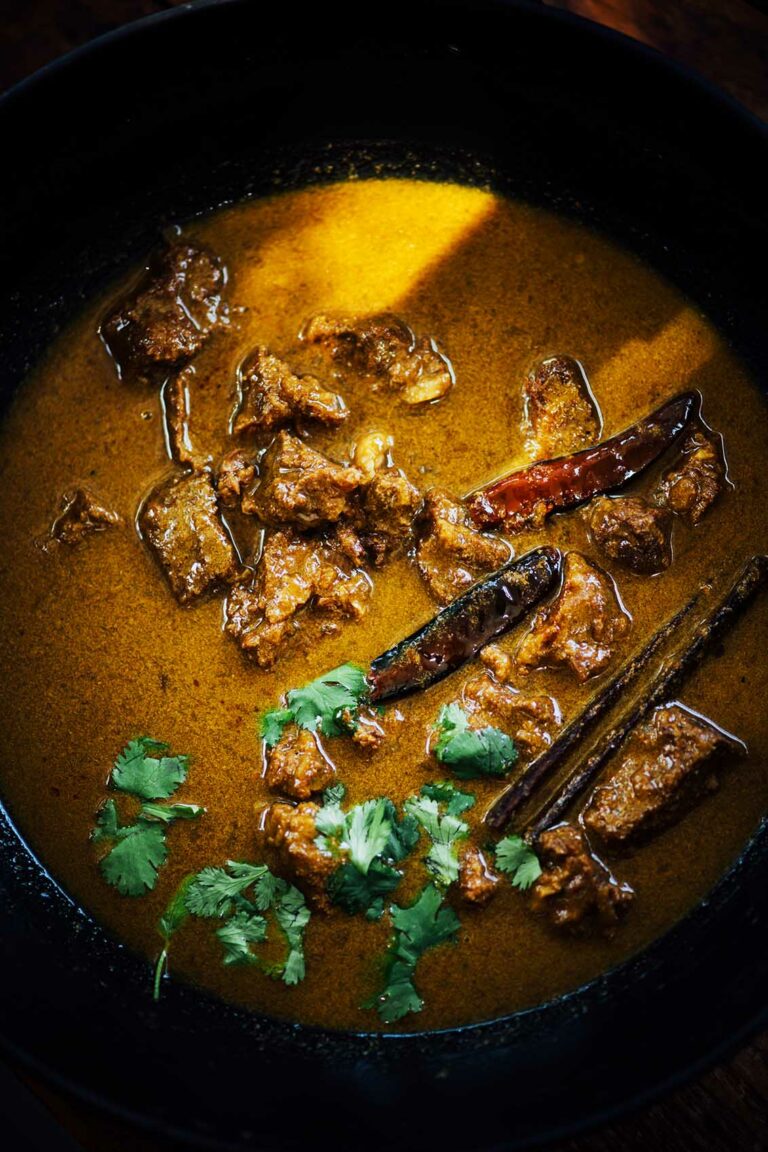 madras beef curry
I recently cooked this recipe and shared it in my Instagram stories, and some of you emailed asking for the recipe. It's an old recipe I've tweaked over the years and loosely based on Julie Sahni's Savoring India (Time Life Books). This version has a strong coconut flavor; for those who have access to fresh coconuts and make their own coconut milk from scratch, this is a great place to use it. I like it best with dosa or rice, but flatbread works great. A small salad on the side is all you need with this.
2 Tbsp poppy seeds
2 Tbsp coriander seeds
1 tsp anise or fennel seeds
1/2 tsp ground turmeric
3 Tbsp coconut oil
2 whole Kashmiri chiles (you can use another red chile that is not too hot)
one 2 in/5 cm whole cinnamon stick or 1 tsp ground cinnamon
2 green cardamom pods, crushed once *
6 whole cloves
8 shallots or 1 large yellow or white onion, thinly sliced into rings
1 tsp minced garlic
1 tsp grated ginger root
2.5 lb/1.2 kg stew beef, fat trimmed and cut into 1/2 in/12 mm chunks
two cans 13.5 oz/385 g coconut milk
1 tsp fine sea salt
juice of one lime
2 Tbsp whole cilantro leaves for garnish (optional)
Instructions
Heat a small, dry skillet on medium heat. Add the poppy, coriander, and anise seeds and toast for about 45 seconds until they release their aroma and brown. Immediately remove it from the stove, transfer to a small bowl to cool, and grind the seeds to a fine powder in a blender, spice mill, or coffee grinder. Transfer to a small bowl and add the turmeric.
Heat the oil in a medium-heavy Dutch oven or a saucepan. Add the chiles, cinnamon, cardamom, and cloves and cook until fragrant, about 45 seconds. Add the shallots and cook for 8 minutes until they start to brown. Add the garlic and ginger and cook for 30 seconds with constant stirring. Add the ground spice mixture and cook with constant stirring for another 1 minute. Add the beef pieces with the salt and cook for 4 minutes. Lower the heat to low and stir in the coconut milk. Cover the pan with a lid and cook for about 90 to 120 minutes until the beef is completely tender. Stir in the lime juice. Taste and adjust the salt if necessary. Garnish with cilantro if using. Serve hot or warm with rice, dosa, idli, or flat bread like roti or paratha.
Notes
Cardamom – you will leave the whole cardamom pods in the curry. If you want to fish them out at the end before serving, by all means, do so.
You can adapt this dish to cook in an Instant Pot. Toast and grind the spices as instructed. Switch the saute setting on the Instant pot for 30 minutes. Add the coconut oil and then proceed with the coconut milk step. Once the coconut milk is added to the Instant pot, seal the pot with the lid and set it to cook on the Meat/Stew setting for 30 minutes. Once done, release steam, garnish, and serve.