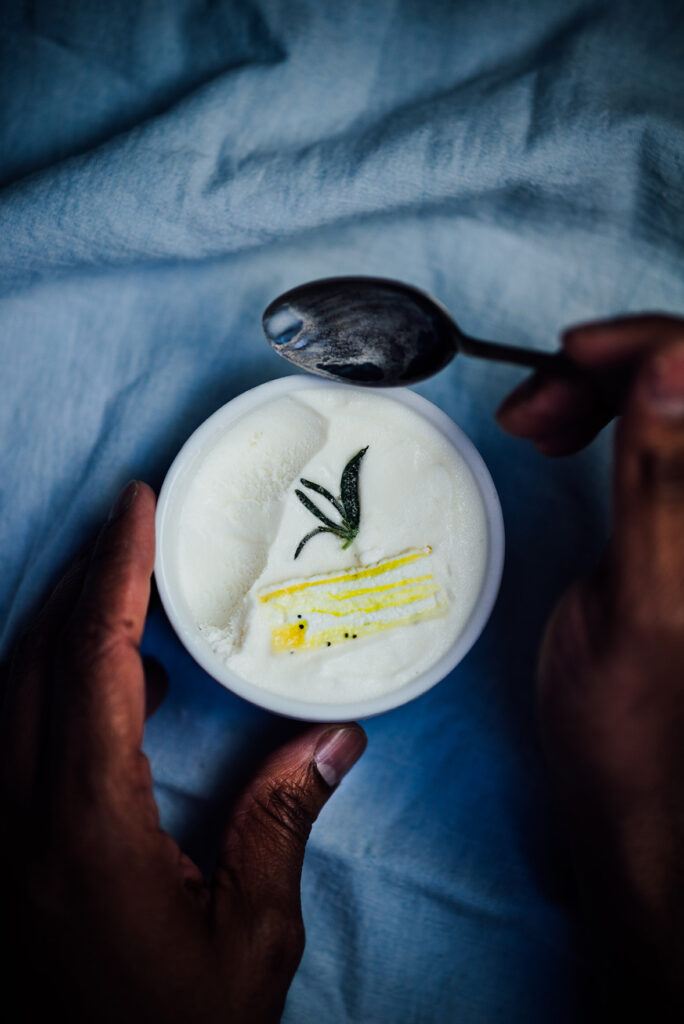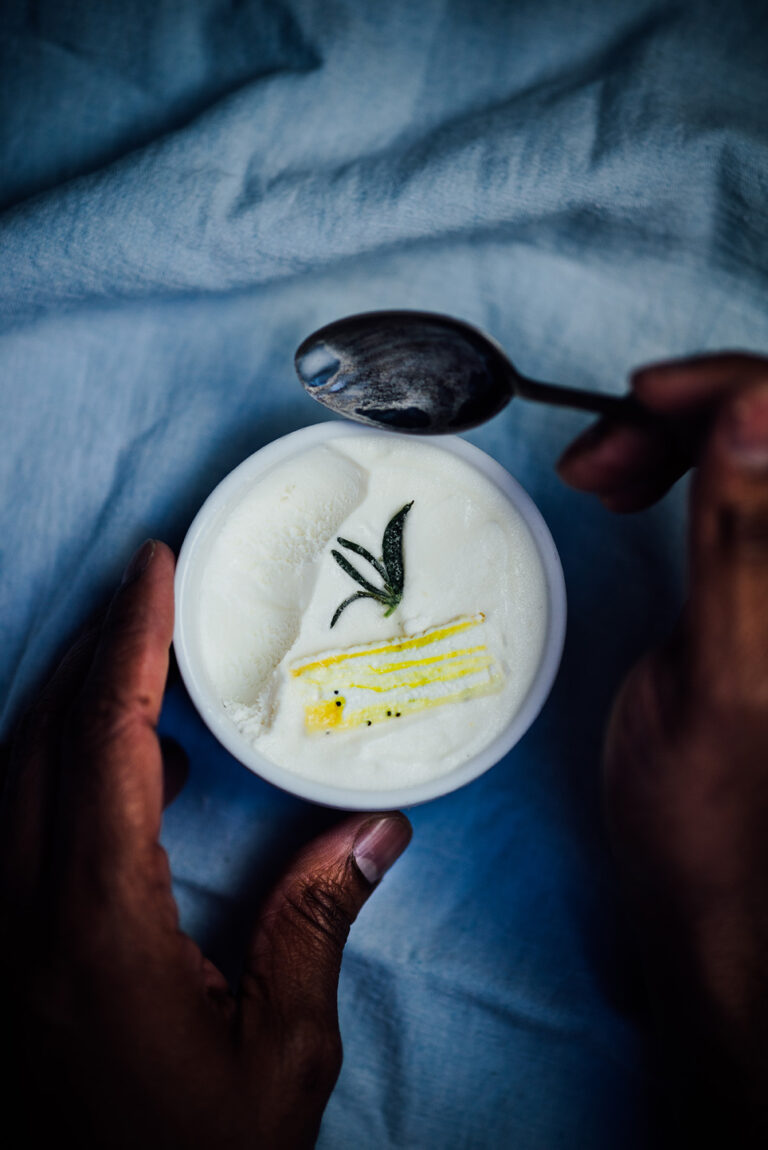 We took a day trip to Healdsburg this weekend and made our way through Napa and Sonoma valleys, exploring a few neighborhoods we hadn't visited before. With our warm springlike spell, the land is painted with a beautiful bright yellow shade of wild mustard blooms, and even the vineyards that still haven't sprung back from winter look magnificent against this backdrop of gold. Some of the trees are still covered with soot and black char from the recent fires, and this was a nice visual respite from that terrible moment.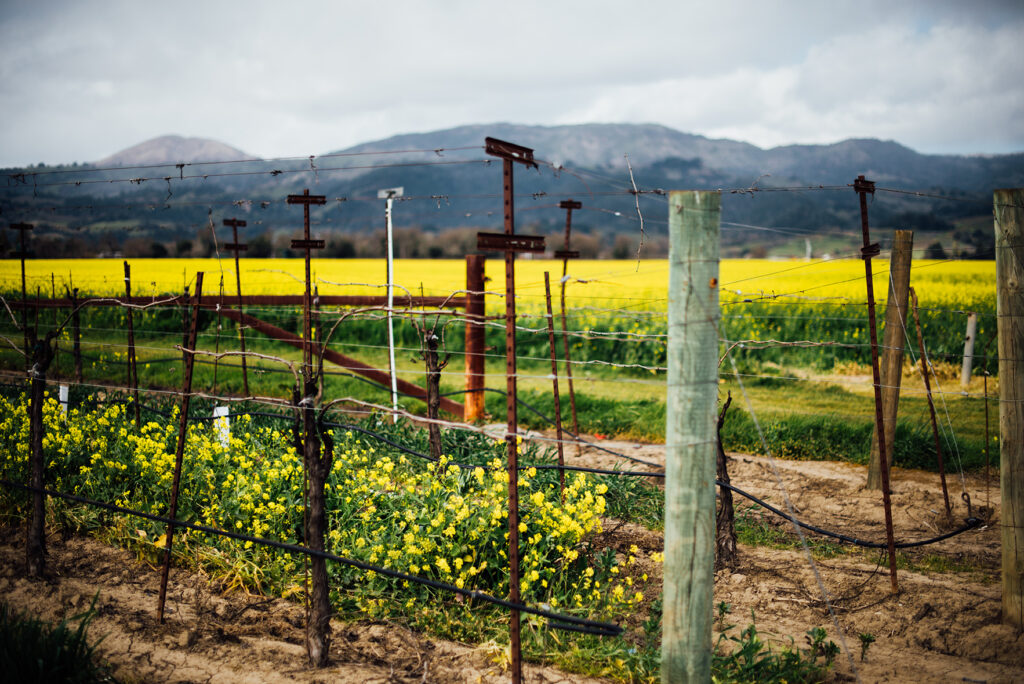 With my ongoing theme on lemons that started with the marshmallows, this week there is a lemon and rosemary infused ice cream made using Jeni Britton Bauer's method from her book, Jenis Splendid Ice Creams at Home (Artisan Books). This book made me fall in love with making ice creams at home and become much more adventurous in my flavor combinations. The ice cream is egg-free and uses cream cheese and cornstarch to build the texture. The ice cream has the right amount of lemony scent and tangy flavor. The rosemary pairs extremely well with this bright citrus flavor. BTW, I recently met Jeni for dinner in San Francisco (who is wonderful IRL) and I had to tell her how much I love her lemon ice cream. It's so good, they always run out of it at my grocery store!
To make this a true lemon lover's ice cream, I chopped up a few lemon poppy seed marshmallows and added them to the ice cream. The soft marshmallows and crunchy poppy seeds add a nice flavor and surprising texture. The fried sugar-coated rosemary sprigs helped unite the whole theme together. Now all you need to do is make, freeze and eat up!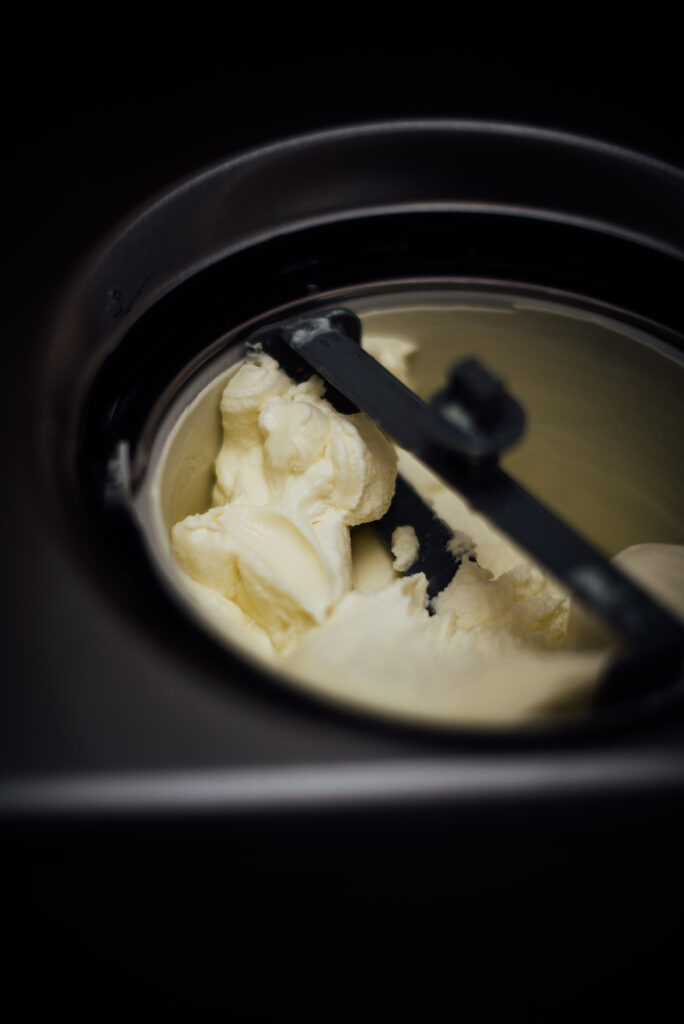 Print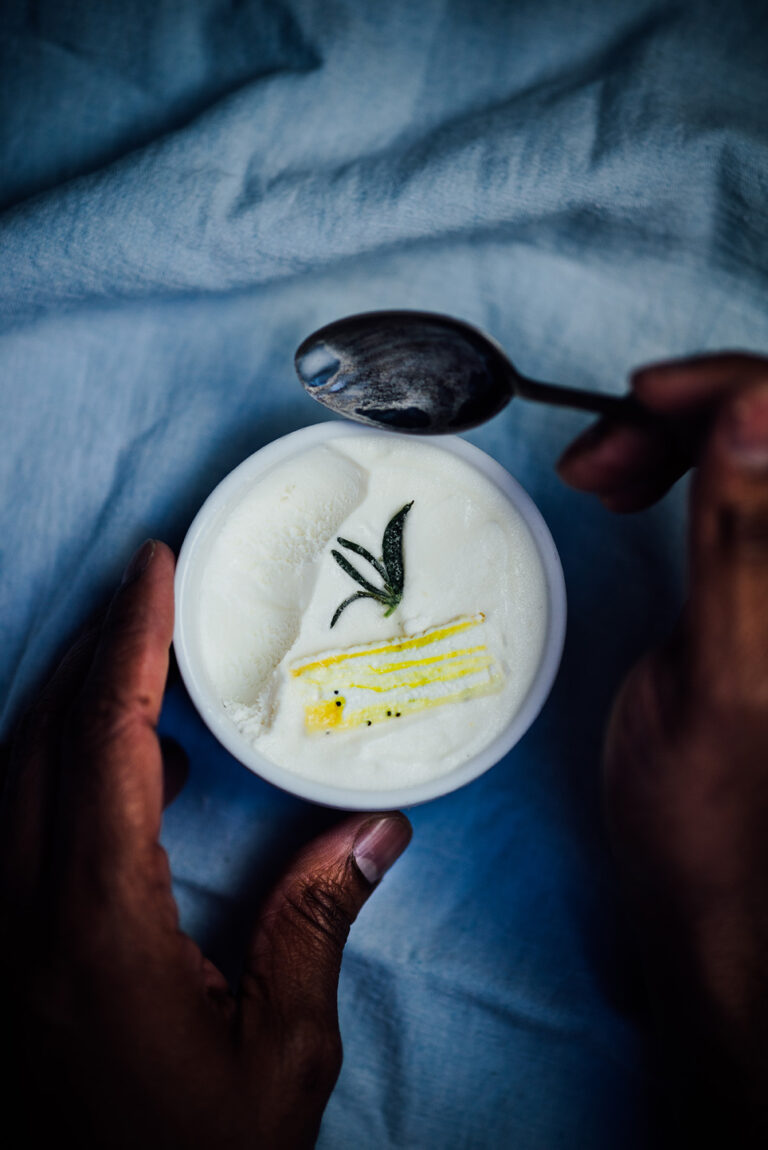 lemon rosemary ice cream and more
For the Ice Cream
3 medium lemons (juice plus zest)

2 Tbsp + 2/3 cup /130 g sugar

2 cups/480 ml whole milk

1 Tbsp plus 1 tsp tapioca starch (you can use cornstarch too but see my notes)

2 oz/55 g cream cheese, softened

1/8 tsp fine sea salt

1 1/4 cups/300 ml heavy cream

2 to 3 Tbsp fresh rosemary leaves (for much stronger you could go up to 4 Tbsp)

For the Fried Sugar Rosemary Leaves Garnish
4 to 6 young rosemary sprigs

1/4 cup/60 ml neutral oil, such as grapeseed, for frying

1/4 cup/50 g granulated sugar
Instructions
For the lemon syrup:
Wash the lemons under warm water and pat them dry. Extract the zest from the lemons using a citrus zester (avoid a Microplane zester) and then extract the juice to obtain 1/2 cup/120 ml.
Combine the lemon juice with the 2 Tbsp sugar in a small saucepan and bring to a simmer over medium heat, stirring until the sugar is completely dissolved. Remove from heat, transfer to a small bowl, and chill in the refrigerator.
For the Ice Cream:
Mix 2 Tbsp of the milk with the cornstarch to form a slurry in a small bowl and keep aside until ready to use.
Whisk the cream cheese and salt in a medium bowl until smooth.
Combine the milk, cream, sugar, and lemon zest in a medium saucepan. Bruise the rosemary leaves with a knife or rub them between your hands and toss them into the saucepan. Heat over medium-high and bring to a rolling boil and boil for 4 minutes. Remove from heat and whisk in the cornstarch slurry.
Bring the mixture back to a boil over medium heat and cook, stirring with a heatproof spatula, until slightly thickened for about 1 minute. Remove from heat.
Gradually whisk the hot milk mixture into the cream cheese until smooth. Pour this mixture into a gallon ziptop bag and let it steep overnight in the refrigerator.
Strain the chilled liquid to remove the zest and rosemary leaves through a fine mesh strainer. Discard the solids left behind in the strainer. Pour the ice cream base into the canister of your ice cream maker, add the lemon juice (I typically pour it in after 5 minutes of churning), and prepare as per the manufacturer's instructions.
Once the ice cream is prepared, transfer it to a storage container and let it firm in the freezer for at least 4 hrs before serving. Leave for at least 5 minutes before serving to soften and scoop easily.
If you want to use the marshmallows in the ice cream. Cut 4 to 6 marshmallow cubes into 1/4 in/6 mm thick strips and layer them randomly with the ice cream as soon as it comes out of the ice cream maker. Freeze this for at least 4 hrs in the freezer before serving.
For the Fried Sugar Rosemary Leaves Garnish
Wash the sprigs gently and wipe them to remove any dirt. Let them dry on a clean towel completely before frying.
Heat the oil in a small saucepan on medium-high heat (you don't need to measure the temperature of the oil, but if you must, it should reach 350F/180C).  Place the sugar in a small tray or bowl. Fry the sprigs until they start to just crisp; about 45 seconds, the leaves will still be green and not brown. Immediately, remove the sprigs and transfer them to a paper towel to absorb excess oil and then toss them into the sugar to coat well. Let them sit for about 10 minutes before using them to garnish the ice cream.
Notes
This is a starch-based ice cream custard base. I use tapioca starch over cornstarch here because starch gels made with tapioca don't "weep" as much as those made with cornstarch" in frozen mixtures. This is called syneresis or weeping what's happening here is the water that's trapped inside the gel structure of starch starts to seep or weep out, tapioca starch doesn't have this issue, while cornstarch does, and this can affect the final ice cream texture.
Steeping the lemon zest and rosemary (or the peppercorns) in the dairy fats overnight helps to extract the essential oils (and even the piperine, which gives peppercorns their heat) because they're fat-soluble.
Once the ice cream base is churning, adding the lemon juice at the end helps reduce curdling. However, the starch and fat help reduce the risk of curdling initially, and once the ice cream base is churned and freezes, the acid does not pose a problem to the final texture.
Cream cheese, starch, dairy fats, and sugar control ice crystal formation.
I prefer younger rosemary sprigs because the flavor is much nicer in desserts and not too intense, especially in this dessert where lemon is the major player.