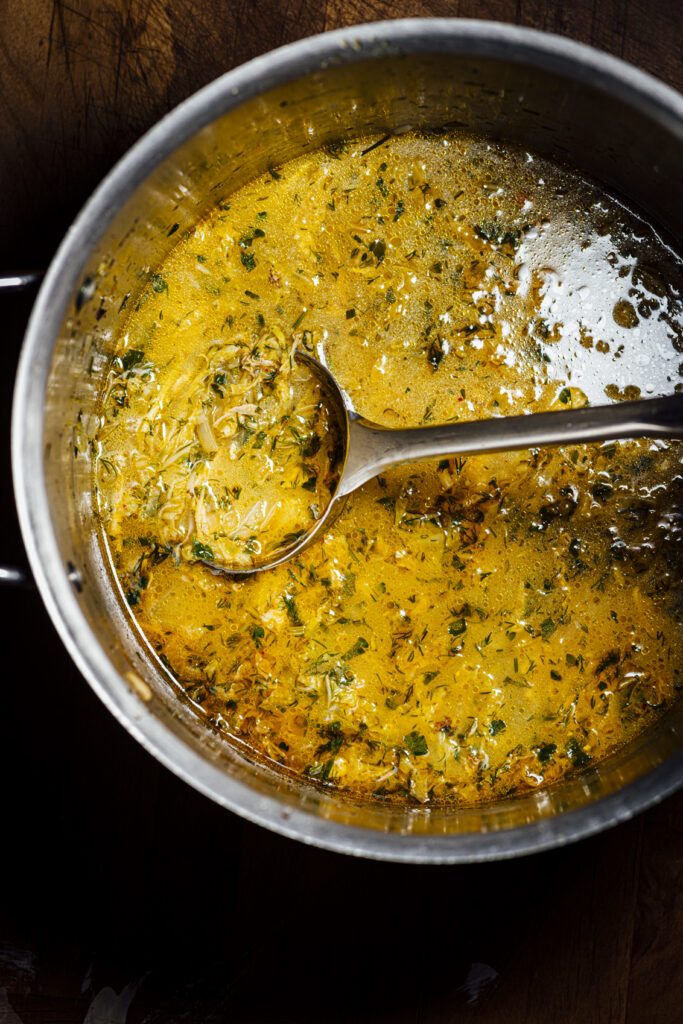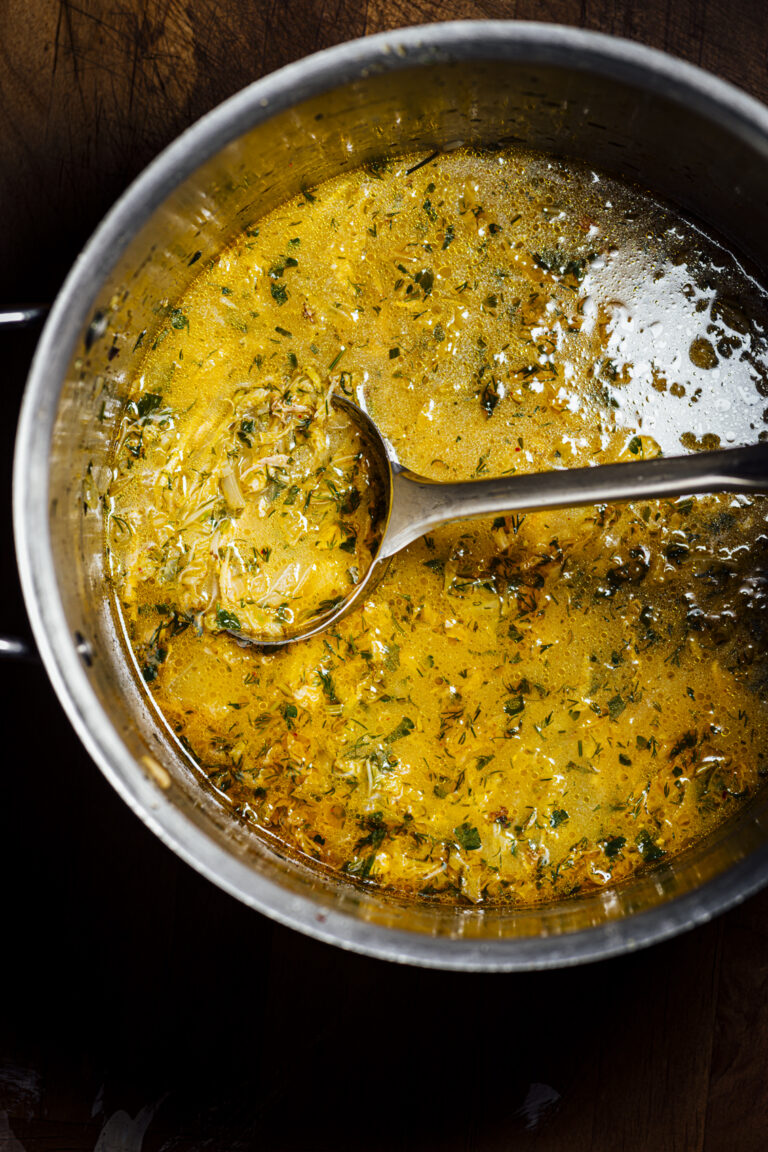 Print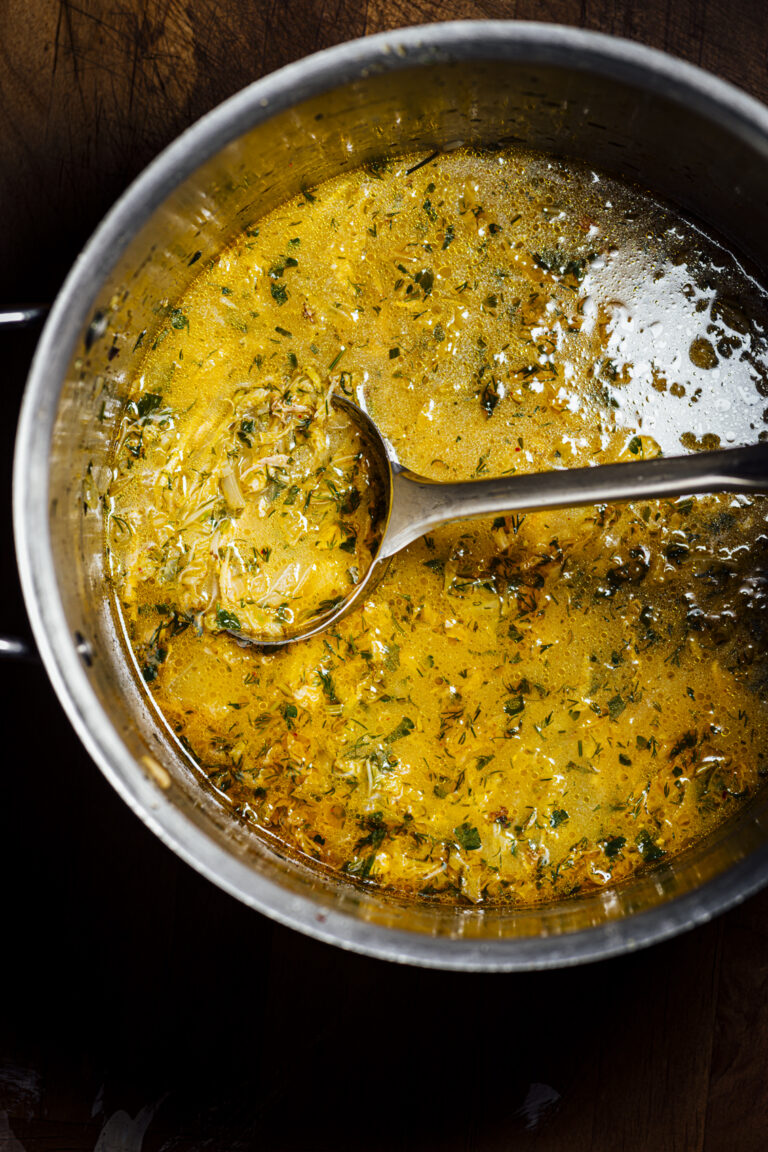 Herb Lemon Chicken Soup
If I were to describe this chicken soup in one word, I'd say FRAGRANT! The refreshing scent of fresh lemons and the herby goodness of cilantro and dill, mingled with coriander and saffron, make this soup a satisfying experience. This is a soup I want to hug for its warmth and flavor.
2 Tbsp extra-virgin olive oil
2 bone-in, skin-on chicken thighs (total weight about 1 lb/455 g)
1 large white or yellow onion, halved and thinly sliced
2 in/5 cm piece fresh ginger, peeled and cut into fine matchsticks
1 tsp ground coriander
1 tsp red pepper flakes such as Aleppo, Maras, or Urfa
a pinch of saffron* or 1/4 tsp ground turmeric
6 cups/1.4 L water*
2 tsp chicken bouillon
1/2 tsp ground black pepper
2 cups shredded cabbage such as Napa
1/4 cup/60 ml fresh lemon juice
zest of one lemon
1/4 cup/2.5 g loosely packed fresh dill, tender stems and leaves, finely chopped
1/4 cup/5 g loosely packed fresh flat-leaf parsley, tender stems and leaves, finely chopped
fine sea salt
Instructions
Heat the olive oil in a large saucepan or stockpot over medium-high heat. Place the chicken thighs, skin side down, on the oil, and sear until the skin turns light golden brown, 9 to 10 minutes. Flip the chicken thighs over and sear for 2 minutes until the flesh turns opaque. Transfer the chicken to a plate.
Add the onions to the oil and sauté over medium-high heat until they soften and turn translucent, 4 to 5 minutes.
Add the ginger and sauté for 1 minute. 
Add the coriander, red pepper flakes, and saffron, and sauté until fragrant, 30 to 45 seconds.
Return the chicken with any juices to the onions. Add the water, bouillon, and black pepper. Bring to a boil over high heat and reduce to a simmer. Cover with a lid and let cook for 45 minutes.
Transfer the chicken to a plate, separate, and shred the meat. Discard the skin and bones and return the chicken meat to the saucepan.
Add the cabbage, lemon juice, and lemon zest, and continue to simmer, covered with a lid for 15 minutes.
Fold in the dill and parsley. Taste and season with salt. Serve the soup hot or warm. Leftovers can be stored in an airtight container for up to 3 to 4 days in the refrigerator.
Notes
A pinch of saffron is about 15 to 20 strands. The saffron can be replaced with turmeric.
If you don't have bouillon, use 6 cups/1.4 L chicken stock.
At the end of cooking, you should have 8 cups of soup; if the volume drops, add more water to bring it back up.
For the lemon zest, I use this citrus zester.
The chicken bouillon can be replaced with low-sodium chicken stock.
Cilantro can be used in place of parsley or along with it.