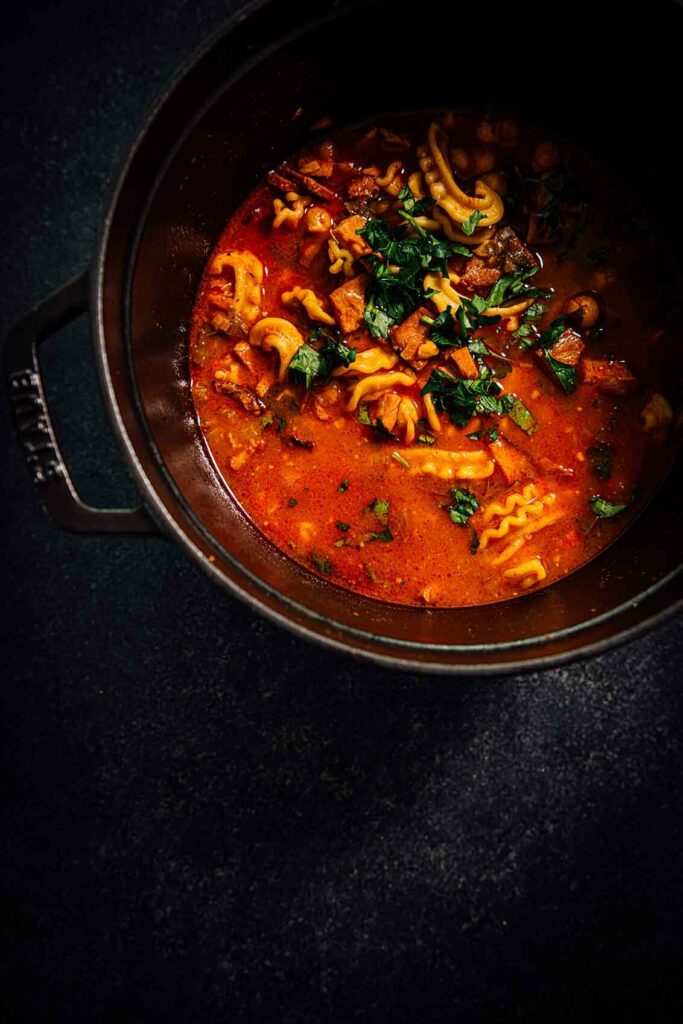 For those of you that celebrate Nowruz, Holi, the Passover, or Easter. This Easter, I took a break from cooking and let M do all the cooking. We feasted on some delicious smoked ham, collard greens, and potatoes. Just like Thanksgiving, the leftovers will continue to provide second and third meals over the next couple of weeks, and I don't mind that one bit. We cut the ham up and froze some of it while the other bit goes into this soup that gets a major portion of its flavor from garlic, tomatoes, and paprika. Serve it with warm garlic bread because the liquid deserves to be sopped up!
For the pasta, I used my friend Dan Pashman of the Sporkful podcast's new pasta called cascatelli. Over the past 3 years, Dan's been working to create a shape that resembles waterfalls (hence the name), and its unique shape helps grab sauces and liquids. Dan talks about the pasta on his show, and it has been fun to see it come to life. Learn more about it here.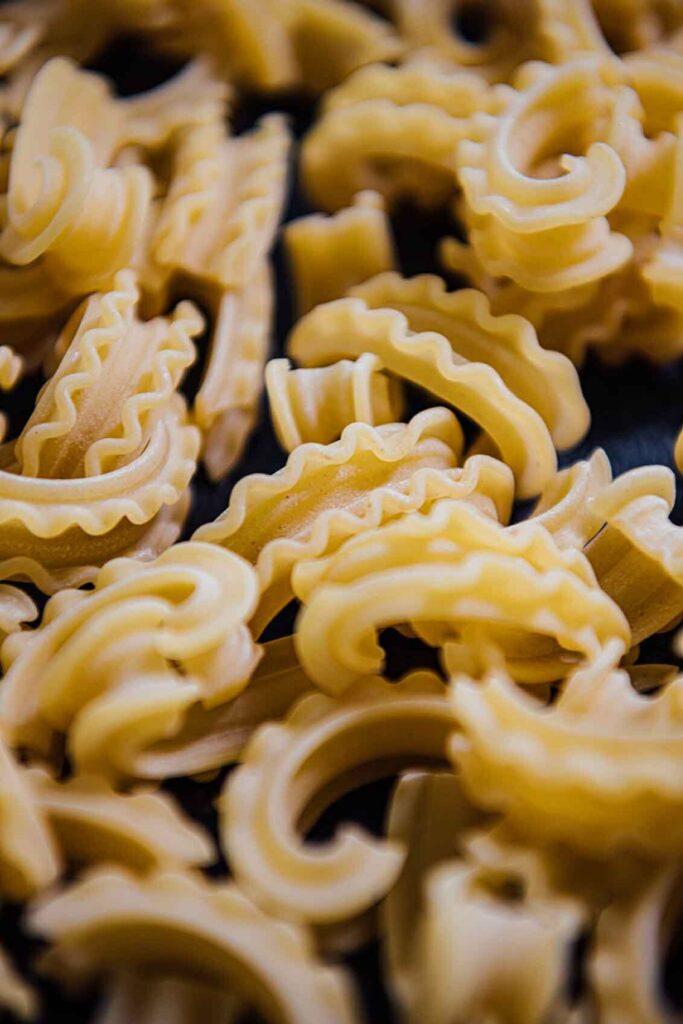 Print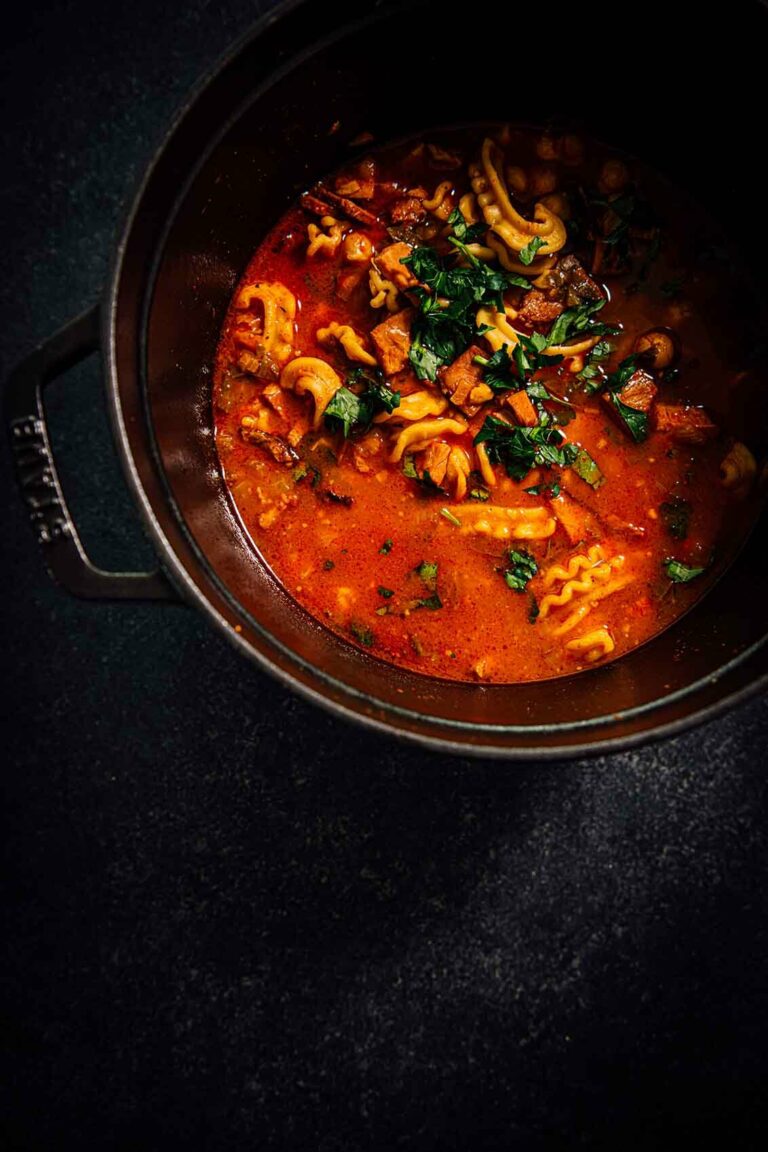 2 Tbsp unsalted butter
1 Tbsp extra-virgin olive oil
1 medium onion, minced
6 garlic cloves, peeled and grated
1/4 cup/60 g tomato paste
2 tsp smoked sweet paprika
1 tsp ground cumin
1/4 tsp ground cayenne
11 oz/310 g leftover ham, chopped
one 15 oz/430 g can chickpeas, drained
6 oz/170 g cascatelli pasta
4 cups/960 ml water
1/4 cup loosely packed fresh celery greens
fine sea salt
2 Tbsp chopped flat-leaf parsley or cilantro for garnish
Instructions
Melt the butter in a medium saucepan or Dutch oven over medium heat. Cook till the butter turns brown and stops crackling, about 4 minutes. Add the oil.
Add the onions and sauté until they turn translucent, 3 to 4 minutes. Lower the heat to medium-low, add the garlic, tomato paste, paprika, cumin, and cayenne and cook for 30 seconds till fragrant. Stir in the celery greens, ham, chickpeas, pasta, and water. Add 1/2 tsp of salt, increase the heat to high and bring the water to a boil; reduce the heat to a simmer, and cook covered till the pasta is tender, about 15 minutes. Remove from the heat, taste, and season with salt if needed. If the liquid volume drops after cooking, add more water as needed. Serve the soup warm and garnish with parsley. Leftovers can be stored for up to 4 days in an airtight container in the refrigerator. 
Notes
Pasta cooking time varies. The smaller the shape, the shorter the cooking time. Adjust your cooking time if you use pasta other than cascatelli, like penne, etc..
The soup volume will reduce after cooking (it also depends on how long you cook due to the pasta size). I added 2 cups/480 ml of water after the cascatelli pasta was cooked to increase the volume.
The butter needs to brown but stop crackling. If you add oil to it early, the water separated from the fat will start to fly out everywhere.
You can sub rotisserie chicken in place of ham.
Cooking time is dependent on the shape and size of your pasta.
Add water to make the soup volume back up after cooking. Again, this will vary depending on the pasta you use.
I've not listed the weight for celery greens; it's a rough 1/4 cup measure. It does not need to be a precise weight here.