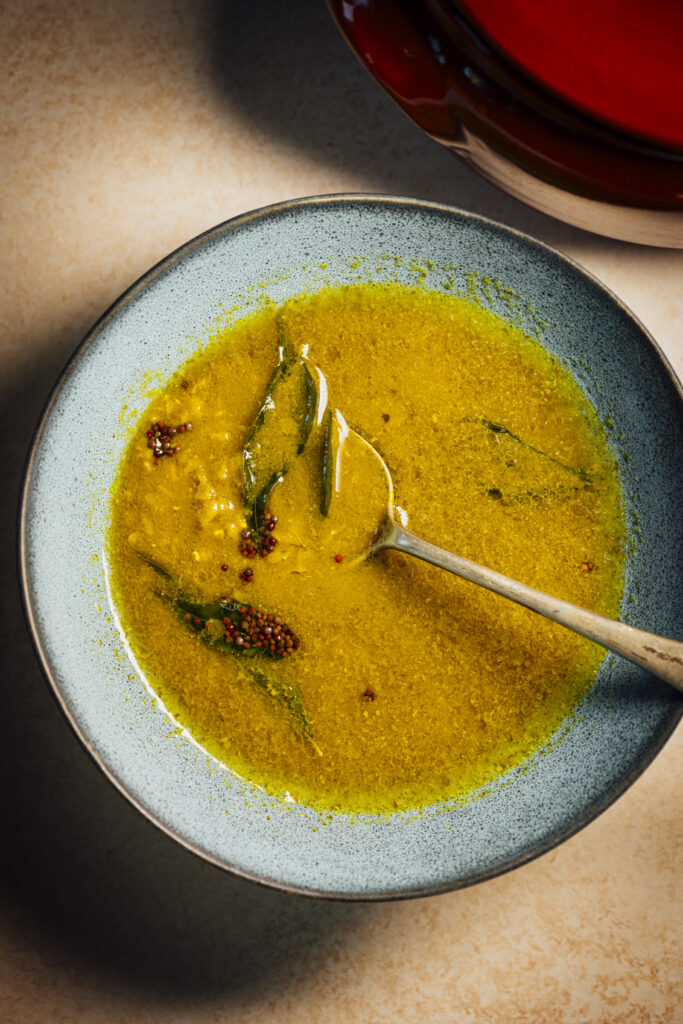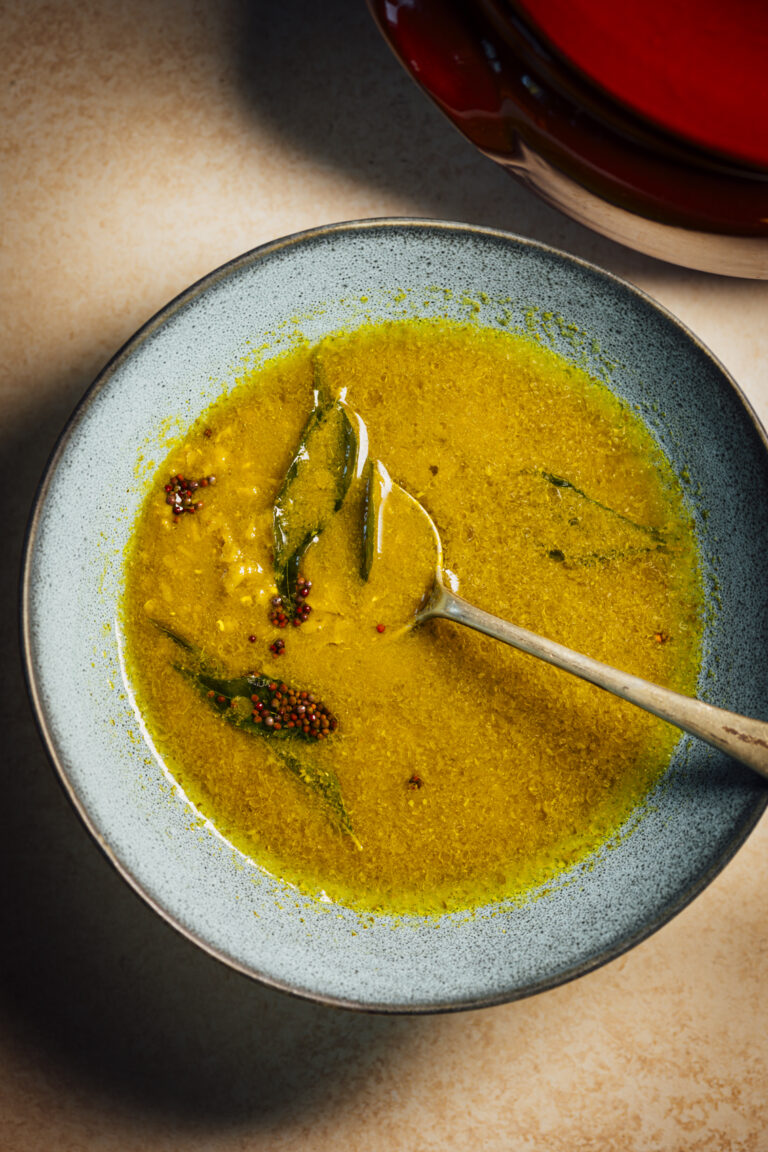 Print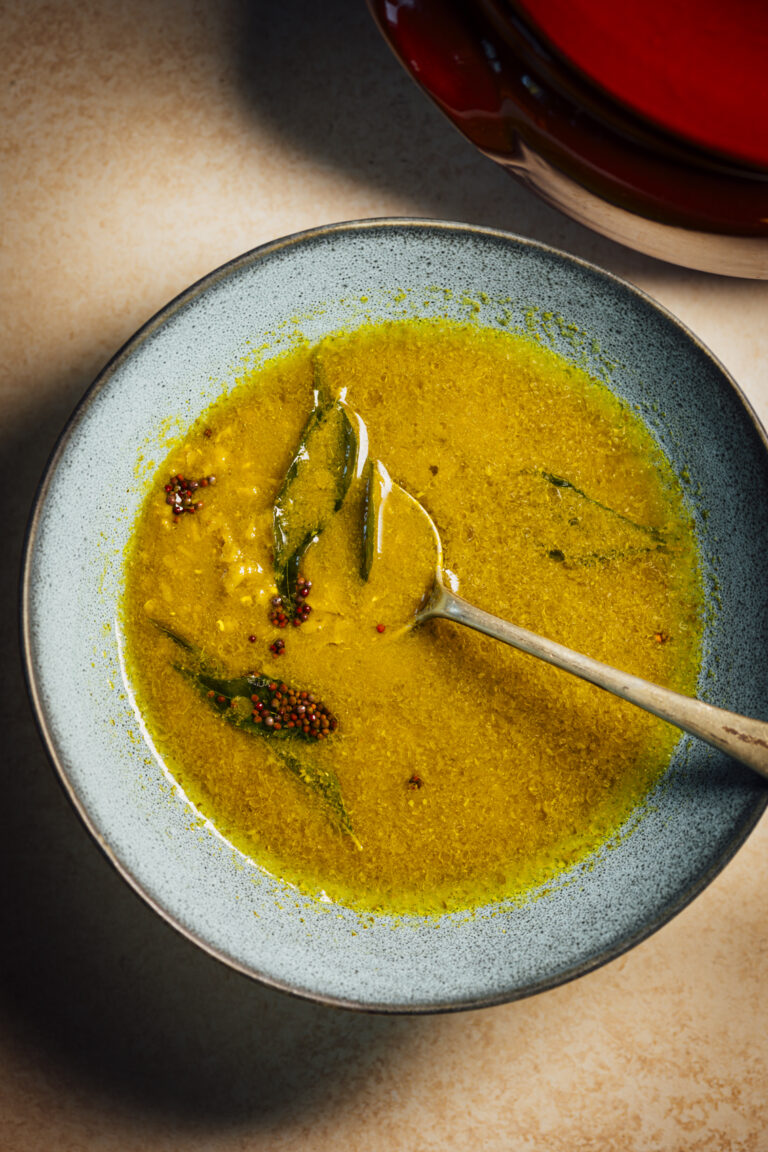 green goddess rassam
Okay, it doesn't look green, nor is this an "authentic" rassam recipe. However, this recipe is inspired by both the original Green Goddess recipe of the San Francisco hotel, The Palace, and the rassam recipes of Southern India. This is a wonderfully light dish to serve and celebrate the rich fragrance of fresh herbs. Rassams are meant to be hot and spicy, the quantity of black pepper isn't an error, and neither is the addition of the green chilli. Serve with plain steamed rice to enjoy. Crushed tortilla chips and crispy fried onions also work great as a garnish in a pinch.
3/4 cup/150 g red lentils, cleaned and rinsed

8 cups/1.9 L water

fine sea salt

2 Tbsp freshly ground black pepper

1 tsp ground cumin

1 tsp ground coriander

1/2 tsp ground turmeric

1 Tbsp tomato paste

2 tsp tamarind paste

4.5 oz/130 g fresh baby spinach or mustard greens

1 bunch fresh cilantro, tender stems and leaves

1 bunch fresh tarragon, tender stems and leaves

6 scallions, trimmed, both green and white parts

1 fresh green chilli such as serrano, jalapeno, or bird's eye

4 garlic cloves

1/4 cup/60 ml fresh lime juice

1/4 cup/60 ml neutral vegetable oil such as grapeseed

1 Tbsp black or brown mustard seeds

12 to 15 fresh curry leaves
Instructions
Place the lentils, water, 1/2 tsp salt, black pepper, cumin, coriander, and turmeric in a large saucepan. Bring to a boil over medium-high heat, reduce to low, and let simmer until the lentils are cooked and almost falling apart, about 25 to 30 minutes.
Stir in the tomato paste and tamarind paste. Remove from the heat.
Transfer 1 1/2 cups of the liquid from the saucepan into the jug of a high-speed blender. Add the spinach, cilantro, tarragon, scallions, chilli, and garlic. Blend until smooth. Transfer and stir this mixture into the lentils. Bring to a boil over medium-high heat; skim and discard any froth that rises to the surface.
Stir in the lime juice. Taste and season with salt if needed.
Prepare the tadka. Heat the oil in a small saucepan over medium heat. When the oil is hot, drop in a single mustard seed, the seed should sizzle. Add the remaining mustard seeds and curry leaves and fry for 1 minute or until the spices turn fragrant and the curry leaves turn crisp. Quickly pour the spices and hot oil over the lentils in the saucepan. Serve hot or warm. Leftovers can be stored in an airtight container in the refrigerator for up to 3 days.
Notes
Rassam is usually eaten with plain rice, but I've also served it with crushed tortilla chips when I forget to cook rice or just can't be bothered. Be flexible.
For the tadka: Sometimes, I'll tear a dried Kashmiri chilli and throw it into the hot oil for a spicier flavor.